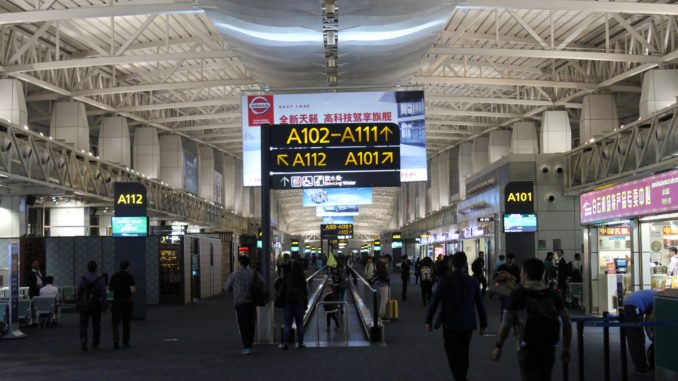 Making an international transfer in China is usually not as straight-forward as at many other airports in the world. At many Chinese airports, such as Shanghai Pudong, it requires going landside, through immigration and customs, and then airside again. You can do this without a visa as long as you have an onward international flight "which makes sense", i.e. you cannot go back to the same country/city you arrived from, and possibly not to the same continent either, assuming you arrived from somewhere outside Asia. The transfer should be to a third country and it should make some sense.
Transfer at Guangzhou airport
I had very little idea what it would be like to transfer at Guangzhou Baiyun airport. I arrived on an Air France flight from Paris, connecting to Kenya Airways to Bangkok. Everything booked on one ticket and I was able to get boarding passes for all flights all the way to Bangkok upon check-in.
However transferring at the massive Guangzhou Baiyun airport turned out to be much easier than expected. I had expected some time-consuming formalities, but I was very positively surprised.
Just before passport control there was an area for international transfers with counters where they checked my passport and my boarding pass. There was even a Sky Priority line for Skyteam Elite/Elite Plus members and Skyteam business class/first class passengers, with just one passenger in front.
As everything was in order and I already had a boarding pass the whole process took no more than half a minute.
Afterwards I took an escalator one floor, and voilà, I was standing in the international transit hall. There was not even a transfer security control. All-in-all the whole process took less than five minutes. This was not at all what I expected. A far cry from the formalities required at Shanghai Pudong airport and even easier than at Beijing Capital airport.
But on the negative side the lounges at Guangzhou airport are just as dull as elsewhere in China. The "First Class Lounge" is nothing to get excited about and there is certainly nothing first class about it, and the Skyteam lounge rules do not seem to be honoured at the airport. No access to the China Southern Sky Pearl Lounge flying Kenya Airways, even though they are both part of Skyteam and I both have a business class boarding pass and a Skyteam Elite Plus card.
Transit without visa in China
Currently you can do transit without visa within 72 hours at the following airports: Changsa, Chengdu, Chongqing, Guangzhou, Qingdao, Wuhan, Xian, Xiamen, Guilin, Harbin and Kunming.
And you can do transit without visa within 144 hours in Hangzhou, Nanjing, Shanghai (Hongqiao and Pudong airports), Beijing, Tianjin, Shijiazhuang, Dalian and Shenyang.
The transit without visa means you can enter China and stay for the specified number of hours in the country, but you need to have an onward confirmed flight within the time frame (remember to bring printed booking confirmations to show at check-in at the departure airport and at immigration counter in China). Also the connection must "make sense". However the flights do not have to be on the same ticket, separate tickets are fine.
You are free to leave the airport during the 72/144 hours time period to enjoy the city and everything it has to offer, but usually you have to stay in the city/the region. So if use the 144 hours transfer in Shanghai you cannot for example take a two-day trip up to Beijing during that time, or you will risk problems with the authorities.
But the transfer without visa is an excellent way to see a Chinese city during 2-3 days on your way to or from your final destination, without having to apply for a Chinese visa.