Departure experience
I arrived at Helsinki Vantaa airport already three hours before departure. This was due to the fact that I arrived on another flight but was travelling on separate tickets, so I had to reclaim and recheck my luggage and I wanted plenty of margin in case of any irregularities.

Finnair uses terminal 2 at the airport, a nice looking terminal with large panorama windows and with the large traditional departure board above the security control. The two terminals are only separated landside, with separate departure and arrival halls. Once airside the terminals are fully integrated and as a passenger you will not even notice there are in fact two terminals.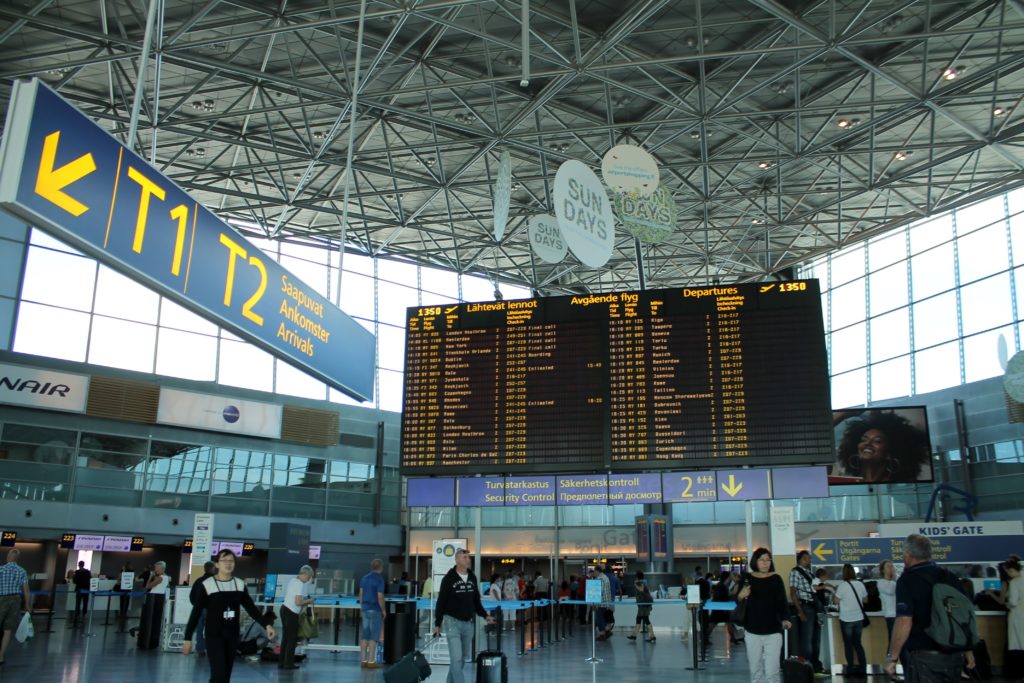 As a business class passenger I could use the Finnair priority check-in desks. There even turned out to be a Platinum desk which I could use as a One World Emerald cardholder. They were both empty when I arrived so I was checked in straight away.
A friendly woman checked me in and even addressed me using her basic command of Swedish. A nice initiative. A boarding pass was printed with my pre-assigned seat however she did not attach a priority tag to my bag. When I pointed this out she said 'Priority' had already been printed on the regular tag, and that should be enough. I doubt most baggage handlers will notice that text and thus I usually prefer to have a proper priority tag attached that can at least be noticed, but I did not argue any further this time.
There was a fast track line through security which I could use travelling in business class with almost no line.
As I still had nearly three hours until my departure I decided to head to the Finnair Premium Lounge in the non-Schengen area. Accessible to passengers holding a One World Sapphire or Emerald card. That usually means a gold card or a platinum card.
The lounge is much better than the regular Finnair lounges which are also accessible to Finnair Silver members and business class passengers without status. The food and drinks are better, the interior is nicer, and the lounge has a nice feature, a traditional Finnish sauna.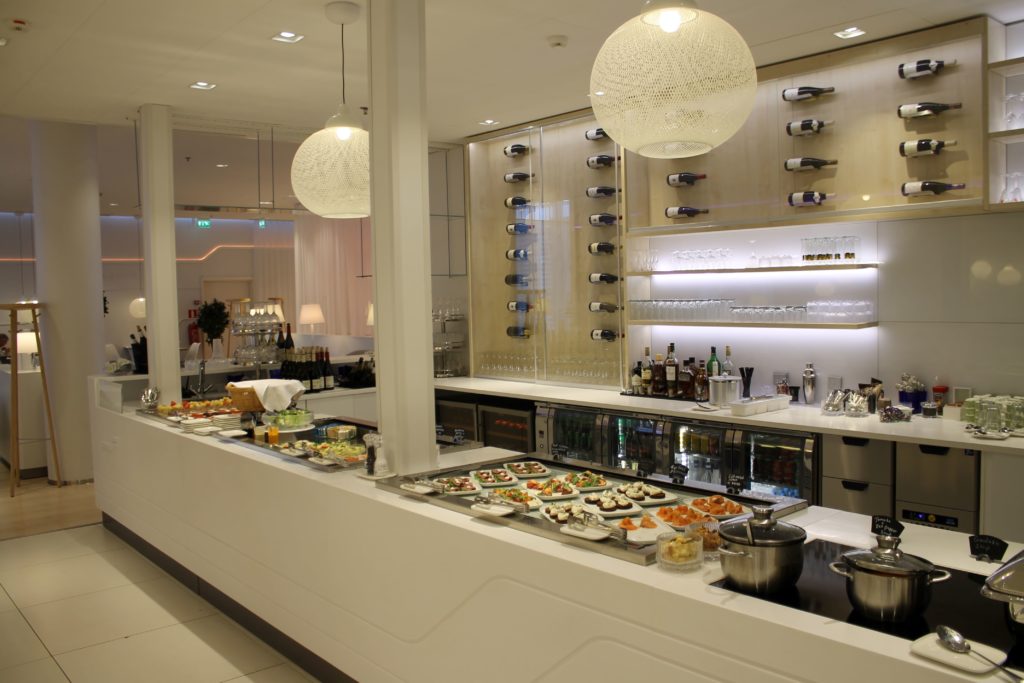 The self service buffet offered some nice cold cuts such as Parma ham, salmon, rye bread and Finnish stuffed pastries. There were also some hot items and a good selection of drinks, including Champagne for self service.
The lounge has a nice interior designed by Vertti Kivi. In the atrium lighting projectors create different sceneries depending on the time of the day and the time of the year. It can for example create the illusion of a blue sky with clouds, or a sunset. Very effectful!
I spent 30 minutes in the sauna and then took a seat in one of the comfortable armchairs overlooking the apron of the longhaul satellite to relax with some drinks. The afternoon is a busy time of the day at the airport with many longhaul arrivals and departures.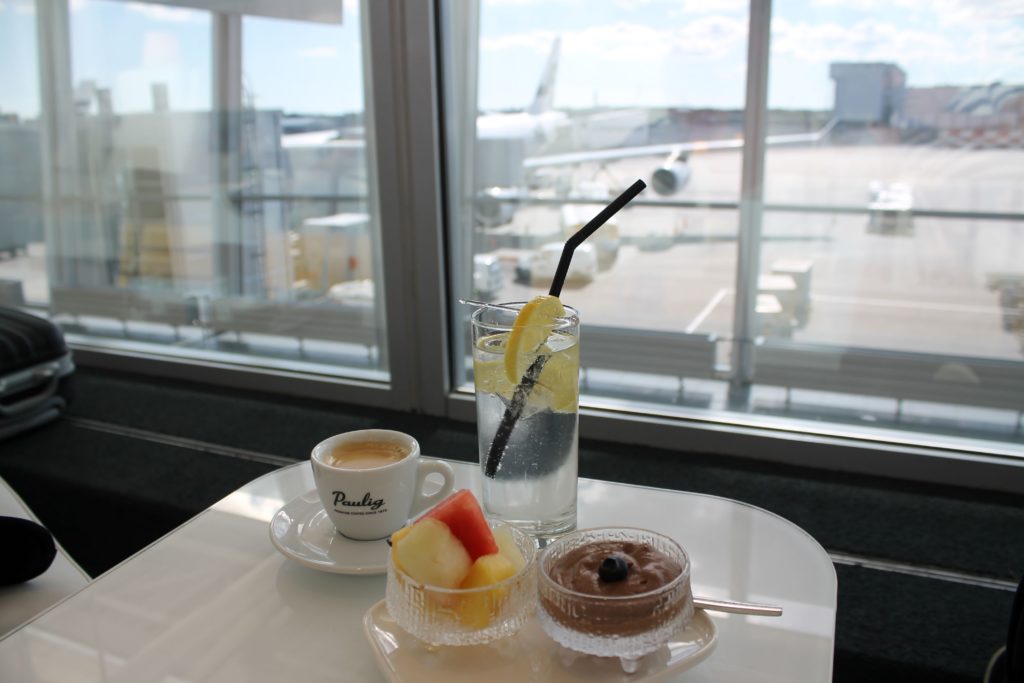 Read the full lounge review here!
45 minutes before departure I left the lounge to have enough time to reach the gate. The standard lounge to use is the Finnair Lounge in the Schengen area, on the first floor right opposite the large security control. The lounge has recently been significantly enlarged and now also has a new design. It is a nice place but offers a smaller selection of food and drinks than the Premium Lounge.
Read the full lounge review here!
The flight
Helsinki Vantaa-Stockholm Arlanda
Finnair flight AY 645
Departure: 16.50
Arrival: 16.50
Business Class
Airbus A321
Seat 03F
There were plenty of people at gate 26, the flight was going to be nearly full. Priority boarding was offered, which included me travelling in business class. All other passengers were boarded by seat rows.
Once onboard it seemed like also business class was full. I had prebooked seat 03D with a young man in 03F who seemed to have connected from a longhaul flight and slept the entire flight. Before departure Finnish, Swedish and International newspapers were offered by the crew.
It took a fair amount of time to board a full Airbus A321 but we still managed to leave the gate nearly on time with an expected flight time to Stockholm of 45 minutes.
Seat and cabin
There were six rows of business class on the Airbus A321. The seats are the same throughout the cabin with a standard amount of legroom but in business class the middle seats are kept free. The grey seats are actually quite comfortable.

Food and drinks
On the short flight to Stockholm a ham and cheese sandwich was offered followed by drinks. I asked for a bottle of champagne and a cup of coffee. The champagne offered onboard is Nicolas Feuillatte. Previously they served the Joseph Perrier champagne, which I liked better, but Nicolas Feuillate is perfectly allright. It is the same champagne served in the Finnair Premium Lounge in Helsinki.

A big plus is that the drinks are served in the lovely Iittala glasses while the coffee is served in Marimekko cups. A minus though for not even offering the sandwich on a proper tray. This is more what I expect to see in economy class.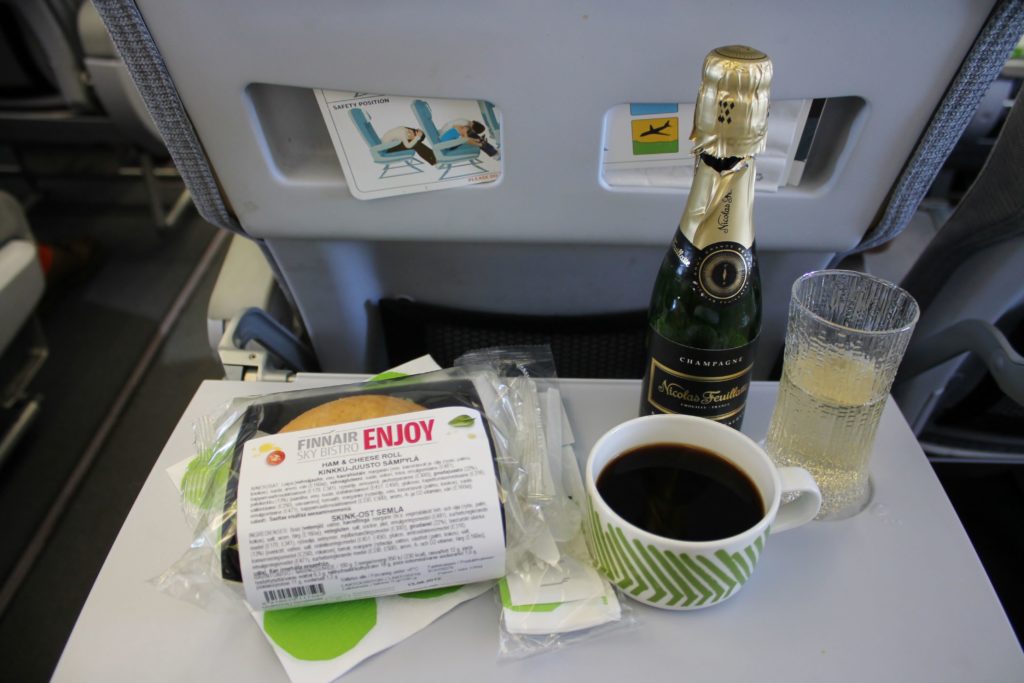 I was offered a refill of the champagne but as we started our descent the crew had to collect the rubbish and especially the proper glasses. However as I still had not finished my champagne the creative flight attendant went to the galley to get a plastic glass where I could pour the remaining bubbly, to be able to finish it properly without any stress before landing.
The service
The cabin crew did a good job, working hard to serve a full business class cabin of six rows on a short flight. No extra recognition of me as One World Emerald but it would probably be hard to expect too much on such a short flight.

Arrival experience
We landed five minutes late at Stockholm Arlanda airport. Finnair uses terminal 2 at the airport, the smaller of the two international terminals, very convenient to use with short walking distances. It took a couple of minutes for the checked luggage to arrive and as expected my bag was not in the first batch. But honestly, given this was an intra-Europe flight where the priority tags rarely works anyway I don not know how much of a difference a proper priority tag would have made anyway.

Final impression
A short flight on Finnair. The crew worked hard on the flight and provided a good service, I especially liked the initiative to pour the remaining champagne in a plastic glass to let me finish it properly. The Iittala glasses and Marimekko china are very nice to use and in contrast to some European carriers Finnair does serve proper champagne even on the shortest intra-Europe flight. But I would have wished something more to eat, with a nicer presentation. That basic sandwich did not feel very premium.