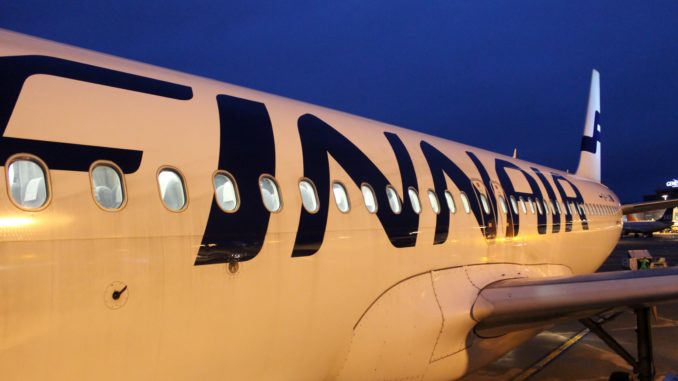 Departure experience

Check-in was done online on the Finnair webpage and the boarding pass was issued as a mobile boarding pass and downloaded to my mobile phone. With only hand luggage the airport formalities in Geneva were very easy.
Finnair uses the Dnata Skyview Lounge as a contract lounge, a lounge I had visited in the past. Nothing wrong with the Skyview lounge, it has a modern interior and an adequate selection of food and drinks, but there is nothing special about it.
However there is also a British Airways Lounge in Geneva, which I had not visited before. Although not the contract lounge for Finnair it is naturally accessible per OneWorld rules with a Finnair business class boarding pass and also by holding a top-tier Sapphire or Emerald frequent flyer card in OneWorld. Access was not a problem.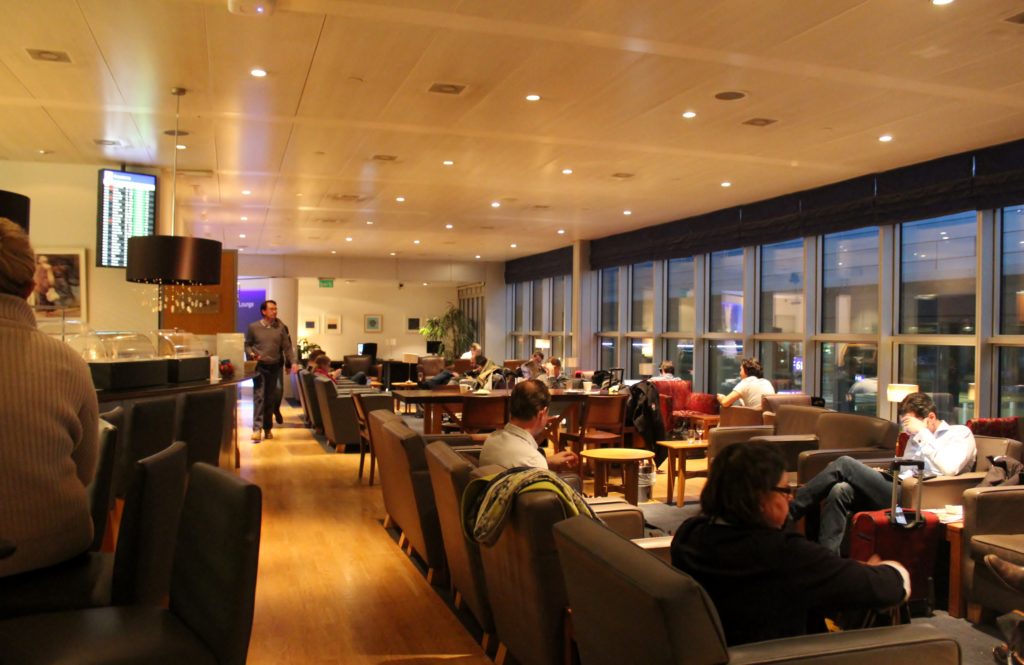 The lounge has the older Terraces lounge design, which as the name suggests should make you feel a bit like being on an outdoor terrace, although indoors of course. Even though the lounge concept has been around for some time I still like it. It feels fun and refreshing, a bit like being on holiday.
The lounge was fairly crowded when I arrived with several late-afternoon departures to both London Heathrow and London Gatwick but the situation improved as boarding was announced for these two flights. A full bar was available with all kinds of drinks as well as some finger sandwiches, a cold buffet and some desserts.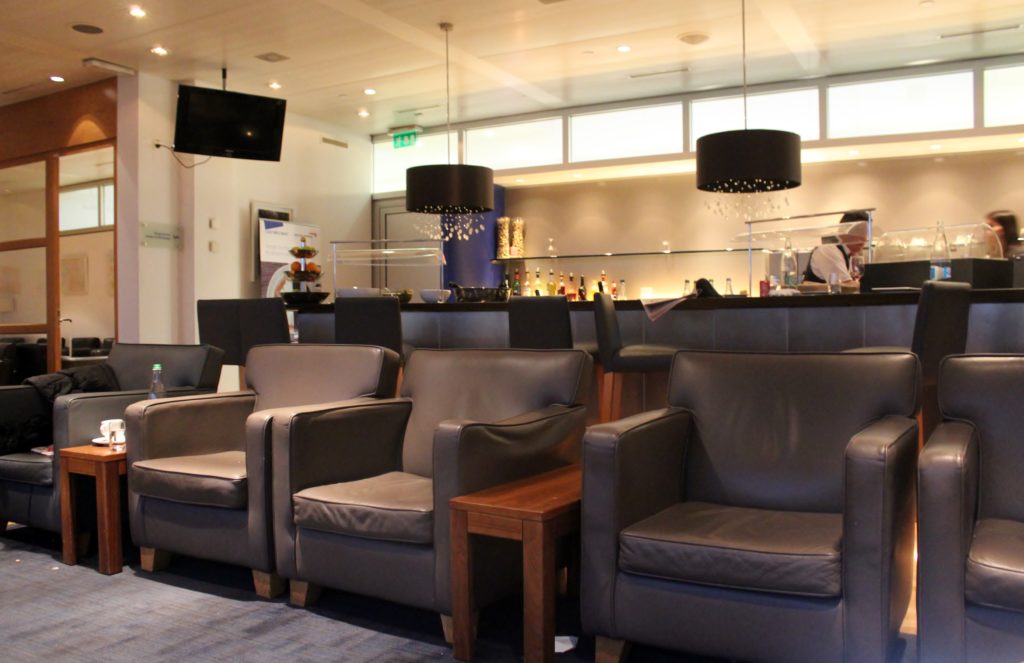 The flight
Geneva-Helsinki
Finnair flight AY 870
Departure: 19.00
Arrival: 23.00
Business Class
Airbus A320
Seat 02D

Geneva Cointrin airport has quite an interesting layout with its small circular satellite piers where most of the gates are located and which can be reached using underground passageways. But although the setup feels rather old-fashioned by today's standards and although nobody would probably ever construct an airport like this today, Geneva airport actually works quite well and is also a fairly efficient airport.
The Finnair flight was departing from gate D27, obviously located in concourse D.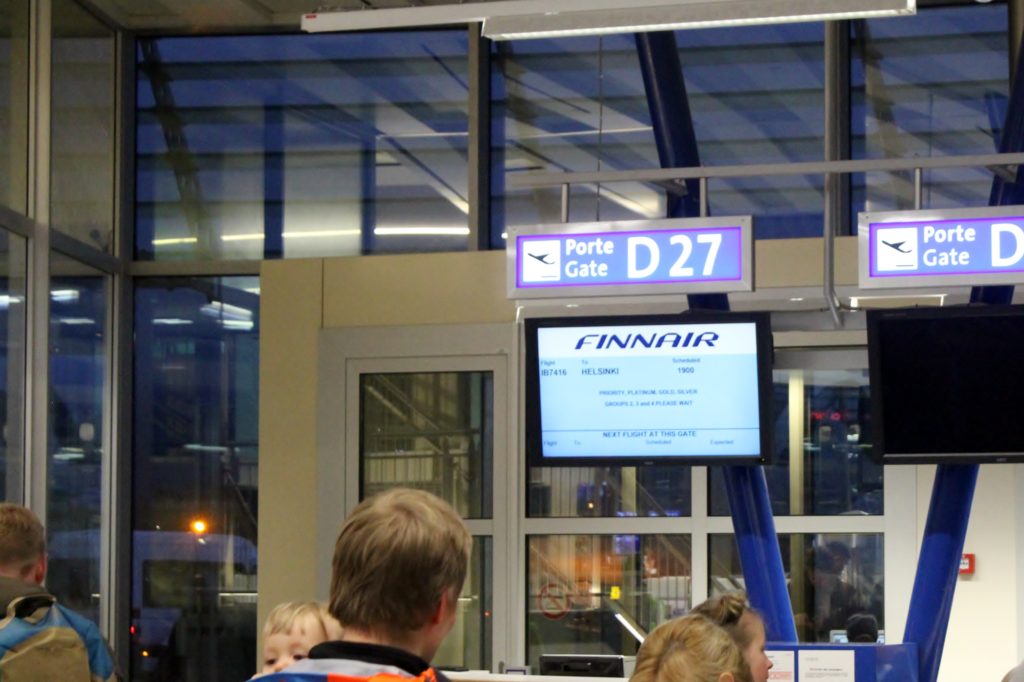 Boarding started early, already 30 minutes before departure. Although priority boarding was announced the flight was full and there were passengers absolutely everywhere in the gate area and it was hard for the gate staff to enforce it, even if they wanted to. At the end it was more of a general boarding for everybody.
Although most gates in Geneva have passenger bridges gate D27 was not one of them. Instead we got a short but pleasant outdoor walk on the apron from the terminal building to the aircraft.
First impression

The flight to Helsinki was completely sold out and full in both business class and economy class. Business class consisted of only two rows, or actually one and a half row with two rows on the left hand side of the aisle (seats A and C) and just one row on the right hand side of the aisle (D and F). This meant six seats in total in business class and all were taken. I had 02D.
After boarding was completed international and Finnish newspapers were offered in business class. There were also pillows and blankets in the signature Marimekko green colours on all seats in business class. However no pre-departure drinks were offered.
Punctual pushback with a fairly long flight time to Helsinki of two hours and 45 minutes.
Seat and cabin

Standard intra-Europe business class layout with a 2-2 configuration and a blocked middle seat in business class.
As four of the six seats on this flight were bulkhead seats on the first row (1AC/2DF) the legroom was fairly good for most passengers, as is often the case when sitting on the first row. However sitting on the first row also means all hand luggage has to be placed in the overhead lockers during taxi, takeoff and landing.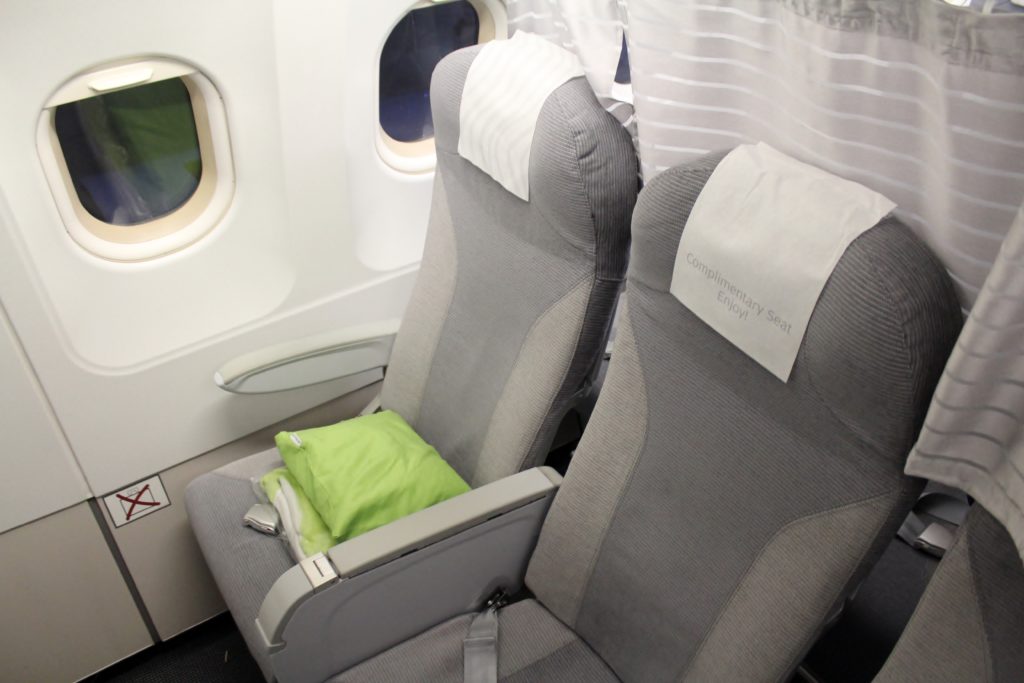 Food and drinks

After takeoff a first cocktail was offered by the purser who served in business class. I asked for a gin and tonic which turned out to be a Bombay Sapphire served with Fever-Tree tonic water together with ice and lemon and some pretzels. And they use the lovely Iittala Ultima Thule glasses for wine and cocktails which are so classy, especially together with the white and green napkins from Marimekko. These small details really help creating a premium experience.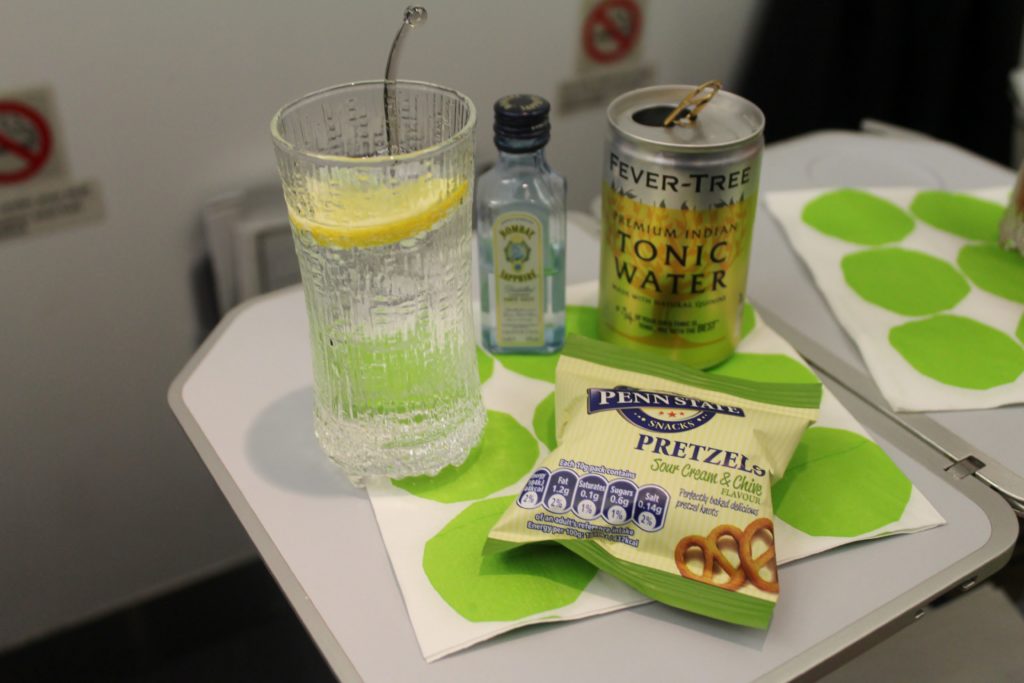 Around 20 minutes later dinner was served and I asked for a bottle of red wine to drink and was offered a Côtes-du-Rhône.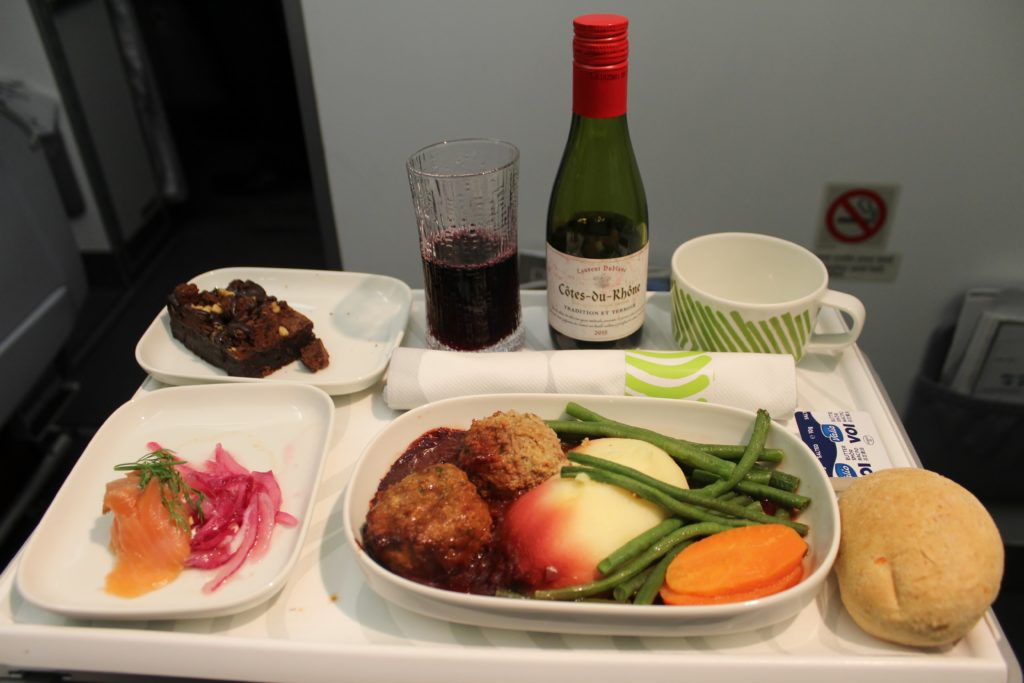 The starter was salmon. The main course beef medallions with mashed potatoes and vegetables. And finally the dessert was a brownie chocolate cake. The dinner was excellent, very tasty, and also looked very appetising. Full marks for the presentation which looked both stylish and fairly premium.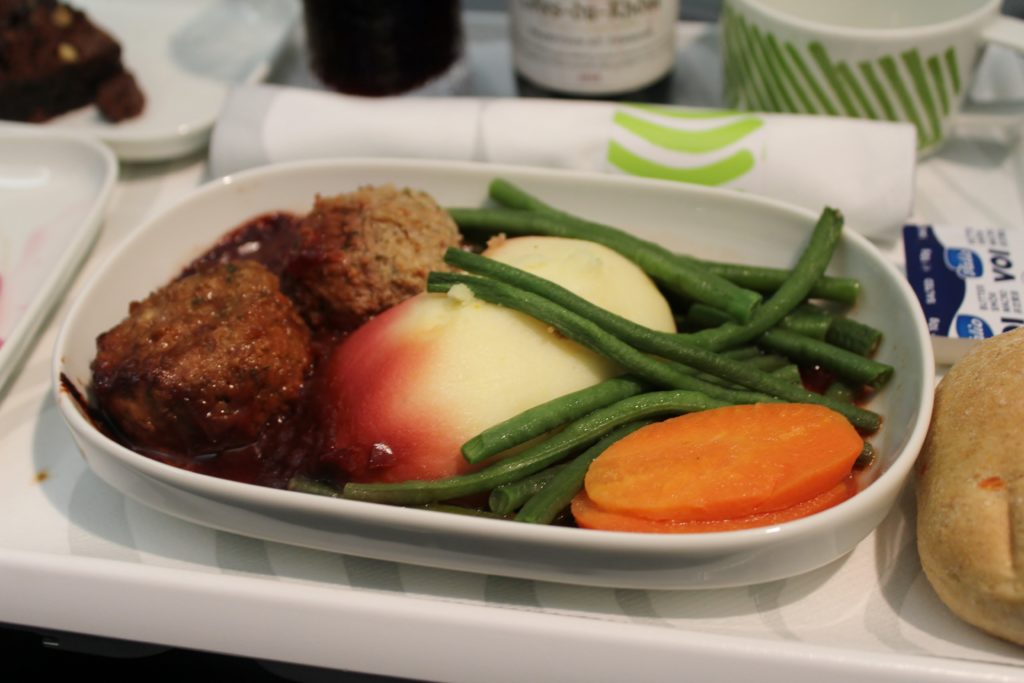 Finally coffee and tea were offered, again in a nice Marimekko cup. I was also offered some liqueurs and asked for a whisky and choose the Chivas Regel brand. They also had a single malt onboard. Later during the flight several refills were offered.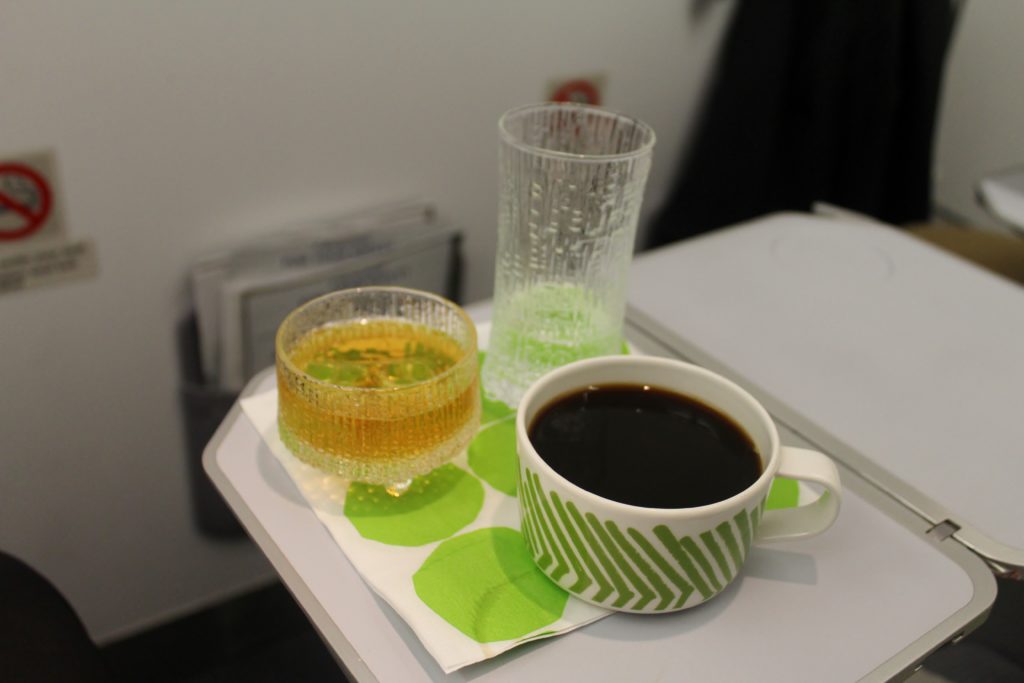 The service

Excellent, perfect. Finnair at its best. The middle-aged purser who served in business class did a great job. The service was polite, friendly and attentive with refills offered throughout the flight without having to ask for it, but without taking it too far in any way. It was a very pleasant flight with a perfect service concept and and a perfect coordination. They did everything just right.
Arrival experience

As Switzerland is not part of the European Union taxfree sales were offered onboard, including tobacco and alcohol. I decided to buy a bottle of Napue gin which I noticed was available in the inflight catalogue in the seat pocket. Napue recently won the award "Best gin and tonic in the world" and it is indeed a very tasty gin. It is offered in Finnair business class on longhaul flights and also in the Finnair Premium Lounge in Helsinki, but unfortunately not in shorthaul business class.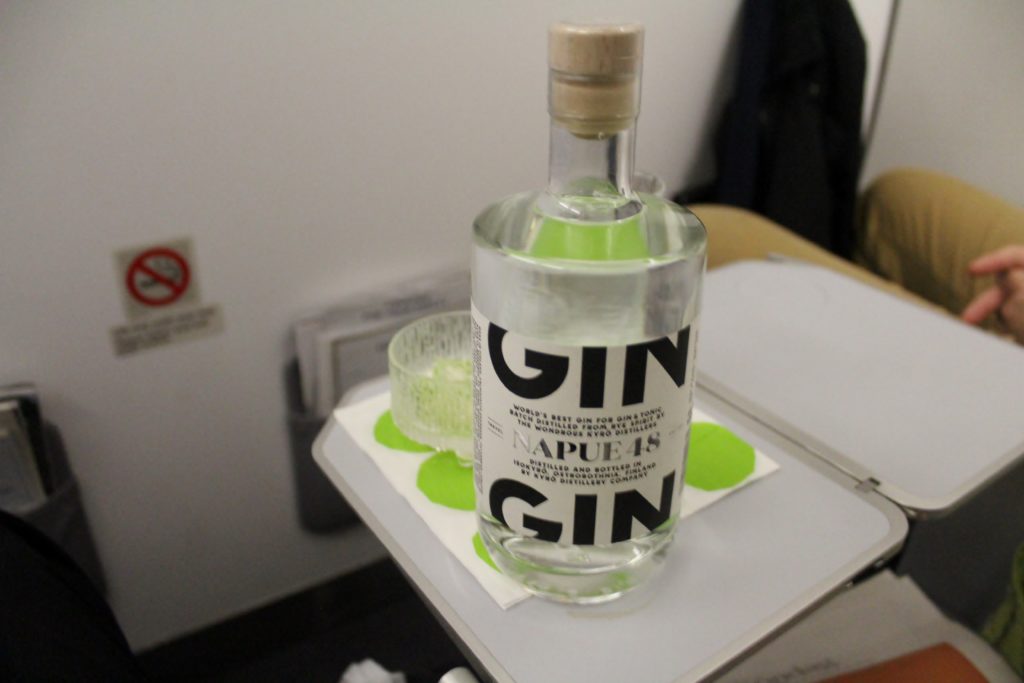 As we started out descent to Helsinki connecting flights and gates were shown on the monitors in the cabin. Although we landed at 11 pm there were passengers connecting to four different destinations, including longhaul to Asia, domestic in Finland, to Scandinavia and the Baltics.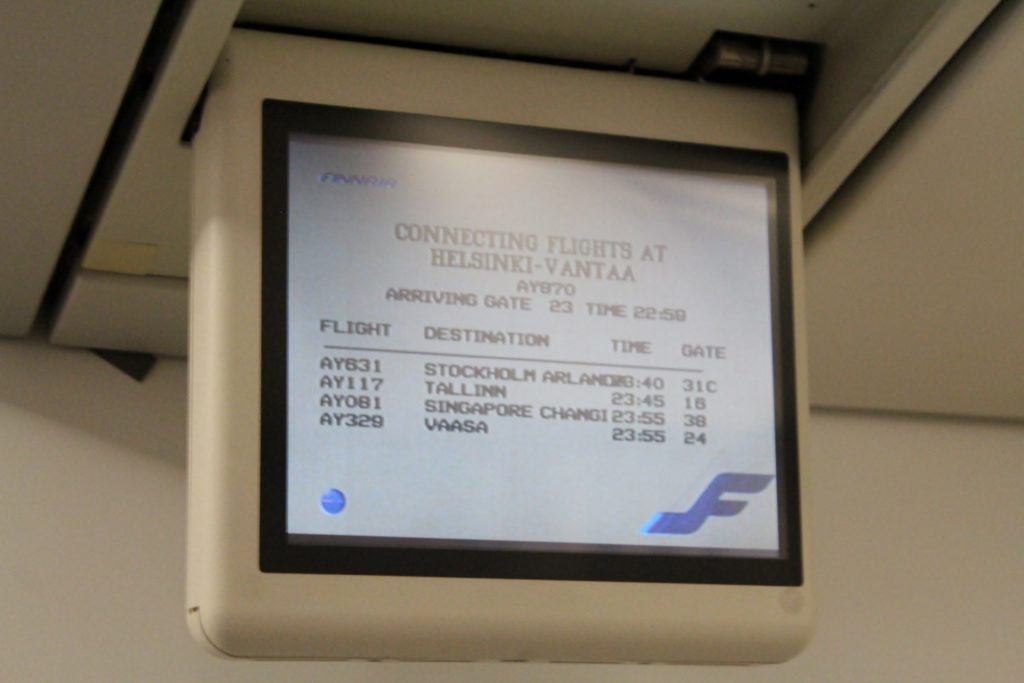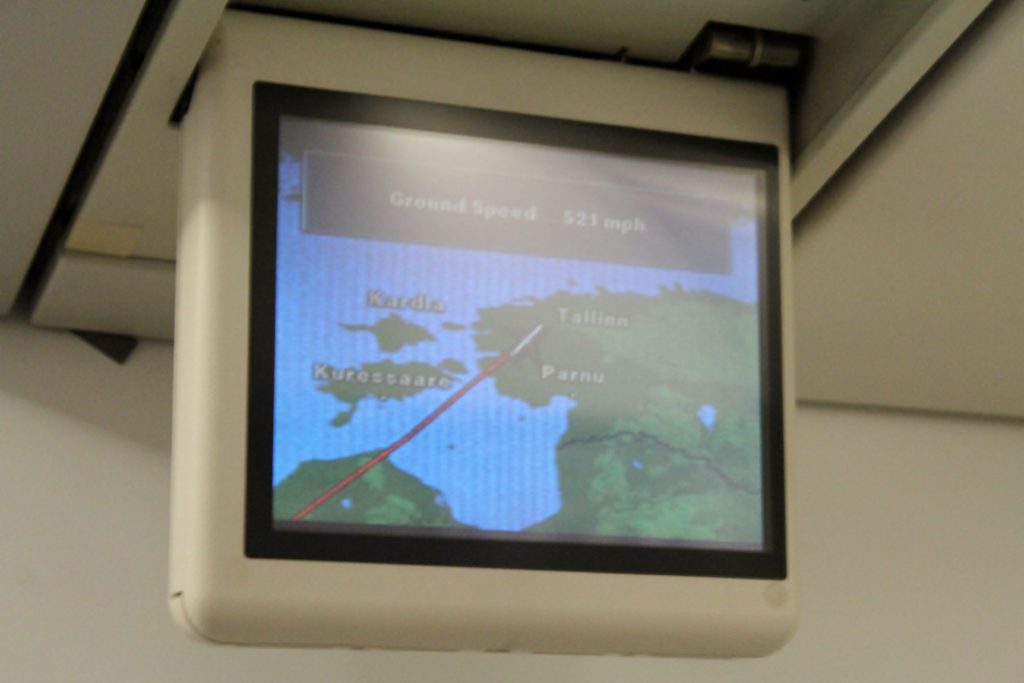 We landed ten minutes early at Helsinki Vantaa with plenty of time until the connecting flight and even enough time for a quick lounge visit. Vantaa is really a very convenient airport.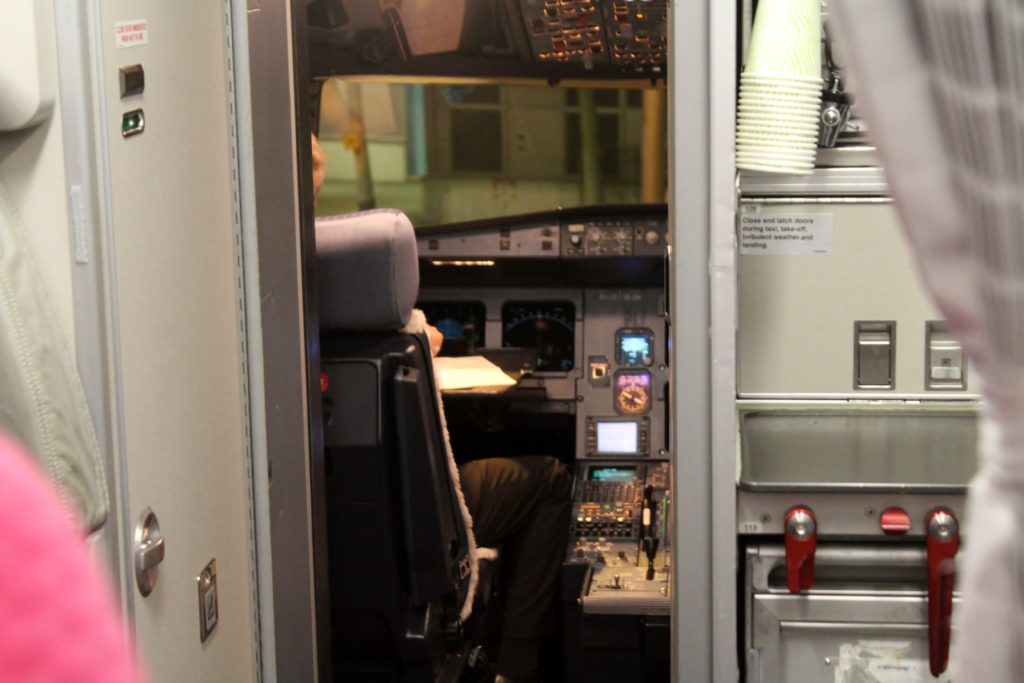 Final impression

A very nice flight with Finnair in business class. Great service from the purser, a very nice dinner service, lovely china, glasses and napkins from the Finnish designers Iittala and Marimekko and a punctual landing. A premium experience. Finnair at its best!