I generally use full-service airlines for my travels but sometimes there are budget airlines offering more suitable alternatives. And to be honest it can actually be quite exciting and refreshing to try something else for a change. This is my first ever flight with Easyjet, a very short hop from Edinburgh in Scotland to Belfast in Northern Ireland.
Departure experience

I arrived at Edinburgh airport over two hours before departure, planning to have breakfast and get some work done at the airport before the flight. I had already checked in online and printed my boarding pass myself and was only travelling with hand luggage, so once at the airport I could head directly to the security control.
Easyjet passengers with checked luggage use a special self service baggage drop area at Edinburgh airport where you both tag and drop your luggage yourself. If you have an Easyjet Flexi ticket you have access to the manned Easyjet Plus check-in desk.
If you have an Easyjet Flexi ticket you also have access to fast track in Edinburgh, however it turned out the lines were nearly non-existent anyway. I was through within five minutes.
Of course there is no lounge access flying Easyjet and Easyjet is not part of any of the large alliances, however there are two pay-in lounges at Edinburgh airport. I had visited both in the past and decided to go for No 1 Lounge this time, which I enjoyed last time. The staff were friendly and the food and drinks offerings were decent.
This time I was given a menu at the reception with the breakfast offerings. All lounge guests are allowed to order one item from the menu. After you have ordered you return the menu to the staff so you cannot order a second time. I decided to try a tortilla cheese wrap, which was served warm and was quite tasty. Coffee, juices, fruit salad and pastries were available for self service.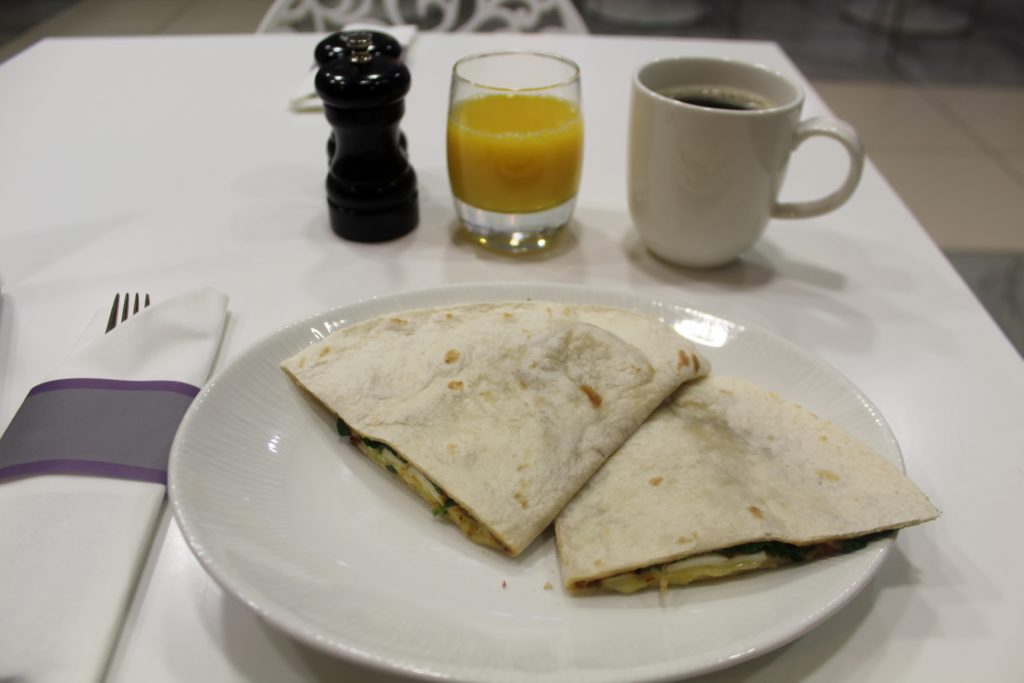 The flight
Edinburgh-Belfast International
Easyjet flight U2 482
Departure: 10.20
Arrival: 11.10
Economy Class
Airbus A320
Seat 26F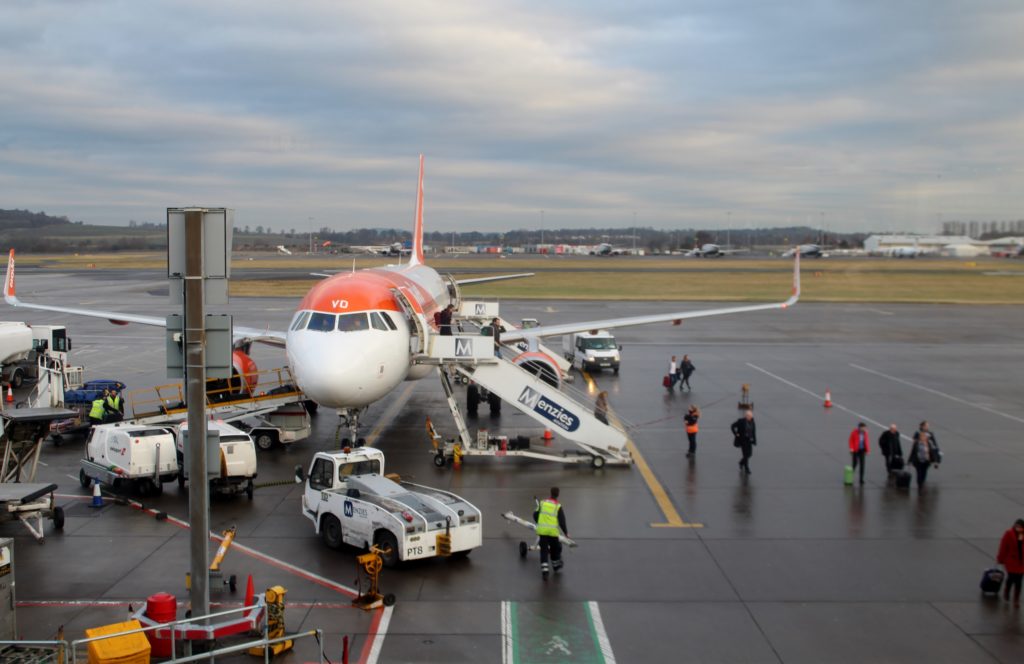 The Airbus A320 that was to take me to Belfast arrived at 9.55 am from London with a turnaround time of only 25 minutes. But they actually managed this. Two stairs were used for passengers to enter and exit the aircraft and the boarding process started before the last arriving passengers had even left the aircraft. The departing passengers ended up waiting in the staircase from the terminal building to the apron before they were allowed to continue to the aircraft.  Not particularly nice having to wait in a staircase but it was surely very efficient.
Priority boarding was offered for Easyjet Flexi customers using a separate line at the gate.
First impression

This seemed to be a newer Easyjet aircraft with a fairly new cabin interior. The Airbus A320 was operated by Easyjet Europe and the aircraft was registered in Austria. The cabin crew were mostly British though.
On the whole the cabin gave a good first impression and looked much like any other shorthaul aircraft and the flight attendants greeting at the door were friendly and pleasant.
They did a really impressive job with the turnaround and we actually left the gate 5 minutes before scheduled departure time, which meant a turnaround in just 20 minutes. Using two stairs certainly helps a fair bit getting all passengers onboard quickly.
Seat and cabin

3-3 seating in the cabin with a somewhat tight legroom and seats in blue and orange.  I recognise the seats from other airlines and these thinner seats are acceptable for a shorter flight but the main drawback is that they do not recline.
During online check-in I was not able to choose a seat myself without paying for it, which started at 2 GBP for a standard seat and then quite a bit more for a seat on the first row or at an emergency exit. As this was a short flight I did not bother paying and I was actually a bit curious to see how the automatic seat assignment would work. At the end I was given seat 26F by the system and I was very positively surprised that I got my own row. Generally the system seemed to have done a good job. Several passengers got their own rows rather than grouping passengers together and leaving some rows empty. We were all very evenly spread out in the cabin. Row 26 might seem as quite far at the back of the cabin, which it is, but then again they did also board through the rear door.
Food and drinks

Food and drinks were available for sale onboard and even though the flight time was only 30 minutes the sales trolleys did come out in the cabin during the flight, one from the front and one from the back. 2.50 GBP for a cup of coffee and 4.50 GBP for a bottle of wine. Just about standard prices. They also had sandwiches, wraps, pizzas, snack boxes and of course lots of other snacks.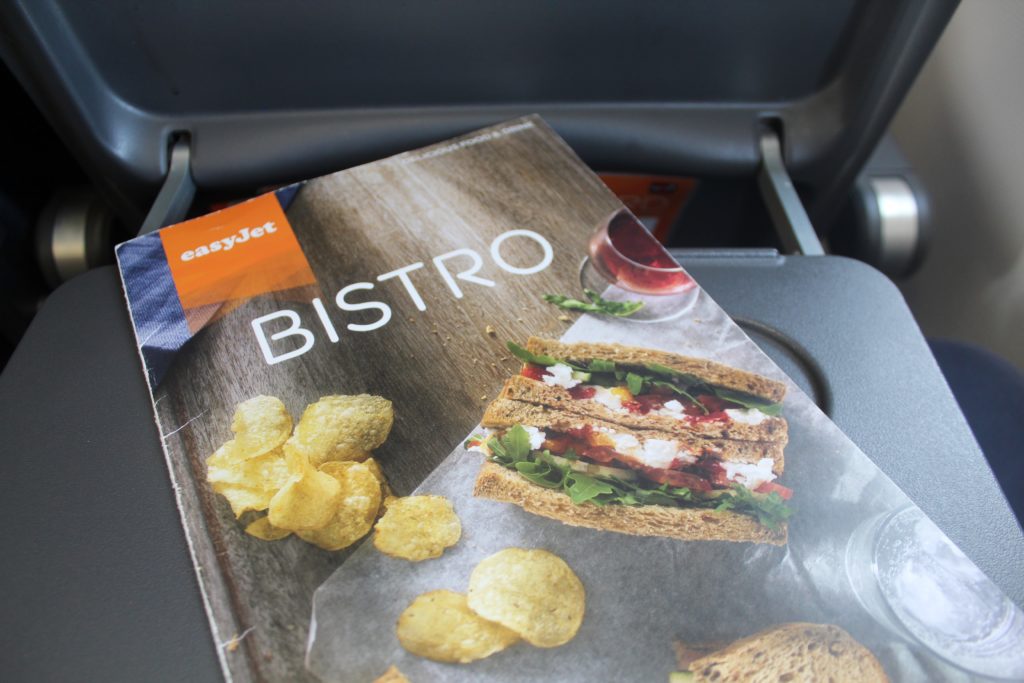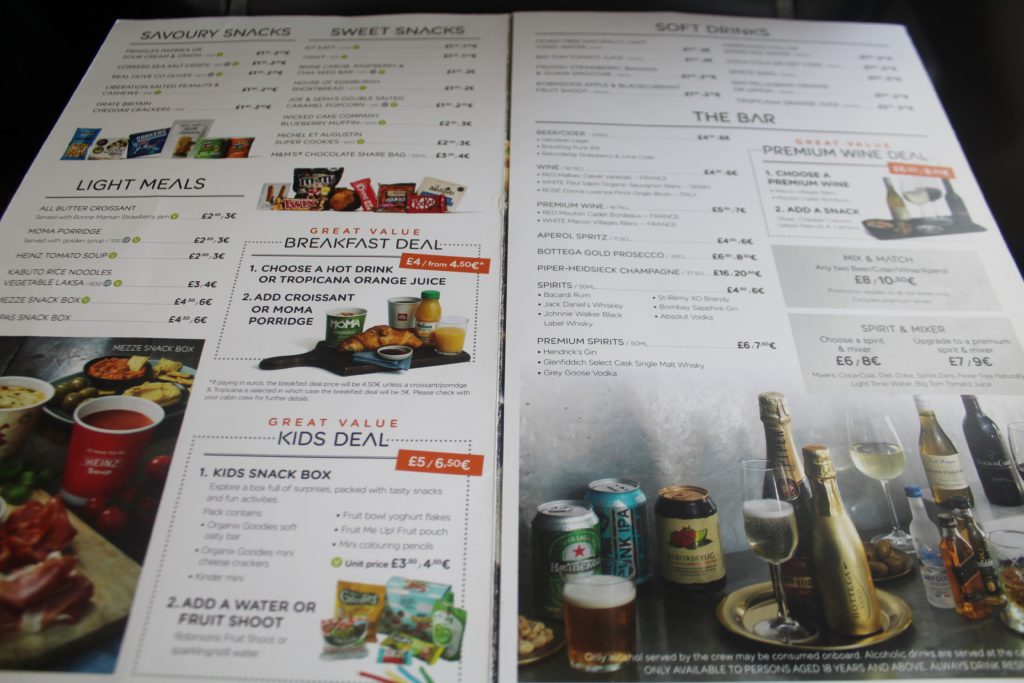 The service

As this was a short flight and as I did not buy anything onboard there was little interaction with the cabin crew. But they were generally friendly and courteous but really had to work hard to manage during this short 30-minute flight.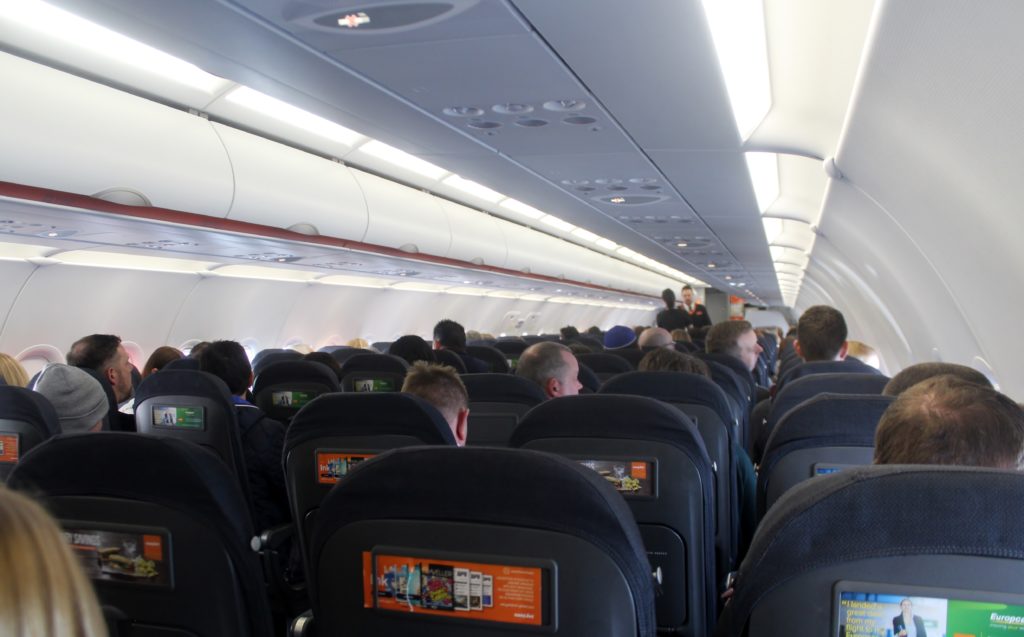 Arrival experience

We landed at Belfast International Airport well ahead of timetable. Two stairs were used also in Belfast which really make a big difference in how fast you can get all passengers off the aircraft. There are no passenger bridges at Belfast International Airport so we just walked on the apron and were led directly to the baggage reclaim.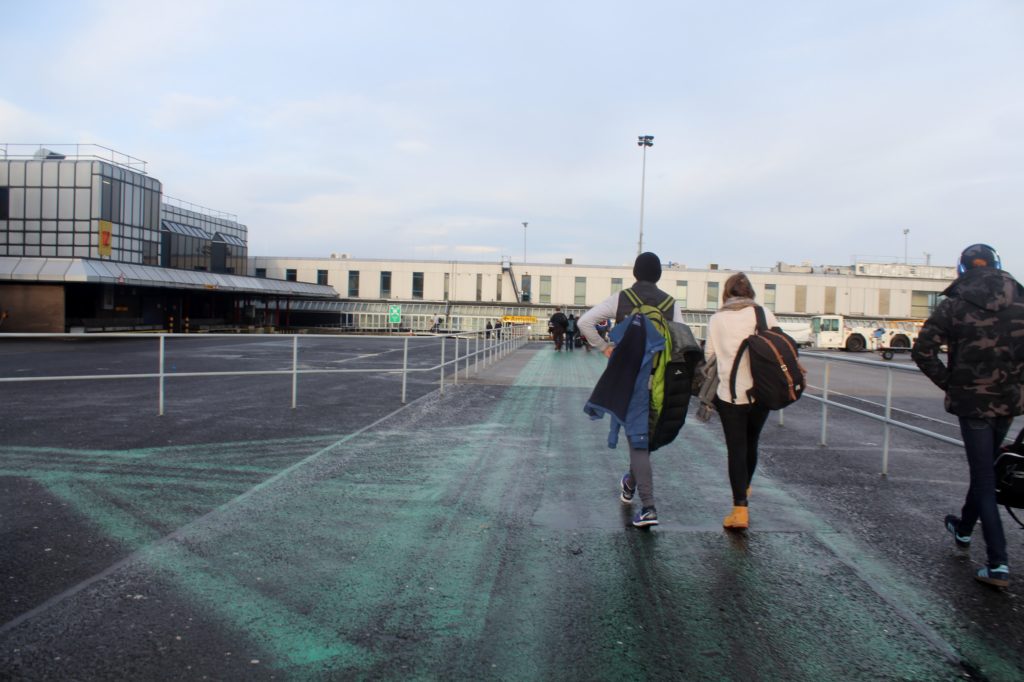 Final impression

Of course the experience cannot be compared to the one on a full-service airline and in particular if you have a top-tier frequent flyer card with the airline or the alliance. Priority check-in, fast track, lounge and priority boarding do make a difference, at least on some days. But otherwise the experience was just fine. The aircraft departed and landed on time (actually ahead of timetable), the cabin was tidy and the Easyjet staff both on the ground and in the air were friendly and courteous. And not to forget, the ticket was very affordable.
Naturally there are benefits of choosing a full-service airline, also on shorter flights. Especially the extra support you get as a frequent flyer can be invaluable when things go wrong and you have a dedicated gold or platinum line to call and are put on top of the waiting list. But if you just want to get from point A to B, there is a direct flight and you have no special needs, this works just fine.