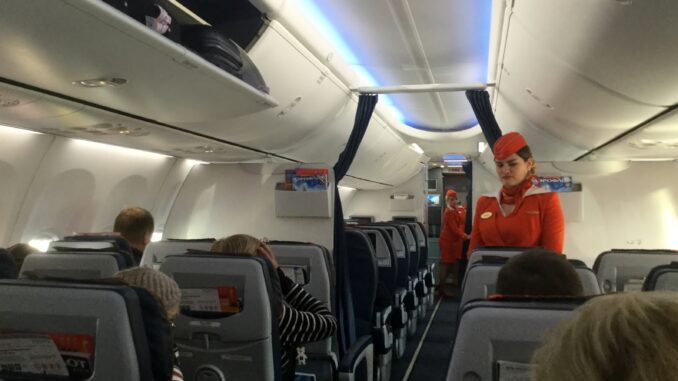 Departure experience

Check-in was done on the Aeroflot webpage and as Skyteam Elite Plus I could also pre-select a seat free of charge during the booking process. However as I know they want you to have a paper boarding pass when tranferring through Moscow Sheremetyevo airport, something the airport staff can physically look at and stamp, I decided to visit the check-in desk to have paper boarding passes printed.
Aeroflot has been operating at terminal 5 at Arlanda airport for decades, the main international terminal, but recently moved to the smaller but very convenient terminal 2 where most other Skyteam carriers are operating such as Air France, KLM and Czech Airlines.
Three desks were open for Aeroflot, including a Sky Priority desk I could use as Skyteam Elite Plus. In normal cases this would have been a quick process, but just before I got there there had been an incident at the Sky Priority desk. A couple had been verbally abusive to the female check-in agent, the things they said were definitely beyond what is acceptable, to the extent that the check-in got rather shaken and had to be replaced to be able to take a break. A supervisor arrived to assist and a decision was immediately taken to offload the two passengers who would not be allowed to board the flight to Moscow.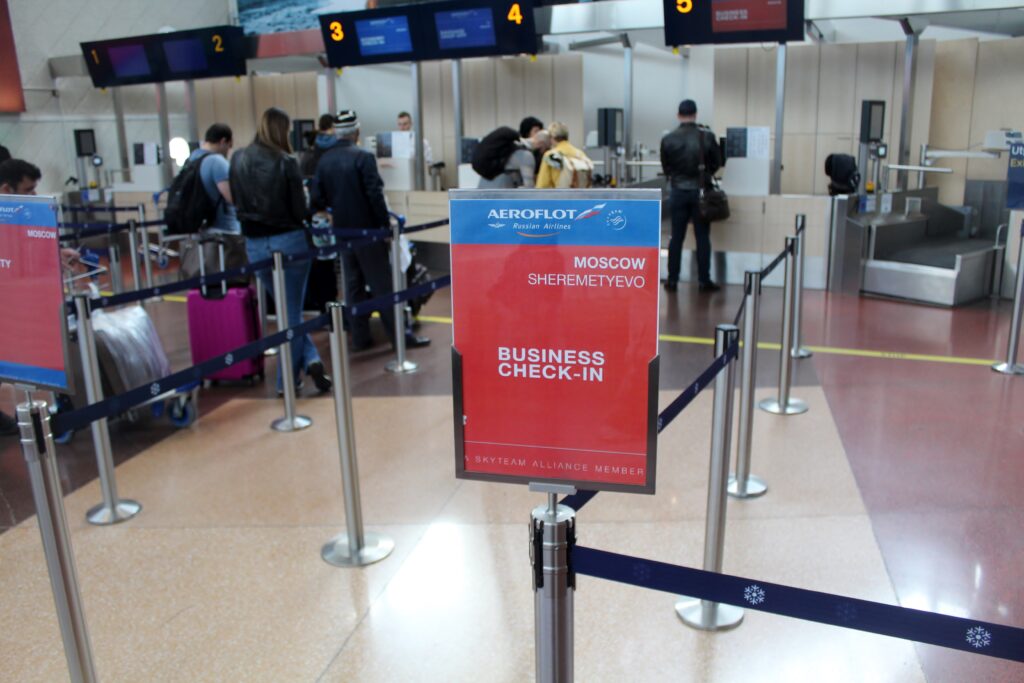 When it was finally my turn the process was quick. Sky Priority passengers have access to the fast track channel flying Aeroflot but when I scanned my boarding pass I was denied entry. Eventually I realised my frequent flyer number had in some way disappeared, even though I had entered it both during the booking process and during online check-in. Back to the check-in desk where this was sorted out and new boarding passes were printed.
There is just one lounge at terminal 2, the Menzies Aurora Lounge, which Aeroflot obviously uses. A decent cold lunch buffet was available and all kinds of alcoholic and non-alcoholic drinks.
The flight
Stockholm Arlanda-Moscow SVO
Aeroflot flight SU 2211
Departure: 12.40
Arrival: 15.50
Economy Class
Boeing 737-800
Seat 10D

Boarding started nearly 30 minutes before scheduled flight departure, in good time for the 12.40 departure. Once again Sky Priority passengers were allowed to board first using a separate lane to the left of the podium. It was perfectly organised.
First impression

A rather new Boeing 737-800 was used for the afternoon flight to Moscow and it gave an excellent first impression. The seats were in dark blue leather with orange headrests, in the same orange colour as the crew uniforms. And the aircraft was equipped with the Boeing Sky Interior with the nice mood lighting effects.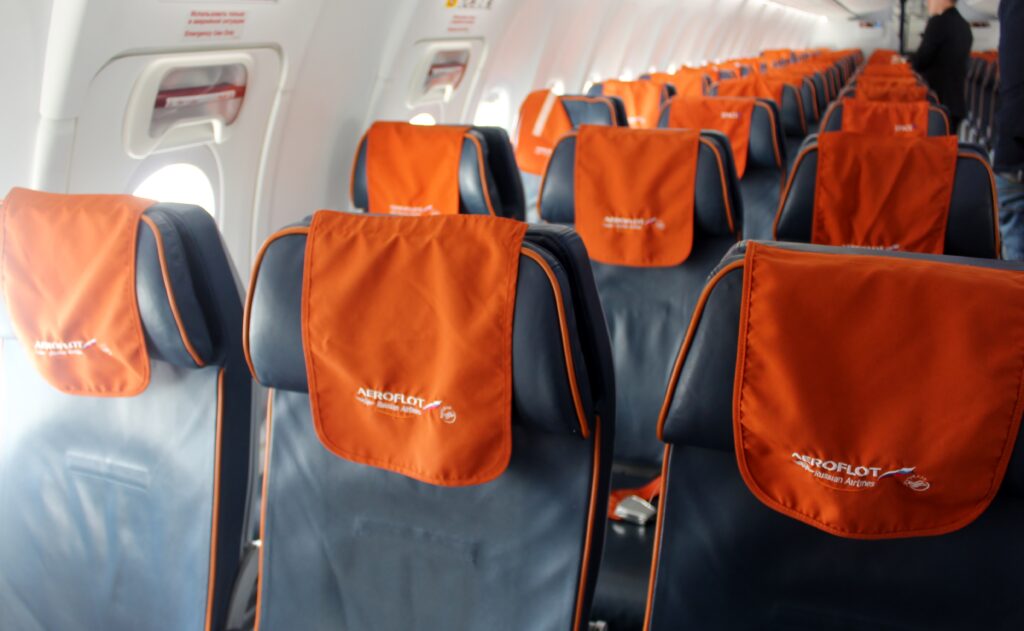 Aeroflot is also one of a few airlines in Europe to offer proper business class seats also on shorthaul flights such as on a Boeing 737, an Airbus A320 or a Sukhoi Superjet, offering a proper 2-2 configuration.
Punctual pushback with a flight time of one hour and 45 minutes to Moscow.
Seat and cabin

In economy class there was a 3-3 configuration and I was seated in 10D next to a Russian woman and her daughter. The load onboard in economy class was around 70% while there was a handful of passengers in business class.
The amount of legroom was adequate. Not a massive seat pitch but better than on some other European airlines.
And a big hands up to Aeroflot for offering power sockets onboard, also in economy class on the Boeing 737. Although it is not unusual to find USB ports on flights nowadays, power sockets in shorthaul economy class are quite rare.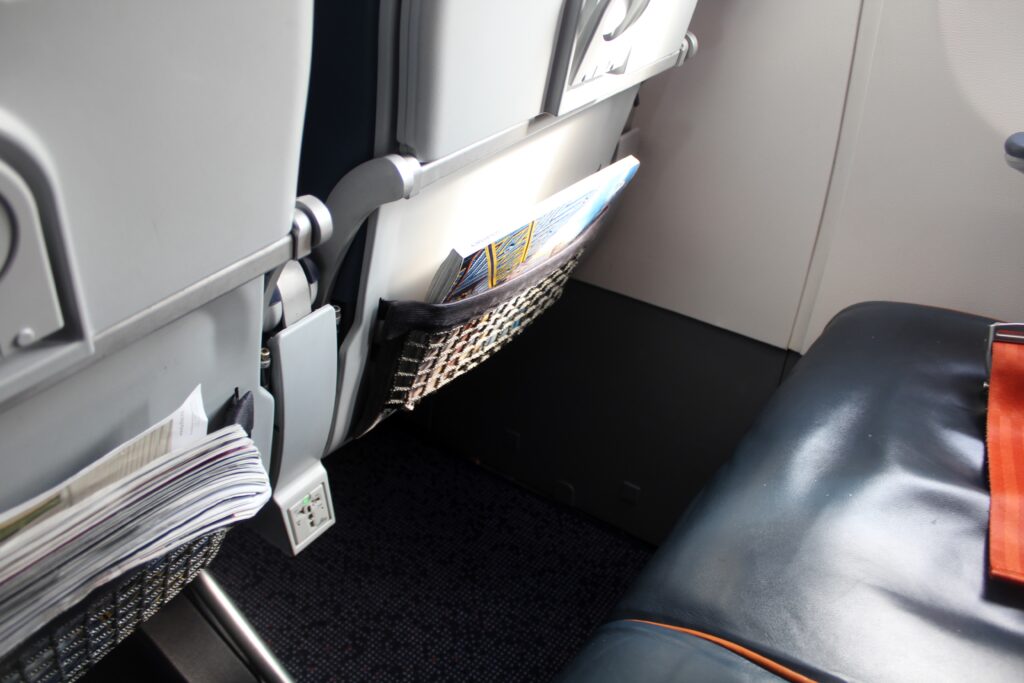 Food and drinks

As we reached our cruising altitude the inflight service started with a complimentary snack service in economy class.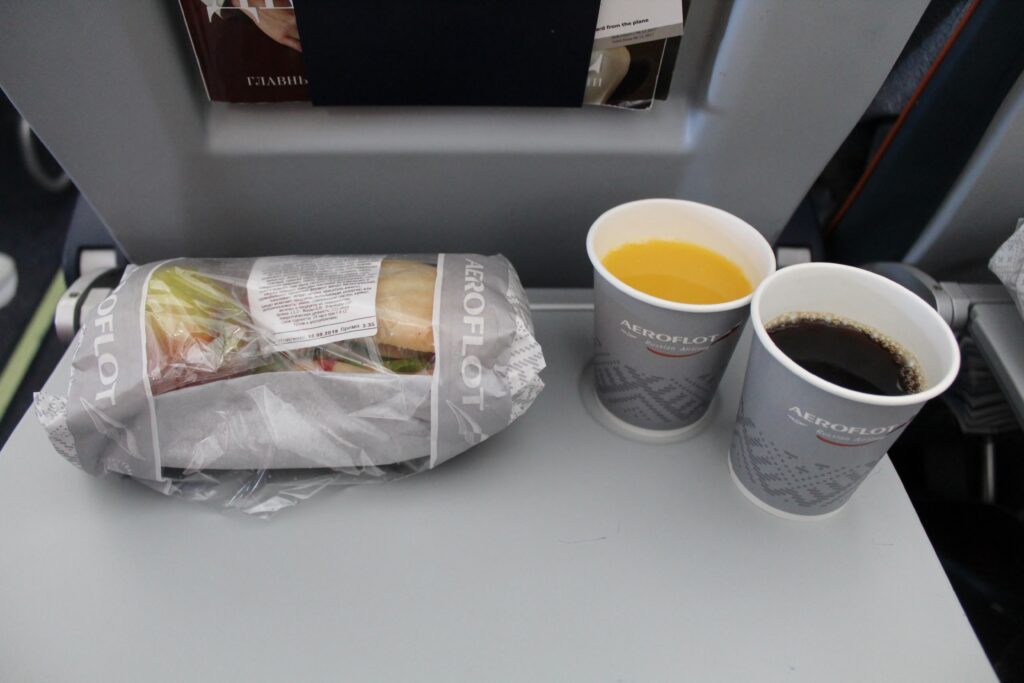 A small plastic bag was handed out which contained a sandwich, an apple and a chocolate bar. Complimentary non-alcoholc drinks were also offered free of charge including sodas and juices and of course coffee and tea.
Beer, wine and spirits were not available, not even for sale. They are only offered on longer intra-European flights, which means flights with a flight time of around three hours or longer. On these flights beer and wine are offered free of charge in economy, but not spirits. In business class alcoholic beverages are obviously available on all international flights.
And there was also a small and rather cute chocolate bar in the bag.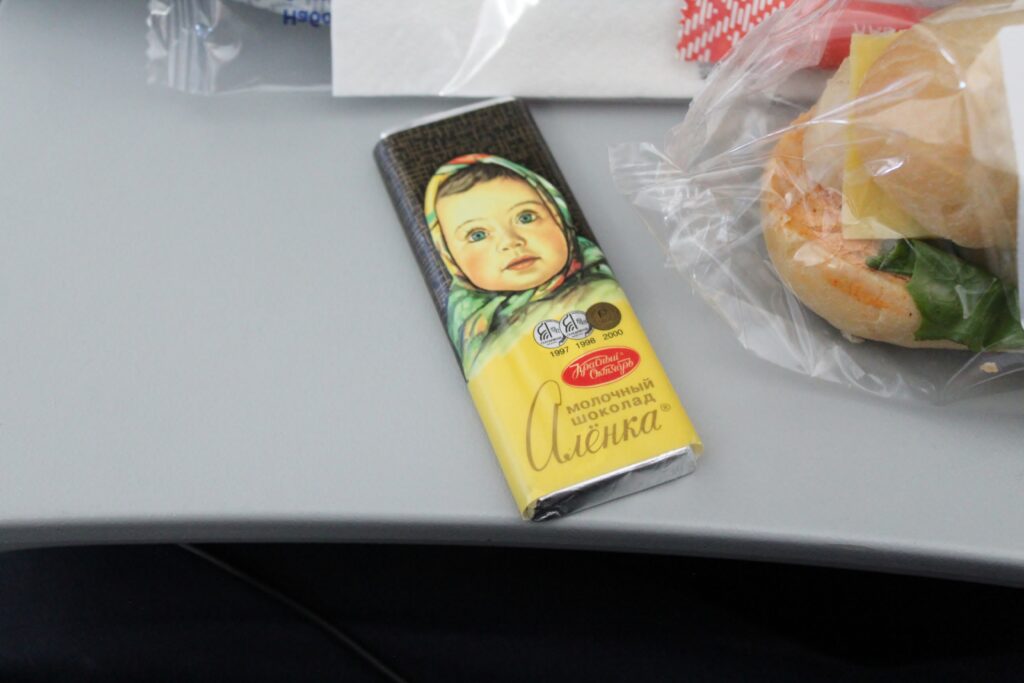 Inflight entertainment
To my surprise there was a full inflight entertainment system available onboard, which you could access using on your laptop, tablet or smartphone using an online portal. This meant you did not have to download an app before the flight.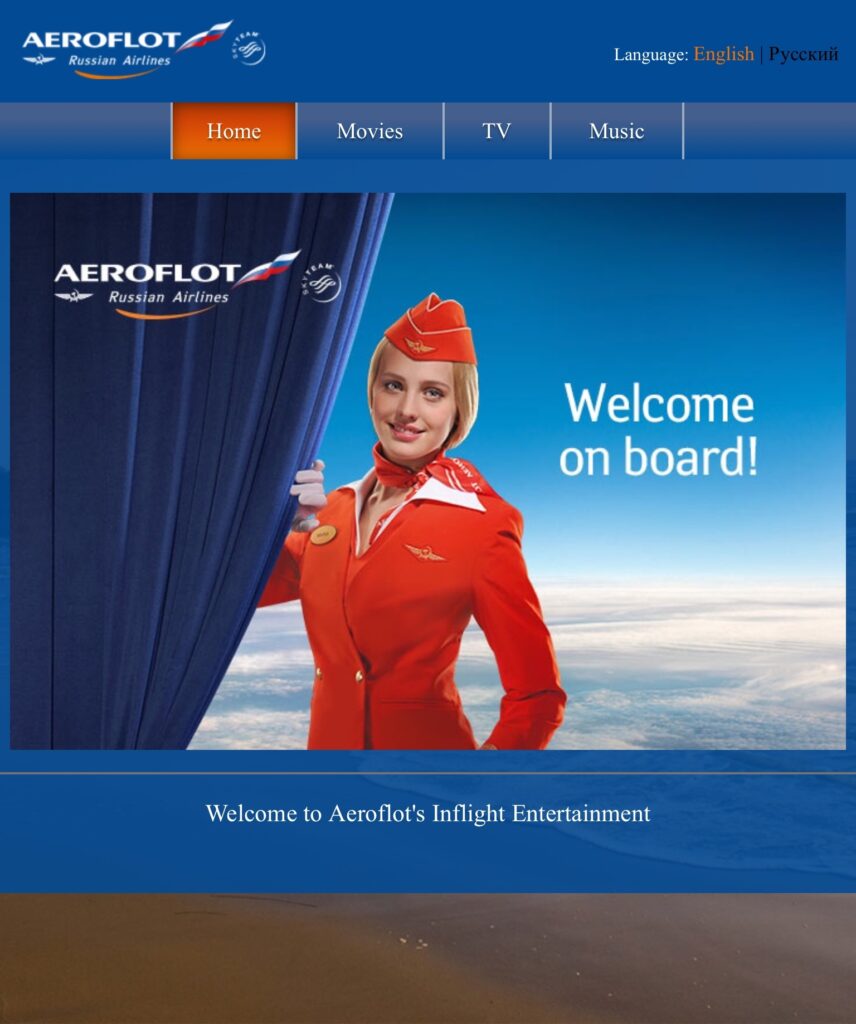 The selection of movies, TV-series and music albums was quite decent and especially for a shorthaul flight of two hours where most European carriers would not offer any kind of inflight entertainment at all. And I did appreciate that you did not have to download an app to your smartphone or tablet before the flight in order to use it, which most people (other than experienced frequent flyers perhaps) would simply not do.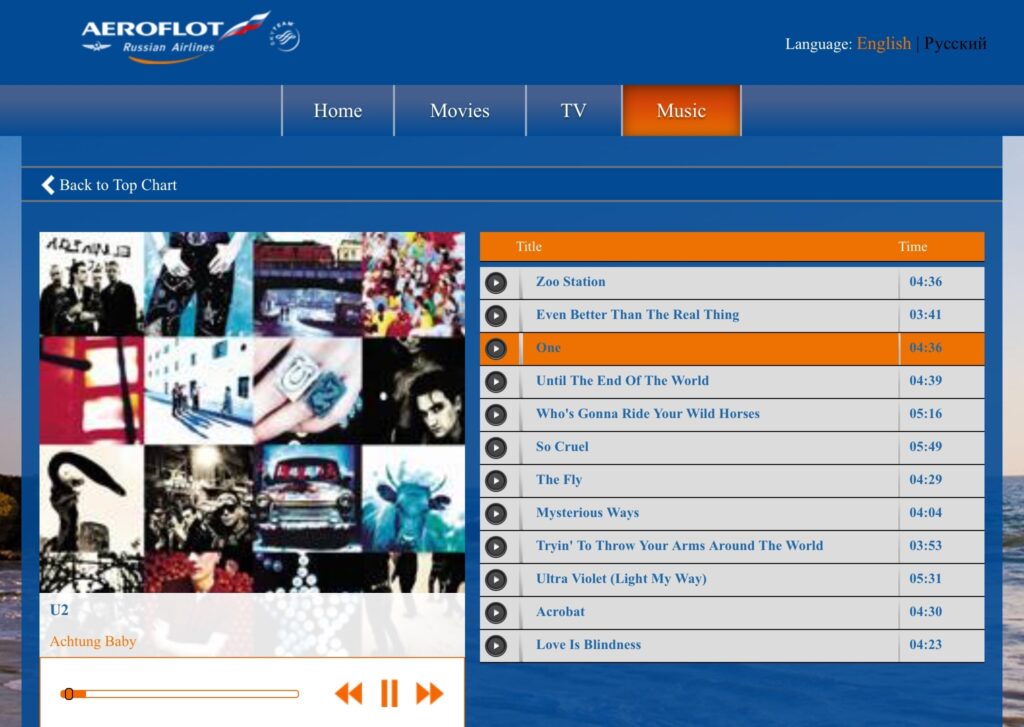 The service

The service was friendly but very much by the book with no special recognition for me as Skyteam Elite Plus.
Generally speaking as there is probably a generation shift going on at Aeroflot at the moment with many younger people joining the airline. Young people who have little or no experience of the life in Soviet Union and who have a much more open-minded, down-to-earth and liberal approach to the service and the passengers, and who are just as charming and just as smiling as the cabin crews on any other European airline.
Arrival experience

We landed a few minutes ahead of timetable at Moscow Sheremetyevo airport and parked at terminal D. I was happy I already had a paper boarding pass for the connecting flight, rather than a mobile boarding pass, as it saved me the hassle of having to pass a transfer desk.
The transfer formalities at Sheremetyevo are fairly straight-forward nowadays with a passport control (also for transfer passengers), a check of the boarding pass (which they stamp) followed by a very quick security control. I was airside in the transit hall within just a few minutes after touchdown.
Final impression

A very nice experience on a brand new Boeing 737-800 which even had inflight entertainment and power socket in economy class. Reasonable complimentary snacks and drinks, friendly staff and a punctual arrival.