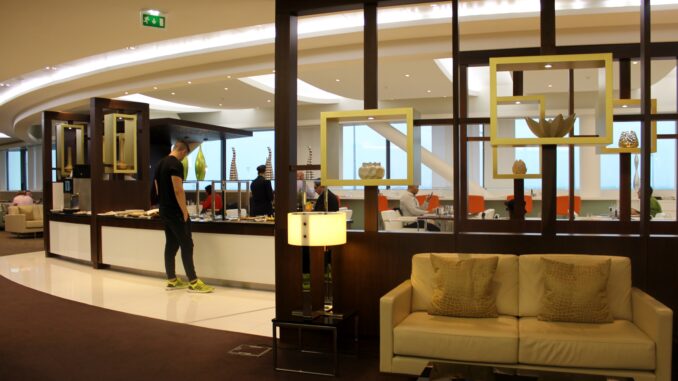 Where is it?

The lounge is located airside after security control and passport control in the combined transit hall for terminal 2A and terminal 2C.
The entrance is on the first floor, which can be reached using the stairs or the lift. The lounge is located in the same area as the Emirates Lounge, the American Airlines Lounge and the Cathay Pacific Lounge. There are plenty of signs to follow.
How do I get in?

Access is given to Etihad Airways first class and business class passengers as well as Silver, Gold and Platinum members of Etihad Guest.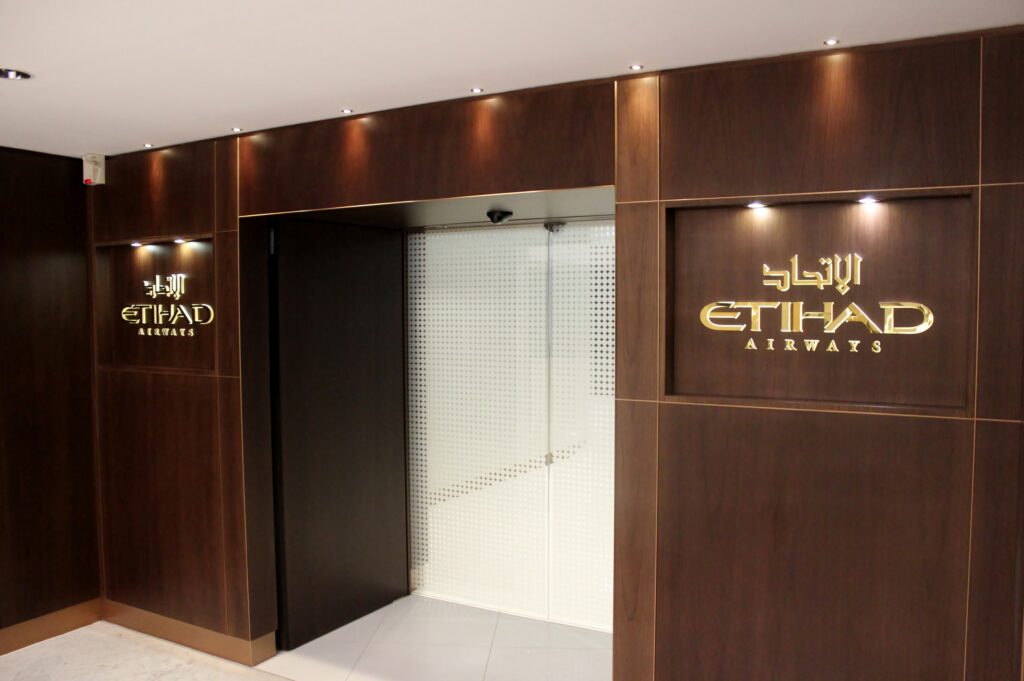 What's it like?

The lounge opened in February 2013 at a cost of around 6 million Euro. Overall the lounge is quite impressive, both in terms of its size and its design and especially given that Etihad only has two daily flights from Paris to Abu Dhabi.
The lounge is surprisingly spacious and measures 620 sqm. It is divided into several different areas with different purposes.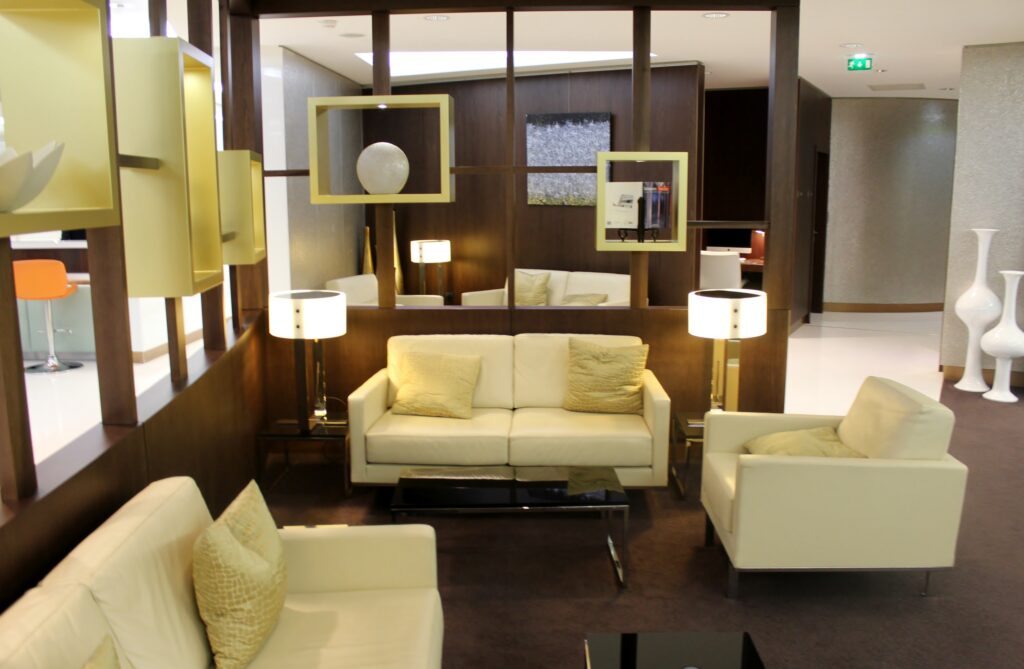 The design is very elegant in mostly white and dark wood with plenty of oriental and rather colourful design details in order to create a pleasant atmosphere. Those who have visited other Etihad lounges around the world will recognise most of the lounge concept.
There are plenty of seating areas spread out throughout the lounge including some more secluded ones for those who prefer some privacy. Most of the sofas and armchairs are in dark brown or in various pastel colours.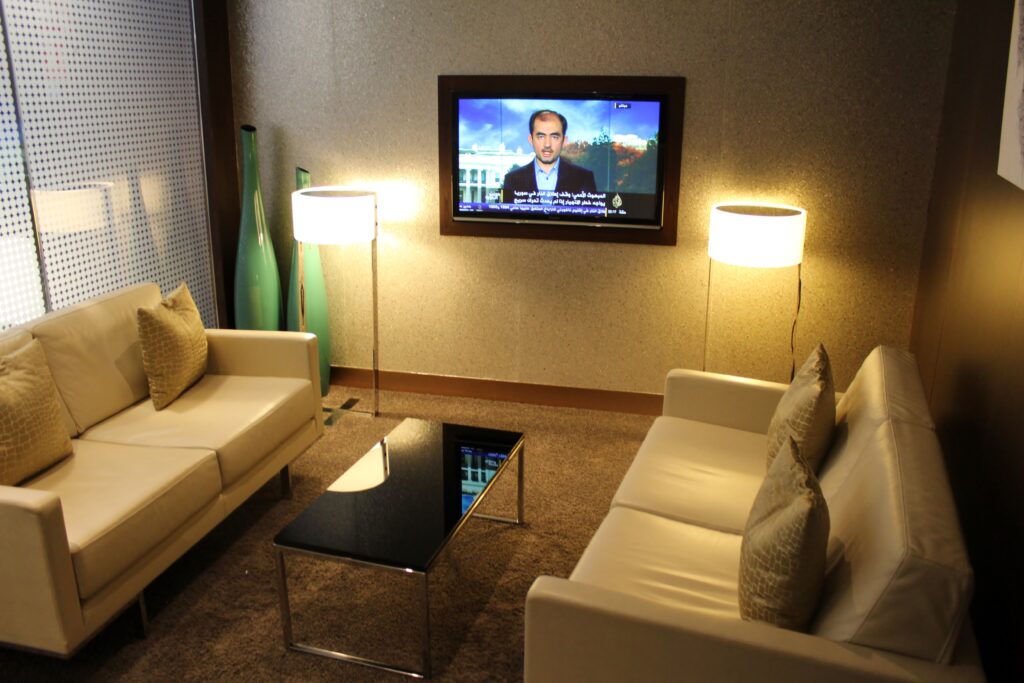 In the inner part of the lounge there is what can best be described as an elegant living room with sofas, large bookshelves, books and reading material and several TVs.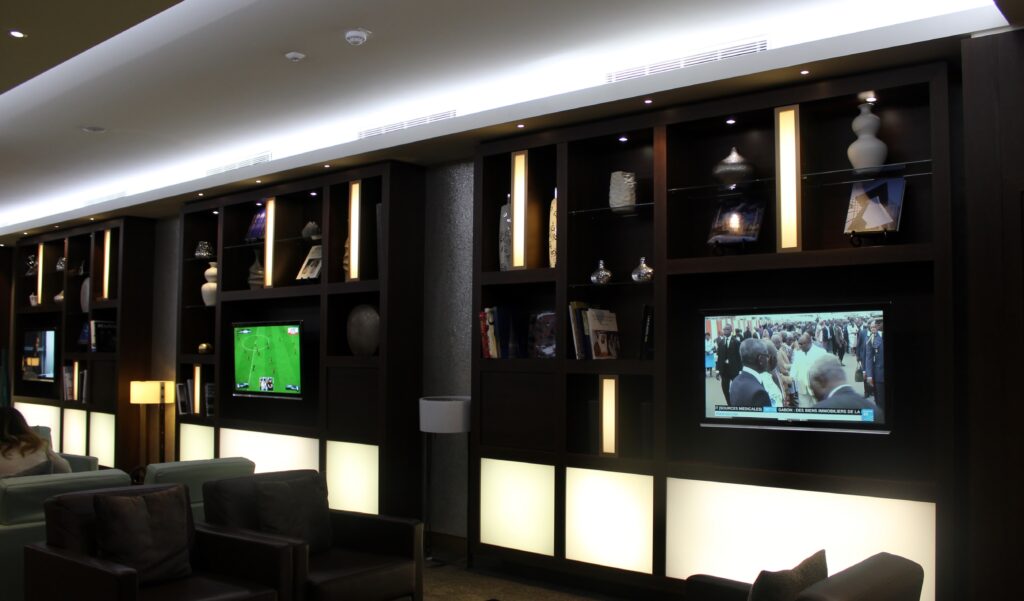 In the bookshelves you will find vases by French artist Jean-Claude Navaro, three-dimensional plexiographies by Jean-François Larrieu and Arabic art by the Iraqi calligrapher Hassan Massoudy.
Food and drinks

In the middle of the lounge there is an a la carte restaurant offering breakfast items in the morning, before the morning departure to Abu Dhabi, and a dinner service with starters, main courses, cheeses and desserts in the evening before the evening departure to Abu Dhabi. All dishes are prepared in the kitchen next to the dining area while you wait.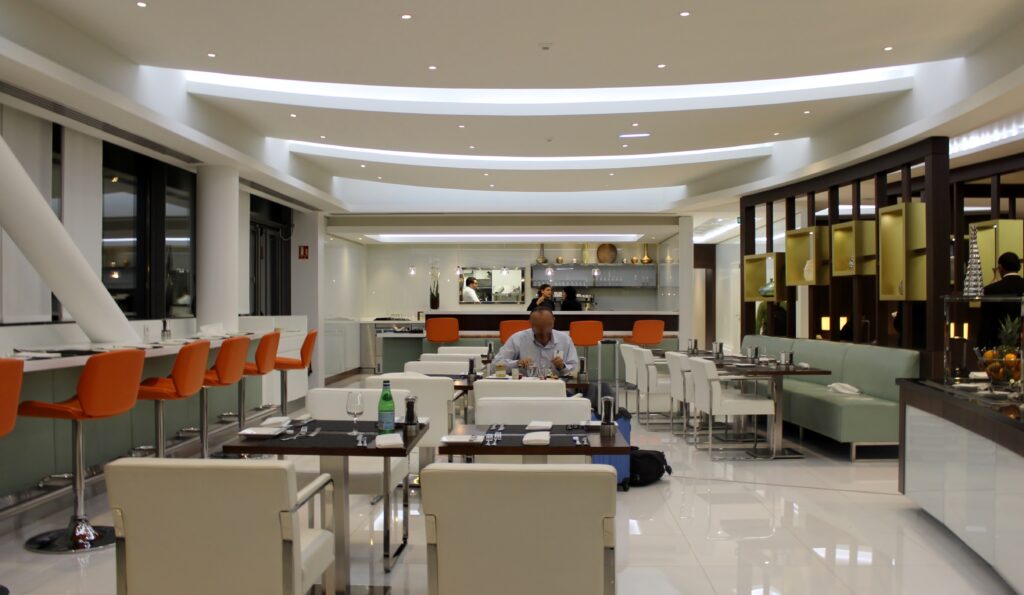 There is also a self-service buffet with cold cuts and various snacks.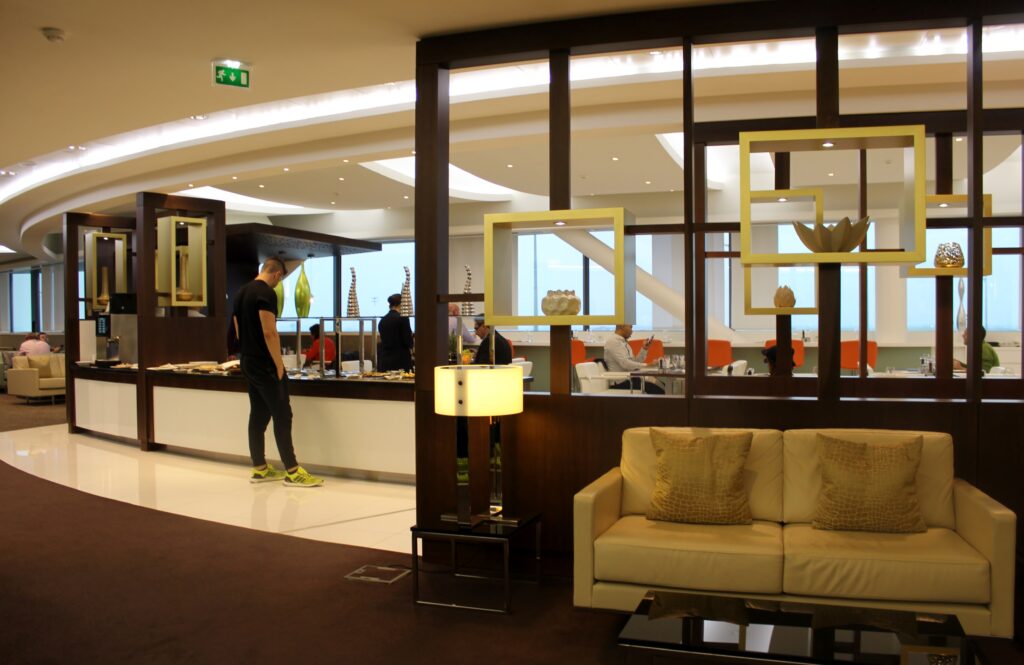 Next to the dining area there is also a manned bar where you can order champagne, wines (mostly French, of course), spirits, cocktail, various non-alcoholic drinks and fresh coffee, prepared by a barista. There is also a coffee machine in the lounge.
The waiters and waitresses working in the restaurant will also frequently pass through the lounge offering drinks and snacks, which you can order to your table.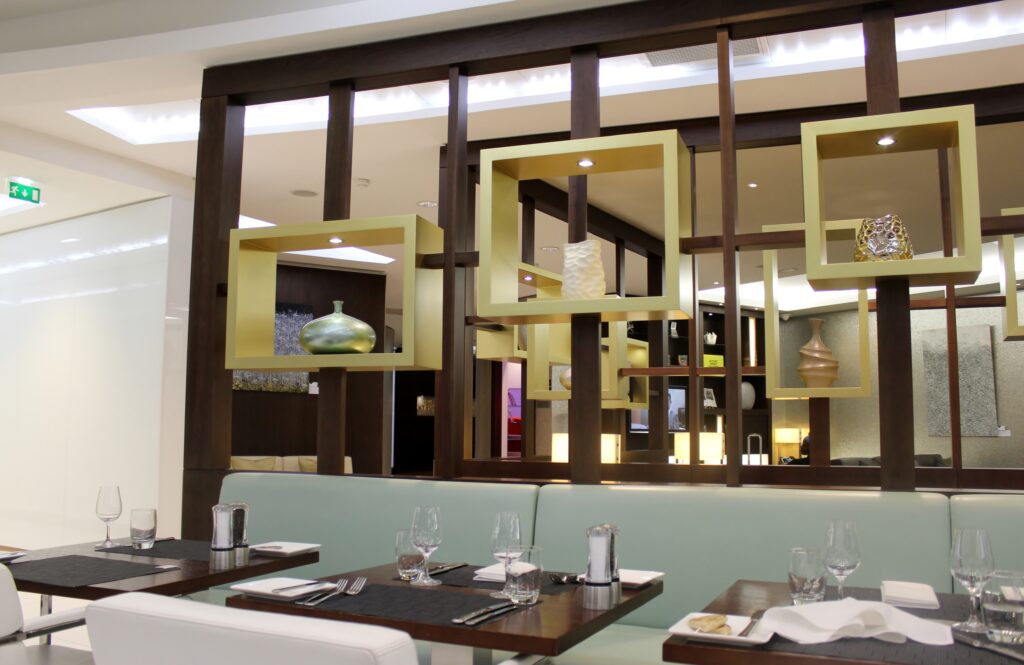 Facilities

Free wireless internet is available and there is also a business centre with printing facilities.
There is also a prayer room, restrooms and showers and a play area for children.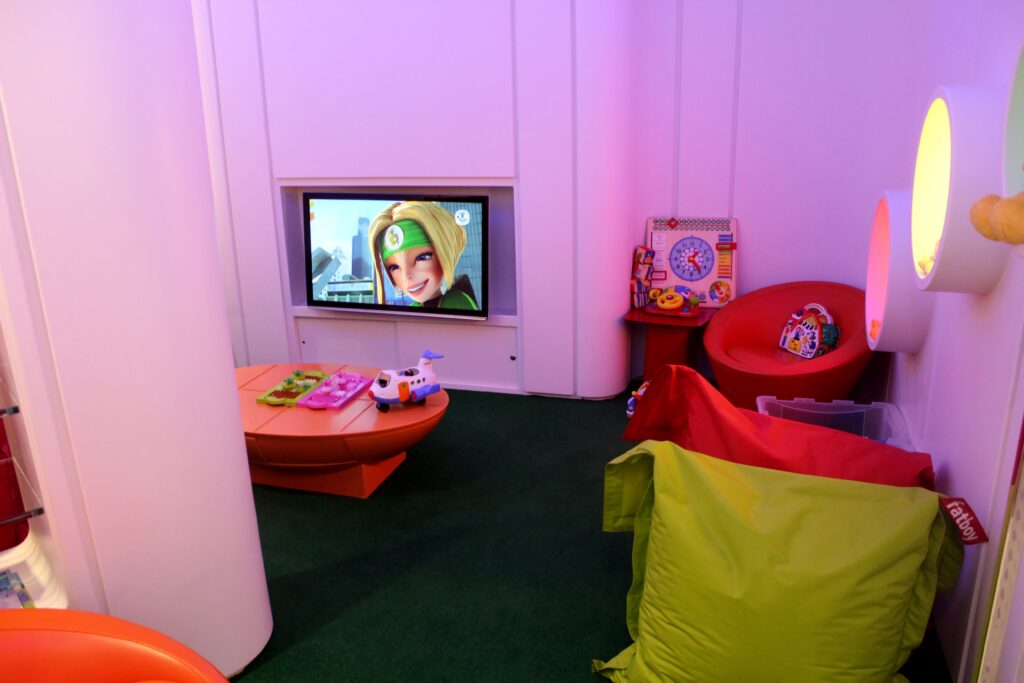 Final impression

An impressive, stylish and surprisingly spacious lounge, especially for an outstation airport like Paris with only two daily flights. A great selection of food and drinks in the a la carte restaurant, plenty of facilities and excellent service.