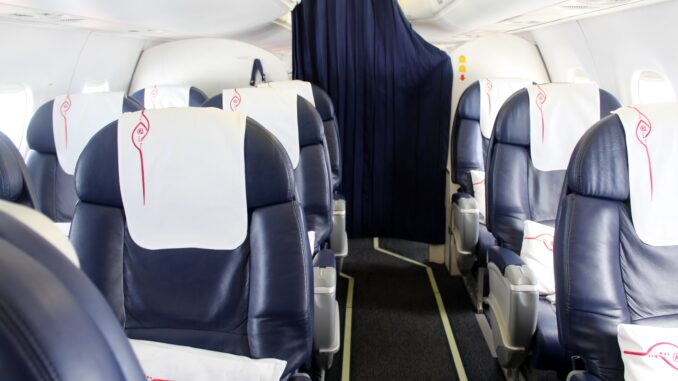 Departure experience

Transferring at Nairobi Jomo Kenyatta Airport is fairly straight forward. I already had a boarding pass for the connecting flight so the only thing I had to do was to pass through transfer security, and there was a dedicated fast track channel for Sky Priority, which I could use both travelling in business class and holding a Skyteam Elite Plus card.
There are two Kenya Airways lounges in the International Terminal called Pride Lounge and Simba Lounge. Having visited both a year earlier and knowing that the Pride Lounge is great for sleeping I made my way there. I had nearly five hours between flights and at 6 am, after an all too short night flight, I really needed some more sleep.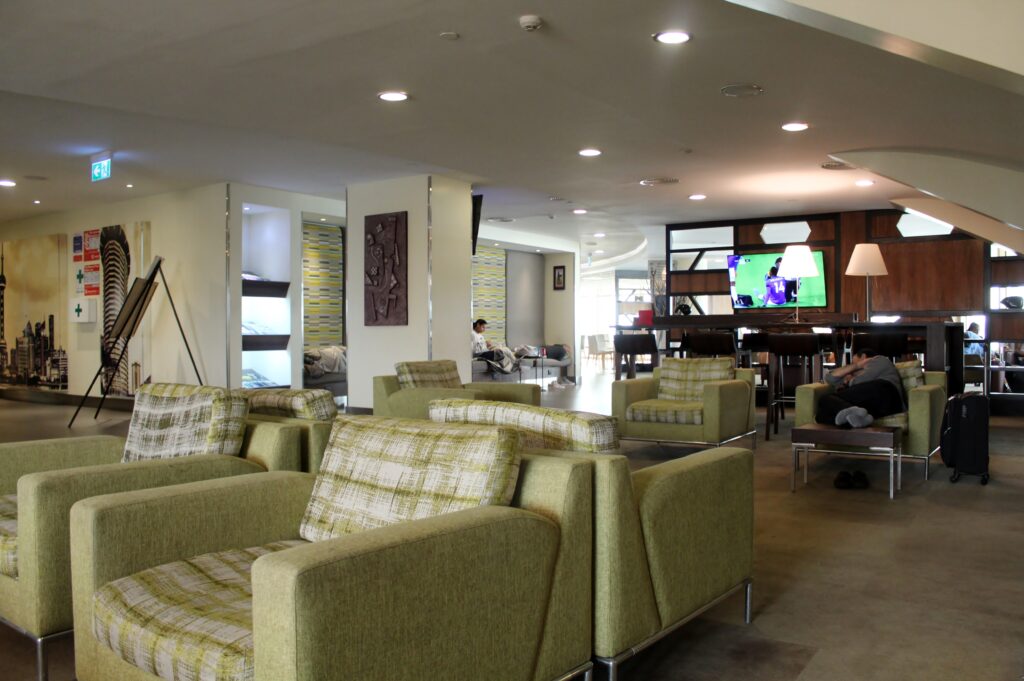 I also had time to make a visit to the second lounge, the Simba Lounge. It is smaller and harder to find but this also means fewer guests find their way there. Both lounges have a fairly good apron view (the Pride Lounge offers far more to see though) and the selection of food and drinks is very similar. Generally Pride Lounge would be my first choice since it is larger and offers far more facilities, but if you mostly want a quiet space then the Simba Lounge is better.
For a moment I also thought about visiting the Turkish Airlines Lounge, which is available using Priority Pass. It is located in terminal 1E, whereas the Kenya Airways lounges are located in terminal 1A. From what I understood, and from what it seemed reading the signs, all the terminal 1 modules are connected airside, so you can move between all of them. However visiting the Turkish Airlines Lounge in terminal 1E would have required passing through transfer security once again to get back. I was still fairly tired and not really tempted having to do that again so at the end I skipped the idea.
The flight
Nairobi-Maputo
Kenya Airways flight KQ 740
Departure: 11.10
Arrival: 14.20
Business Class
Embraer 190
Seat 02D

Boarding to Maputo took place at gate 21. This is a gate with a passenger bridge but the parking position outside was completely empty when I got there. This made me confused as I thought I might have made my way to the gate a bit too early, having to hang around the gate area instead of staying a bit longer in the lounge. But boarding started around the time indicated on the boarding pass.
Sky Priority priority boarding was offered, which applied to me both flying business class and having a Skyteam Elite Plus card. However it was a bit hard to hear the announcement and there were no signs, although technically there was a separate lane for Sky Priority for the right gate podium. Nevertheless I was immediately processed together with a family while all other passengers were asked to wait, including those to tried their luck.
Since there was still no aircraft I presumed we would be taken to the aircraft by bus, and this turned out to be correct. No dedicated bus for Sky Priority though and the bus did not leave until all passengers were onboard, so at the end the priority boarding did not make much of a difference. But of course it is still better that they offer it than not. The load to Maputo seemed to be rather light.
First impression

The Kenya Airways Embraer 190 has a 1-2 configuration in business class. If you are a single travelling an A seat is obviously the best choice. however when I checked in online the day before I was still the only passenger who had so far selected a seat, so I switched to 02D across the aisle instead, hoping the window seat would stay empty, so I would get a bit more space.
At the end it was just the way I had expected and secretly hoped for, I ended up being the only passenger in business class.
After all passengers had boarded the lovely female purser came to greet me, welcoming me onboard. She confirmed I had indeed the full cabin to myself, with one exception, I would be joined by the flight engineer. A rather young man had a seat in 04D. He did some paper work, had a meal and then rested/slept during the remaining part of the flight. Not quite sure what his role was and why he joined the flight. I could have asked him, from experience most Kenya Airways employees are both friendly and approachable, but I never did.
Before departure I was offered a welcome beverage, a choice between water and different juices. No champagne this time.
A safety demonstration video was shown on the screens. Given the early boarding and a light load we actually pushed back a few minutes early. The flight time from Nairobi to Maputo was expected to be three hours and 40 minutes.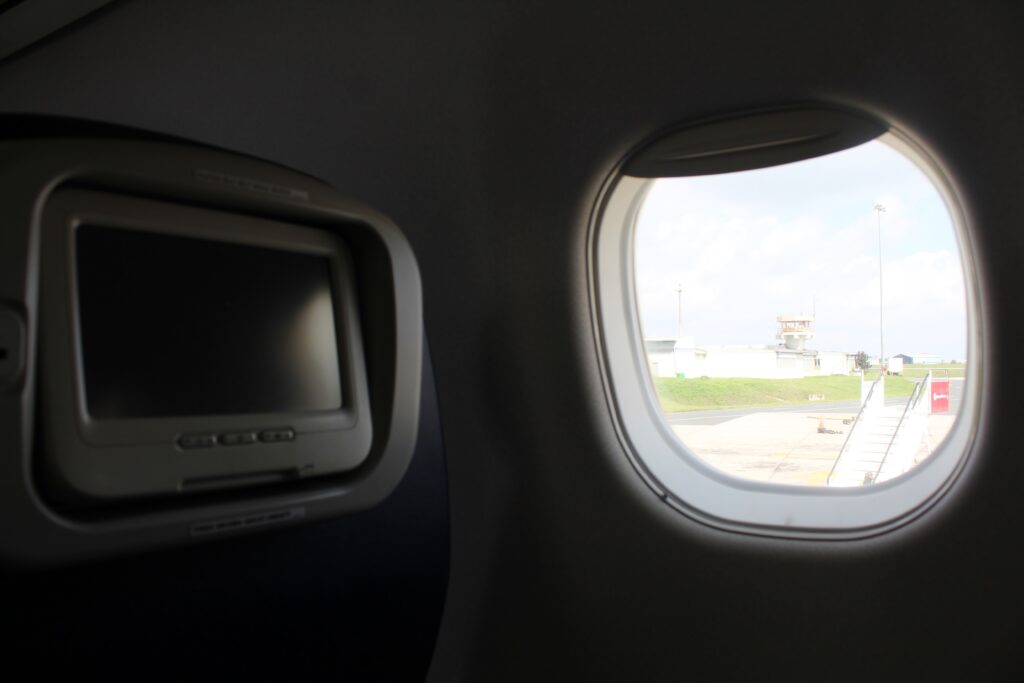 Seat and cabin

There were four rows of business class on the Embraer 190 in a 1-2 configuration, which meant 12 seats in total.
The seat pitch is greater in business class than in economy class, 38 inches instead of 31 inches, and the seats are also slightly wider. And of course you do get a 1-2 configuration with three seats abreast rather than a 2-2 configuration with four seats abreast in economy class.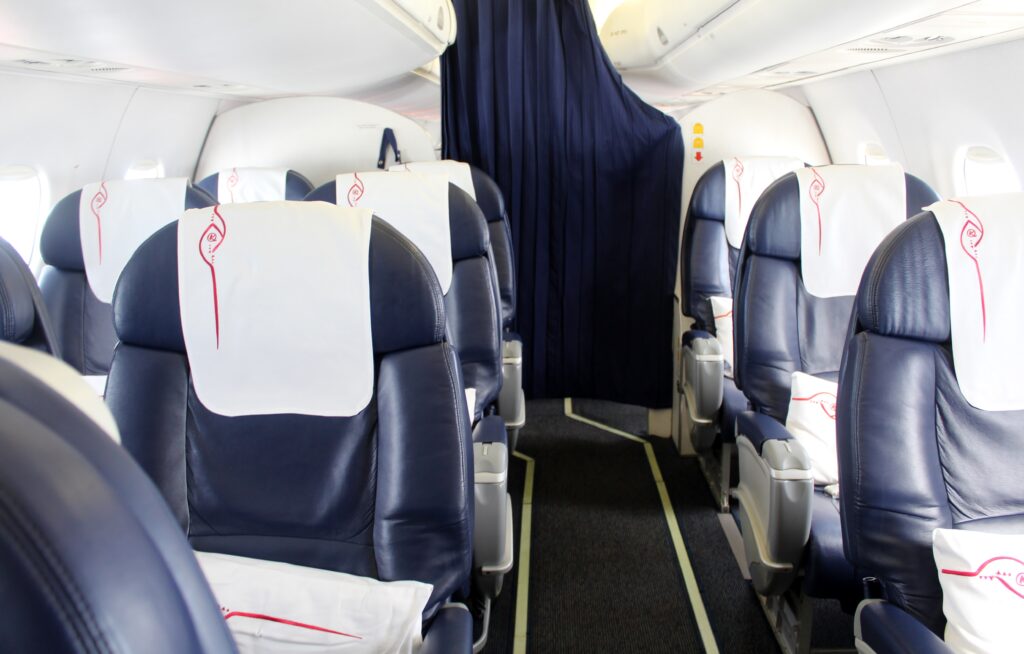 The single A seats are obviously the ones to go for if you are a single traveller, unless the cabin is very empty of course. All seats also have individual screens.
Food and drinks

Shortly after take-off I was handed a printed menu. The purser asked me to have a look and told me she would be back in a few minutes to take my meal and drink orders.
Given a departure at 11.10 and a flight time of three hours and 40 minutes I expected a proper lunch to be served onboard. This was true in one way, in that sense that there was a proper hot meal, but they still called it a 'Light Meal', and that is exactly what it was. Compared to Cape Town-Nairobi, where there was a full meal service and not just a 'light meal' on this flight there was no cocktail service before the meal and no starter. Everything was served at the same time on one tray.
On the positive side were as many of three choices of main course and given that I was the only passenger in business class I could obviously get any of them. The three choices were beef, fish and a vegetarian dish, Subji Makhani.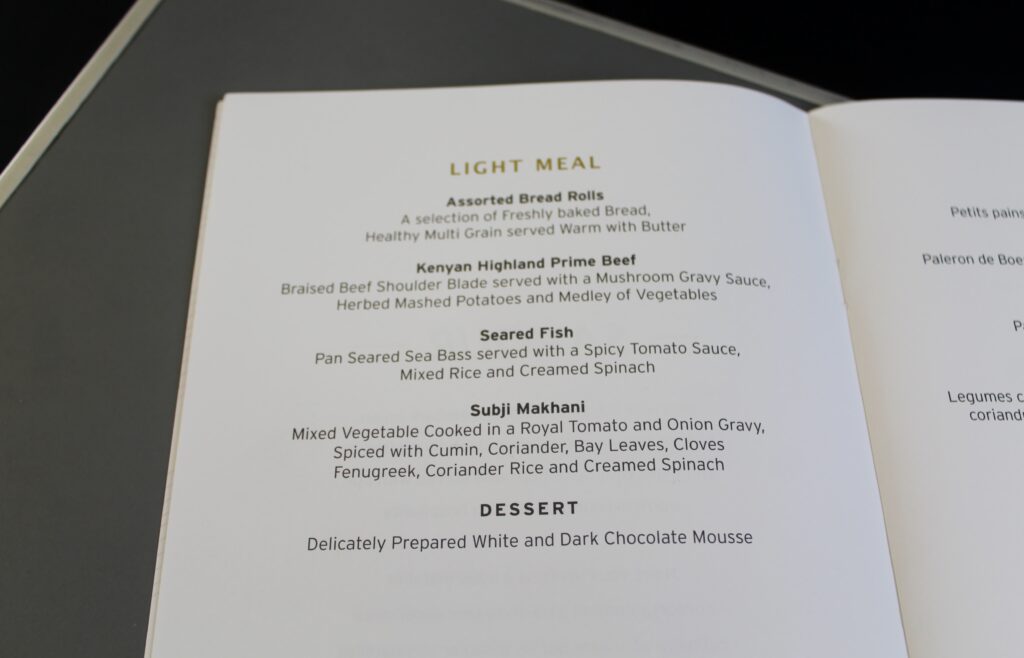 The menu also contained the drink list. Not the most extensive one out there but there was proper champagne available as well as one red and one white wine.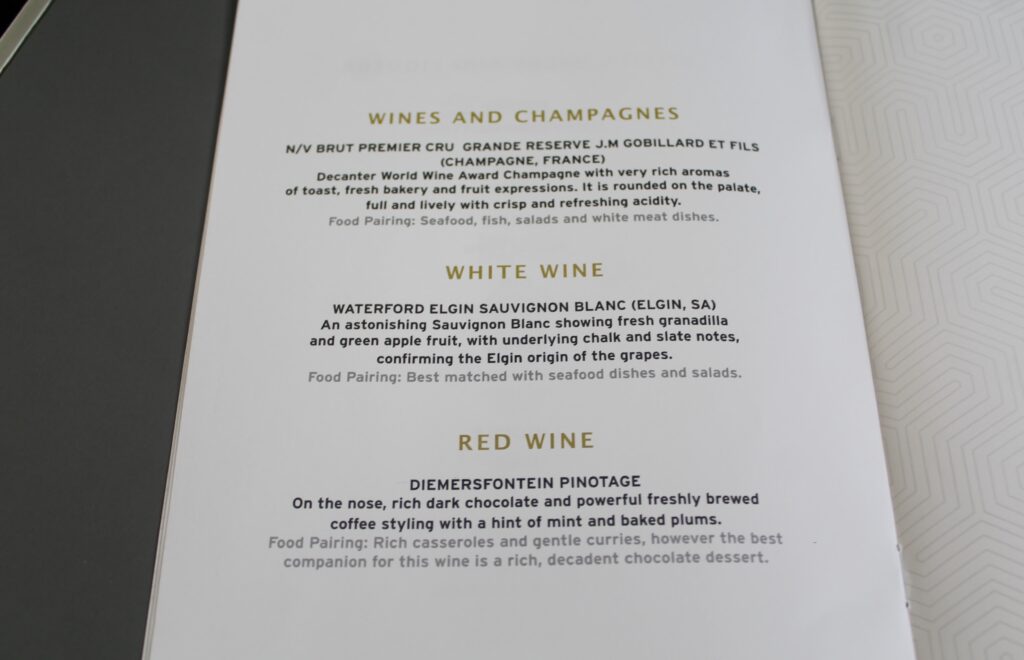 And there was a standard selection of soft drinks and spirits. Again nothing spectacular, no craft beers or any unusual brands of spirits, but there was nothing missing.
As advised the purser was back three minutes later and took my order. I asked for a gin & tonic to drink, hoping that there would be a cocktail service before the actual meal, especially given a long flight time and me being the only passenger. Perhaps I could have asked about it, but around ten minutes later a table cloth was laid on my table and both the meal tray and the drink arrived at the same time, and that was the entire 'light meal'.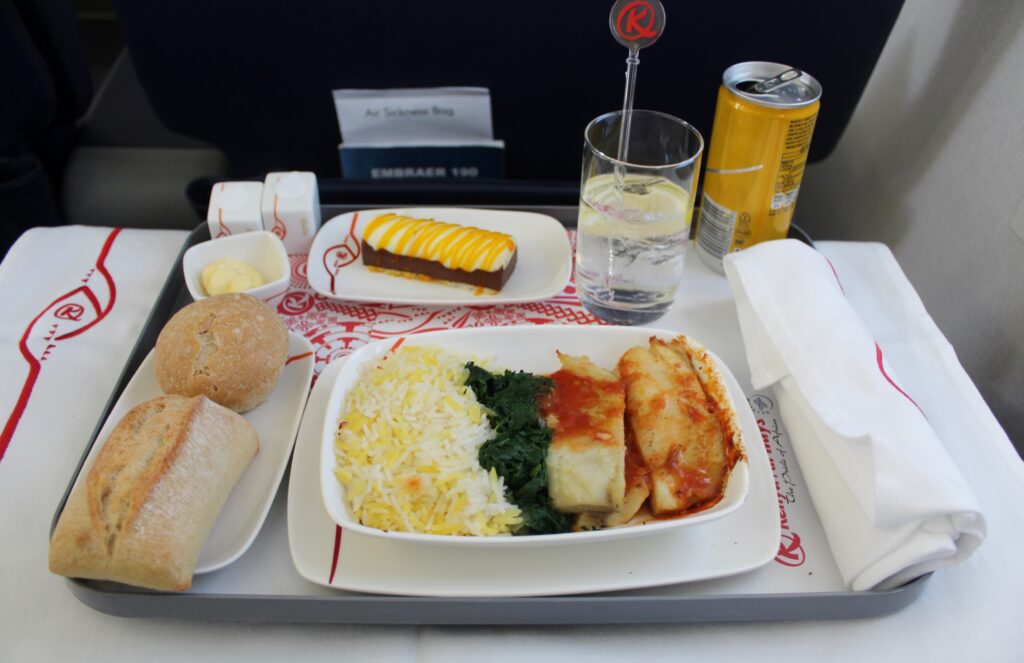 I ordered the fish, the pan seared sea bass served with a spicy tomato sauce, mixed rice and creamed spinach. It was very tasty and definitely to my liking. And the presentation was rather nice as well. There were also two pieces of bread on the tray and a dessert, a white and dark chocolate mousse.
Eventually the purser returned, asked me if everything was OK and then cleared the tray. She asked me if she could get me something to drink and I ordered a refill of the gin & tonic and a cup of coffee. Given how much I love Kenyan coffee the coffee was obviously a highlight onboard. Very strong and tasty, just the way I like it.
Overall the meal was fine, the food was tasty, three main choices is not bad and I did get a proper printed menu and drink list. But given such a long flight time, nearly four hours, it was just a shame that they reduced it to a simple 'light meal'. There would have been plenty of time to extend it with a proper cocktail service after take-off followed by a separate starter and perhaps, eventually, a separate dessert service with some cheese. The entire meal service was over in 20-25 minutes.
Inflight entertainment
Rather surprisingly the seats had individual screens with a proper inflight entertainment system available with AVOD (Audio Videon On Demand).
Not the most extensive of selections, but they had movies, some TV-programs and some music albums.
Sleeping

I spent the remaining flight time catching up with some working and trying to get some sleep. The business class seats on the Embraer 190 are of course nowhere near fully flat like on the Boeing 787 Dreamliner, but you do get a reasonable recline.
About 50 minutes before landing I ordered another cup of coffee, to wake up properly in preparation for the arrival formalities in Mozambique.
The service

The service from purser Charity was very friendly and attentive. I have always been very happy with the service from the Kenya Airways cabin crews and this was no exception. All staff members I have encountered onboard have been genuinely friendly and accommodating, always addressing you with a big smile and always more than eager to serve. Most of them really seem to love their jobs, making the passengers feel at ease onboard.
Arrival experience

We landed a few minutes early at Maputo airport, enjoying a fantastic view of the city centre and the coastline during the approach. The airport is located just a few kilometers from downtown Maputo, so if you make the approach from the south you will see most of the city from a low height. And I was fortunate to be sitting on the right hand side and got some fantastic photos.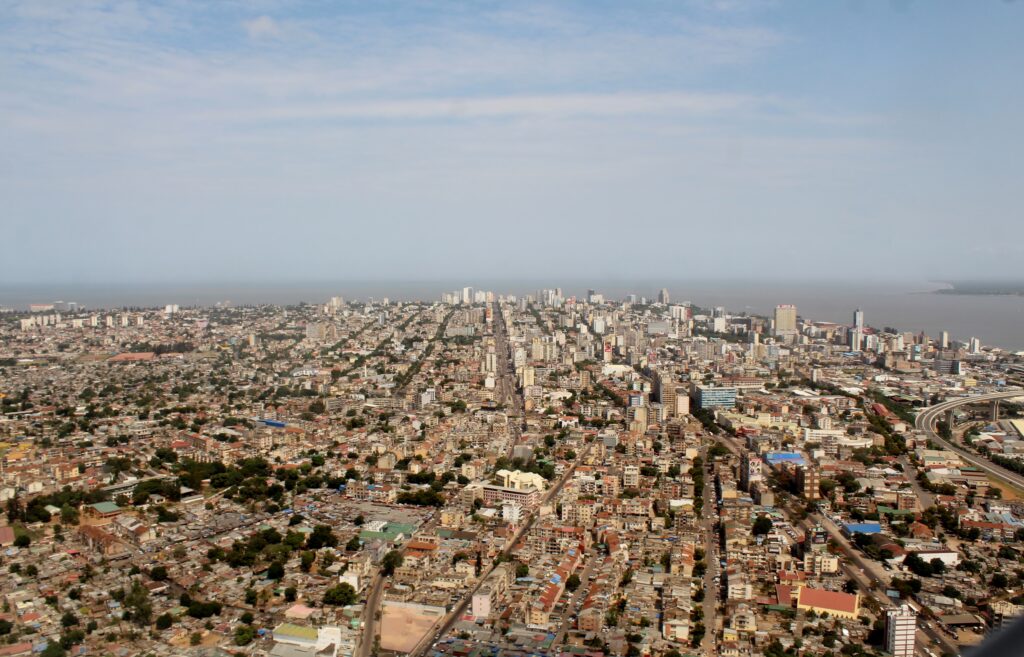 There are two terminals at the airport, one for international flights and one for domestic flights, and they are pretty much identical, located right next to each other.
We parked at a remote stand and a bus took as the short distance to the arrivals hall, where the problems started. I had forgotten to bring the yellow card showing I had a yellow fever vaccination. This was a mistake from my side, completely unintentional, which I found out about already on the way to the airport at home, but there was no time to turn back. My conclusion after reading on the internet was that this should not be an issue. Mozambique does not require a yellow fever vaccination unless you have visited an infected country in the past few days, which I had not. But upon arrival they had none of that. If I could not prove I already had the vaccination I had to get a new one, and that eventually happened in a room next to the immigration hall, at the cost of 50 USD. I was not very happy, especially as that vaccination got me some very unpleasant side effects the first time.
Visa on arrival took a bit more time, followed by immigration and then again customs where all bags were x-rayed, followed by a last check that the checked luggage the passengers brought from the arrivals hall matched the baggage tag receipts. In total it took over an hour to get through the arrivals formalities and I was feeling rather tired and exhausted when I could finally leave the airport and head for the hotel. A lot of formalities and bureaucracy indeed, a lot of documents to complete and 100 USD in total for vaccination and visa fees. But at least I got in, eventually.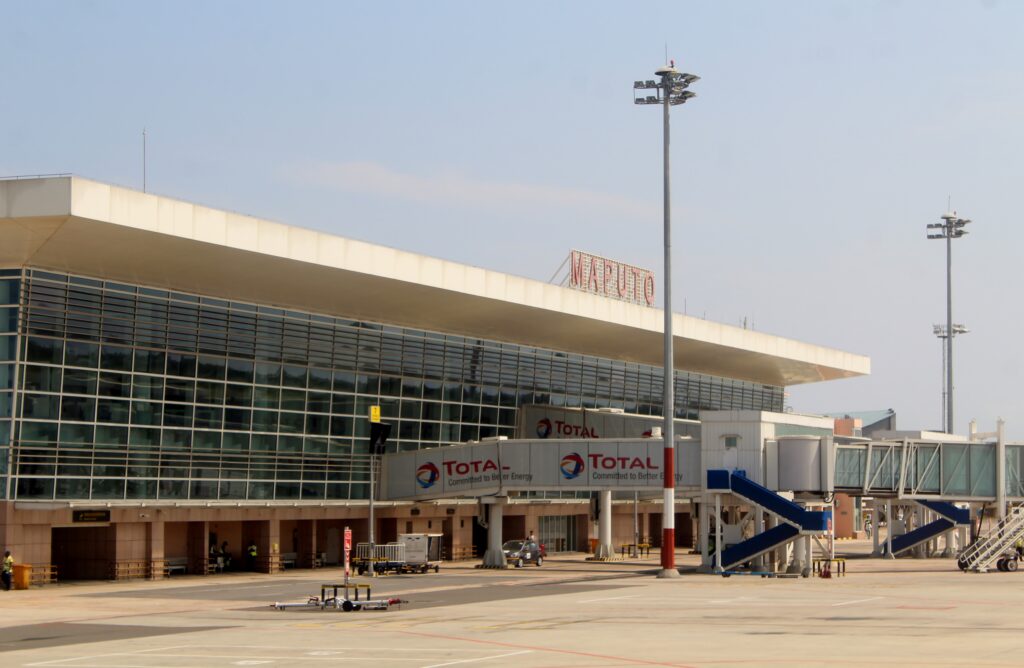 Final impression

I have always enjoyed travelling on Kenya Airways and this was no exception. The purser was excellent and the Embraer 190 is a nice aircraft to fly on with proper business class seats. But a bit disappointed the meal service on a flight of nearly four hours was reduced to a 'light meal' which was completed in 25 minutes.