Kenya Airways offer some really competitive fares from South Africa, both to African destinations and destinations outside Africa. I was looking for a good fare from Cape Town to Harare, preferably in business class, and even though it meant a significant detour the ticket with Kenya Airways was easily the best value for money.
Although I had flown Kenya Airways in the past I had actually never flown with Kenya Airways to or from Nairobi, only on fifth freedom flights in Asia, for example between Bangkok and Guangzhou.
Departure experience

There are two flights per day between Cape Town and Nairobi. An afternoon flight, which makes a stop in Zambia enroute, and a night flight, which is nonstop. I was booked on the night flight leaving at 11 pm.
The night flight has its pros and cons. It meant a full day in Cape Town, even being able to have dinner in the city before leaving for the airport (which can be reached in about 30 minutes), but on the other hand with a flight time of 5 hours and 45 minutes (the actual flight time being even less) you will not get a lot of sleep.
I arrived at Cape Town International Airport at 8.30 pm with plenty of time until my 11 pm departure. There are not many international departures (or domestic departures for that matter) from Cape Town in the evening. A BA flight to London was to depart at 9 pm and then virtually nothing until midnight. I have rarely seen the check-in hall this empty.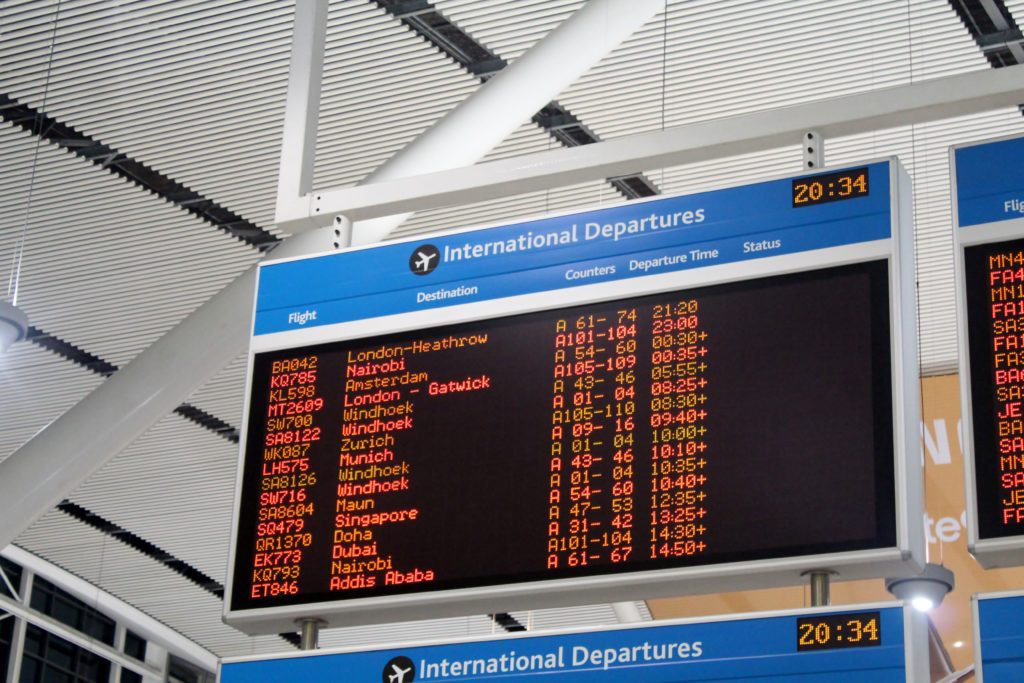 Four check-in desks were open for Kenya Airways. Two for economy class, one for baggage drop (online check-in) and one for Sky Priority, including business class and frequent flyers. Since I was only travelling with hand luggage and since I had already checked in online on the Kenya Airways website (and had the boarding passes downloaded on my mobile phone) I could skip all of it and proceed straight to the security control.
Although there is no fast track channel in Cape Town both security control and passport control were both virtually empty.
There are three lounges in the international terminal in Cape Town: British Airways, Emirates and the Bidvest Premier Lounge. The latter is used by all airlines not part of the OneWorld alliance (and Emirates, of course) including Star Alliance, Skyteam and a bunch of other airlines.
The lounge can be packed when there are several longhaul flights leaving at the same time but was almost empty this evening. And although not very large in size it is really not that bad (well there are really no bad airport lounges in South Africa).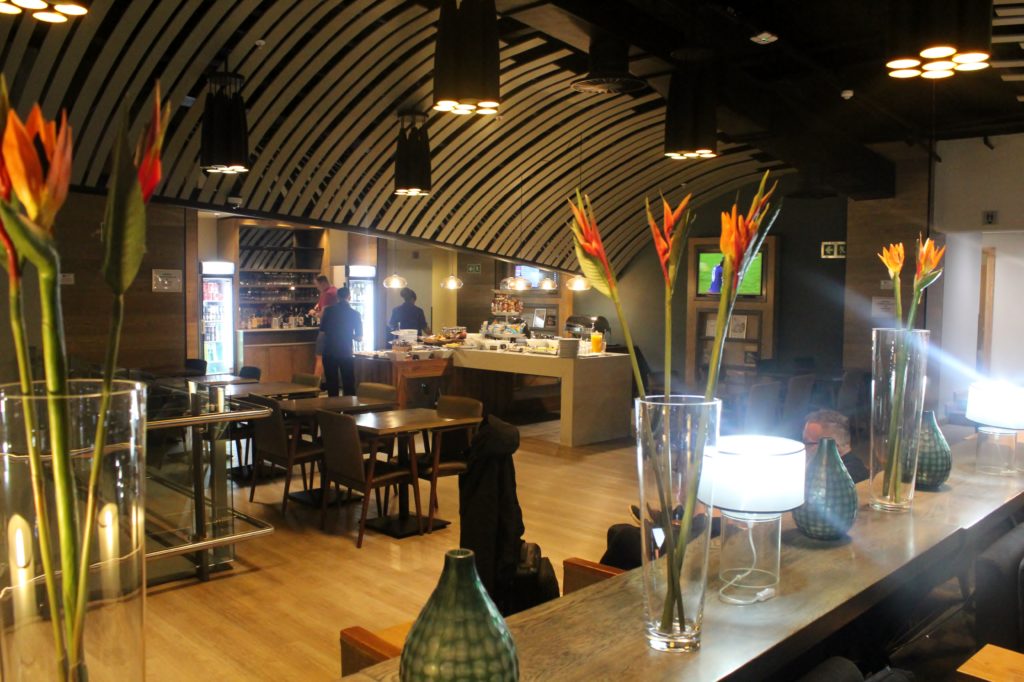 A reasonable selection of hot food, some snacks and some rather nice desserts were available for self service, and of course a full bar with beer, wine and spirits.
Around 10 pm more people started arriving for the midnight flights with KLM to Amsterdam Thomas Cook Airlines to London.
The flight
Cape Town-Nairobi
Kenya Airways flight KQ 785
Departure: 23.00
Arrival: 05.45
Business Class (Premier World)
Boeing 737
Seat 03J

Boarding started early, already around 10.20 pm, 40 minutes before departure, at gate A6. And this is my only real criticism of an otherwise stellar experience, there was no priority boarding. There was not even an attempt at offering priority boarding to business class passengers and top-tier frequent flyers.
A general boarding call was made by the ground staff and all passengers started to board, and that was it. There was no priority announcement, no priority line, and no Sky Priority signs to be seen anywhere.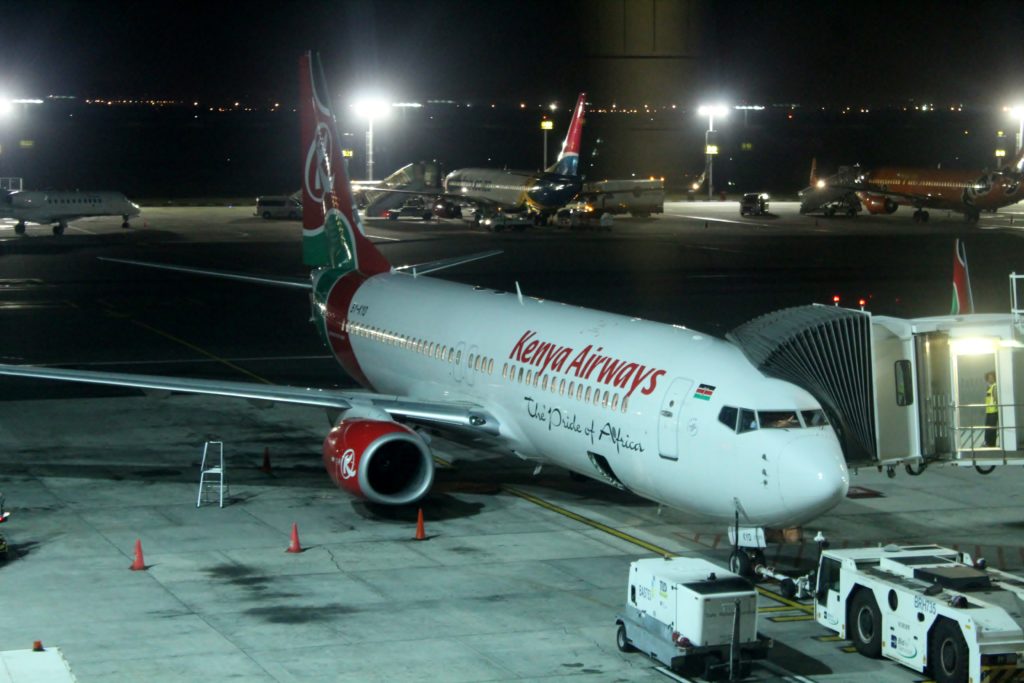 First impression

A friendly flight attendant greeted all passengers at the door and also checked our boarding passes, to make sure we were on the right flight. With just a single-aisle Boeing 737 there was no need to give any directions.
The Boeing 737-800 cabin was in an excellent condition with four rows of business class with proper business class seats. Out of the 16 seats 12 were taken. I had seat 03J on the third row.
There was a rather peculiar man sitting on the fourth row of the cabin, right behind me. Those two seats were empty when I checked the seat map an hour before departure so he must have checked in very late, or have been assigned a seat at the very last minute. Later during the meal service he asked for a glass of wine, and was promptly refused with the comment "we have been given very clear instructions not to serve you any alcohol" by the flight attendant. I wonder if he was being deported for some reason. Nevertheless there were no problems whatsoever.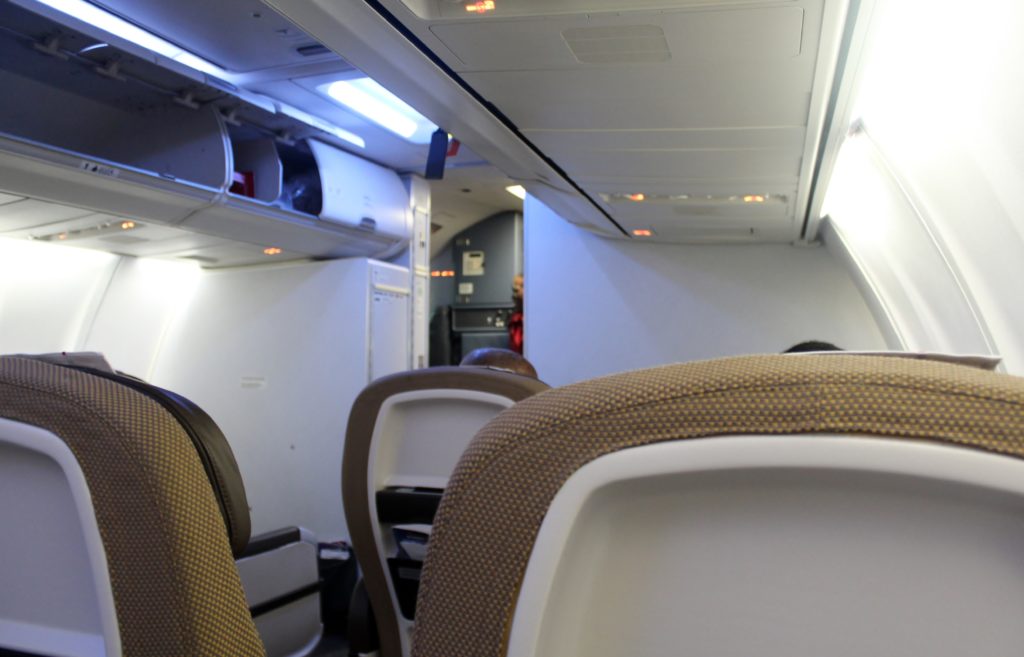 After boarding was finished hot towels, newspapers, amenity kits and pre-departure drinks were offered. No champagne on the ground but a rather tasty apple beverage.
The amenity kit also had a nice surprise, some of the coolest socks I have ever been given on an airplane. They were black with red paw prints of some African animal. I did not even notice them until another passenger across the aisle put his on.
Pushback a few minutes before scheduled departure time with a flight time of 5 hours and 10 minutes to Nairobi.
Seat and cabin

Proper business class seats on the Boeing 737 with four rows in a 2-2 configuration. The seats were in brown with a large pillow waiting upon boarding. Later blankets were provided.
The seat pitch was really not bad for a narrowbody aircraft like a Boeing 737 with a seat pitch of 47″, significantly better than the 32″ offered in economy class. Enough for a reasonable sleeping experience and even when the passenger in front had reclined his or her seat it did not feel cramped and you could still easily move in and out of your seat.
Food and drinks

Menus were handed out already on the ground and contained both the menu and the drink list. Meal orders were taken while we were taxiing to the runway and the flight attendant also noted the first drink order of each passenger.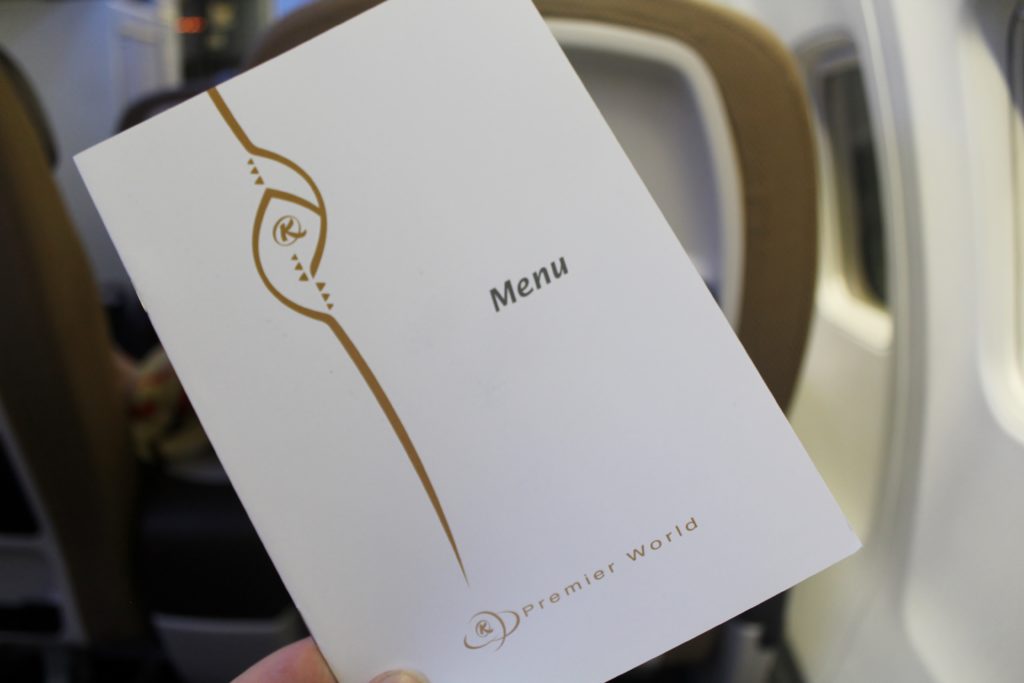 A three courses dinner was offered after departure from Cape Town. With a short night flight and departure at 11 pm perhaps I should have skipped the dinner to get one more hour of sleep, especially as I had already eaten dinner anyway, but I really wanted to give the food and drinks a try, and the cabin crew were fairly persistent with those who declined something to eat or drink (in a warm and friendly way).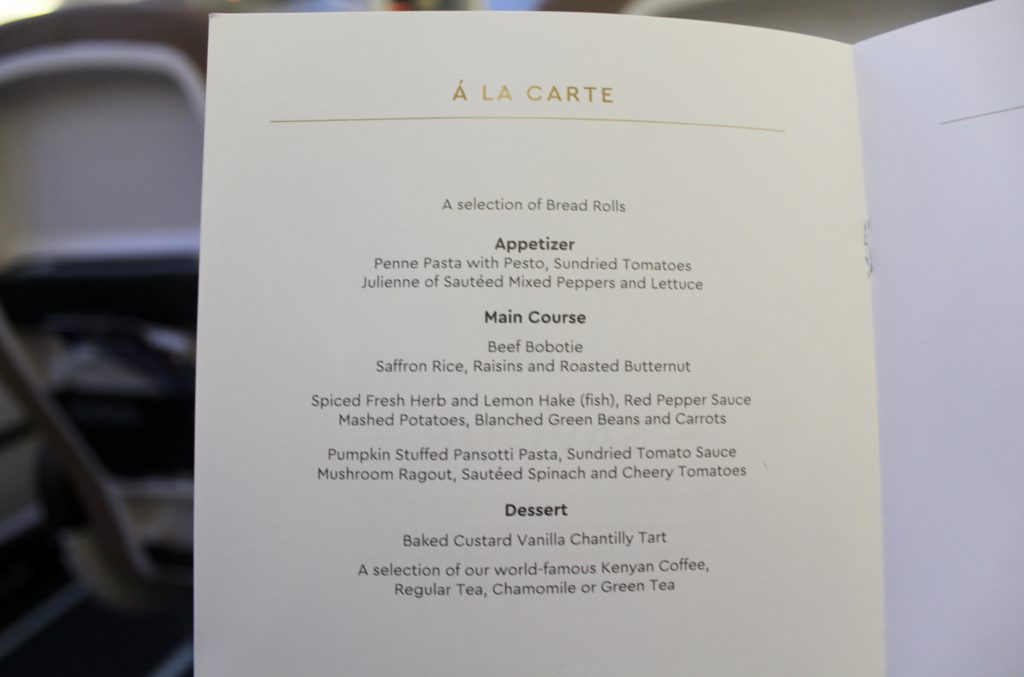 The menu also included the drink list with Champagne, red wine and white wine (unfortunately no choice) as well as beer, soft drinks and a standard selection of spirits. Although there was nothing missing this was not one of the more extensive of drink lists in the air.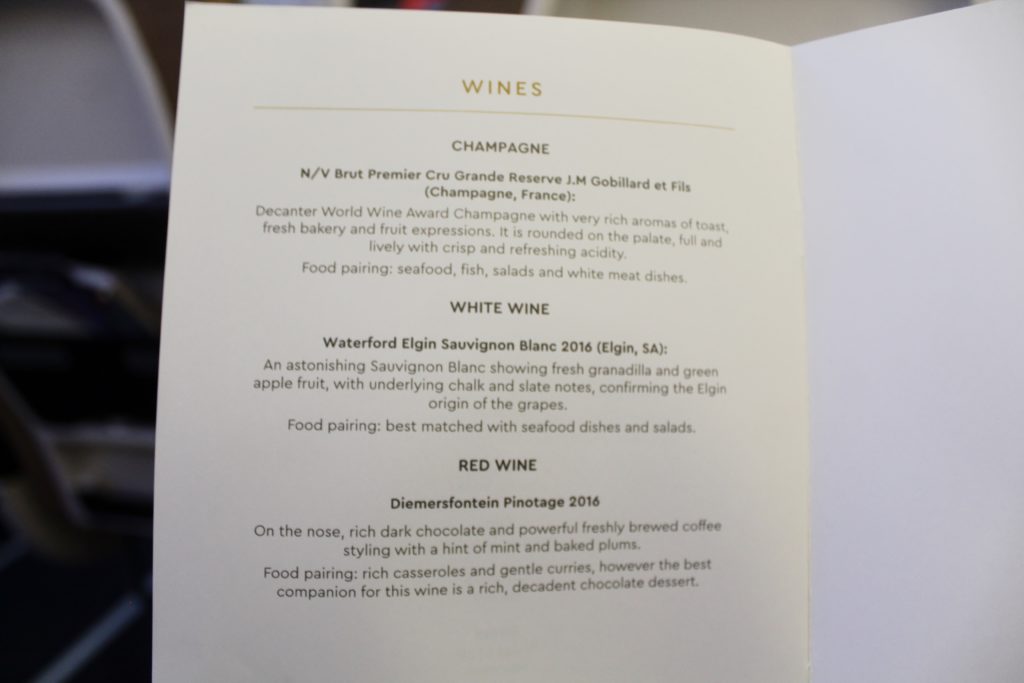 It took quite some time for the meal service to start, which was not a good thing given the late departure, but once the service started 25-30 minutes after takeoff it was fairly efficient.
No trays were used for the meal service, instead everything was placed directly on the table, on the white table cloth provided, which was a very nice touch.
The starter was a penne pasta with vegetables, tasty but rather heavy. I had a gin & tonic to drink (they serve Bombay Sapphire) and a glass of water. Bread rolls were also offered from a basket.
There were three choices of main course – beef, fish or pasta. I had the fish, a spiced fresh herb and lemon hake served with red pepper sauce, mashed potatoes and vegetables. It was rather tasty as well. I was planning on having a glass of wine with the main course but as I ate fast and wanted to finish the meal fairly quickly to get some sleep, I just finished my gin and tonic and left it at that.
Finally the dessert was offered, a baked custard vanilla chantilly tart, served with a strawberry. Coffee and tea were also offered. They serve an excellent and very tasty Kenyan coffee onboard, but as it was soon bedtime the coffee would have to wait until the connecting flight the follow day.
I asked the cabin crew to clear my table so I could get some sleep.
Sleeping

Pillows were waiting at the seat upon boarding and later thick blankets were provided. The seat had a reasonable recline and a reasonable legroom for a shorthaul flight, but of course it was not comparable to the sleeping experience in the business class seats offered on Kenya Airways longhaul flights on the Boeing 787 Dreamliner, which are fully flat.
The main problem with the seat was that there was quite a bit of space between the seat and the window/cabin wall, as well as between the seat and the adjacent seat. This is where I prefer to place the pillow and rest my head. So it was somewhat hard to find a good sleeping position. Nevertheless the sleeping experience could have been a lot worse and I managed to doze off for about three and a half hours.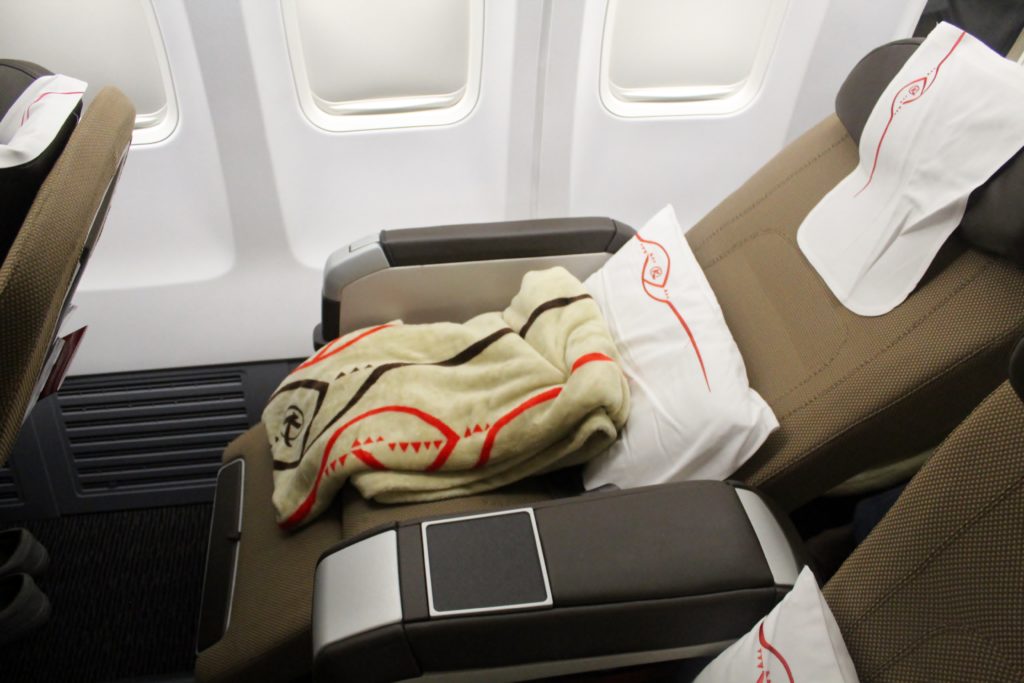 The service

The best part of the inflight experience was the service provided by the cabin crew. The two female flight attendants service in business class were charming, caring and accommodating, always with a big smile on their lips. When they took the meal and drink orders they looked truly unhappy and disappointed whenever someone declined to eat or drink something. Not that they were pushing or forcing anyone in any way, but more that they wanted every passenger to be happy and well looked after. They certainly did not want anyone to go to bed and later get off the aircraft hungry or thirsty. You got the feeling that they genuinely cared.
No names were used though and there was no special recognition of me as Flying Blue Gold, which is also the frequent flyer program of Kenya Airways.
Arrival experience

With an early departure from Cape Town, even taking off a minute or two before the scheduled departure time, we landed more than half an hour early at Nairobi Jomo Kenyatta Airport at 5.10 am. Although I could easily have slept a few more minutes I was glad to arrive early, to have sufficient time to visit the new Kenya Airways lounges at the airport.
As we started our descent soft drinks were offered in the cabin and I had a glass of orange juice.
The aircraft parked at a remote stand and we were driven the short distance to the terminal building by bus.
Final impression

An excellent experience with Kenya Airways. A superb and very charming cabin crew, good food and drinks and an above-average business class seat for a shorthaul Boeing 737 aircraft. The only thing they really failed at was the non-existent priority boarding. And the drink list could have been a bit more extensive.