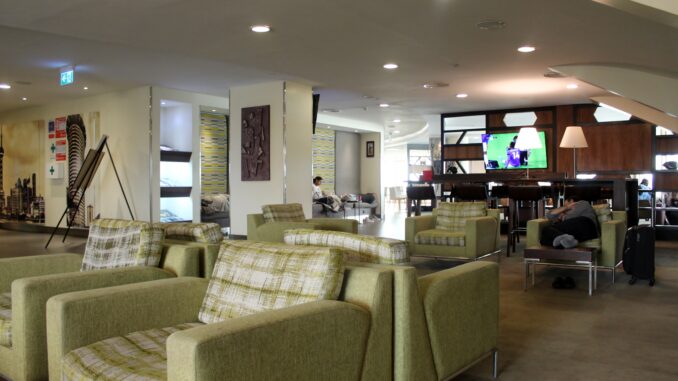 There are two fairly new Kenya Airways lounges in the international terminal 1 at Nairobi Jomo Kenyatta Airport called Pride Lounge and Simba Lounge. From my previous transfer at the airport I have learnt that Pride Lounge is vastly better in terms of size and facilities whereas Simba Lounge is smaller but also gets far fewer visitors as it is harder to find.
Arriving at Nairobi at 5.30 am after an all too short night flight I was dying to find somewhere to have a rest for 2-3 more hours. A year earlier I had visited both the new lounges and I knew the Pride Lounge was the place to go. And interestingly at this time during the day it feels more like hostel than an airport lounge. There were people sleeping literally everywhere. 
I knew there was a resting room with loungers and I hoped I would be able to grab one of those, but they were all taken. There was even a 'guard' standing outside preventing me from even going inside to have a look.
In the area outside, where there are usually some rather sizable and comfortable armchairs, there were also people pretty much everywhere. Some people had put two armchairs together to create a miniature bed. A rather short one, but it worked as long as you did not stretch your legs too much. Quite innovative, and something the lounge management apparently approved people to do. But there were no armchairs left in this area.
In the other part of the lounge, just by the entrance and the restaurant, they do not allow you to do that, presumably this is also why they call it 'Formal Lounge', a place where you should behave more properly, which is also written on several signs.
The armchairs throughout the lounge are extremely comfortable but in this area they do not allow you to move any furniture, and those who tried to do that were politely told by the staff to move everything back. But they do not mind if you try to get some rest, in any way you can, as long as you do not move any furniture. And by using my carryon hand luggage as a footrest I did manage to get two hours of proper sleep, even completely dozing off for a few minutes.
I also noticed there were two shower rooms in the men's room and at least one of them was empty. It was refreshing, in multiple senses as there was not a drop of hot water. The shower was ice-cold.
Breakfast afterwards in the restaurant where they had both some proper hot and cold items available. And some strong coffee.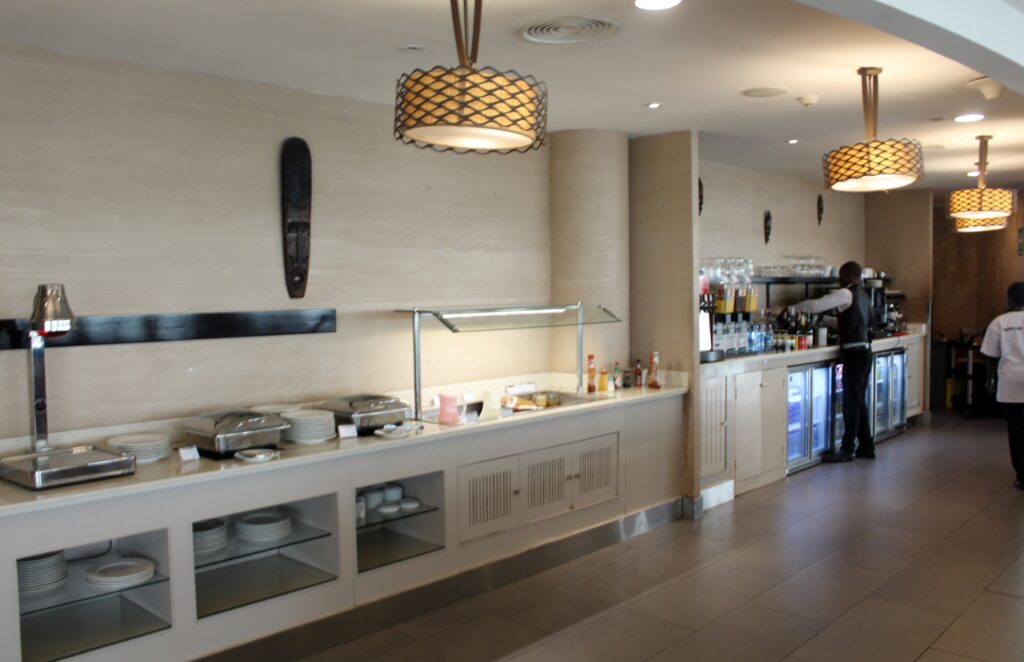 Overall the Pride Lounge is not a bad lounge. It is excellent for sleeping and you can get a decent breakfast in the morning. It also has a nice apron view. But do not come here for a hot shower.