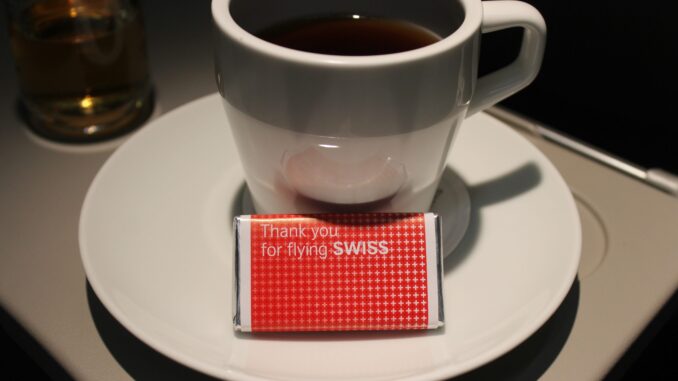 Departure experience

I arrived very early at Stockholm Arlanda airport with more than two hours until departure. Swiss uses terminal 5 at the airport, just like all Star Alliance carriers.
Check-in for Swiss was handled by the national carrier and Star Alliance member SAS. A few years ago Swiss used a different handling company, but now they are back with SAS again.
Although I could have checked in at a manned desk in the premium check-in area, with three desks open, I decided to check in using a machine instead as I was only travelling with hand luggage. The standard SAS self-service check-in machines could not be used for Swiss flights but there were other machines where I could see the Swiss logo on the screen. As I had already checked in online and just wanted a printed boarding pass and make a seat change the process was very quick.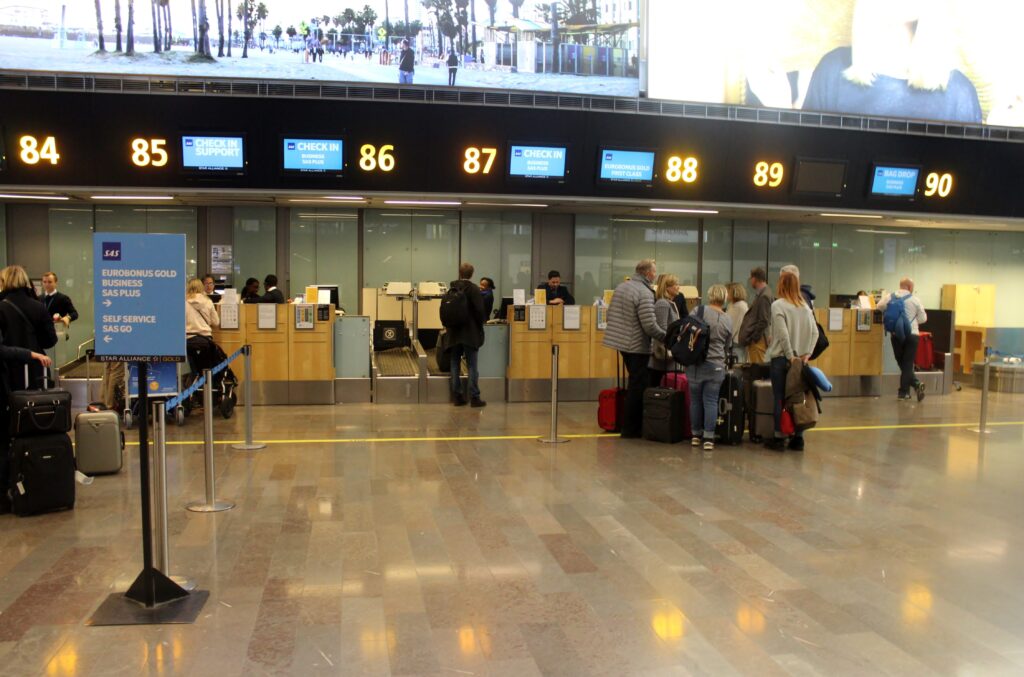 Swiss passengers have access to the fast track channel through security. As this trip took place during the holiday season it saved me a considerable amount of time.
Swiss uses the SAS lounges with the SAS Lounge for business class passengers and the SAS Gold Lounge for Miles & More Senator members and Star Alliance Gold. The latter offers a better drinks selection with wines in bottles and spirits and also some hot food at meal times. The lounge was packed though at 6 pm and it was almost hard to find an available seat.
The flight
Stockholm-Zürich
Swiss flight LX 1255
Departure: 19.35
Arrival: 22.00
Business Class
Airbus A321
Seat 03F

Boarding started 20 minutes before departure at gate 4 with proper priority boarding for business class passengers, Miles & More Senators and HON Circle, and Star Alliance Gold using the lane on the left hand side of the podium. It was all clearly marked on a sign and the woman in charge of the boarding process actually stopped a few economy class passengers who tried to board early. Just too bad the sign is small and fairly hard to see if you are far from the gate podium.
First impression

The Airbus A321 had the standard Swiss intra-Europe cabin with the brown leather seats and beige headrests. The cabin felt tidy and in a good condition. Four rows were assigned to business class on this flight.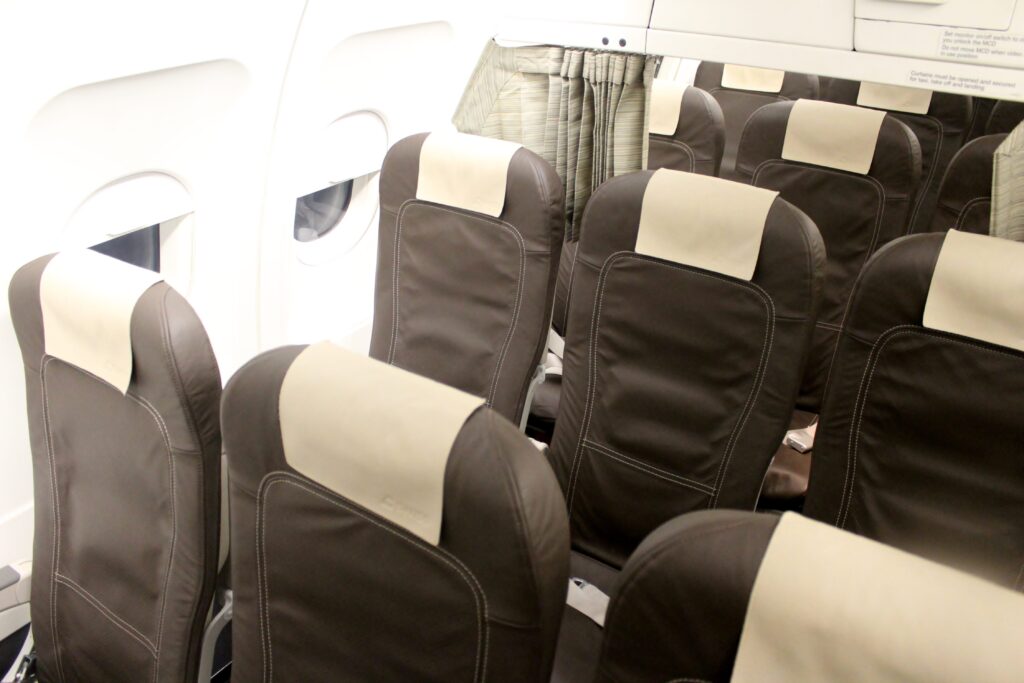 After boarding had been completed a bottle of water and a refreshing towel were offered in business class, which was a nice touch. Also newspapers were offered, including a few international and Swedish titles.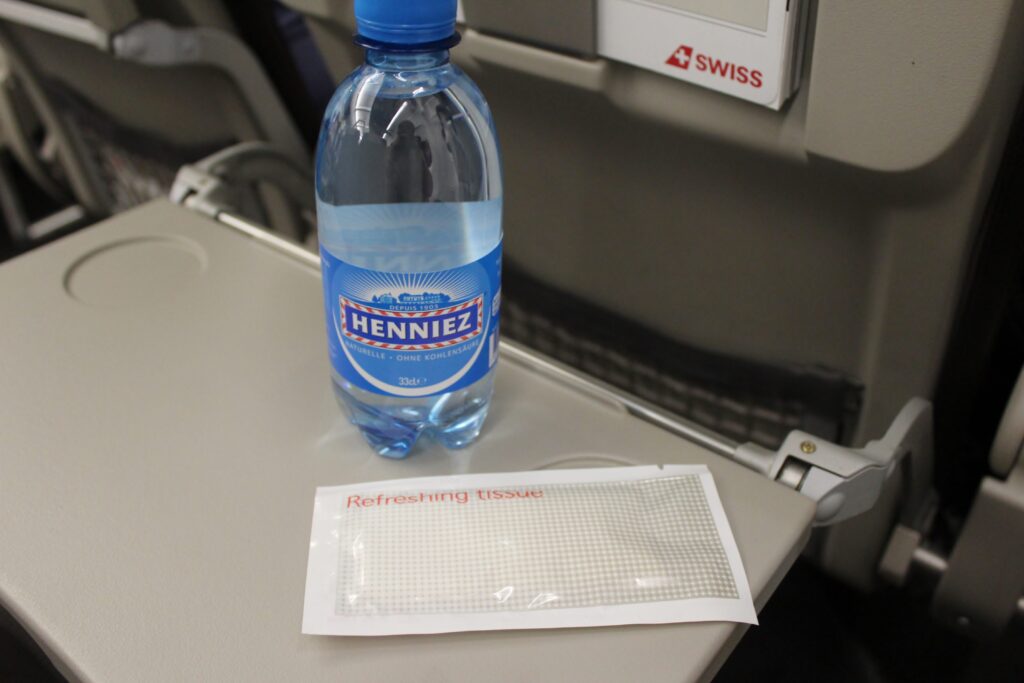 After the standard safety demonstration video we pushed back punctually with an estimated flight time to Zürich of one hour and 50 minutes.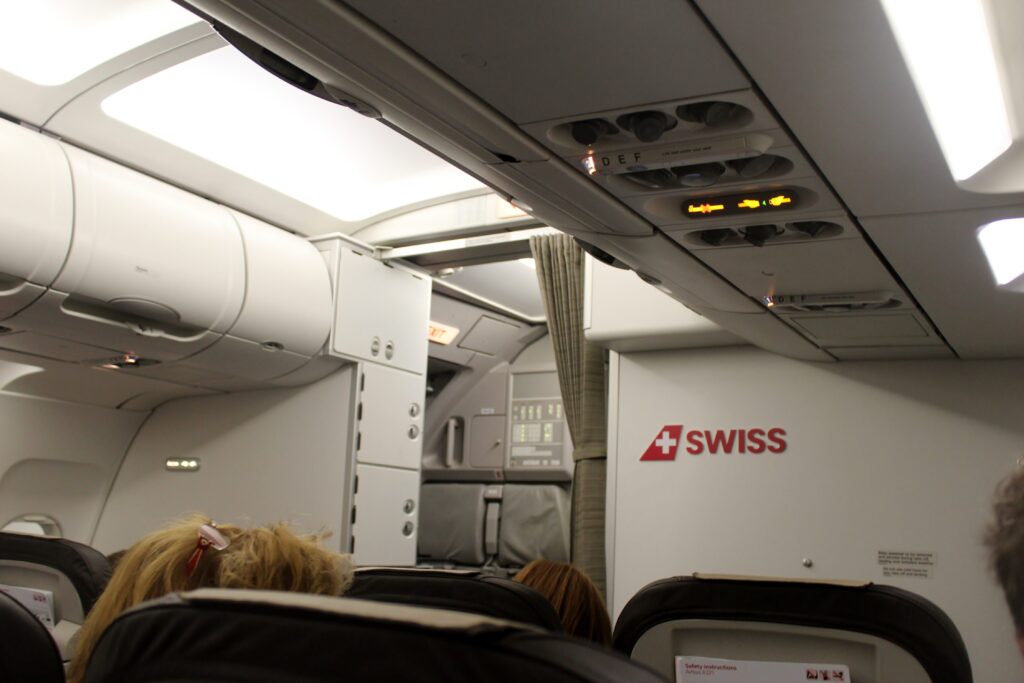 Seat and cabin

The seat was the traditional Recaro seat used on most Swiss Airbus A320 and Airbus A321 aircrafts with a brown design and an acceptable legroom. The seats were the same as in economy class but in business class the middle seats are kept empty.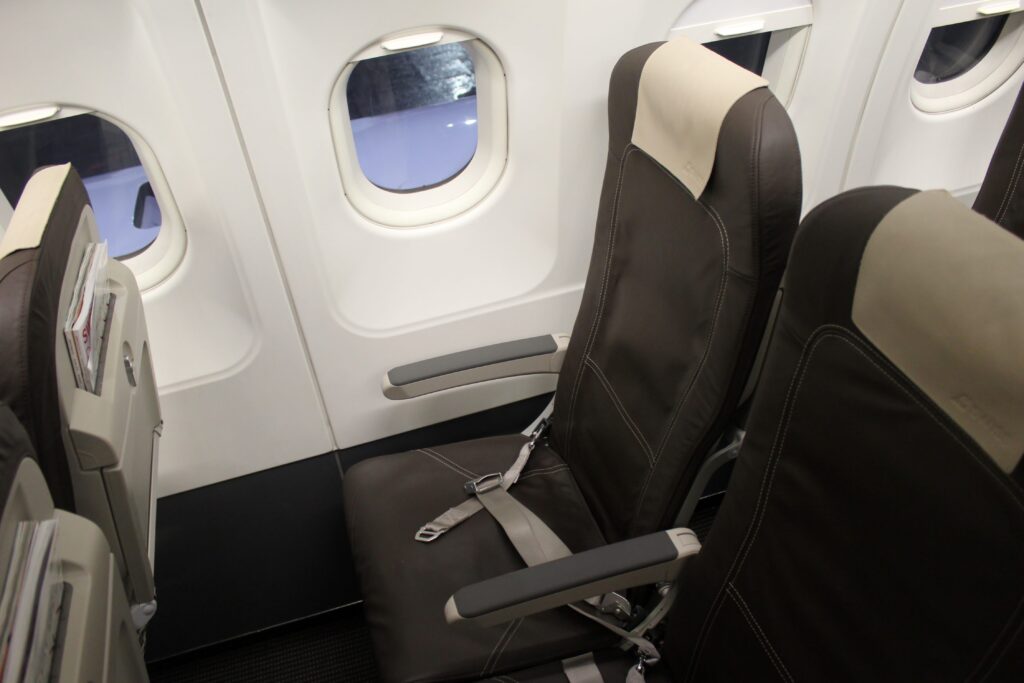 Four rows were assigned to business class. I had selected 03D and was happy to get my own row and later moved to 03F, the window seat. The seat comfort was fine for a flight of two hours with an acceptable legroom.
Food and drinks

As we had reached our cruising altitude a flight attendant passed through the cabin, addressed each passenger by name and asked us about our choice of main course for dinner. There were two choices, chicken and a vegetarian option. I chose the chicken. A couple of minutes later the dinner was served at the seat.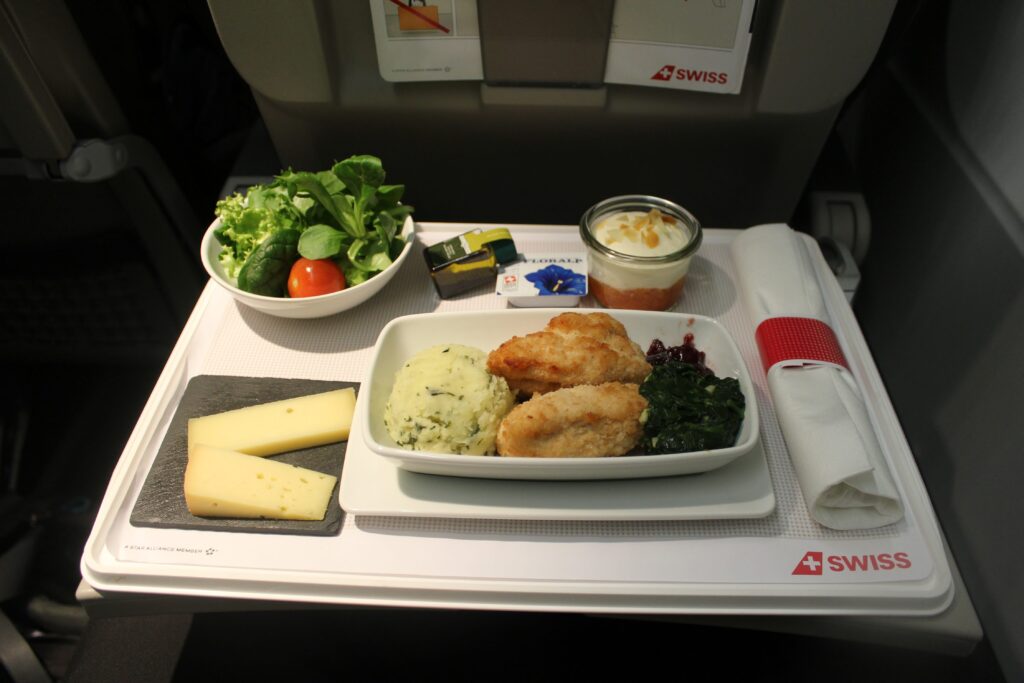 The chicken was served with mashed potatoes and spinach and on the tray there were also a green salad, Swiss cheeses and a mousse dessert. Warm breads were offered by the crew. Overall the chicken was tasty and I liked the presentation, very elegant. Definitely one of the better business class meal concepts in Europe.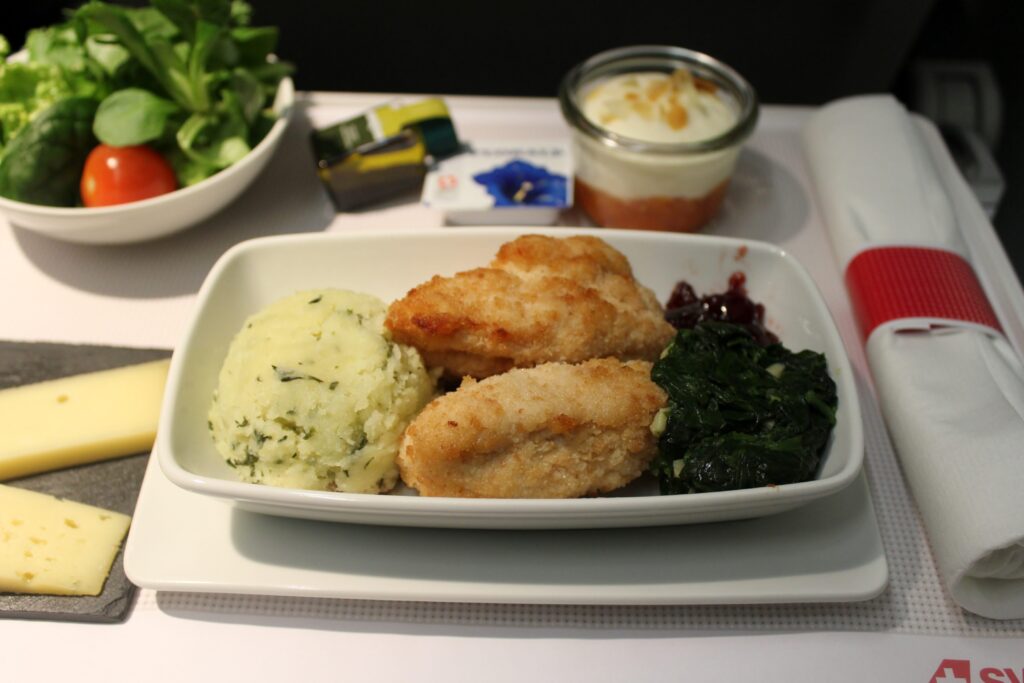 Beer, wine and soft drinks were also offered by the crew. In contrast to many other airlines on shorthaul flights in Europe the wines served in Swiss business class on intra-European flights are different from the ones served in economy class on the same flight. In business class the wines are served from large bottles whereas in economy class miniature bottles are used.
I asked for a glass of white wine to drink with the meal, which was a Swiss brand. I also asked for a glass of water.
More bread rolls were offered and finally coffee and tea. I just love how they use proper cups for the coffee, very stylish. And of course the standard Swiss milk chocolates were also offered and I asked for a whisky to drink. The flight attendant did not remember which brands they had so she brought the bottles to my seat so I could have a look. The ones available were Johnnie Walker Black Label and Glenlivet, I decided to go for the latter.
Later taxfree goods were offered, as Switzerland is not part of the European Union.
The service

The service was very professional with an elegant but still very friendly approach. One flight attendant only worked in business class, which was appreciated and definitely enhanced the service level. They also addressed all passengers by name when the meal orders were taken and I like that they offered a small bottle of water before departure. Very few airlines in Europe offer pre-departure drinks in Europe nowadays.
Arrival experience

We touched down at Zürich Kloten airport a few minutes ahead of timetable and parked at concourse A, a gate very close to the arrivals hall and the exit. As I was seated on the third row and had no checked luggage I was standing at the bus stop outside the arrivals hall within only a few minutes after landing.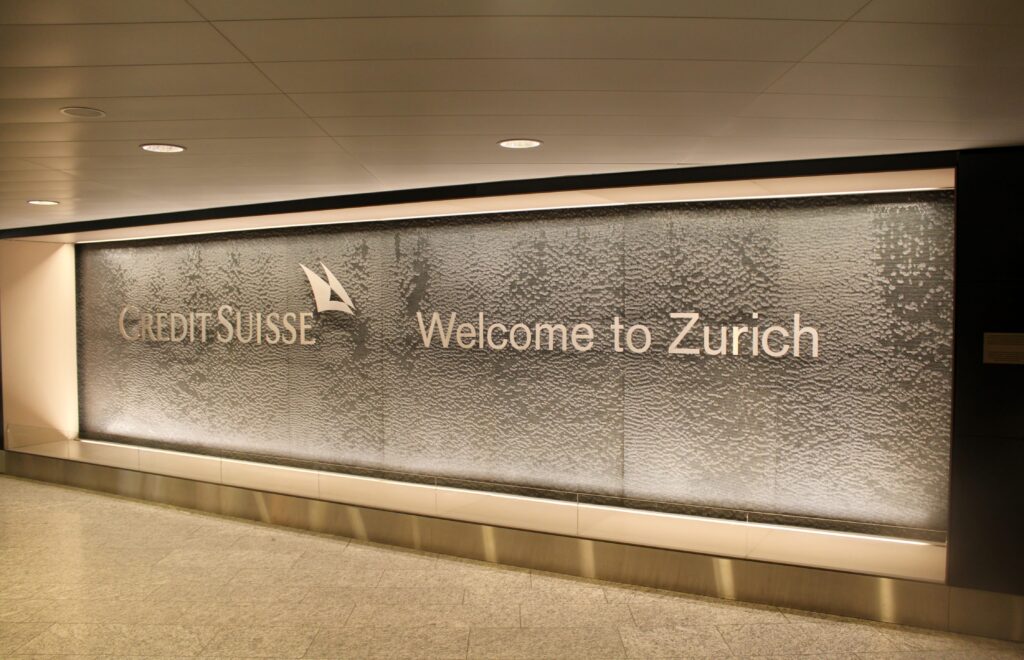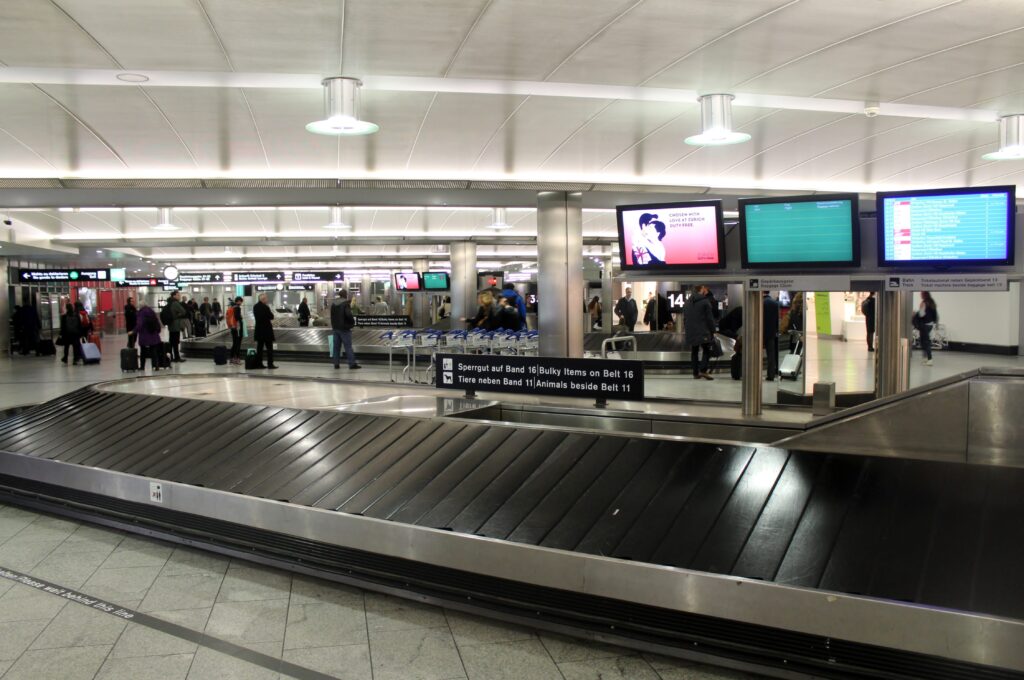 Final impression

A very nice flight. I like the very professional service offered by Swiss and the food and drinks are also of good quality with wines specially selected for business class, also on shorthaul flights. Swiss is definitely among the better airlines in Europe when it comes to food, drinks and service.