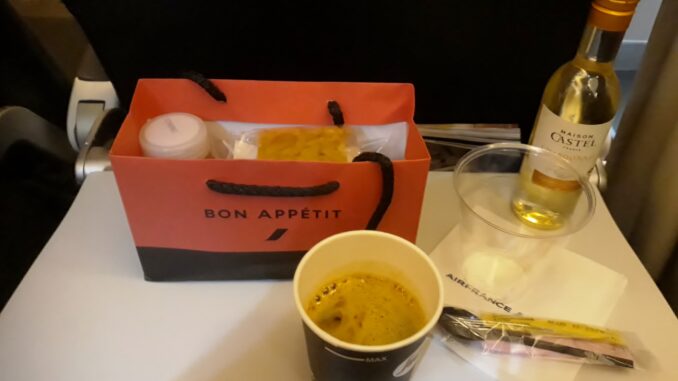 Very impressed to see the new snacks box, or rather the snacks bag, in Air France economy class on longer intra-European flights. This is the bag which was offered on an evening flight from Paris CDG to Stockholm Arlanda.
I really like the concept of serving the snacks in a bag rather than a box and the design of the bag is both cool and innovative.
And a look inside the bag, which you need to unpack on the tray table. A fairly decent sandwich, a small bottle of tomato soup, some slices of apple and a Tosca dessert. And of course complimentary drinks, including beer, wine, soft drinks, coffee and tea. I wonder if Air France will ever give up complimentary wine in economy class.
Although the inflight concept in economy class used to be better on these mediumhaul flights, with a hot snack or even a proper cold meal offered on flights between Paris and Stockholm not too long ago, this was definitely not bad. And I really enjoyed the rather different and innovative concept.