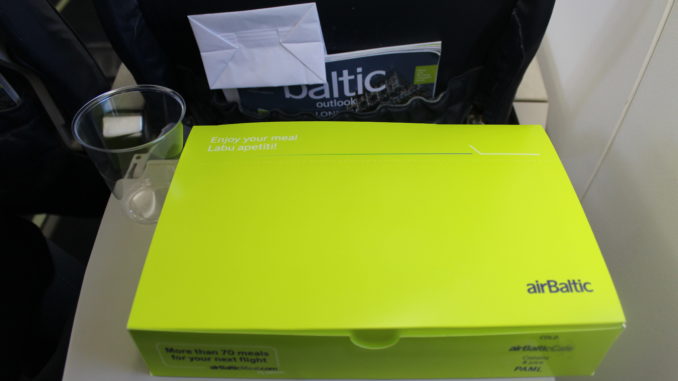 Air Baltic is nowadays very much a no-frills airline if travelling in economy class. You pay for everything, from checked luggage and seat assignments to food and drinks onboard. Naturally it is very different from travelling in Air Baltic business class.
But on the positive side there are plenty of pre-order options when travelling in Air Baltic economy class. For example if travelling in the morning there are no less than nine different breakfast options that can be ordered on flights lasting 90 minutes or longer, including 'Happiness Breakfast' with pancakes with fresh berries and jam, a 'Countryside Breakfast' with a cheese omelette and fried potatoes, and a 'Scandinavian Breakfast' with pancakes with salmon and caviar.
There is also a more traditional breakfast box, which in contrast to the hot options can be ordered later than 24 hours before departure (up until 12 hours before departure I believe) and also on flights shorter than 90 minutes.
I decided to order a breakfast box at a cost of 9 euro, and this is what it looked like.
A ciabatta with salami and cheese,  a fruit yoghurt, orange juice and a Twix chocolate bar. Not too bad I guess. But I found it a bit strange that coffee and tea are not included in the breakfast deal. To many people this would be the most important part of the breakfast.