Departure experience

Check-in was done on the Lufthansa webpage and I could download the boarding pass to my mobile phone. At Stockholm Arlanda airport Lufthansa uses terminal 5 where there is a fast track channel for Lufthansa business class passengers. Being at the end of June, the start of the Swedish holiday season, this really made a difference compared to using the regular lines.
Lufthansa uses the SAS Lounges in Stockholm divided into a business lounge and a gold card lounge. A Lufthansa business class ticket obviously gave me access to the business lounge but I also had access to the SAS Gold Lounge thanks to my gold card. The main differences are that the Gold Lounge offers some hot food, wines in bottles and some spirits. The furniture are also somewhat more elegant with larger armchairs.
The flight
Stockholm-Munich
Lufthansa flight LH 2419
Departure: 18.40
Arrival: 20.45
Business Class
Airbus A321
Seat 05D
First impression

Proper priority boarding was offered for business class and Star Alliance Gold. You could quite clearly hear the announcement although it was a bit hard to see the Priority Boarding sign on the podium.
An Airbus A321 was used for the flight to Munich. Economy class seemed to be almost completely full while there were a few seats available in business class, which stretched to row six. I had seat 05D on the flight, an aisle seat on the second last row of business class.
Newspapers and magazines are no longer offered onboard, instead you are supposed to download these using the Lufthansa app.
Seat and cabin

The seats onboard were the thin Recaro seats, standard on Lufthansa intra-European flights, or at least on flight operated by Airbus aircrafts. Nothing fancy, but they do their job on a shorter flight.
In business class the middle seats are kept free, giving a 2-2 configuration instead of a 3-3 configuration in economy class. The middle seats in business class have special headrests with the text "Ihr Freiraum, Your Space" written on them.
Food and drinks

As we reached our cruising altitude a cold meal was served in business class. Usually I am not too impressed by the Lufthansa shorthaul catering, but this was definitely one of the tastier meals I have been served on a flight. And definitely with one of the nicer presentations I have had on a Lufthansa flight.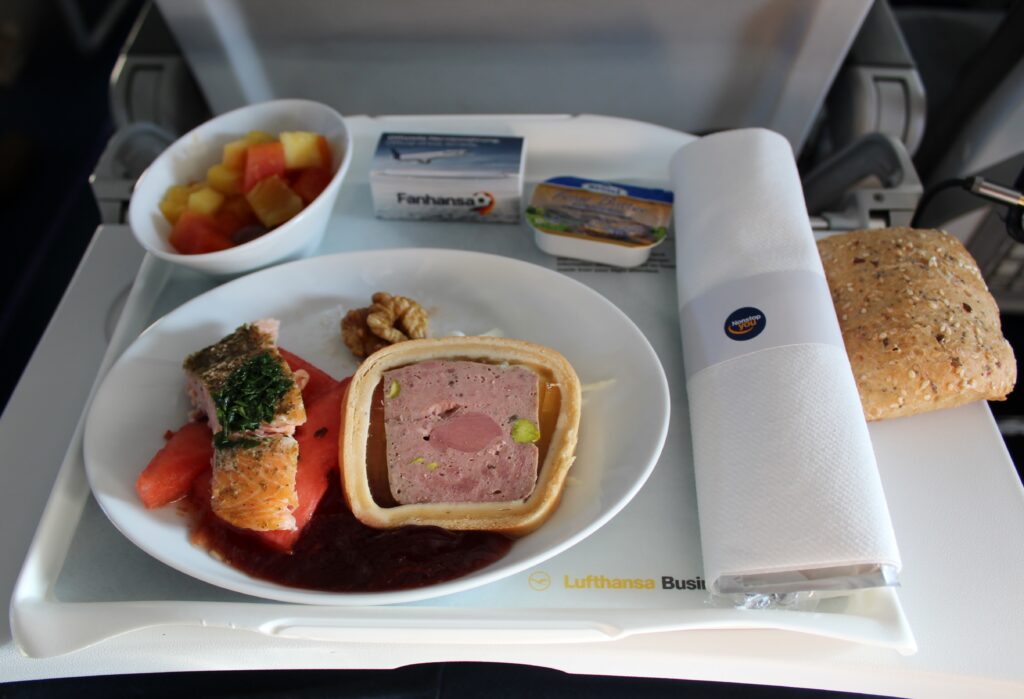 The meal was salmon with some kind of pate and vegetables. Perhaps not to everyone's liking, but I thought it was rather tasty. Bread rolls were offered from a basket and finally there were some fresh fruits for dessert. And again, what a colourful presentation.
Drinks were served from the trolley, in proper glasses in business class. I had a glass of wine to drink with the meal. Unfortunately on intra-European flights the wines are exactly the same in business class as in economy class. The only difference is that spirits are offered in business class, which is not the case in economy class.
For dessert there was also a box with chocolate pralines. As this flight took place during the World Cup 2018 the chocolate box had Fanhansa writte on it, in support for the German football team. The ironic thing though was that Germany had lost its last game in Group F three days earlier and were out of the World Cup. But the chocolates were good nevertheless.
A few minutes later, on the way back to the galley, the cabin crew offered coffee and tea as well as more drinks. I asked for a cup of coffee and a gin & tonic, which were promptly delivered. However they had run out of glasses so I got my gin & tonic in a coffee mug instead. Oh well, it still tastes the same.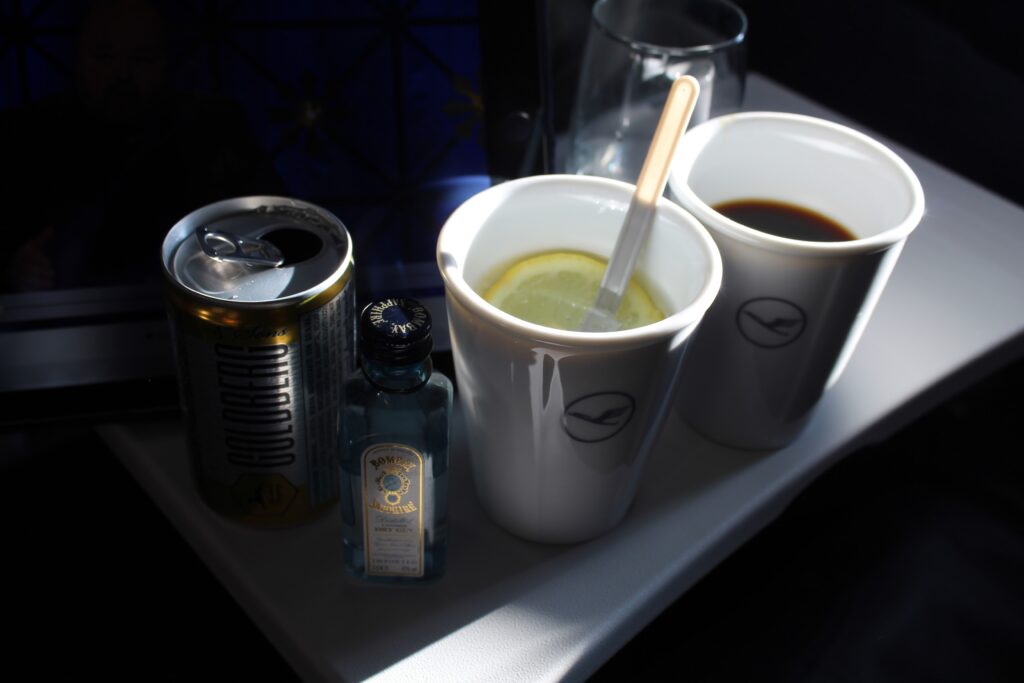 The service

Very standard Lufthansa shorthaul service with no dedicated flight attendant in business class. After the passengers in business class had been served the flight attendants continued to economy class to serve the passengers there, only to return once the economy class service had been completed. This meant that we did not get a refill until we had already finished our meal, actually quite some time later.
But other than that the cabin crew were polite and friendly, but there was no special recognition of me as Star Alliance Gold and there was no use of any names.
Arrival experience

Landing a few minutes early at a very rainy Munich airport, which at least provided a very colourful scenery. With only hand luggage I could proceed directly through customs and to the Hilton hotel at the airport, right next to terminal 2, where I had a reservation for the night.
Final impression

Lufthansa shorthaul business class is nothing to get terribly excited about but this was one of the better meals I have received in their intra-Europe business class. The cabin crew were friendly and polite and the flight departed and landed on time.