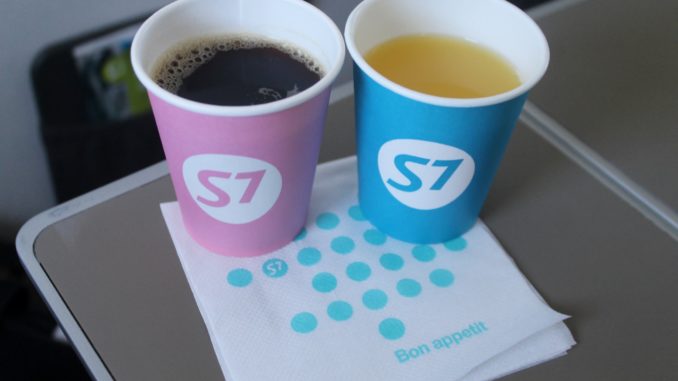 S7 Airlines may possibly be the most unknown airline in the OneWorld alliance, mostly because the airline is based in Russia but also because the airline does not flying a single widebody aircraft, which means the longhaul network is very limited. The fleet consists of Airbus A319/A320/A321 aircrafts, Boeing 737 aircrafts and Embraer 170 aircrafts, but nothing larger than that. Using only narrowbody aircrafts means it is hard (if not possible) to fly from eastern or south-eastern Asia to Europe with only one stop at one of the hubs at Moscow DME or Novosibirsk, and the destinations in North America are naturally out of reach.
But S7 Airlines is actually the largest domestic airline in Russia. They were for many years called Siberia Airlines but in 2006 decided to rebrand to their IATA code, S7 and became S7 Airlines. Siberia Airlines is still the formal name though.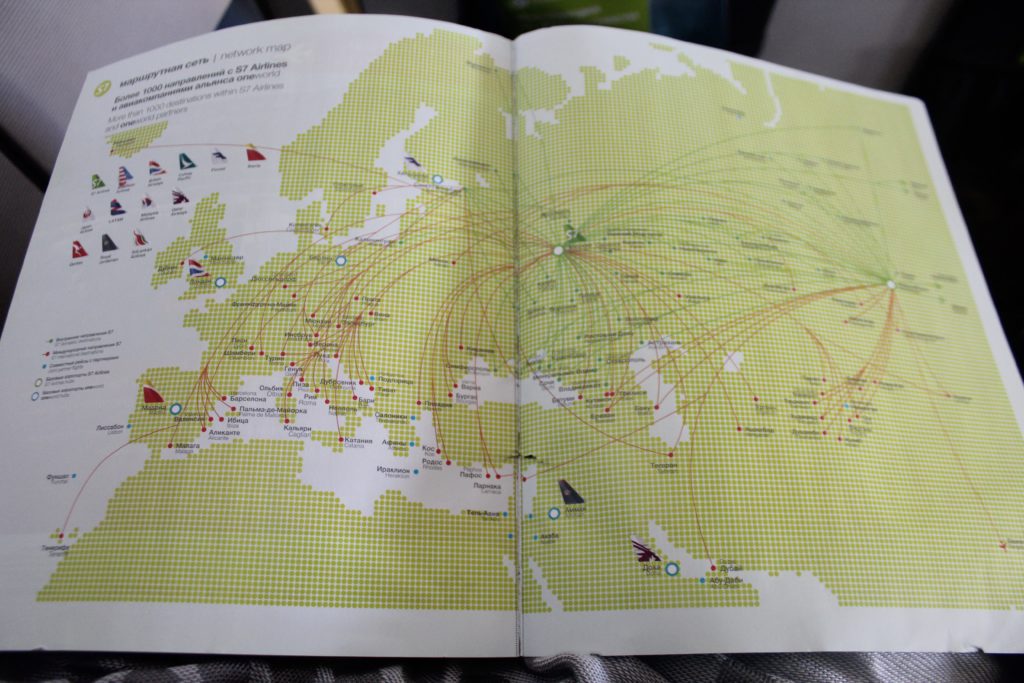 Departure experience

I arrived at St Petersburg Pulkovo on a Finnair flight from Helsinki and only made a transfer at the airport. Transferring between two international flights at Pulkovo airport works perfectly fine and you do not need a visa if you transfer the same day and the connection is reasonable. The only issue was that because they get so few international transfer passengers both the transfer passport control and the transfer security were closed and it took nearly 20 minutes before all staff had arrived and manned their stations.
You can read more about making an international at St Petersburg Pulkovo airport here.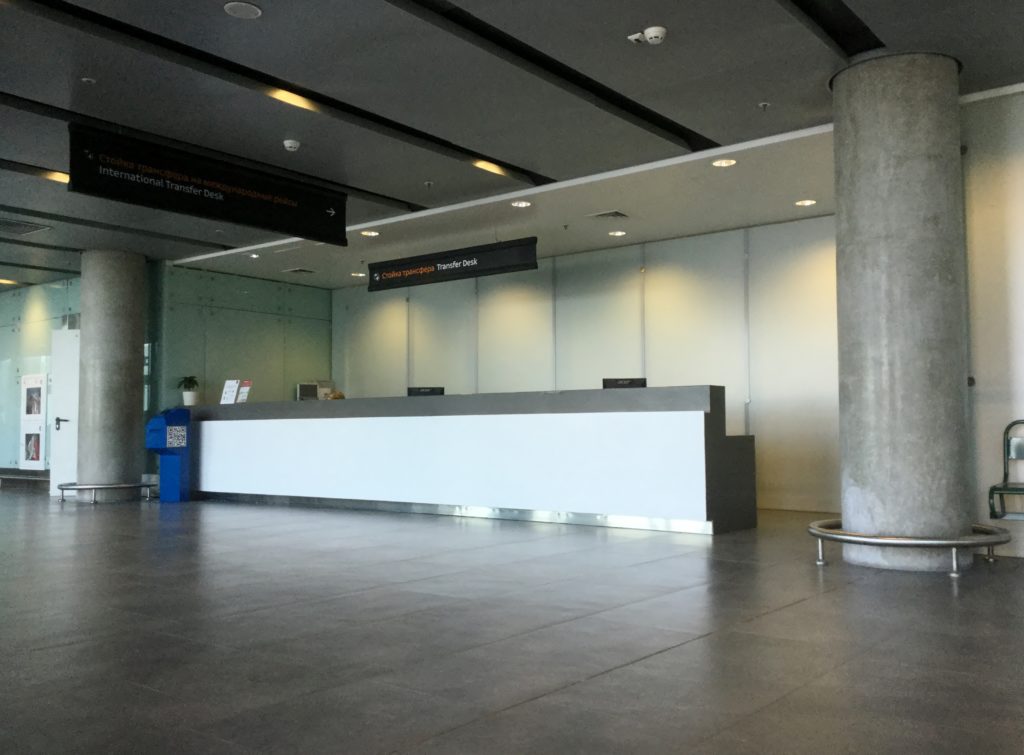 Check-in was done online on the S7 webpage and the boarding pass could be downloaded to a mobile phone. However as Russian authorities mostly prefer a printed boarding pass, which can be properly examined and stamped, I also printed the PDF file to bring to the airport, which was probably a good thing.
The new terminal 1 at Pulkovo airport, which has replaced the old Pulkovo-1 and Pulkovo-2, is quite modern and not too different from for example terminal 2 at London Heathrow. There are plenty of shops and cafes and even a large food court.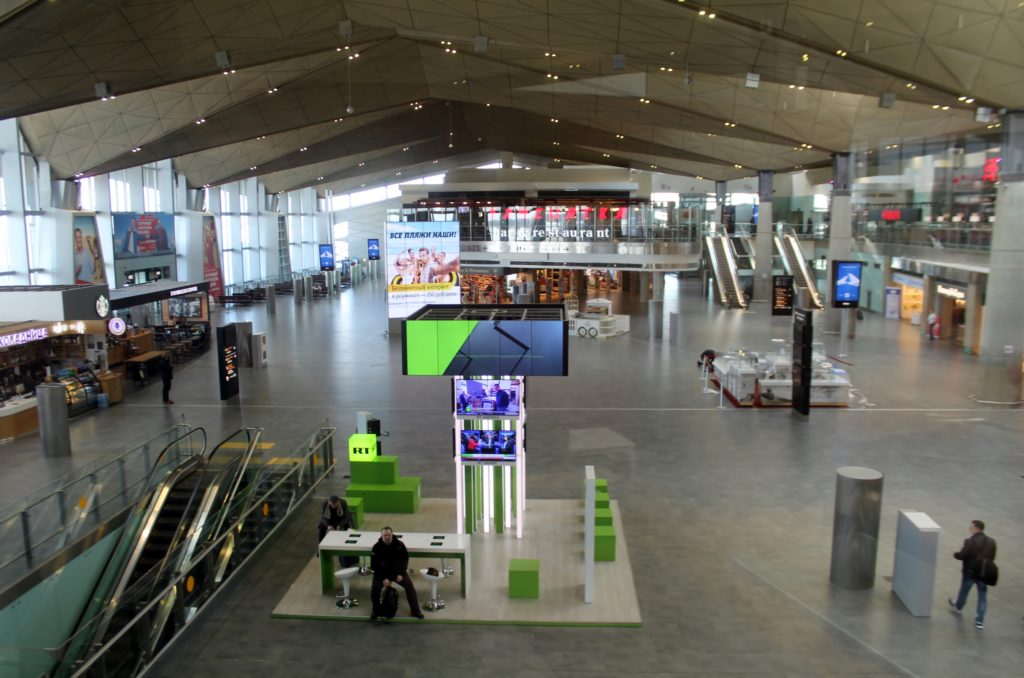 S7 Airlines uses the Pulkovo Business Lounge located on a balcony overlooking the transit hall. A fairly modern lounge, just like the terminal, with several seating areas. The buffet had cold cuts, sandwiches, desserts and even some hot food, which was perhaps not spectacular but not bad either. Beer and wine as well as hot and cold non-alcoholic beverages were available for self-service, but nothing stronger than wine. This seems to be getting the standard procedure in Russia, not offering any spirits in the lounges, which was the case a few years ago, probably as a measure to try to avoid unruly passengers onboard.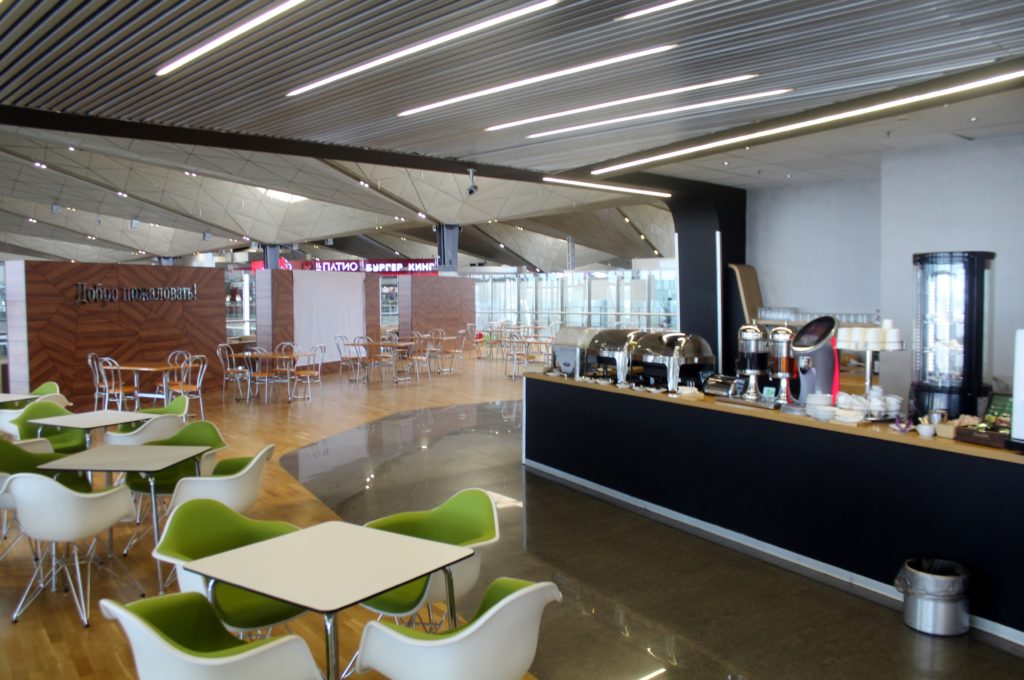 The flight
St Petersburg-Innsbruck
S7 Airlines flight S7 3083
Departure: 16.05
Arrival: 17.05
Economy Class
Airbus A319
Seat 01A

Boarding started 20 minutes before departure at gate A04. There were not many passengers at the gate and evidently the flight was not going to be full.
No priority boarding was offered, just a general boarding call for all passengers, but there were probably not many status passengers anyway.
First impression

An Airbus A319 was used for the flight to Innsbruck. St Petersburg is not a hub for S7 but they do fly to a couple of international destinations from the airport, most of them only served once or twice a week. The aircraft was a one-class only aircraft with dark grey seats and the signature green circle on the covers.
Being a OneWorld Emerald member I could not pre-book a seat free of charge during the booking process but I could select a seat free of charge once online check-in opened. Also the status meant I could select an Extra Space seat on the first row, which normally would have cost 1800 RUB (around 25 euro) to select.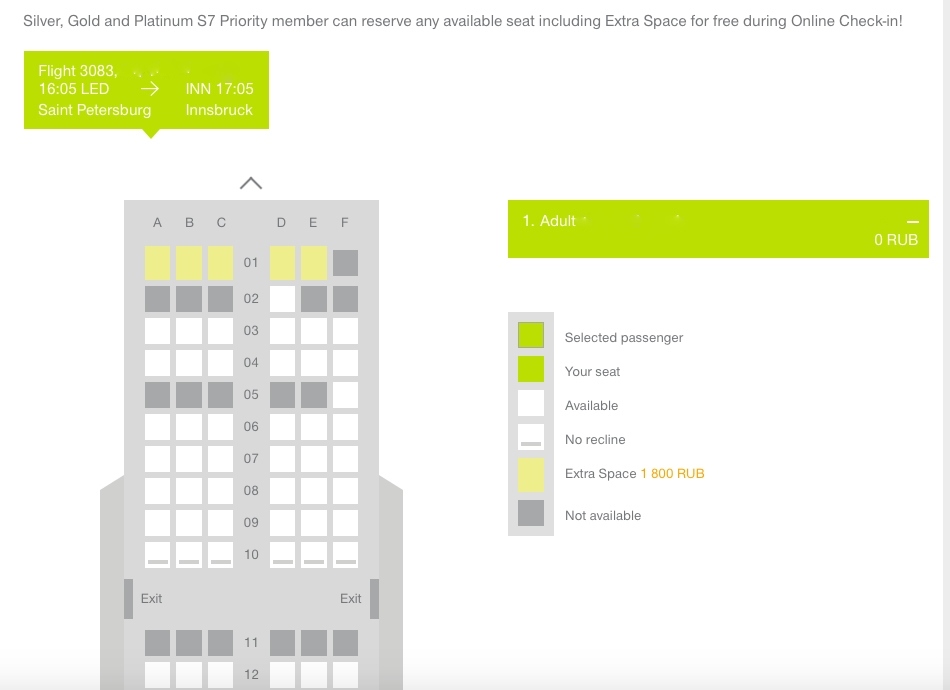 Nearly all passengers onboard were Russian, which was perhaps not too surprising. A friendly purser greeted all passengers at the door with the formal greeting Здравствуйте, zdrávstvujte.
The doors were closed punctually just after 4 pm and the flight time to Innsbruck was expected to be 2 hours and 45 minutes. After takeoff we got a nice view of the city and made a 180 degrees turn to fly back over the airport and towards the Baltic Sea.
Seat and cabin

The aircraft had a 3-3 configuration on all rows. S7 Airlines does operate a business class cabin on some routes with proper business class seats in a 2-2 configuration, but not on these leisure flights.
Row 1, which I could select free of charge as a status passenger, had what they called Extra Space seats. The difference compared to the regular seats was not as significant as I had expected but it did offer a bit more legroom.
I had initially selected 01C but as 01A and 01B were empty I could move to the window to get my own row. There was one passenger sitting on the opposite side of the aisle in 01F but otherwise the front section of the cabin was almost empty. There was no one sitting in row 2 and just one passenger in row 3. Most likely the passengers who had not pre-booked a seat and who did not have status in OneWorld or the S7 Priority program were automatically assigned a seat by the system and most likely ended up sitting further back. It was also very quiet at the front and there was plenty of space.
Food and drinks

Up in the air some rather decent sandwiches were offered with either chicken or ham. They were not bad at all, of decent quality and quite filling.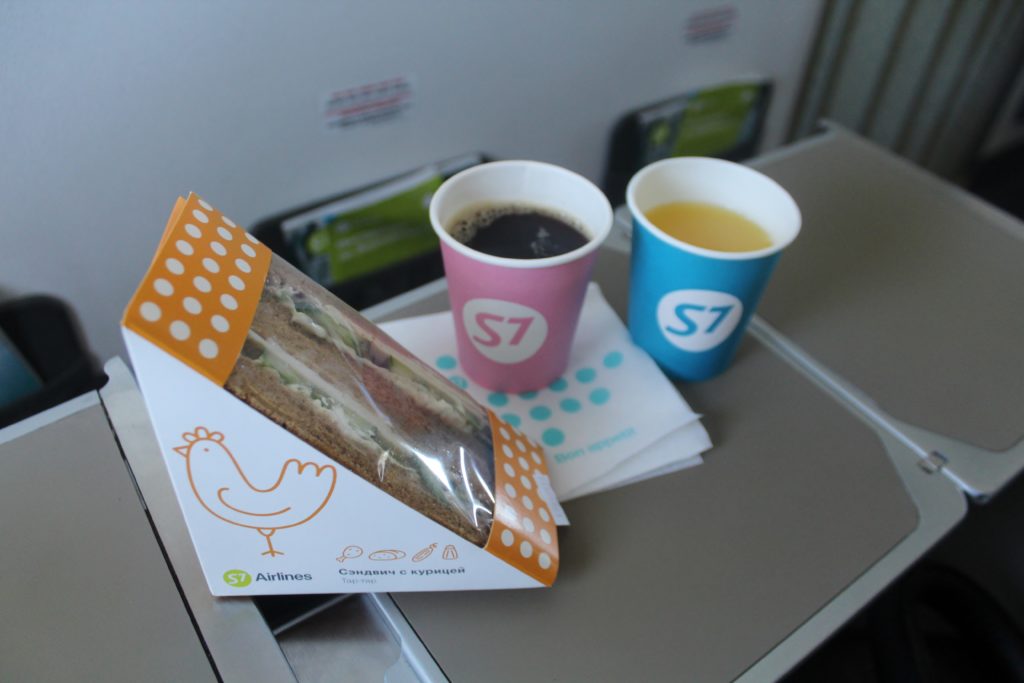 Afterwards soft drinks such as sodas and juices were offered by the cabin crew as well as coffee and tea. No alcoholic beverages were available onboard, not even for sale.
Later on refills of coffee and tea were offered and there was no problem ordering something more to drink later during the flight.
The service

The cabin crew onboard were friendly and polite and there was nothing whatsoever to complain about. All the crew members were quite young and also spoke excellent English. Language was not an issue during the flight.
There was no special recognition from the crew, but on the other hand I am not sure how my status was displayed. I am a gold card holder with British Airways, which equals to OneWorld Emerald. This was properly indicated on the S7 booking confirmation page. However during online check-in the Gold status remained, but it seemed like they mixed it up with the Gold status in S7 Priority, the frequent flyer program of S7 Airlines, where Gold equals Sapphire, the level below Emerald. So I am not sure what the cabin crew actually saw on the passenger manifest.
But on the other hand there was not much more the crew could have done onboard anyway. There was no business class and no buy-onboard, so there was not much else they could have offered. And they were all very friendly anyway.
Arrival experience

Blankets were offered by one of the crew members and as there was nothing outside the window but clouds and as I was rather tired and also had plenty of space to stretch out, I took the opportunity to take a one-hour nap.
Flying into Innsbruck airport is always an experience as the airport is surrounded by snowy mountains. You have to follow a very specific route to and from the airport through a valley, or there will be mountains blocking your way.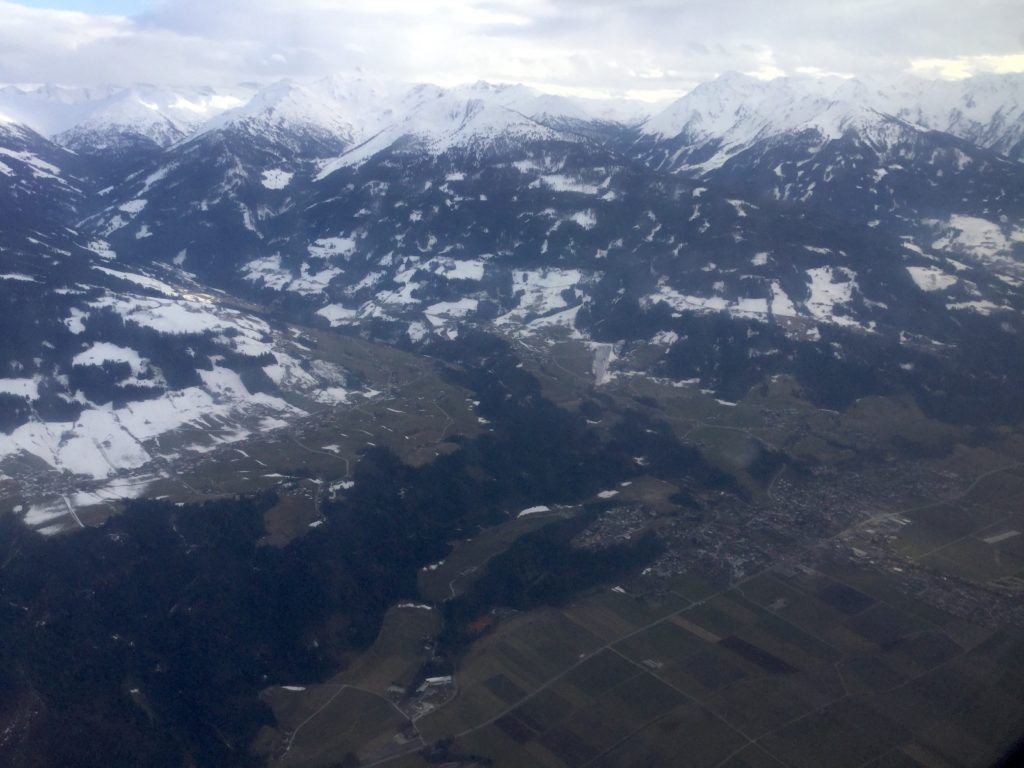 We got a very nice view of the Alps followed by a great low-altitude sightseeing tour of downtown Innsbruck, which is very close to the airport, before we touched down ten minutes early at Kranebitten airport.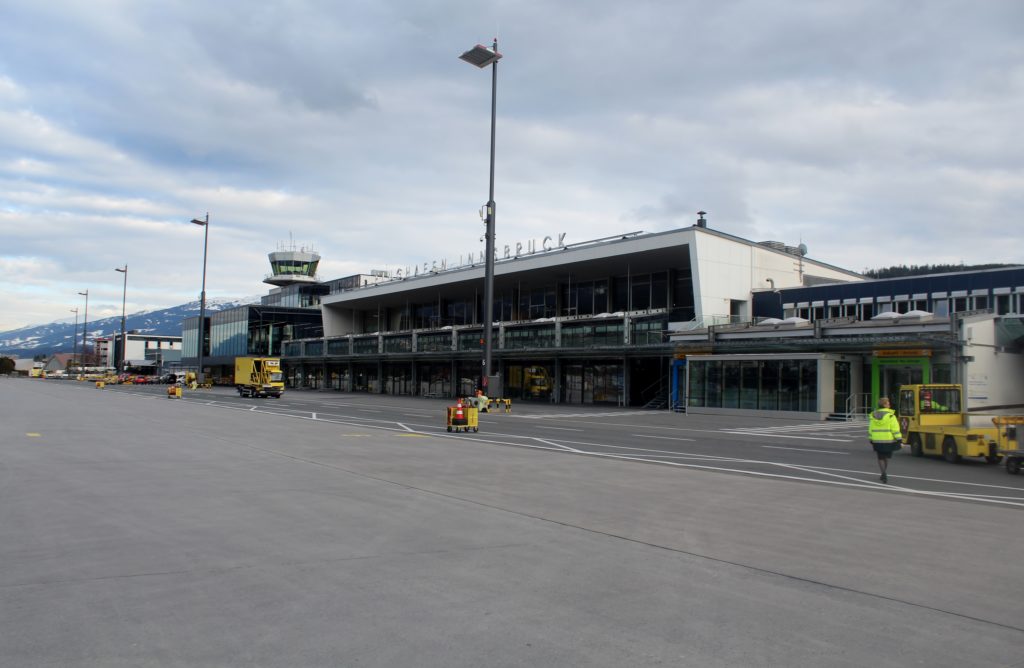 This was followed by a leisurely walk from the aircraft door to the terminal where many passengers stopped to take a few photos of the aircraft and the surroundings (which the ground staff did not seem to mind at all). Passport control was quick and with only hand luggage I was standing in the arrivals hall within ten minutes after landing. Innsbruck is a small and convenient airport.
Final impression

My first ever flight with S7 Airlines. They are not best in class but there was nothing to complain about either. Free front-row seat as a status passenger, friendly staff, free non-alcoholic drinks and a decent sandwich.