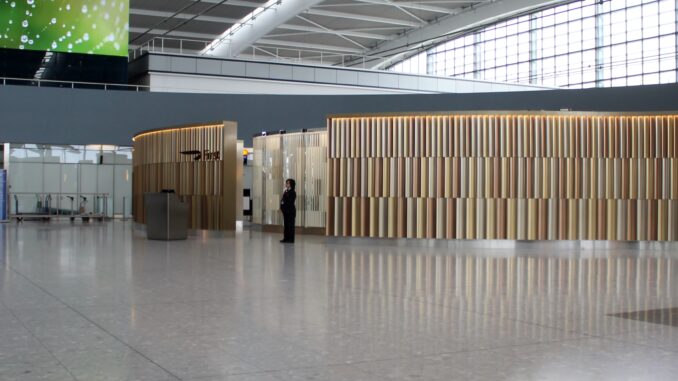 First time I get to try the new British Airways First Wing at London Heathrow terminal 5, accessible to British Airways first class passengers and British Airways Gold and OneWorld Emerald passengers (irrespective of cabin class).
The first class check-in area in the southern part of the departure hall is now completely secluded and there is a woman standing at the entrance to make sure only eligible passengers enter.
The actual first class check-in area is still the same, in its semi-circular shape with plenty of check-in desks open. Basically you should not have to wait at all to check-in. However with the new walls surrounding the first class check-in area is now completely hidden from public view, which was not the case before.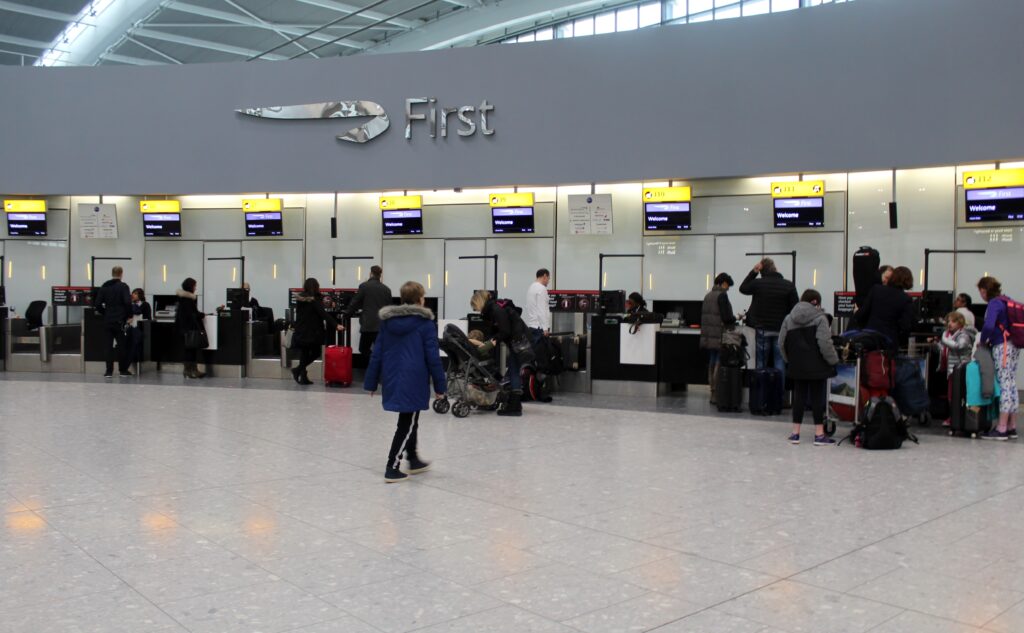 After checking in (or if you have already checked in online and have a mobile boarding pass) you make a right turn. There are two checkpoints here. One to check you are actually flying from Heathrow terminal 5 that day and that you have met the conformance deadline. And one checkpoint where they check your eligibility to visit the first class lounge, and hence use the First Wing. The same kind of check they make at the regular lounge reception desks.
Afterwards there is a dedicated First Wing security control with two screening stations one on each side. There was just one other passenger in front and the staff were friendly and the atmosphere relaxed. Not that the staff did a poor job in any way, but with so few passengers passing there simply is no need to rush or push. And since all passengers who pass are experienced travellers pretty much everyone knows what to do anyway.
Finally after the security check completed you collect your belongings and make a left turn and follow a corridor.
A fairly long corridor.
But it eventually ends right inside the British Airways Galleries First Lounge, next to the Gold Bar. If you are a British Airways first class passenger and want to visit the Concorde Room lounge you need to exit the Galleries First Lounge through the regular entrance/exit and pass through the lounge lobby outside. The Concorde Room is located at the opposite end of the lounge lobby.
Verdict
This was a very positive and completely stress-free experience, possibly my best ever at London Heathrow. No lines, no crowds, no one pushing and no more escalators up and down to get from the security control to the lounge. Just brilliant!