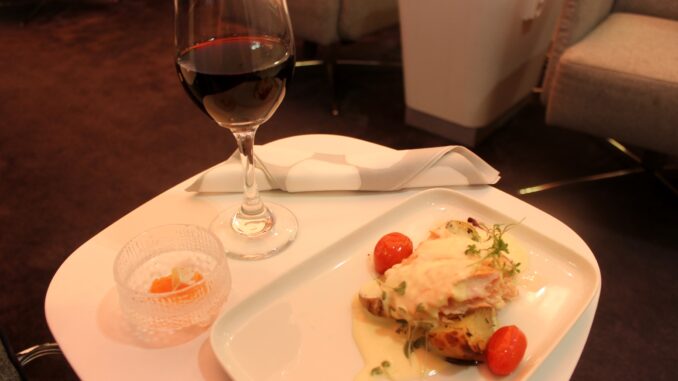 Back in a favourite lounge, definitely one of the best in Europe and easily the best one in northern Europe at the moment. And the lounge is really an oasis at 6 pm, when all flights to Asian around 4-5 pm have departed and especially during the summer when there are fewer business travellers. The lounge is nearly deserted.
A glass of champagne, half an hour in the sauna and now some dinner, some desserts and then something more to drink from the bar before it is time to head to the gate.
The selection of food seems to have changed a bit since previous visits. There are now fewer starters and snacks than before, but on the other hand more desserts and better hot food than what I remember from previous visits.
Only the soup was available for self service in the buffet, a spinach soup, most likely as we are very few guests this early evening. But there was a sign with the dinner menu. I approached the lounge attendant and ordered the salmon from the menu who told me it would take a few moments to prepare. In the meantime I had some starters from the buffet.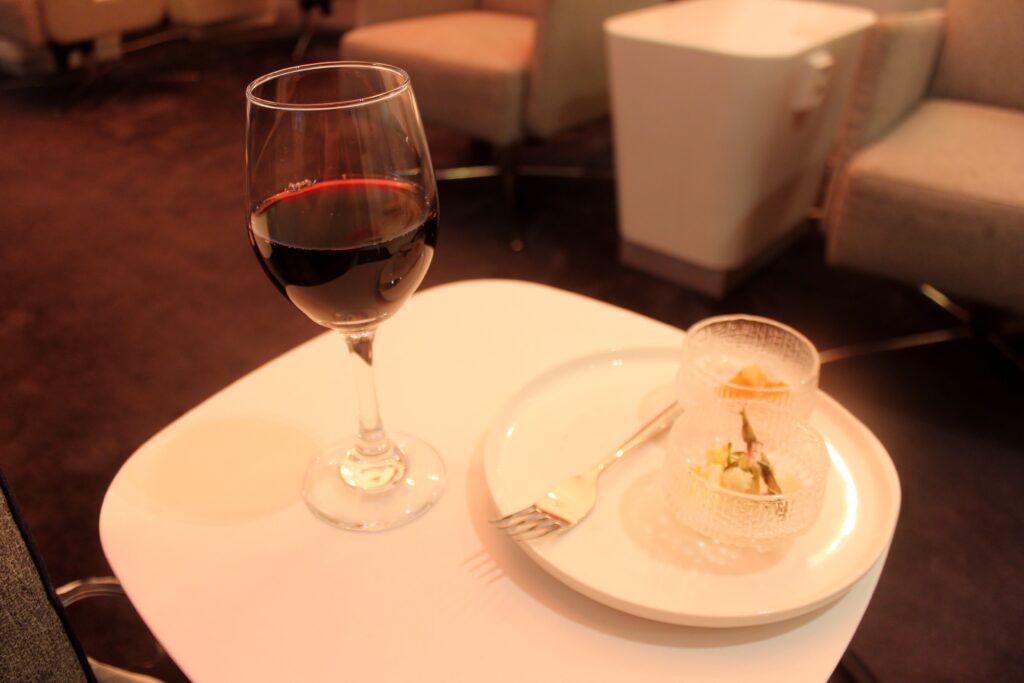 And I was very positively surprised when the salmon was served at my seat a few minutes later, very nicely presented. The same lounge attendant also got me a refill of the wine. What a fantastic service.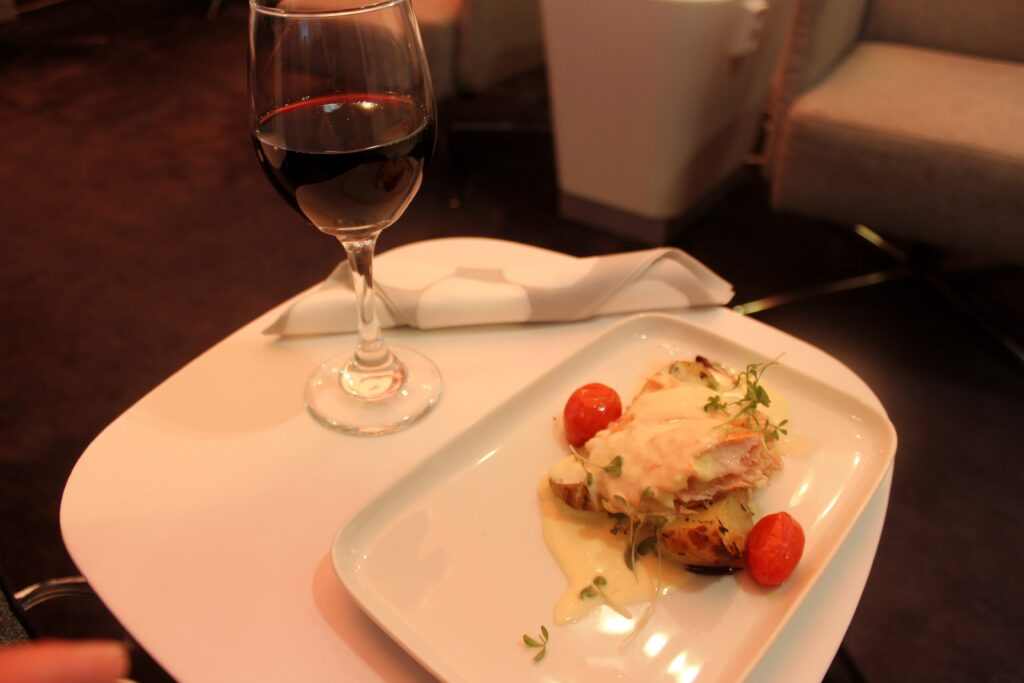 The selection of desserts is now rather impressive and very extensive. Apparently they call it 'afternoon tea', but it is not just available in the afternoons but also in the evenings. All kinds of desserts, tarts and cakes are available for self service.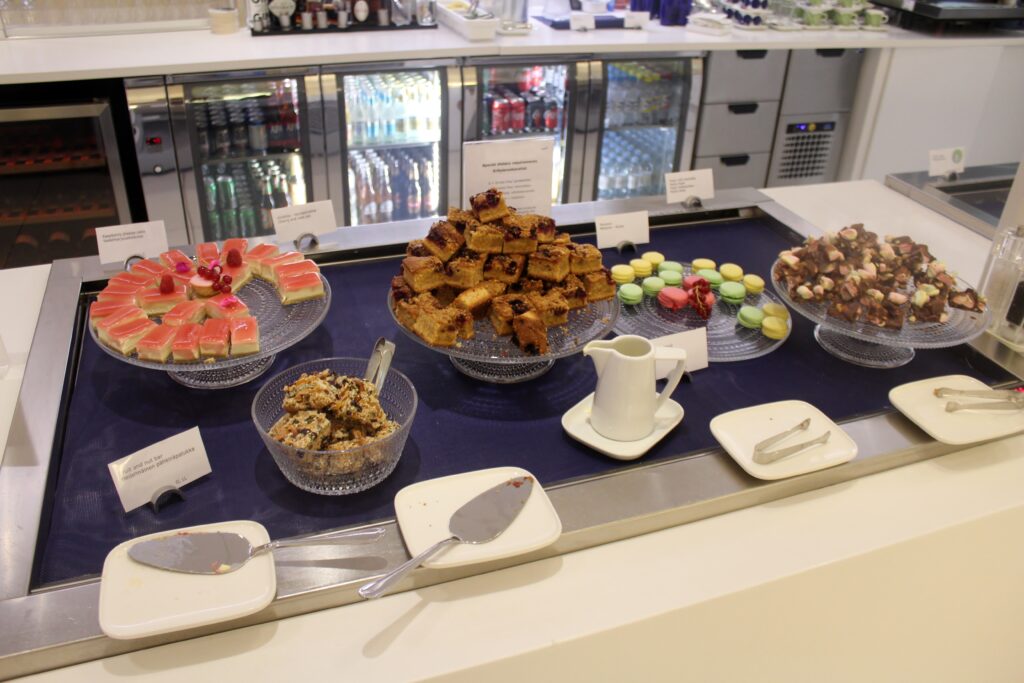 And a gin and tonic to finish off, with some desserts from the buffet and a cup of coffee, served in the stylish Marimekko cup.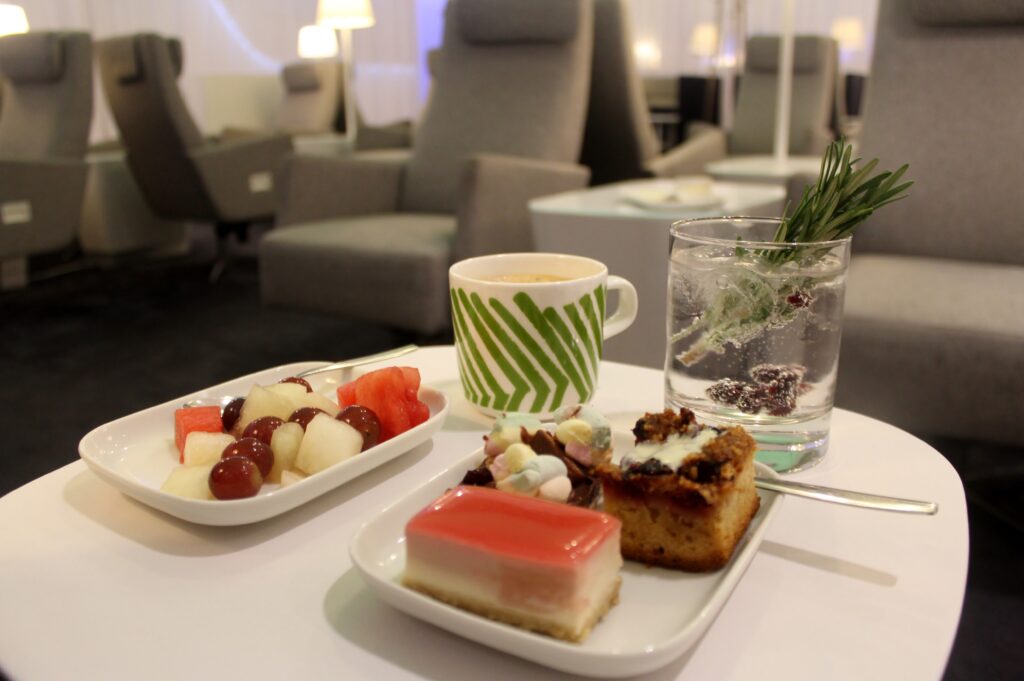 There are two gin brands to choose between, Hendrick's or the Finnish Napue gin. I ordered the latter, served with rosemary sticks and cranberries, as is the way it should be done with Napue.
Due to the reduced summer timetable of Finnair I got more than three hours in the lounge, but they were not particularly hard to kill. The only drawback is that due to the construction works going on there is no longer any view to speak of from the upper floor. But other than that, with the food, drinks and champagne, with the decent wines, the cool design, the sauna and the very service-minded staff, this was nothing but excellent.