Booked on the late morning flight from Copenhagen to Amsterdam on KLM and already during the booking process I noticed there was something different about the flight since there was no business class onboard. Economy class started at row 1 and no business class booking classes were available for the flight. And when I reached the gate I understood why. There was a Transavia Boeing 737 parked outside the window.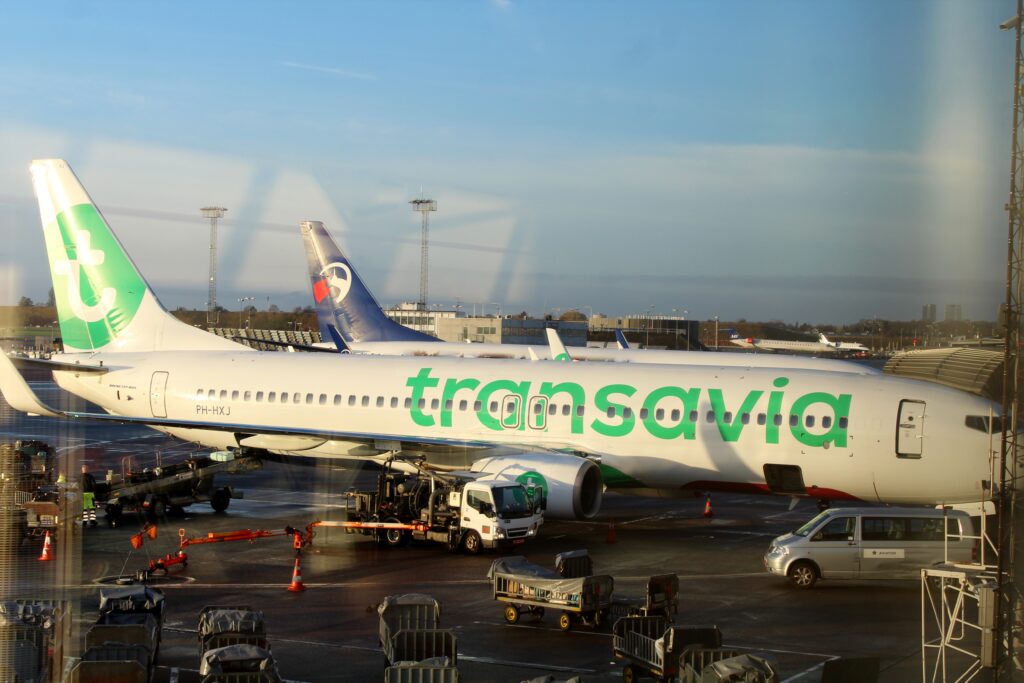 When it was time for boarding the gate agent made a rather amusing but probably useful announcement to avoid confusion, telling the passengers in the gate area "Just for your information you will be travelling on a Transavia aircraft today, so that means you will be on a green plane, not a blue plane". And green it was, very green. Just as much green as the KLM aircrafts are blue.
I was seated in 03C on the third row, both the third row of economy class and the third row of the cabin. But for some reason, even though there was no business class cabin onboard, the middle seat 03B had a headrest where it said "Reserved for your personal space". And it really stayed empty, on an almost completely fully-booked flight.
It seemed like they used the first few rows for Flying Blue and Skyteam frequent flyers and probably also for passengers on full-fare tickets. Something similar to the Economy Comfort section offered on KLM aircrafts. The main difference was that I, as a Flying Blue Gold member, could select a seat in this section free of charge, which I would not have been able to do on a KLM aircraft unless all other economy class seats had already been taken (selecting a seat in KLM Economy Comfort requires a Flying Blue Platinum card or paying for it).
After my not very pleasant experience on Transavia flying Salzburg-Rotterdam a few months ago, where the legroom was so tight I could hardly move my legs during the flight, and was definitely not able to reach my cabin luggage under the seat in front without first standing up, I was pleasantly surprised to see that the legroom seemed to be slightly greater on the first few rows on this aircraft. It was far from exceptional on row 3 but definitely better than on my last flight. And of course having a free middle seat certainly also helped a bit.
The cabin crew were all from Transavia but the inflight service during the flight from Copenhagen to Amsterdam was the same if the flight had been operated by a KLM aircraft, meaning a complimentary sandwich and free drinks, including beer and wine.