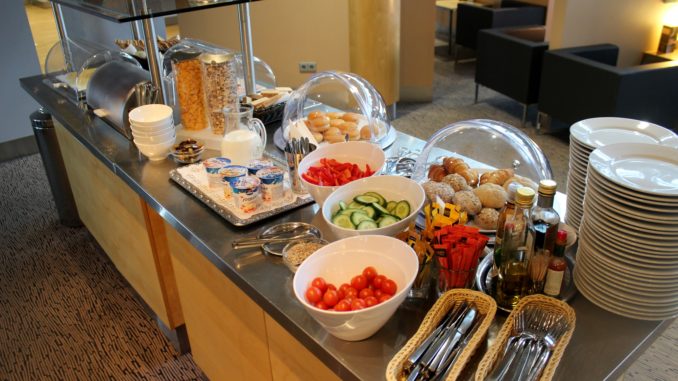 Riga airport may not be the largest of airports but it does have a surprisingly good and decent lounge. The lounge used to be an Air Baltic Lounge but is now run by TAV as a Primeclass Lounge and is used by most airlines for their premium passengers.
I made a quick visit to the lounge this morning between two flights and was very impressed by the excellent breakfast on offer. There was a continental breakfast in the self-service buffet area with bread rolls, ham and cheese, yoghurt, milk and cereals, vegetables, pastries, croissants, and even jelly donuts. But there was also a hot breakfast available, which was perhaps far more impressive, with Latvian Rauga pancakes and omelettes with Comte cheese. And it was all quite tasty.
This was really a lot better than what would be offered in most airport lounges in Europe of a similar size, at a similar medium-sized airport. Not too different from a breakfast buffet in a smaller hotel.