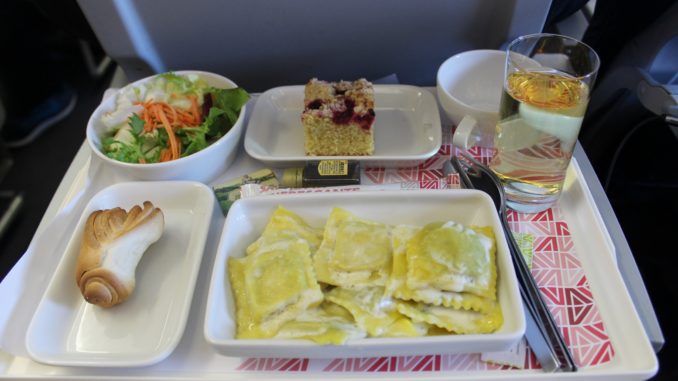 Departure experience

I was in transit at Rome Fiumicino airport, also known as Leonardo Da Vinci airport, arriving on another Alitalia flight from Munich.
Transferring at Rome airport is rather straight-forward. Although some travel websites and booking engines mention three different terminals they are in fact only separate terminals landside. Once you get airside there is just one transit hall, which is divided into a Schengen area and a non-Schengen area with different concourses.
The incoming aircraft parked at a remote stand which meant a bus transfer to the terminal, which dropped us off in the basement. Since there is no transfer security control between Schengen flights I only had to take the escalator upstairs to the transit hall and proceed to the next gate, however as I had plenty of time I decided to go landside to check out all the facilities available for Alitalia premium passengers in the departure hall.
The check-in hall in terminal 1 is very spacious and best of all, there is a landside lounge. The lounge is called Casa Alitalia Piazza Navona and has the standard entry requirements. A business class boarding pass obviously got me in.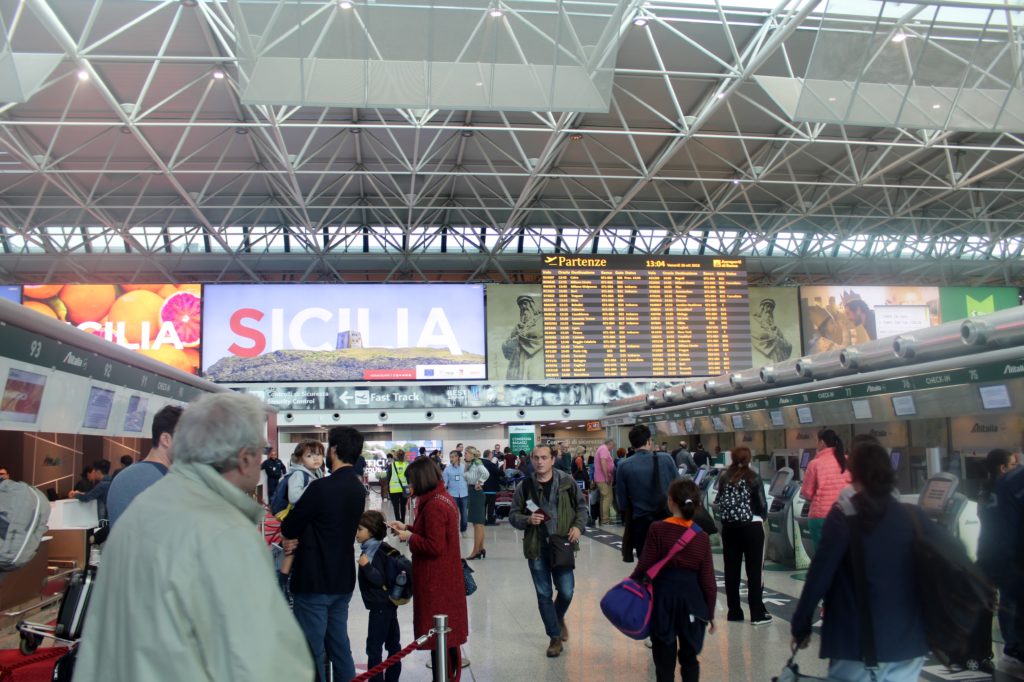 The new Alitalia lounges are very pleasant. In this lounge you can have some cold Italian snacks and order a cocktail or a glass of Prosecco from the manned bar, called Pilot's Bar. Nice interior and friendly service. You can even check in inside the lounge, to the right of the reception desk there are check-in desks, including with luggage.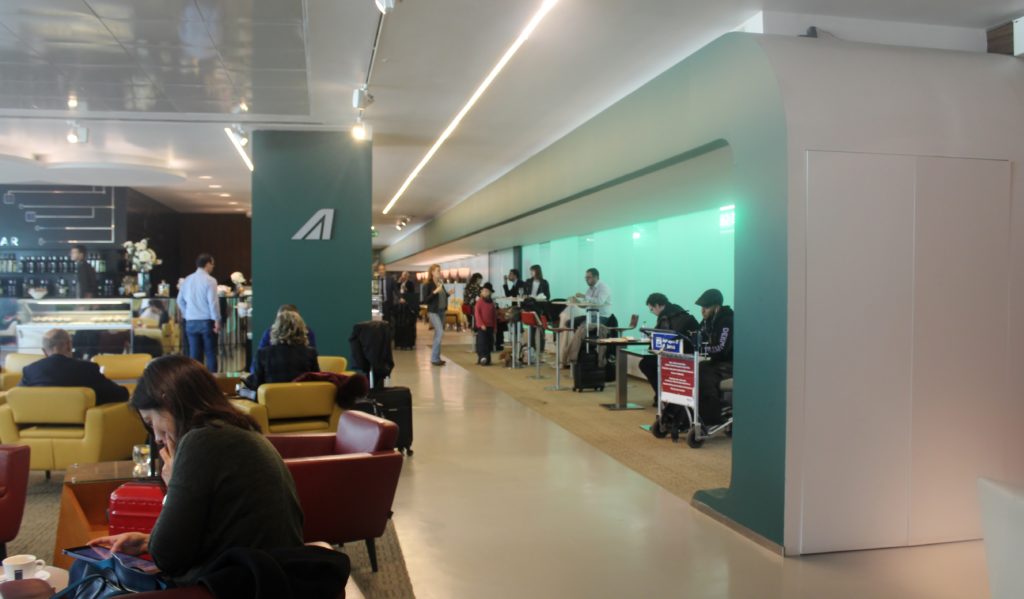 The only thing missing was a dedicated fast track channel inside the lounge. After you have finished the visit you have to go out again and walk a short distance to the security control, where there is fortunately a fast track channel for premium passengers.
I had time for a second lounge visit, this time the Casa Alitalia Piazza Venezia. The lounge is located airside in concourse D on the top floor and is the main Schengen lounge for Alitalia and Skyteam premium passengers.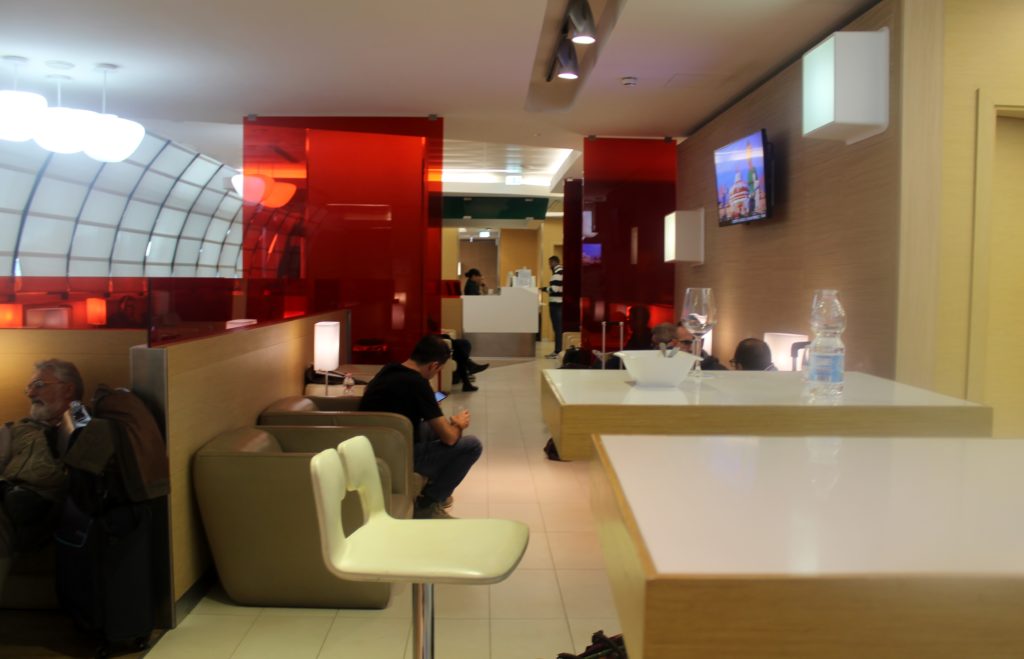 Although the lounge is not as fancy as the brand new non-Schengen Casa Alitalia lounges it is certainly not bad with some good snacks and a manned bar where you can order cocktails, wine and a freshly-brewed espresso from the barista. The lounge is not particularly large though and I can imagine it can get really busy at peak times.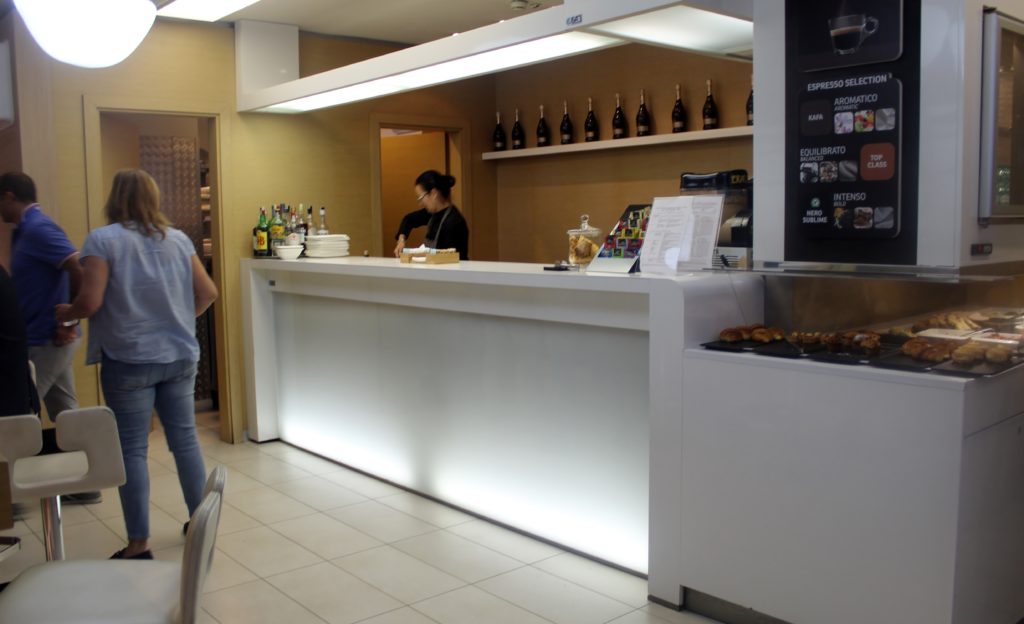 The flight
Rome Fiumicino-Barcelona
Alitalia flight AZ 76
Departure: 14.00
Arrival: 15.50
Business Class
Airbus A320
Seat 04D

Boarding for the flight to Barcelona took place at gate B15, a rather lengthy walk from the lounge in concourse D, and the gate once again turned out to be a bus gate.
However fortunately there was a dedicated priority boarding line which meant I could board the first bus to the aircraft, even though I arrived a couple of minutes after boarding had started.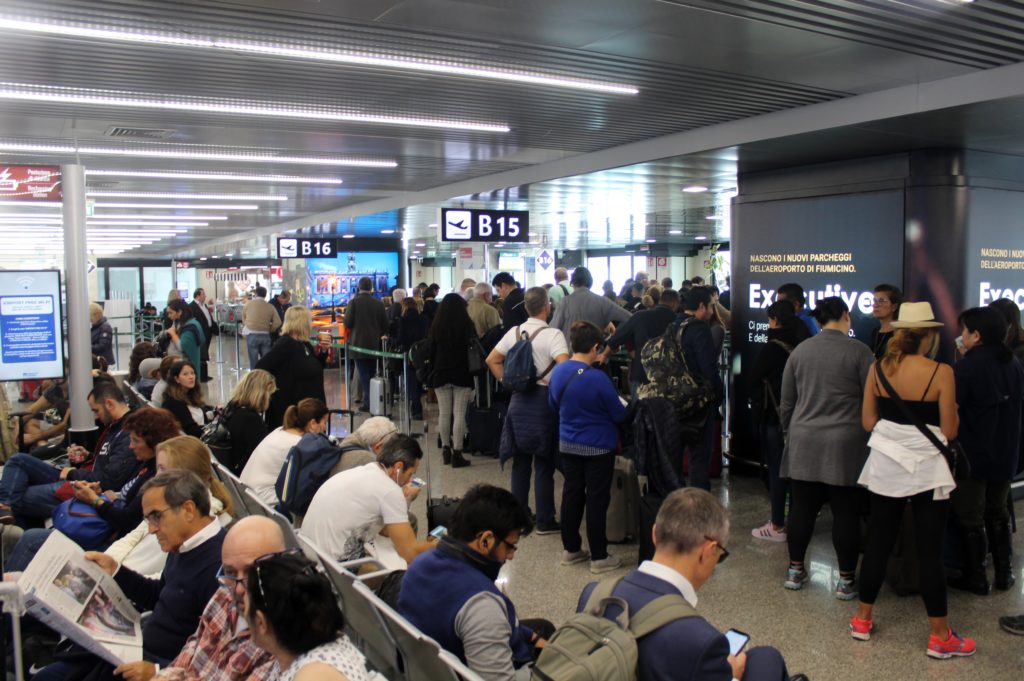 First impression

An Airbus A320 was used for the 90-minutes flight to Barcelona and it was pretty much full in both economy class and business class.
No pre-departure drinks were offered and no newspapers. The experience on the ground was really no different from the one in economy class.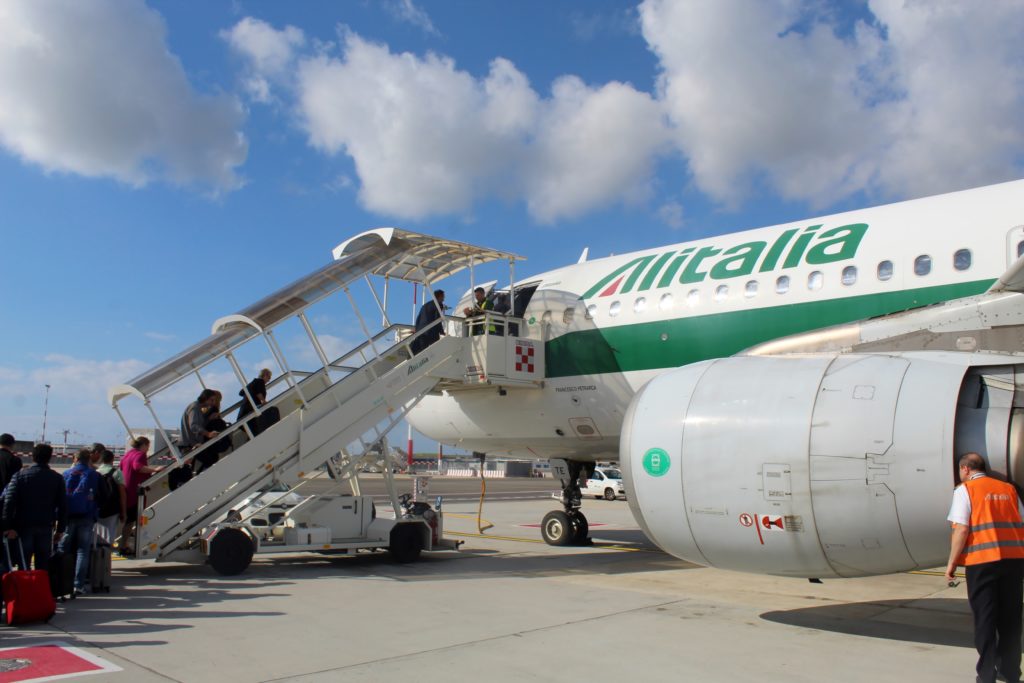 Seat and cabin

Five rows of business class were available to Barcelona and all but one seat were occupied.
Just like on most airlines on intra-European flights the configuration was 3-3 onboard with a blocked middle seat in business class, meaning 2-2 in front of the curtain. A cocktail table was also placed on the middle seat to provide extra storage and more space for drinks.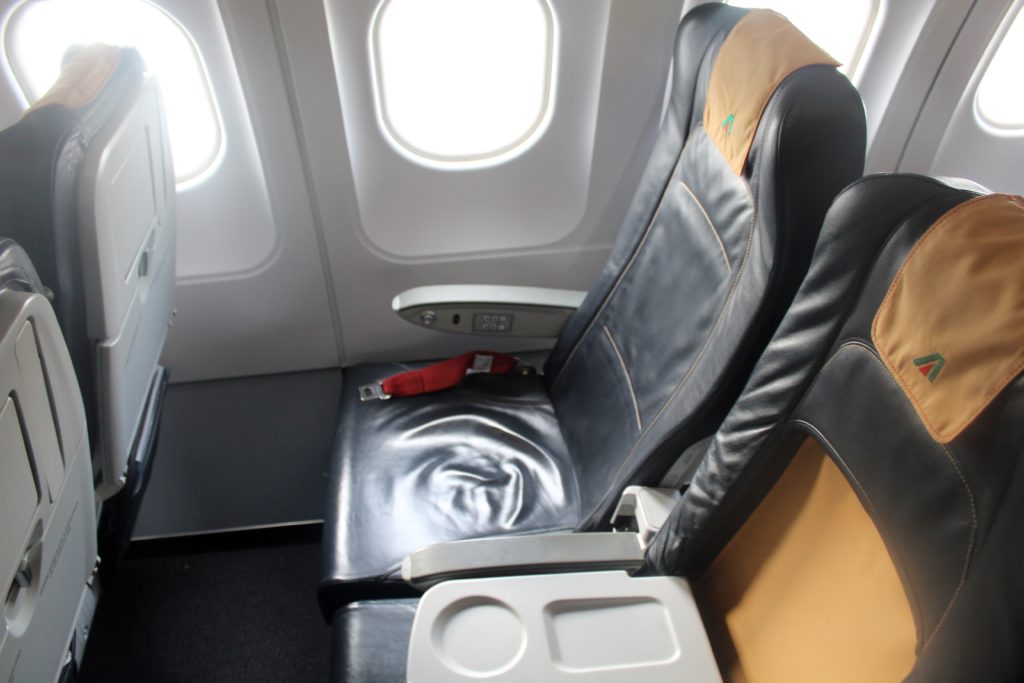 Food and drinks

In contrast to the previous flight from Munich to Rome, when we were well above the Alps when the purser even started preparing for the inflight service, this time the meal service started almost immediately after takeoff. With five rows of business class and 19 passengers, who were all to be served a hot meal, this was probably needed to manage.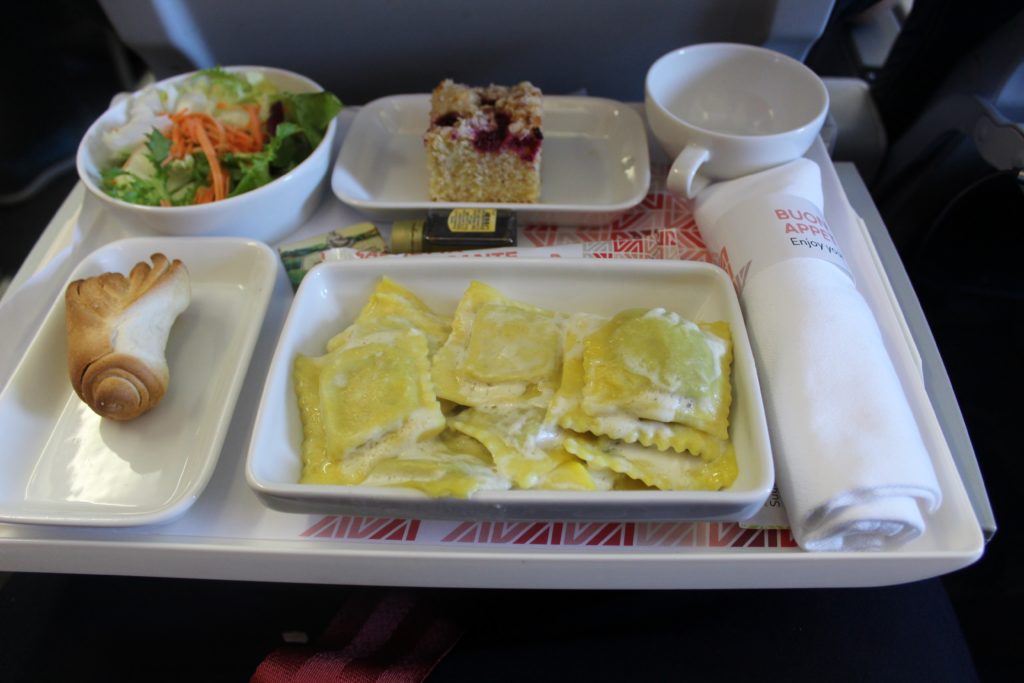 A pasta meal was served, which seems to be the most common dish in business class within Europe. This time it seemed to be cheese ravioli. There was also a bowl with salad, a bread roll and a cherry dessert. Overall it was once again rather tasty. The Italians surely know how to make tasty pasta.
Drinks were offered from a trolley with wines from large bottles. I ordered a glass of white wine.
As the meal trays were cleared coffee and tea were offered together with Italian chocolates. The coffee in business class is served on small coffee trays, which is a nice touch. I also ordered a refill of the white wine.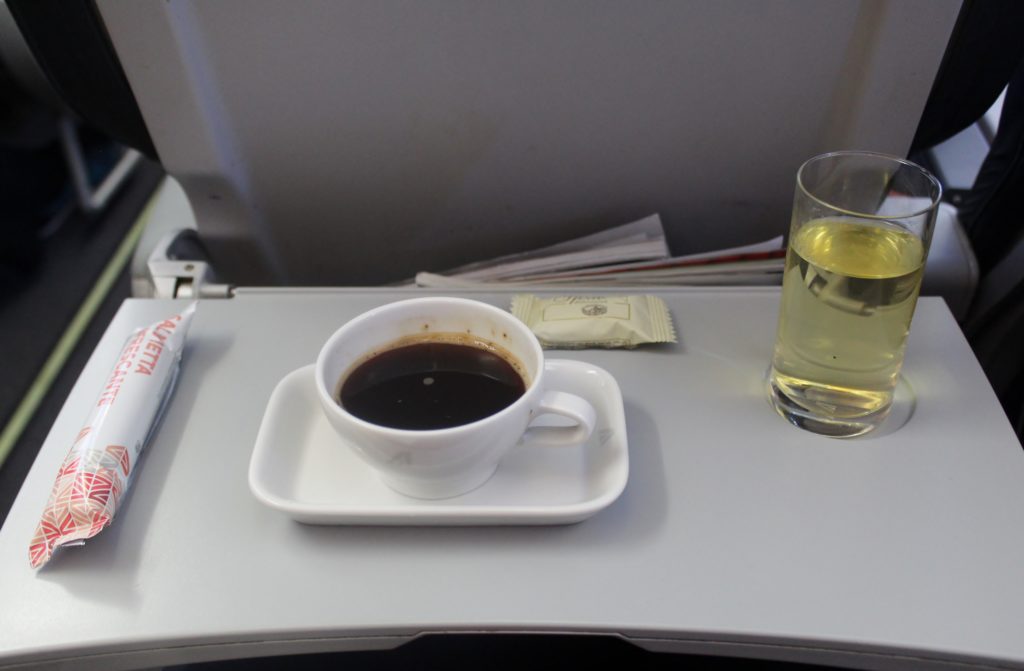 The service

The service was friendly but a bit rushed and somewhat disorganised. The crew really had to work hard to manage to serve hot meals, drinks, and coffee to 19 passengers. But overall there was not much to comment about.
Arrival experience

Punctual landing in Barcelona just before 4 pm and with only hand luggage I was quickly on my way from the airport.
Final impression

The Alitalia ground services in Rome and really not bad with some rather nice lounges. Tasty pasta meal onboard and good wines but the service was a bit rushed with a full business class cabin to serve.