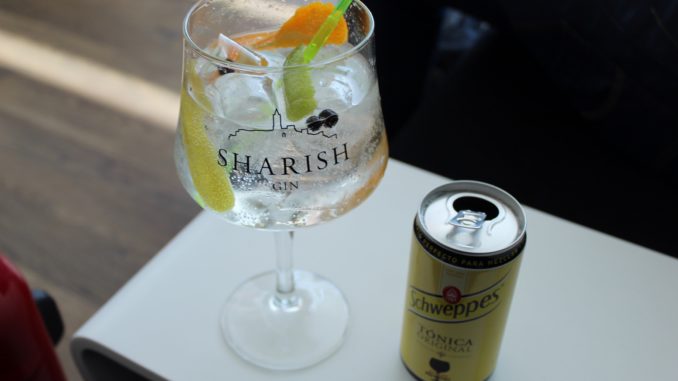 In July 2017 the new TAP Portugal Lounge at Lisbon airport opened after having been closed for years. For a while it seemed like it would never reopen and TAP premium passengers were getting used to using the ANA third-party lounge. But eventually it did open. The new lounge has a hip design and is quite spacious, but the best part of the lounge is the manned bar.
The previous visit to the lounge was quite short and also in the morning so there was no possibility to try the manned bar in the lounge. Today I visited the lounge in the late afternoon and had far more time before the flight so I decided to give the bar a proper try.
The bar selection is quite extensive and includes different wines, sparkling wine, a wide selection of spirits and the possibility to order different cocktails, of course free of charge. The wines are generally the same ones served onboard in TAP business class, all of them Portuguese of course.
I ordered a gin & tonic from the bartender. They had at least five different gin brands available and I asked for the Hendrick's gin. And I have rarely seen a bartender spending so much time mixing a gin and tonic, adding a perfect amount of ice and several different garnishes and both a shaker and a spoon to get it perfect. Most impressive.
And here is the result. If you visit the TAP Lounge, give the manned bar a try! High recommended.