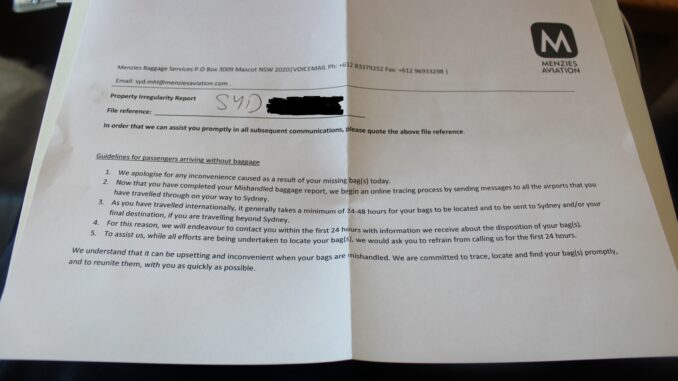 Just landed at Sydney Kingsford Smith Airport after a night flight with Malaysia Airlines from Kuala Lumpur, and well, with a few more flights before that. And I have to say when you have been travelling frequently for so many years that you just have a gut feeling when something will go wrong. Got to the baggage reclaim in Sydney, the bags from the flight started arriving, no familiar blue suitcase anywhere to be seen, still no black suitcase, and eventually the baggage belt stopped. And I just knew it.
My intuition was so strong that I had packed everything from swimwear to mosquito repellent in my hand luggage, and even two changes of clothes to manage 2-3 days without my luggage, in case of a worst case scenario. And I am so glad I did, because I do not miss anything whatsoever. I usually try to stick to only hand luggage, especially in business class you can usually bring two large pieces without any problems, but that is hard if you are going to be away for nearly two weeks.
I also had a plan B prepared for this part of the trip in case of any problems with the checked luggage so hopefully everything will go as planned and I will be able to pick up my suitcase in Nadi, Fiji in two days.
The man working at the baggage office must have been rather surprised seeing my very unusual routing and also very surprised to see someone so completely at ease given the situation, and on top of that someone who already had an idea about a possible solution. I am sure that does not happen every day. Most people are probably rather distressed when a bag is lost.
Edited to add: I just received an e-mail from the baggage office. My suitcase just arrived in Sydney and will be sent on the Fiji Airways afternoon flight to Fiji where I will be able to pick it up in the arrivals hall when I arrive there a few hours later. It seems like everything will go exactly the way I planned it.
And just like I thought the baggage was left behind in Kuala Lumpur, even though I had a reasonable connection with over an hour between flights, and the incoming flight was even early. They probably did not read the baggage tag properly.