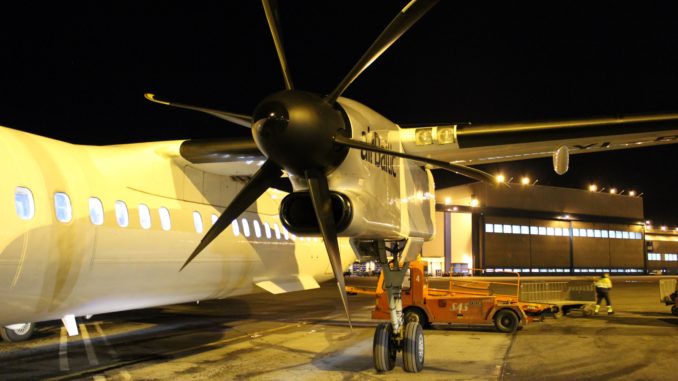 Air Baltic is the national carrier of Latvia with its base at Riga airport. There are also smaller hubs in Tallinn and Vilnius. Air Baltic is not a member of any of the three major alliances but does operate codeshare flights with airlines from all the three alliances such as from Riga to London with BA codeshare, from Riga to Amsterdam with KLM codeshare and from Riga to Vienna with Austrian Airlines codeshare. Their business model is rather unique as very few airlines fly to Riga themselves, instead using Air Baltic as a codeshare partner.
This is a review of a flight in Air Baltic business class from Stockholm to Riga.
Departure experience

Check-in was done on the Air Baltic webpage and I had the boarding pass downloaded to my mobile phone, which made the airport formalities very easy.
Air Baltic uses terminal 5 at Stockholm Arlanda airport and the ground handling is nowadays done by te national carrier SAS, which means that check-in for Air Baltic flights can be done at anytime during the day, including baggage drop for passengers arriving early at the airport.
Business class passengers traveling on Air Baltic have access to the fast track channel through security, which took just about two minutes this early evening.
Although ground handling for Air Baltic is done by SAS, interestingly Air Baltic no longer uses the SAS Lounge. Instead passengers are directed to one of the two Menzies lounges, mainly the Menzies Business Lounge which is located next to the SAS lounges between concourse A and B.
This is a rather sad lounge which has been around for a very long time, which you can notice on the interior and furniture. It was probably a rather nice lounge when it opened, nowadays it is not. Fortunately the lounge will close in April 2018 for a complete and much-needed refurbishment during two months.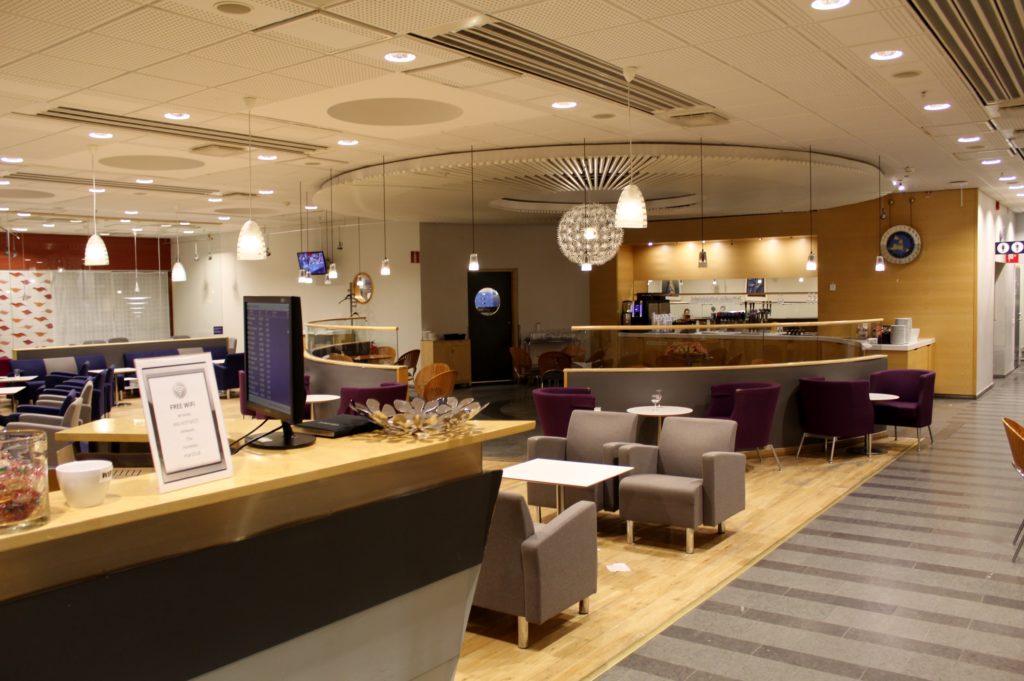 The food and drinks selection is also quite limited with mostly bread rolls with cheese and ham to eat as well as some basic snacks such as nuts, crisps, cookies and fresh fruits. Red wine, white wine and beer are available on tap but there are no other alcoholic beverages.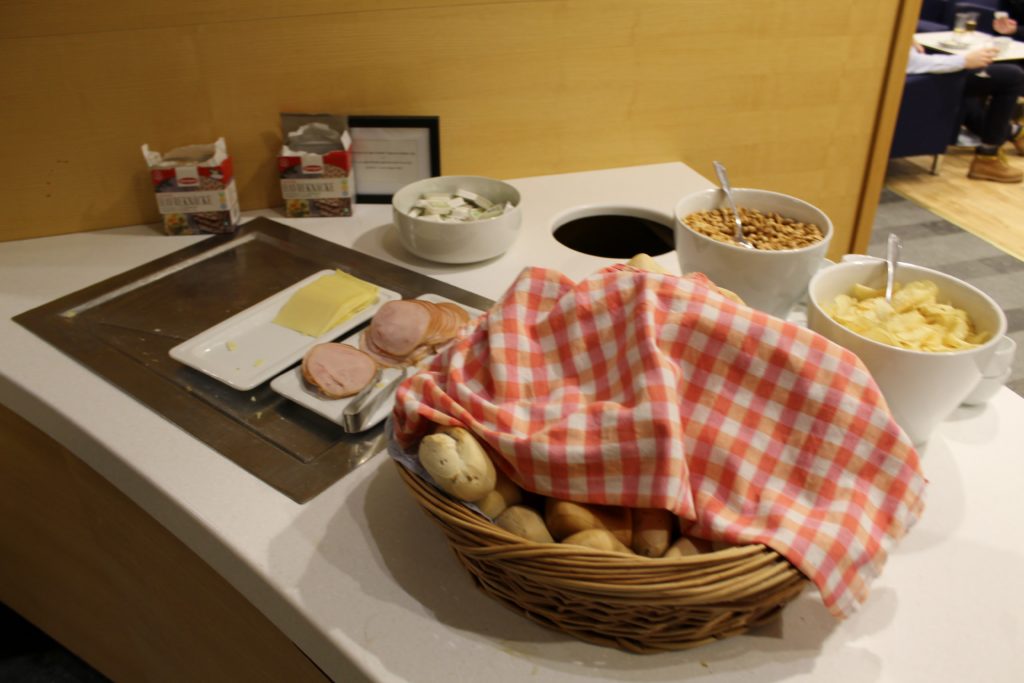 Read the full lounge review here!
The Menzies Executive Lounge, also located in the Schengen transit hall of terminal 5 but in Concourse F, is a much better choice as the selection of food and drinks is far better. However the opening hours are much more limited.
The flight
Stockholm Arlanda-Riga
Air Baltic flight BT 110
Departure: 19.45
Arrival: 22.00
Business Class
Dash 8-Q400
Seat 02A

Boarding started 25 minutes before departure at gate 03B. Normally Air Baltic flights get a terminal stand at Arlanda airport with just a short walk from the terminal stairs to the aircraft door, but this evening there was a bus waiting.
No priority boarding was offered but of course with a bus transfer it would not have made a difference anyway as there was no dedicated bus for premium passengers.
First impression

The bus was completely full and based on the information available on the internet an hour before departure it seemed like the flight was completely sold-out in both business class and economy class.
Two rows (or rather one and a half row) were assigned to business class on this Dash-8 evening flight to Riga. I had selected 02A which was definitely the best choice, the only seat in business class not being a bulkhead seat.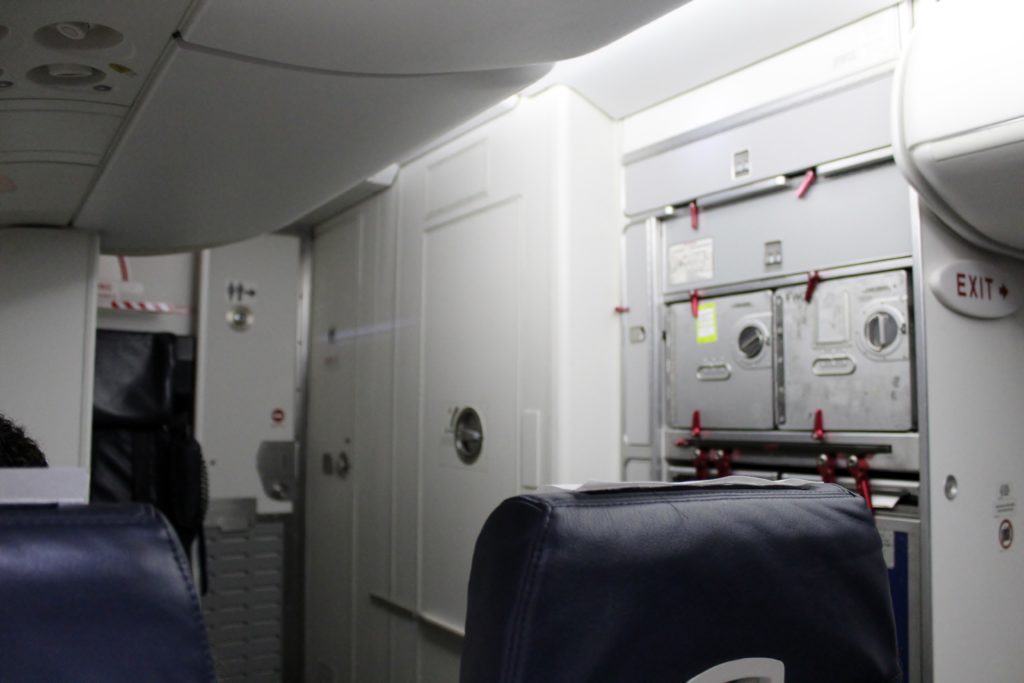 No pre-departure drinks were offered in business class, which is usually the case on Air Baltic flights. Possibly this might have been the consequence of a full flight and a lot of cabin preparations, but at least newspapers and magazines were offered, including the latest The Economist.
Punctual pushback with an expected flight time of 55 minutes to Riga.
Seat and cabin

The Dash 8-Q400 had a 2-2 configuration but in business class the adjacent seat is always kept free. Two rows were assigned to business class with row 1 only available on the left hand side of the aisle, which practically meant just one and a half row of business class. With the blocked adjacent seats it meant there were only three business class seats on the flight and all three were taken.
As both 01A and 02D are bulkhead seats, where all cabin baggage has to be placed in the overhead bins and where the tables are located in the armrest, 02A was a good and probably the best choice.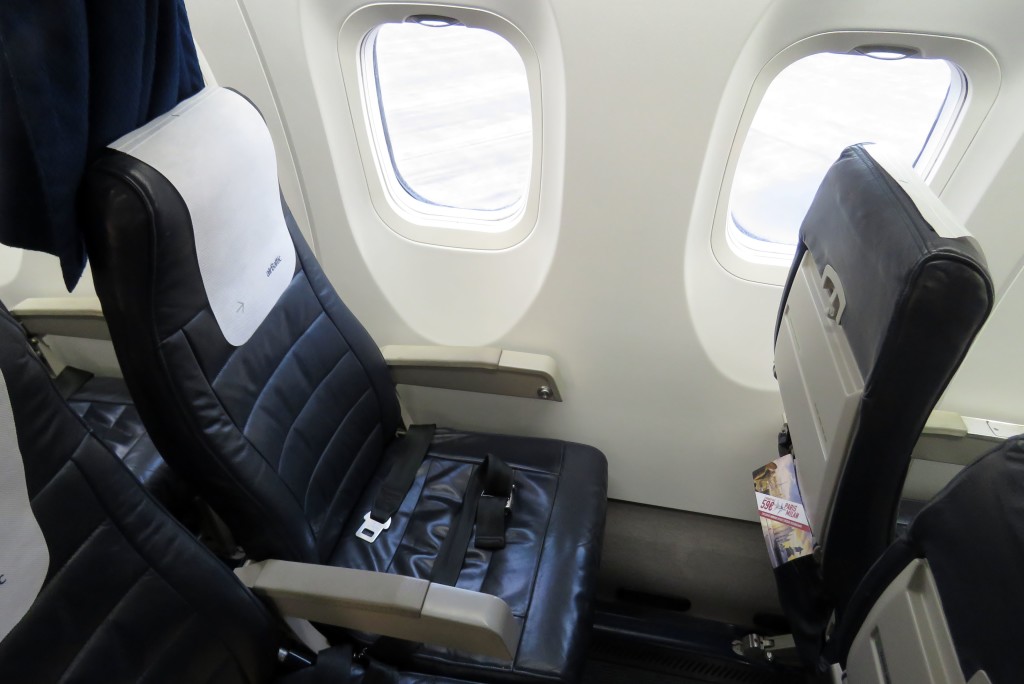 The leather seats used onboard are quite comfortable and perfectly fine for a one hour intra-Europe flight with acceptable legroom.
Food and drinks

The menu was handed out while taxiing to the runway but they made a small mistake. The menu, which has the word 'menu' written at the front, actually does not contain the menu but rather the drink list and wine list, which generally do not change very often. Usually there is also a separate sheet inside with the food offerings, which is loose and which can easily be replaced, but there was none. So although I got a 'menu' I had no idea what they were actually going to serve, just what I could order from the bar.
Anyway, on this 8 pm evening flight a three-courses cold dinner was offered with a starter, main course and dessert. And the meal service started with a hot towel.
The starter was tuna with vegetables and the main course chicken with couscous. Warm bread rolls were also offered from a basket.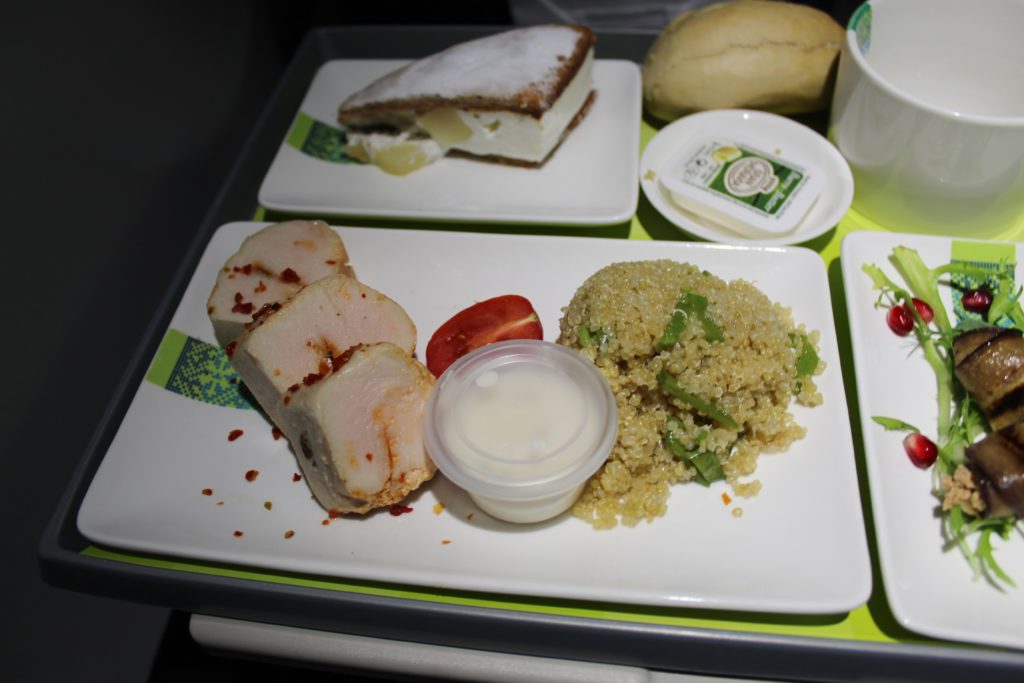 Finally a pear tart was offered for dessert.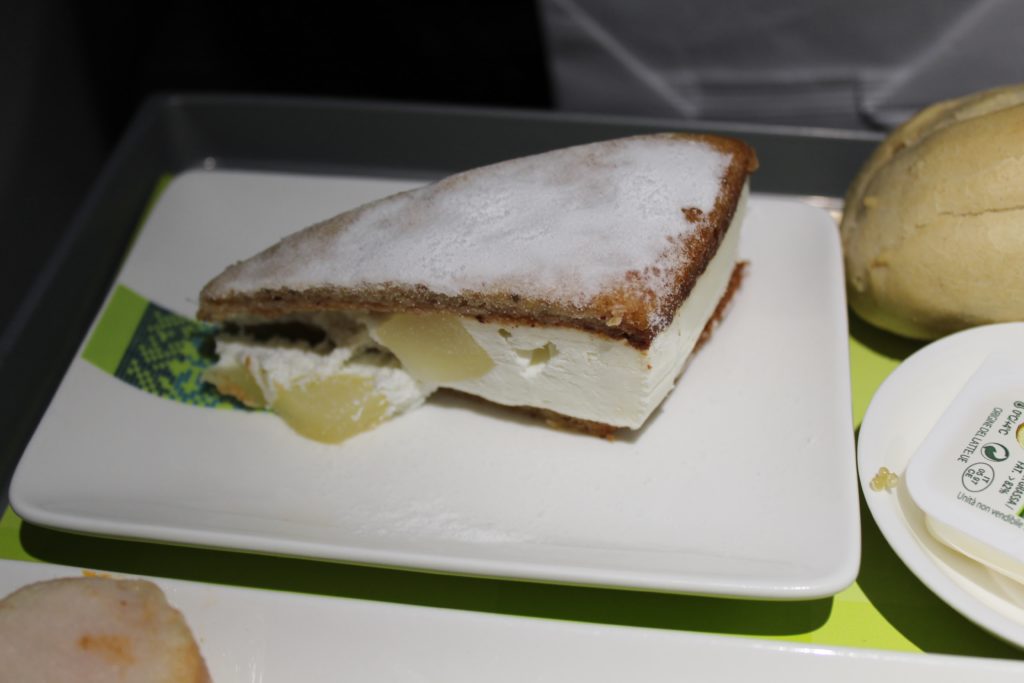 Although I cannot say exactly what the dinner consisted of at least I can show the drink list which included two red wines.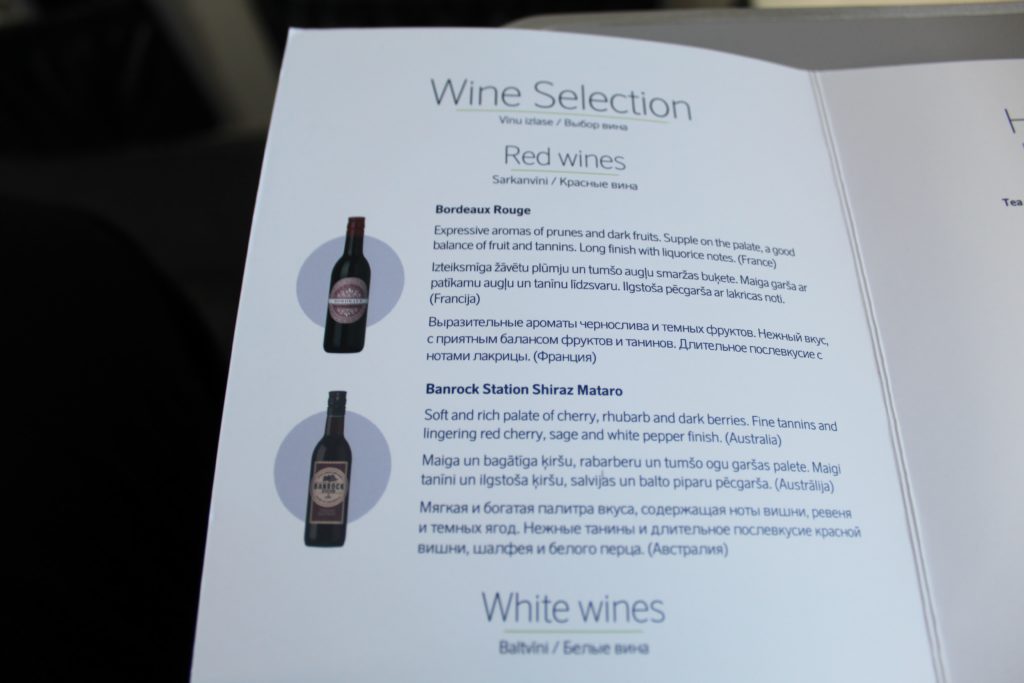 And two white wines as well as champagne, Heidsieck Monopole Brut.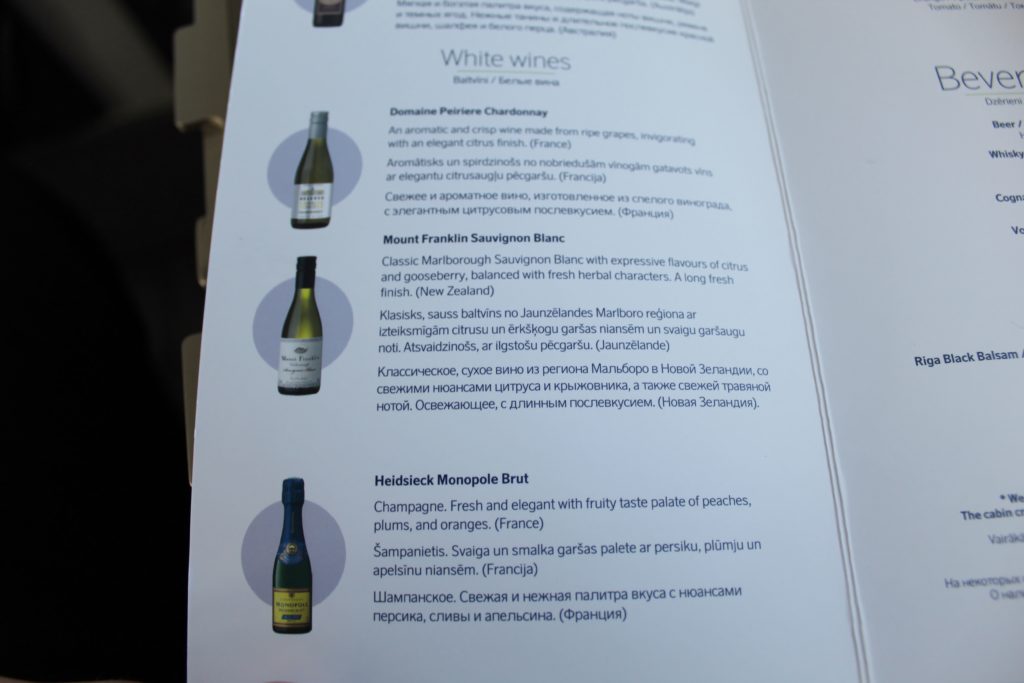 And of course there was a full selection of spirits, including gin, vodka, whisky and liqueurs. You can also try the Latvian 'Riga Balsam', a herbal liqueur.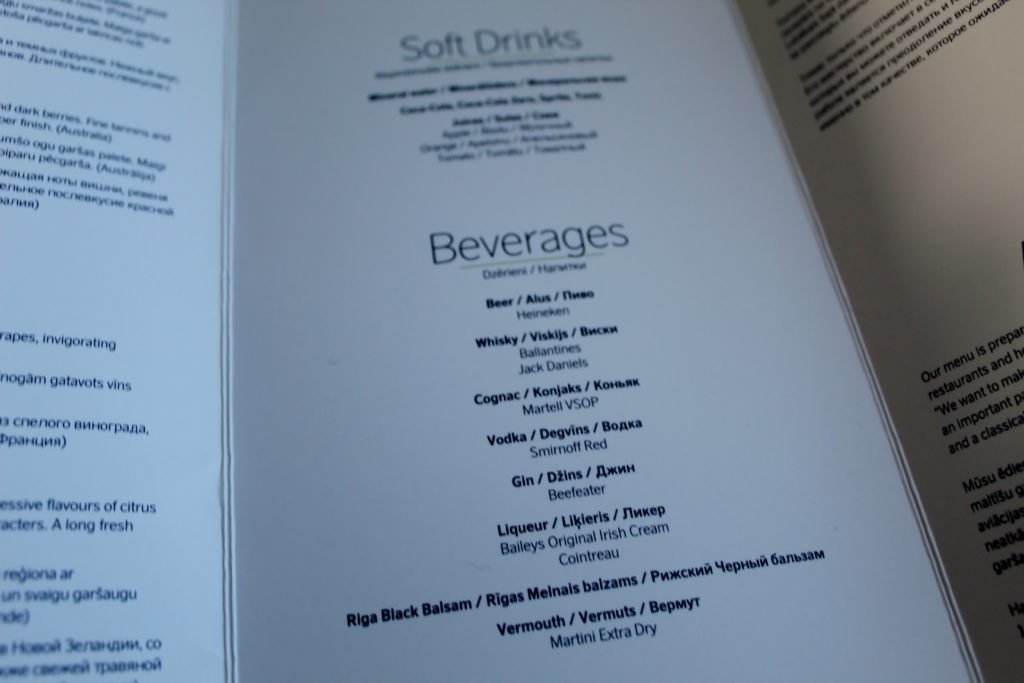 I ordered a bottle of the Mount Franklin Sauvignon Blanc from New Zealand to drink with the meal as well as a glass of still water.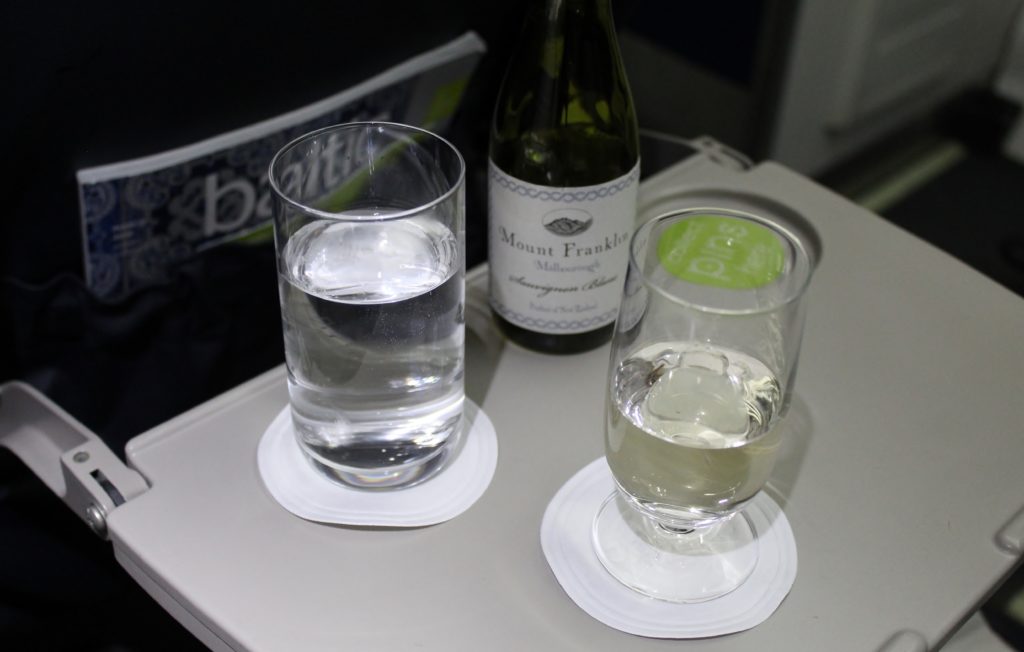 After the three passengers in business class had been served the flight attendant continued to the full economy class cabin to assist her colleague with the sales cart. On her return the trays were collected and I was asked if I wanted something else to drink.
It was too late for a cup of coffee but I asked for a gin & tonic to drink. Beefeater was the gin available onboard and the cocktail arrived nicely decorated with two cocktail pins and of course ice and lemon. I barely had time to finish it before it was time to prepare the cabin for landing.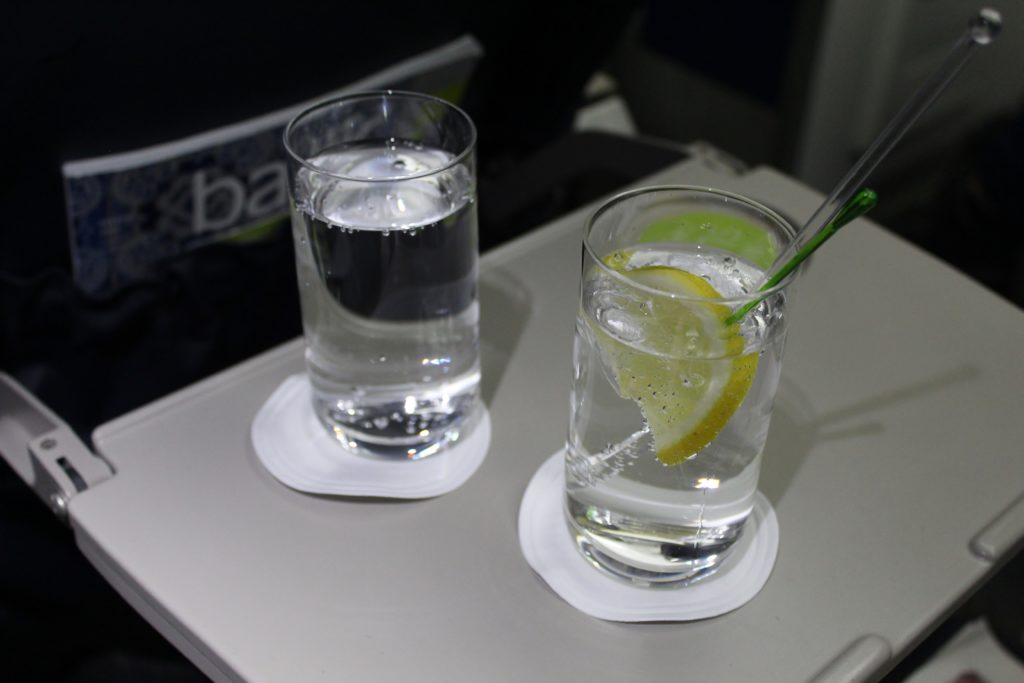 The service

Overall the Air Baltic cabin crews do a good job and there is definitely a premium feeling about their business class product. The flight attendants are polite and courteous and even though the business class galley on the Dash-8 is just 2-3 metres from the passengers (and in full view of the passengers) they still serve all drinks elegantly on a black tray.
The flight attendant in charge of business class on this flight did a good job. The service was friendly, attentive and courteous and there was nothing whatsoever to complain about. However the lack of food menu was definitely a miss by someone at Air Baltic (not necessarily the cabin crew though) as it really should have been there. And of course it would have been nice with a pre-departure beverage.
Arrival experience

We landed five minutes early at Riga airport just before 10 pm. The airport is small and compact and even smaller turboprop aircrafts usually get a terminal position. Sitting at the very front of the cabin and travelling with only hand luggage I was on my way from the airport in a taxi just ten minutes after landing.
Final impression

Overall a nice experience, there is definitely a premium feeling to the Air Baltic business class product. Nice food and drinks for a 55-minutes flight and friendly, attentive and courteous service from the crew.