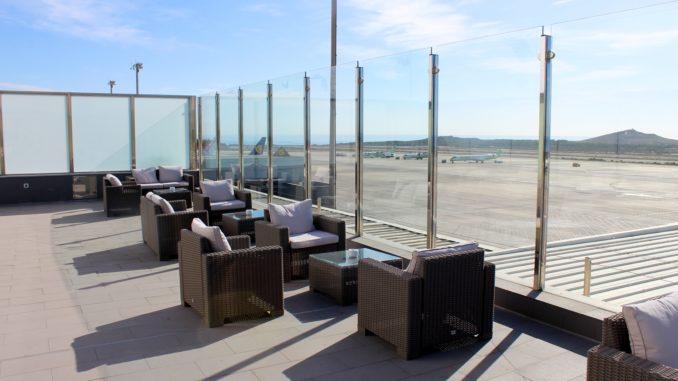 Outdoor terraces seem to be getting more and more common in airport lounges. And that is a great trend. There is nothing better than enjoying a drink in the sun while waiting for the boarding of the flight. It might even be the last chance to enjoy some sun before returning home after a holiday.
Nowadays there are outdoor terraces in several lounges such as the Star Alliance Lounge in Los Angeles, the Lufthansa Senator Lounge in Hamburg, the Air Berlin Weltbürger Lounge in Berlin and the new Lufthansa First Class Lounge in Munich. But there is also an outdoor terrace in the lounge at a very popular airport for European holidaymakers, the Gran Canaria airport in the Canary islands.
The Sala Galdos Lounge at Las Palmas airport has a great outdoor terrace, and it is huge with plenty of sofas and armchairs. And there is a fantastic view of the large apron, the two runways and a bit of the coastline. This must be the best view from anywhere at the airport, possibly with the exception of the control tower.
A great way to finish a holiday, enjoying a beer in the sun before returning to some much colder temperatures.