Just a few days ago Finnair introduced its new 'Seat and Meal' concept in economy class. A package for those who want an enhanced economy class experience on flights within Europe and to the Middle East.
What does the Seat and Meal package include?
The new Seat and Meal package includes a front-row seat in economy class (usually the first two rows), which is booked and confirmed in advance. It also includes priority boarding and a three-course meal with a hot main course with three different choices. And of course sitting on one of the first two rows in economy class means you will be one of the first passengers to get off the aircraft at the destination.

A standard economy class ticket on a shorthaul flight includes a complimentary non-alcoholic drink with the choice of coffee, tea, water or blueberry juice, but everything else has to be paid for, including snacks, other soft drinks and alcoholic beverages.
You can usually select a seat free of charge during the check-in process but you will have to pay for a pre-booked seat, and when check-in opens many of the best seats will probably already be taken. And you will board by group number, not being among the first passengers to board.
Of course there are some exceptions to this if you are a frequent flyer and hold a top-tier status with Finnair or OneWorld.
To which destinations is it offered?
The Seat and Meal package is offered to most European destinations with a flight time above two hours. This means that all domestic and Scandinavian destinations are excluded, just like all destinations in the Baltics, but also some other destinations in northern Europe such as Warsaw, Berlin and Hamburg.
Flights operated by Airbus A330 and Airbus A350 are also excluded, which means some flights from Helsinki to London and Brussels.
Booking a Seat and Meal package
Curious what the new concept would be like I decided to give it a try on a flight from Helsinki to Budapest. The flight departed Helsinki at 9.30 am, which was somewhat early for lunch, but there were no problems booking it anyway.
The package was booked at the same time as the ticket a couple of days prior to departure. You go to the seat selection page during the booking process where you select one of the seats on the first two rows, just like if you would pre-book any seat. But these front-row seats are of course significantly more expensive than the rest of the seats in the cabin.
You can also book a Seat and Meal package later through 'Manage my booking' on the Finnair webpage.
The price for most intra-European flights is 35 euro.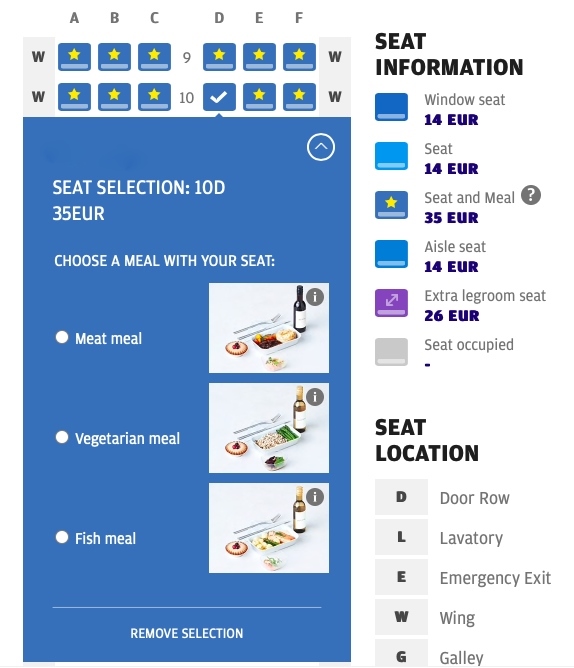 Three choices of main course
There are three choices of main course. Either a beef dish, a fish dish or a vegetarian dish. You select the main course at the same time as you make the booking. Presumably these will change from time to time.
If you click on the meal you will see a photo of it and a thorough description of what you will get, including all the ingredients.
These were the three options: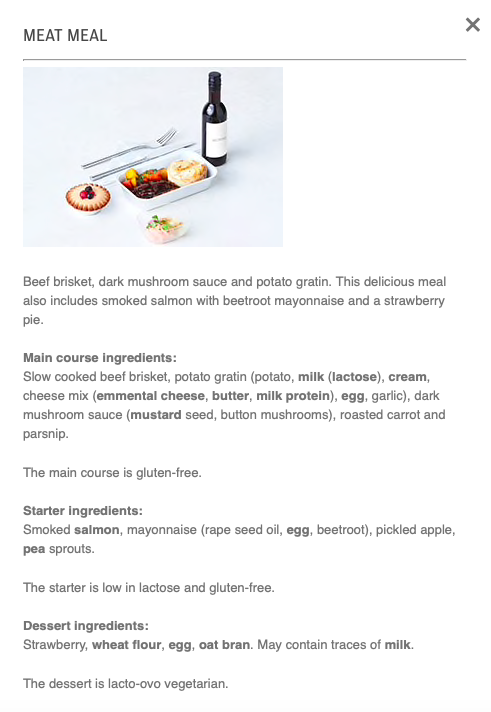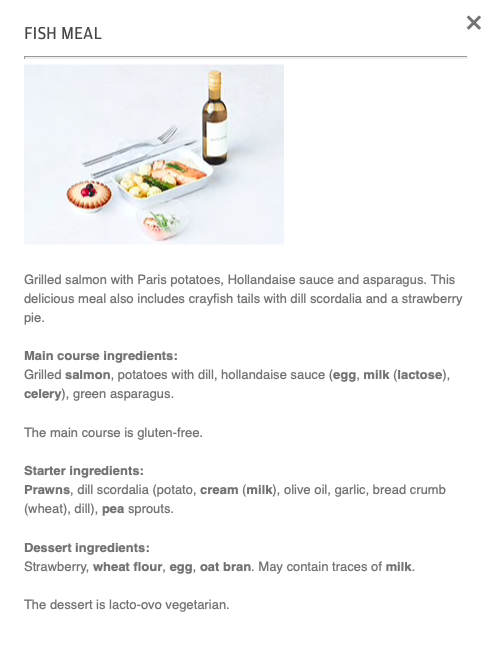 A short review of the meal
As we reached cruising altitude after takeoff from Helsinki the inflight service started and the Meal and Seat meals were delivered before the buy-onboard sales started in the economy class cabin.
Practically these are administered like special meals, just like if you would order a gluten-free meal or a kosher meal, so the crew had a list with all the pre-ordered meals and the seat numbers of the passengers who had ordered them. Since the concept was still fairly new it took a bit of time to sort everything out.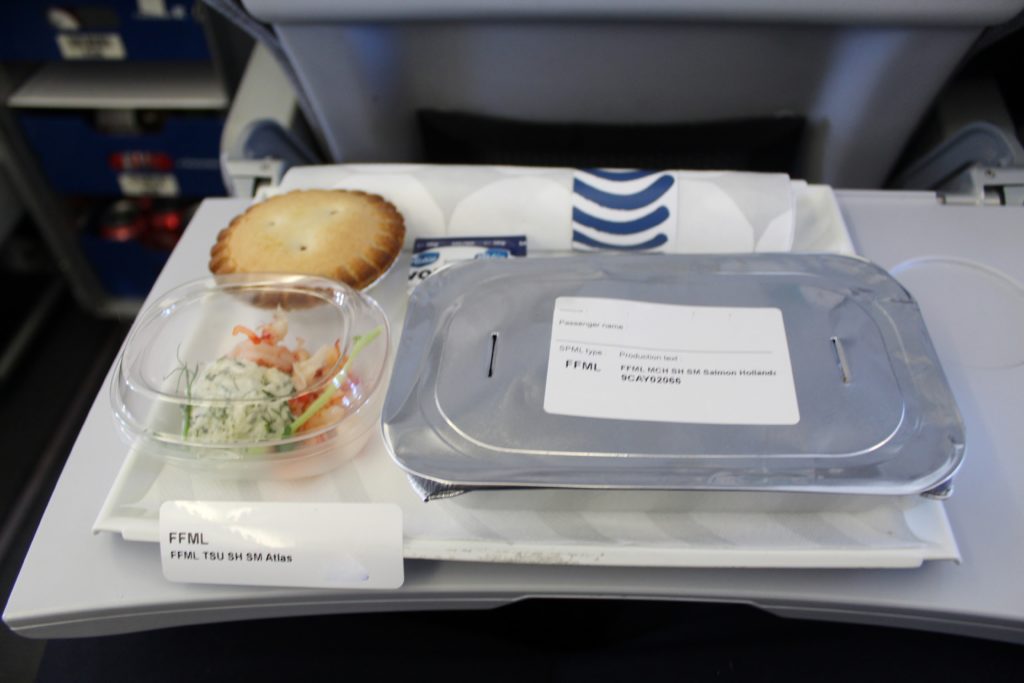 We were three passengers who had pre-ordered the meal, but there were also four other passengers sitting on the first two rows who did not get a meal. After all this is not a separate cabin and if the flight is full some other passengers will be assigned seats in this section anyway if there are empty seats.
The flight attendant mentioned a free drink was included in the deal. I asked her what this meant in practice and she had to check with a colleague as she was not sure. At the end she informed me it included any drink of my choice, including alcoholic drinks but with the exception of champagne.
I had ordered the fish meal, which included a prawn starter with vegetables, grilled salmon with Paris potatoes, Hollandaise sauce and asparagus for main course, and a strawberry pie for dessert. A pre-packed bread roll was also offered. I had a bottle of white wine to drink. Later coffee and tea were offered.
The meal itself was really not bad and actually rather tasty. I very much enjoyed the salmon as well as the strawberry dessert. I would describe this as a lighter version of the meal offered in Finnair business class on intra-European flights, where a three-courses meal is also served, but on a larger tray and with proper business class china and Iittala glasses. The portion was also smaller than in business class and the presentation was simpler.
Verdict
For 35 euro this was not that bad if you want an enhanced economy class experience for a special flight with a hot meal, a free alcoholic drink, a front-row seat and priority boarding.
However for a top-tier frequent flyer there are far fewer reasons to book it. As OneWorld Emerald I can pre-book a seat for free anyway, although now the first two rows of economy class are out of reach without payment. I also get priority boarding as a status benefit and even a free drink of my choice, including champagne. So what I do get are the meal and a second free beverage (on this flight I had a bottle of wine, part of the 'Seat and Meal' deal, and a bottle of champagne, as the Emerald status benefit).
But for all passengers travelling without status, perhaps on a special occasion, this is fairly good value for money and a significantly cheaper way to get a good experience than booking a business class ticket. You also get a more attentive service from the cabin crew.