Departure experience

Check-in was done on the KLM webpage, the boarding pass downloaded to my mobile phone and since I was travelling with only hand luggage I could proceed straight to security at the airport.
There was a fast track channel at Venice airport which I could access flying KLM in business class with just two other passengers in front. I was through in two minutes.
Most airlines use the Marco Polo Club Lounge at Venice airport but I had completely forgotten that Alitalia has a lounge at the airport as well, which KLM obviously uses being part of the Skyteam alliance.
The Casa Alitalia Piazza San Marco (obviously named after the famous Piazza San Marco in Venice, better known as St Mark's Square in English) was not particularly large but they had very cleverly used large mirrors to make the lounge look and feel larger than it really is.
If you look at the photo below, that is actually a mirror and not a passage to an adjacent room.
The self-service buffet had a small selection of food and drinks including some sandwiches and snacks and a reasonable selection of wines, all Italian of course.  There were also some salads, fruit salad and miniature desserts.
I did not have a lot of time at the airport but I did have time to make a very quick visit to the Marco Polo Club Lounge, the second lounge at the airport, since it was located nextdoors anyway. This is the lounge used by most airlines not part of the Skyteam alliance or partner of Alitalia.
The lounge was a very pleasant surprise, in fact it is a great lounge. It has a large self-service buffet area, lots of decent hot and cold snacks, a barista service, a nice and stylish interior, an outdoor terrace, and even a rather cool indoor garden. I had time for a glass of wine and a snack before I had to run to the gate.
The flight
Venice-Amsterdam Schiphol
KLM flight KL 1654
Departure: 12.25
Arrival: 14.25
Business Class
Boeing 737
Seat 03C

The gate turned out to be a bus gate so we were taken to the aircraft by bus. But at least proper priority boarding was offered, and enforced, but it made little difference as we all had to board the same bus anyway. They carefully also checked the hand luggage of all passengers at the gate during the boarding process.
First impression

The plane to Amsterdam was almost completely full. Apparently the morning flight had been cancelled due to a technical problem with the aircraft and I could see the KLM Embraer aircraft parked just a few metres away, awaiting a technician to arrive from Amsterdam.
This meant that a large number of passengers had been rebooked to our flight but we also had the crew from the morning flight joining us, well at least the cabin crew. As far as I understood the captain of the morning flight had decided to stay, most likely as the aircraft was his responsibility, but there was no reason for the cabin crew to wait in Venice.
Three rows were assigned to business class on the Boeing 737, which was to take us to Amsterdam. I had selected 03C on the last row and actually had one of the flight attendants from the cancelled flight sitting in 03A. That is how I got to know about what had happened in the morning. She was very friendly but later moved to an empty seat on the first row, next to her colleague, which meant I got an empty row and moved to the window seat.
There was a lot of paperwork to do before departure, a lot of checked luggage, a lot of hand luggage to find space for, and of course quite a few rebooked passengers. Both the cabin crew and the ground staff had to work hard to sort everything out and solve the last issues, but we eventually pushed back pretty much on time.
There seemed to be some construction work going on at the airport, which is probably good news as the current terminal building is way too small. There are just a handful of jet bridges so most passengers have to take a bus to and from the aircraft.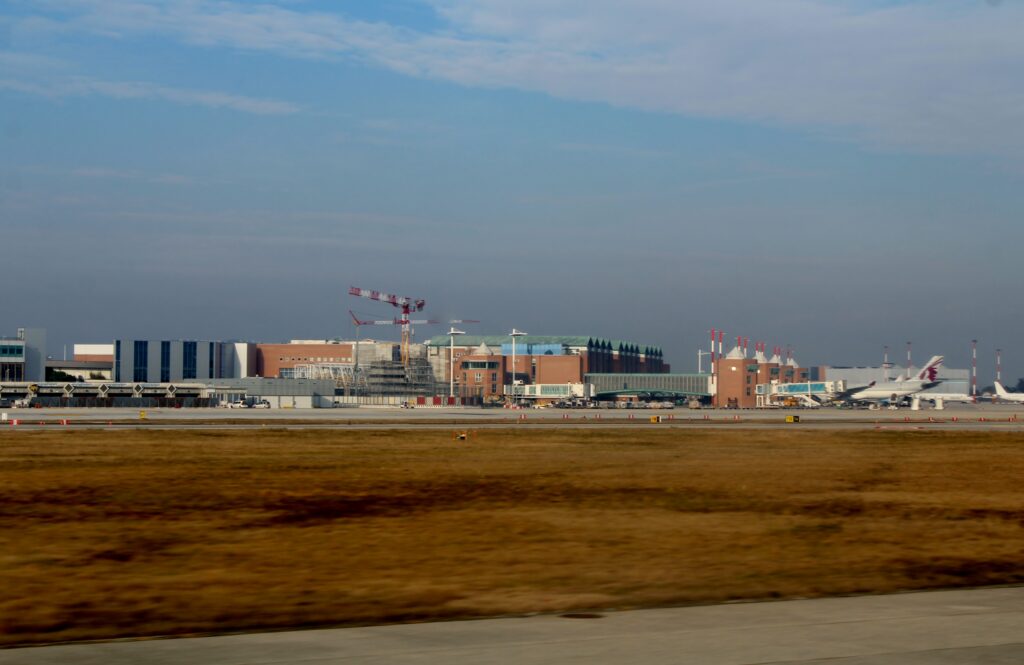 After takeoff we got a nice but somewhat cloudy view of the world-famous city of Venice.
Followed by a view of the Venice Marco Polo airport, the airport we had just left.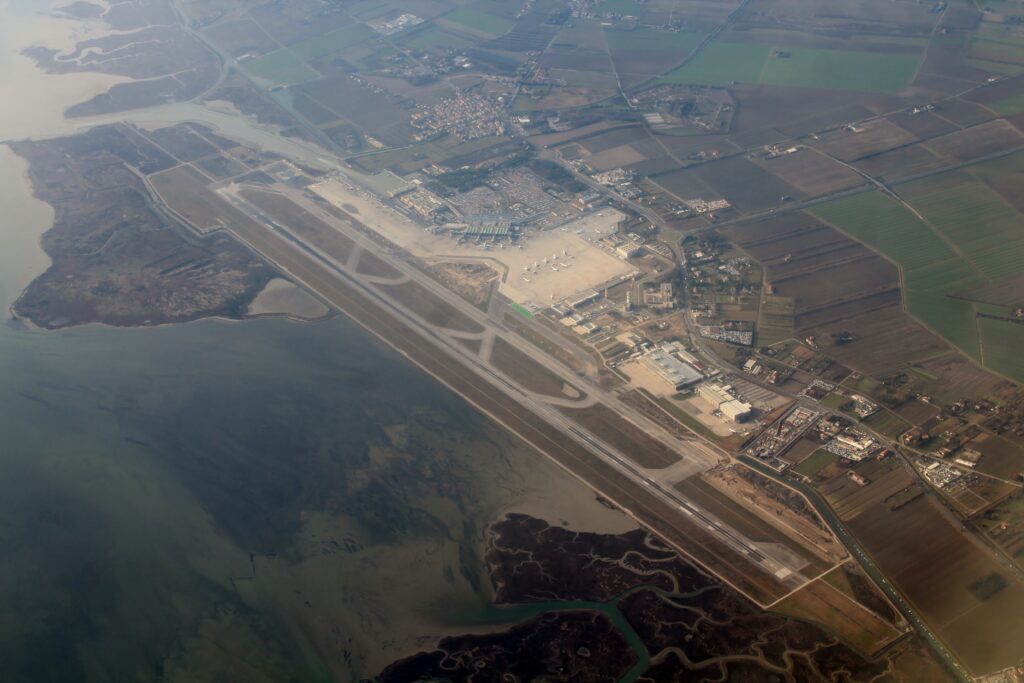 Seat and cabin

There were three rows of business class with the same seats as in economy class but with slightly more legroom at the front. In fact the front-row seats actually have a rather decent legroom for a shorthaul intra-European flight.
The configuration was 3-3 but with blocked middle seats in business class it meant a 2-2 configuration. The seats at the front also have power sockets, which the seats at the back do not.
The seat was the standard blue KLM seat, which I was very familiar with.
Food and drinks

After the seatbelt sign had been switched off the inflight service started and rather surprisingly it started from the back, meaning I was the first passenger to be served.
With a scheduled flight time of two hours (actual flight time ended up being just over 90 minutes) and with departure at noon I had expected some kind of decent lunch to be served onboard, so I was quite disappointed when there was only a snack service.
There was a Waldorf salad with chicken and dates for starter and then basically three choices of sandwiches, which were mentioned in the menu located on the tray.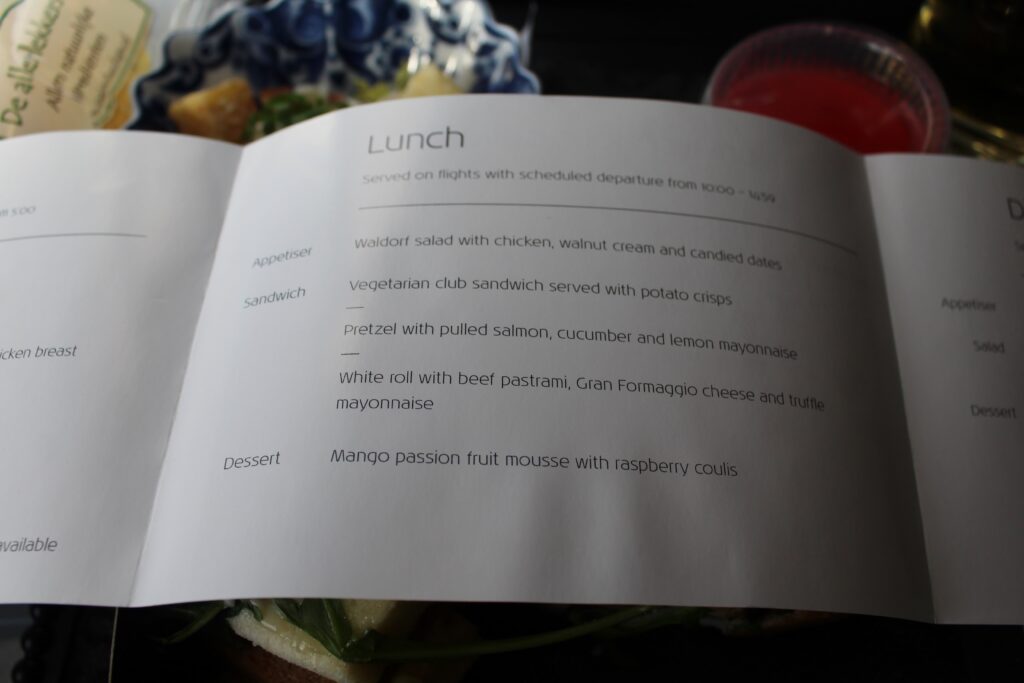 As written in the menu the three choices were a Vegetarian club sandwich, or Pretzel with pulled salmon, or a White roll with beef pastrami, Gran Fromaggio cheese and truffle mayonnaise.
I had the vegetarian club sandwich which was served with some crisps. Certainly not the best meal I have had onboard KLM and even less so in business class. I really had expected some kind of proper cold meal.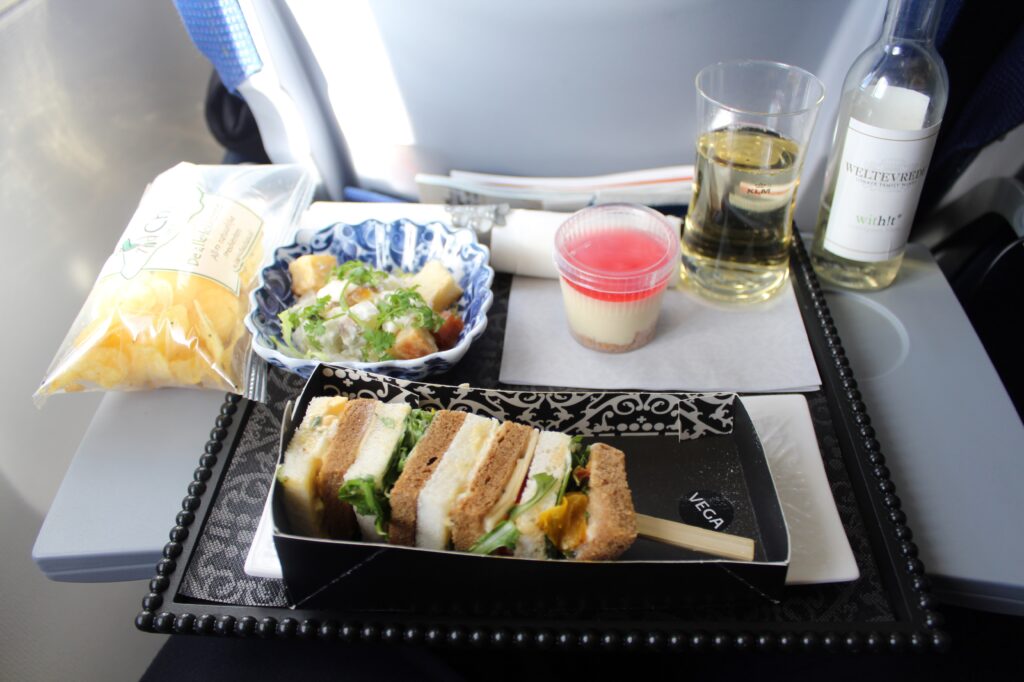 I had a bottle of white wine to drink, the Sauvignon Blanc from South Africa called Weltevrede, and finally there was a mango passion fruit mousse for dessert.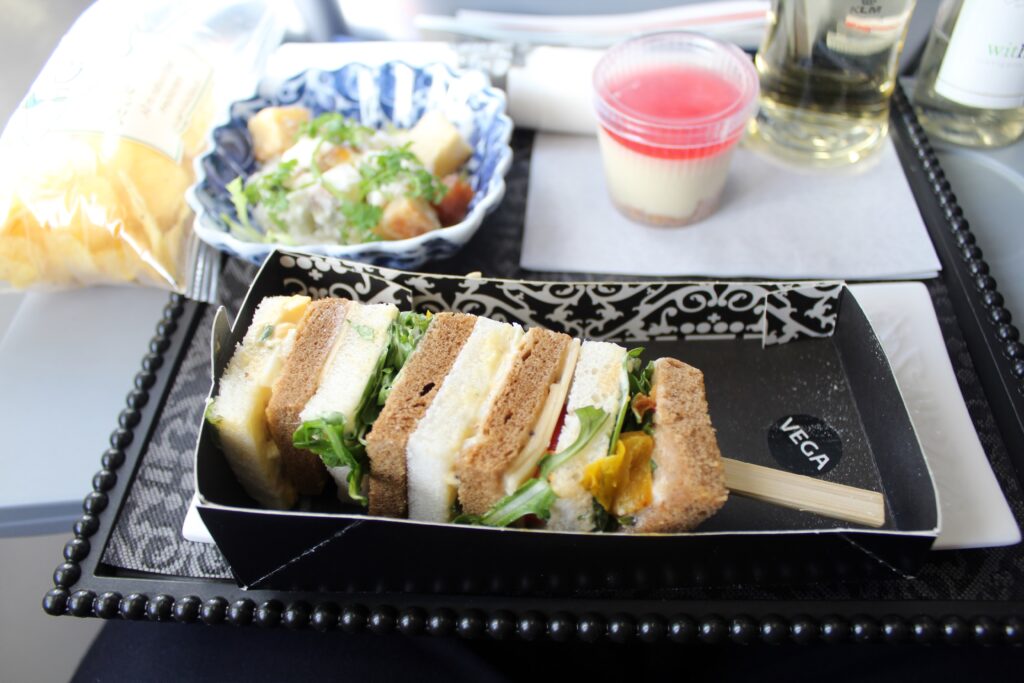 After all passengers had been served the trays were cleared and coffee and tea were offered in nice Dutch Delftware mugs. I also had a gin & tonic to drink. They serve a Dutch gin brand onboard called Damrak.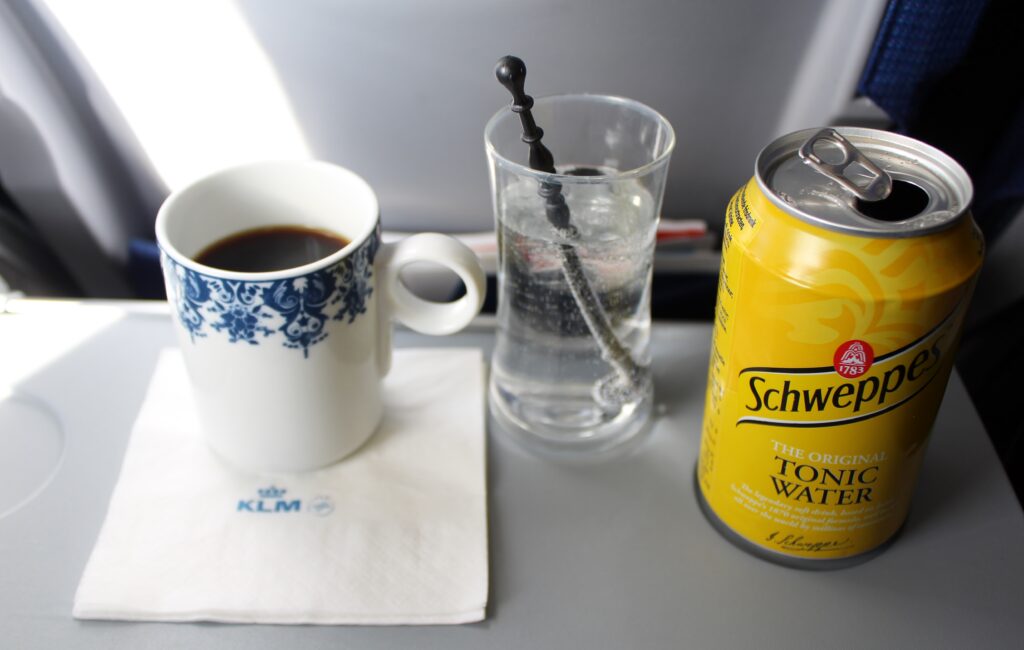 I later asked for a refill but it was not possible as they ran out of gin. In fact it seemed like they ran out of several things. I guess the cabin load was much higher than they had expected due to the cancelled morning flight.
But the friendly and innovative purser got back to the galley and then returned to my seat a minute later, showing me all the different miniature bottles they had available, and I could pick what I wanted. I had a bottle of Baileys instead which she then prepared in the galley and served at my seat with some ice.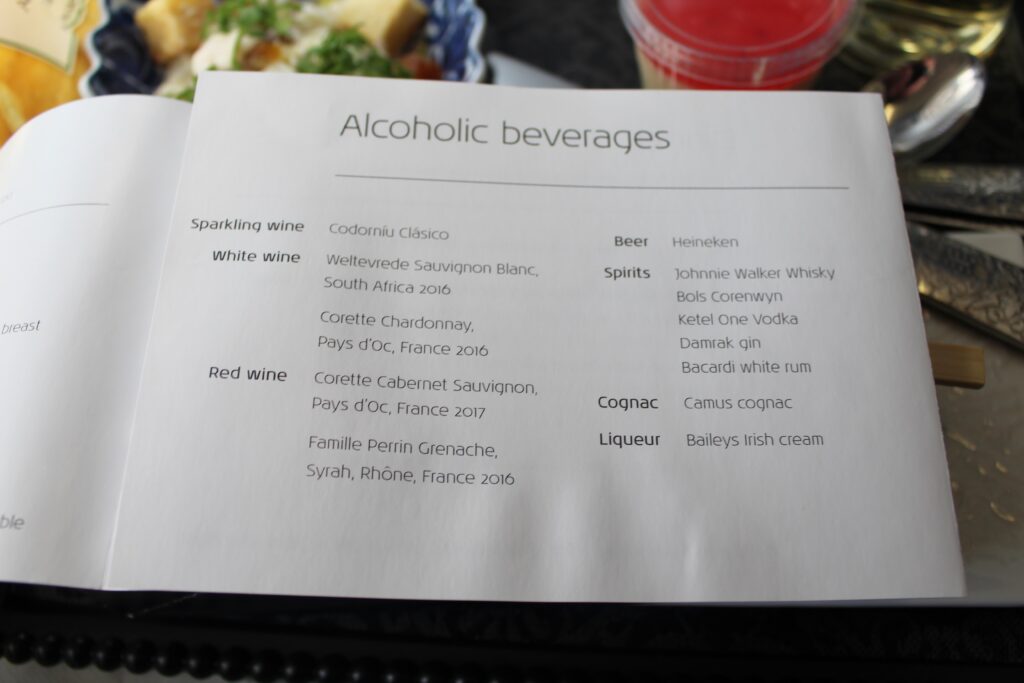 The service

Being rather disappointed with the meal I have to say the excellent service well made up for it. The cabin crew were excellent, they were friendly and attentive and worked quite hard in the cabin and even had time for some small talk. It was all very pleasant. KLM rarely disappoints when it comes to the cabin crews.
Arrival experience

With a flight time of only 90 minutes (the scheduled flight time was two hours) and with a punctual departure we landed early at Amsterdam Schiphol airport.
I had a connecting flight to London and was looking forward to visit the brand new KLM non-Schengen Crown Lounge so I was very happy to arrive slightly early in Amsterdam.
Final impression

Very nice lounges in Venice, punctual departure and an early arrival, excellent cabin crew but a disappointing meal service. I really had expected much more in business class on a two-hour flight at lunchtime.