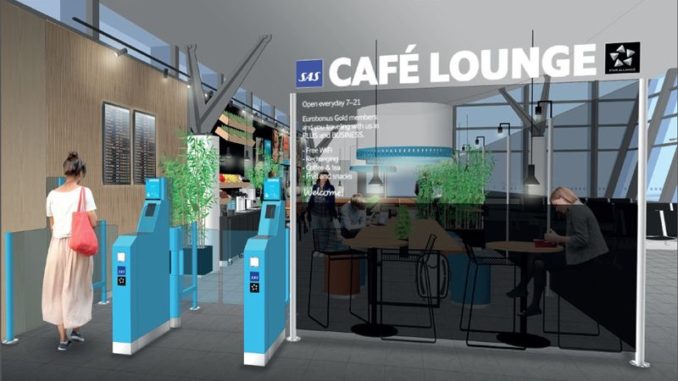 SAS today opened its first ever Cafe Lounge, a new lounge concept which will be available at regional airports in Scandinavia targeting frequent travellers and business travellers.
The Cafe Lounges will offer a place to work or relax before the flight as well as some snacks and something to drink from the self-service buffet. However they will not be comparable to the international lounges at the SAS hubs and at airports outside of Scandinavia where there is more to eat and drink and a different design aimed at people who generally spend more time in the lounges.
The first cafe lounge opened today at Trondheim Vaernes airport in Norway. The second cafe lounge will open in Tromsø in a month. The inauguration of the Tromsø lounge is planned 26 May.
The new lounge is located at gate 30 and measures 100 sqm. The lounge offers coffee, tea, juices and snacks, newspapers and magazines, free wireless internet, USB ports and power sockets.
Access is given to SAS Plus passengers as well as EuroBonus Gold, Diamond and Platinum members travelling on SAS.