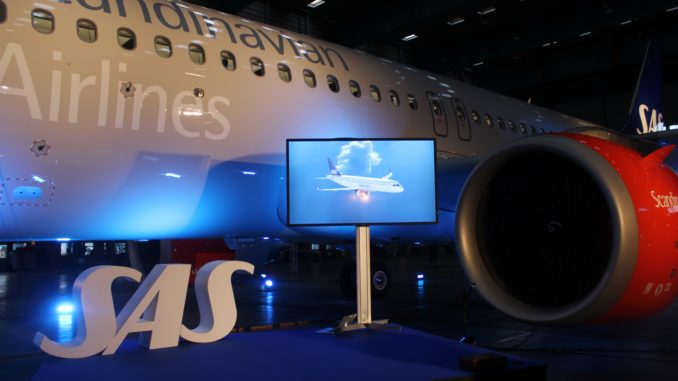 Today SAS inaugurated its first Airbus A320NEO during a ribbon-cutting ceremony in a hangar at Stockholm Arlanda airport in the presence of SAS CEO Rickard Gustafsson, several members of the SAS board and representatives from Airbus. As many as 130 representatives from the media were also present during the ceremony, including all the major Scandinavian newspapers and a few TV channels.
The abbreviation NEO stands for New Engine Option. The Airbus A320NEO is 15 percent more fuel-efficient compared to older comparable aircraft types. Also the noise level is significantly lower on the Airbus A320NEO. The launch customer of the Airbus A320NEO was Lufthansa who received its first Airbus A320NEO in January earlier this year.
SAS CEO Rickard Gustafsson started the ceremony by giving a welcome speech highlighting the large investments SAS has made in recent years with a complete refurbishment of the longhaul fleet and the longhaul cabins, now followed by the introduction of the next generation Airbus A320NEO shorthaul aircraft. He described the introduction as a major milestone for SAS.
Rickard Gustafsson also revealed the first details about the new SAS shorthaul product, a well-kept secret until that point, including USB ports at all seats, an advanced mood lighting system and a 30″ seat pitch.
SAS COO Lars Sandahl Sørensen continued by giving some details about the technical and operational aspects of the SAS fleet including the new Airbus A320NEO.
Finally the two test pilots came on the stage, the two SAS pilots who until that point were the only SAS employees who had actually flown the Airbus A320NEO. They gave some details about their backgrounds, their work as test pilots and their experiences of flying the aircraft.
Finally it was time for the ribbon-cutting ceremony in front of the aircraft stairs. Afterwards all guests were invited to board in groups to see the new shorthaul interior. During the registration process each guest had been given a boarding pass with a destination, which was also the name of the group. The first group to board was Copenhagen, not too surprising as Copenhagen was to be the destination of the first commercial flight the following day.
SAS has ordered 30 Airbus A320NEO which will replace some of the ageing Boeing 737 aircrafts. The new aircrafts will be based in Copenhagen and Stockholm which have been used as Airbus bases for several years and where there are also appropriate maintenance facilities.