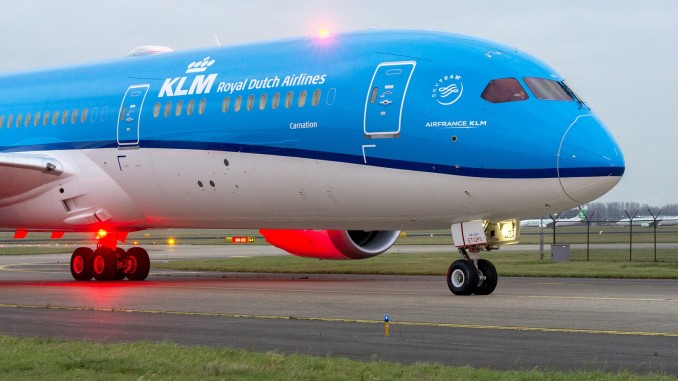 The very first KLM Boeing 787 Dreamliner will arrive today at Amsterdam Schiphol airport after a night flight from Seattle. The aircraft is expected to land at 08.15 in the morning and will taxi past the panorama terrace before heading to the hangar for final checks. The very first aircraft has been named "Sunflower", the name was unveiled by KLM President and CEO Pieter Elbers before leaving Seattle.
The KLM Dreamliner will have 30 seats in World Business Class, 48 seats in Economy Comfort and 216 seats in Economy Class meaning a total number of 294 seats.
The business class seat is a new version on KLM, basically the same new product as offered by Air France. The seats are fully flat, placed in a herringbone 1-2-1 configuration giving all passengers direct access to the aisle.
Economy class has a 3-3-3 configuration, 24 rows with a 31 inches seat pitch. In premium economy, Economy Comfort, the configuration is still 3-3-3 but with 4 inches more legroom, giving a pitch of 35 inches. There are 5 rows of Economy comfort with another 3 seats in the mid-section giving 48 seats in total.