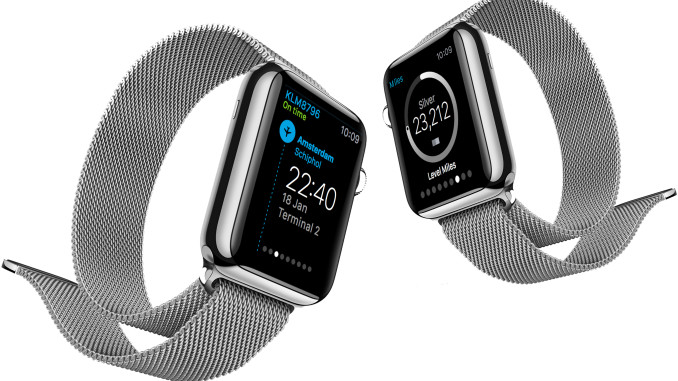 KLM is the latest airline to introduce a new app for the Apple Watch, just in time for the rollout of the Apple Watch in the Netherlands later this week.
The idea is that the app should follow and guide the passenger throughout the trip, providing useful information and functionality all the way from check-in to landing showing relevant information for all stages of the trip.
It also allows the passenger to check in and later display the boarding pass, which is stored in the Passbook of the mobile phone. When the check-in process is completed the screen will show the time left until departure.
During the day of departure the watch will show important information about the flight such as the itinerary, flight number, destination and departure time. It will also display any changes to the flight such as delays and gate changes. Later during the flight the app will show the remaining flight time.
The app will also have a Flying Blue functionality showing member information such as membership level and the number of award miles earned.
"Including the Apple Watch app in our range of digital services ties in perfectly with KLM's ambition of providing its customers with the right service, at the right place, at the right time. The personal nature of the Apple Watch offers lots of potential to expand this commitment in the future", says Tjalling Smit, Senior Vice President Digital Air France-KLM.