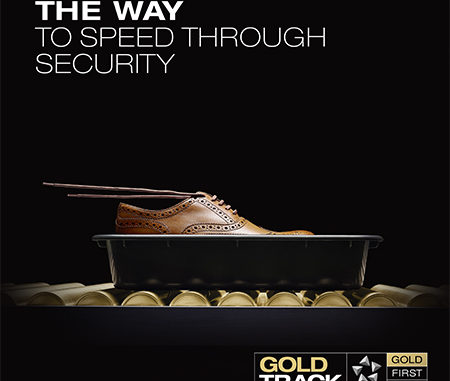 Frankfurt am Main Airport in Germany is the latest airport where Star Alliance will introduce a dedicated Gold Track channel through security. The idea with the Gold Track is to give Star Alliance premium travellers and frequent flyers a speedy passage through security and the airport formalities.
The Gold Track is easily recognisable using the familiar Star Alliance signage in black and gold and is available to business class and first class passengers as well as Star Alliance Gold cardholders.
In contrast to many other fast track channels at other airports, which are run by individual airlines or by the airport authorities, where each airline decides if they want to pay for the service, the Star Alliance Gold Track is available to all Star Alliance premium passengers, irrespective of what carrier you fly on.
As long as you hold a Star Alliance gold card or travel in business class or first class the same day with a Star Alliance member from Frankfurt Terminal 1 you get access.