Departure experience

As I had a somewhat complicated itinerary it was not possible to check in online and for some reason it was not possible to check in using a self-service machine at the airport either. There was no option but to go to a manned check-in desk.
The Iberia premium check-in area was virtually empty at 6.30 am as there are very few flights around that time. The check-in agent looked a bit surprised when the itinerary came up on her screen but managed to print the boarding pass to Porto and even a few more boarding passes for later flights that were open for check in.
Usually there is a fast track channel through security at terminal 4 which I could have used both as a business class passenger and as OneWorld Emerald, but it had not yet opened for the day. The regular line was very short though and I was through within just a few minutes.
Iberia operates two lounges in Madrid. The Iberia Velazquez Lounge is located in the satellite pier, T4S, available to non-Schengen passengers while the Iberia Dali Lounge is located in the main terminal building, T4. Flying to a Schengen destination this morning I had access to the latter, conveniently located right opposite security control.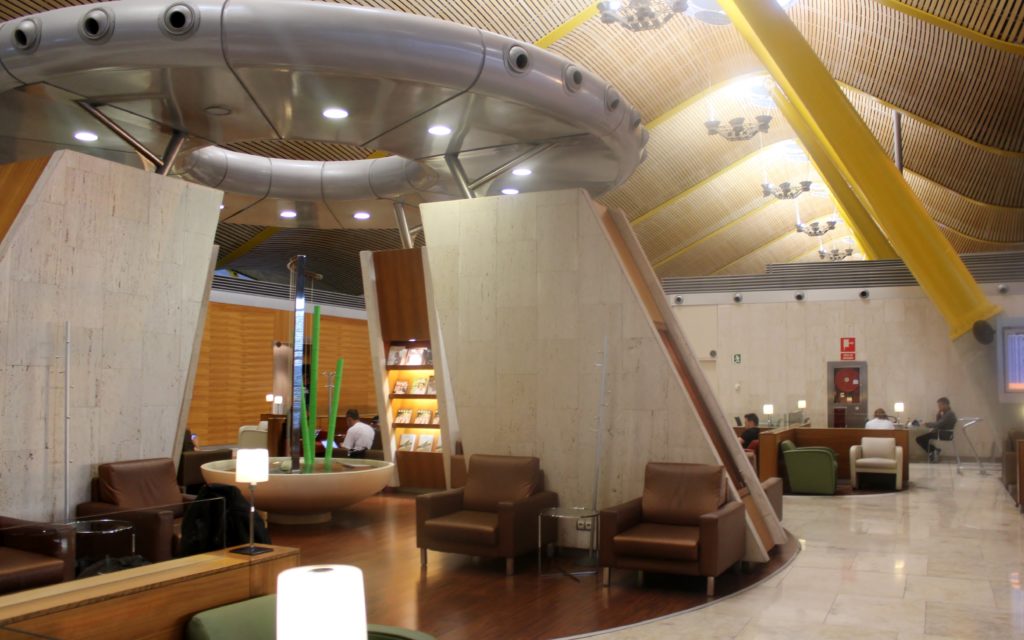 The Dali Lounge is quite stylish with a very modern and artistic interior divided into two sections. Food and drinks are not best in class but certainly not worst in class either, and they do have Häagen Dazs ice cream for self-service.
I only got about 15 minutes in the lounge before it was time to continue to the gate, just enough time to grab a cup of coffee and some light breakfast snacks including some pastries and yoghurt.
The flight
Madrid-Porto
Iberia flight IB 8720
Departure: 07.30
Arrival: 07.35
Business Class
Canadair CRJ-900
Seat 02F

As I headed to the gate the sun was rising outside and the sunlight was slowly also reaching inside the terminal.
Terminal 4 is really a massive building, supposedly one of the largest buildings in Spain, but it is still very easy to navigate with large and very clear signs showing the way. All gates begin with a letter indicating in what part of the terminal the gate is located.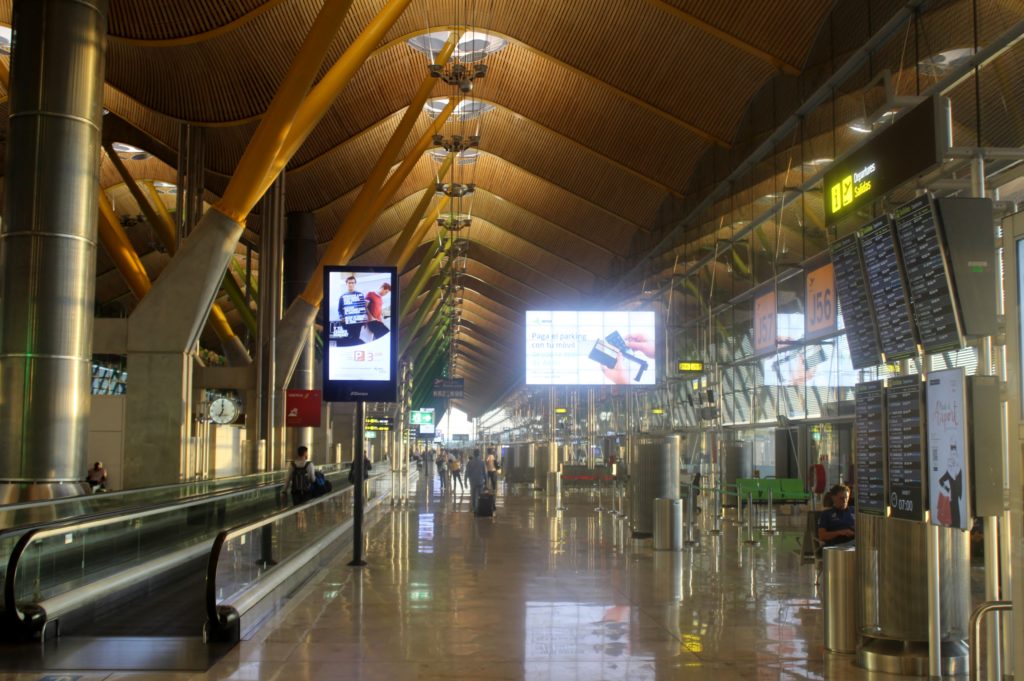 The flight to Porto was departing from gate K93 which not surprisingly turned out to be a bus gate. Boarding started at the same time as I reached the gate around 25 minutes before departure with priority boarding for, well, me.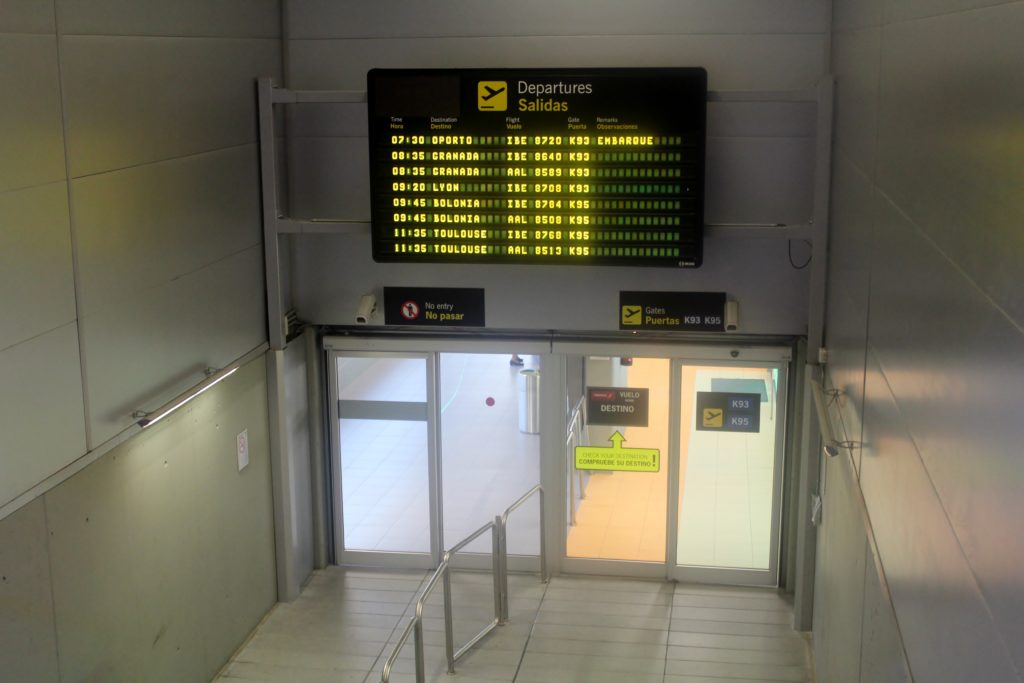 I descended a staircase and reached a roped-off door. The automatic door was unlocked and open and I waved to one of the ground staff asking if they had simply forgotten about the rope or if we were indeed supposed to wait. Apparently the cleaning of the aircraft was not yet completed and we ended up waiting by the door for a few minutes. It really made little sense to board passengers so early, especially for such a small aircraft with few passengers.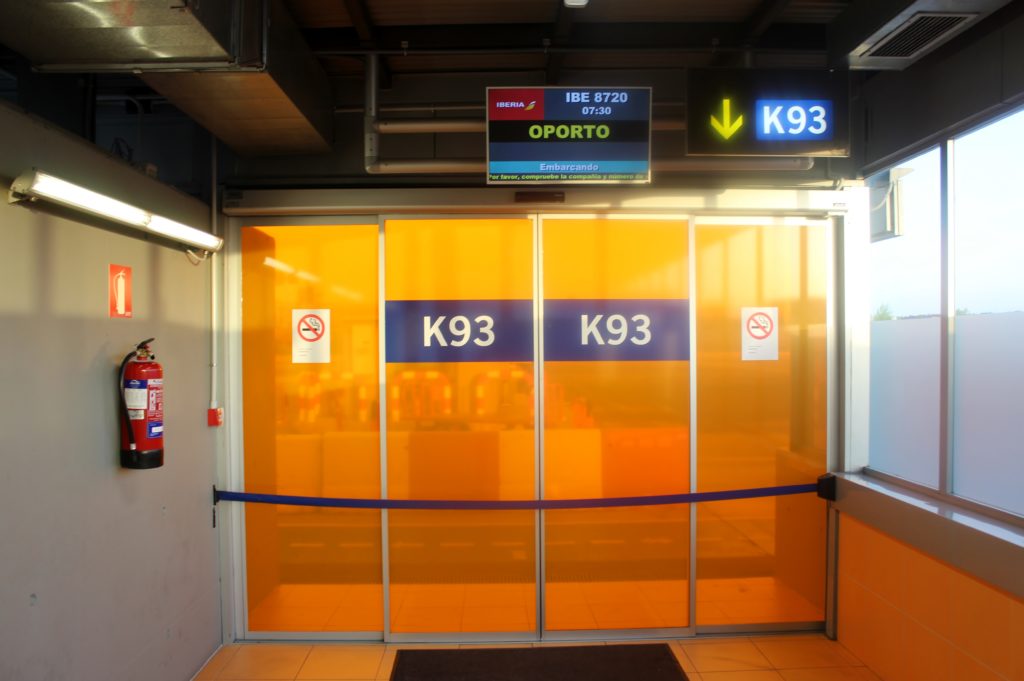 Eventually the flight dispatcher arrived and we were allowed to continue. To my surprise there was no bus waiting to take us to the aircraft, instead we could walk the short distance to the aircraft door.
First impression

The flight was operated by a CRJ-900 from the Iberia subsidiary Air Nostrum, part of Iberia Regional. Not the latest Iberia regional product (they do have some newer CRJ-1000 as well) but quite allright.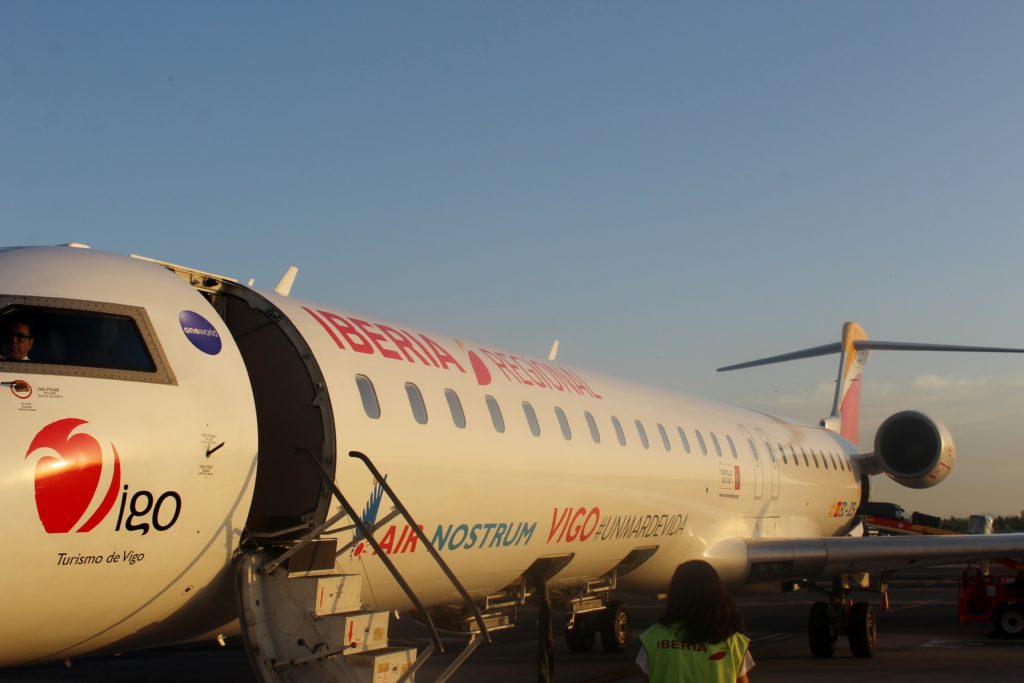 I had 02F for the flight and it soon became clear I was the only passenger in business class. No pre-departure drink but I was offered some Spanish and international newspapers to read.
Pushback according to the timetable with a flight time of about an hour to Porto.
Seat and cabin

There were six seats in business class on this CRJ-900 flight, two rows on the left side and one row on the right side. There was no row 1 on the right side of the aisle, just row 2. Although I was the only passenger in business class on the flight it seems like the adjacent seats are not kept free on the CRJ-900 so technically I could have got a seat neighbour.
The seats were in dark leather with an acceptable legroom for a short regional flight.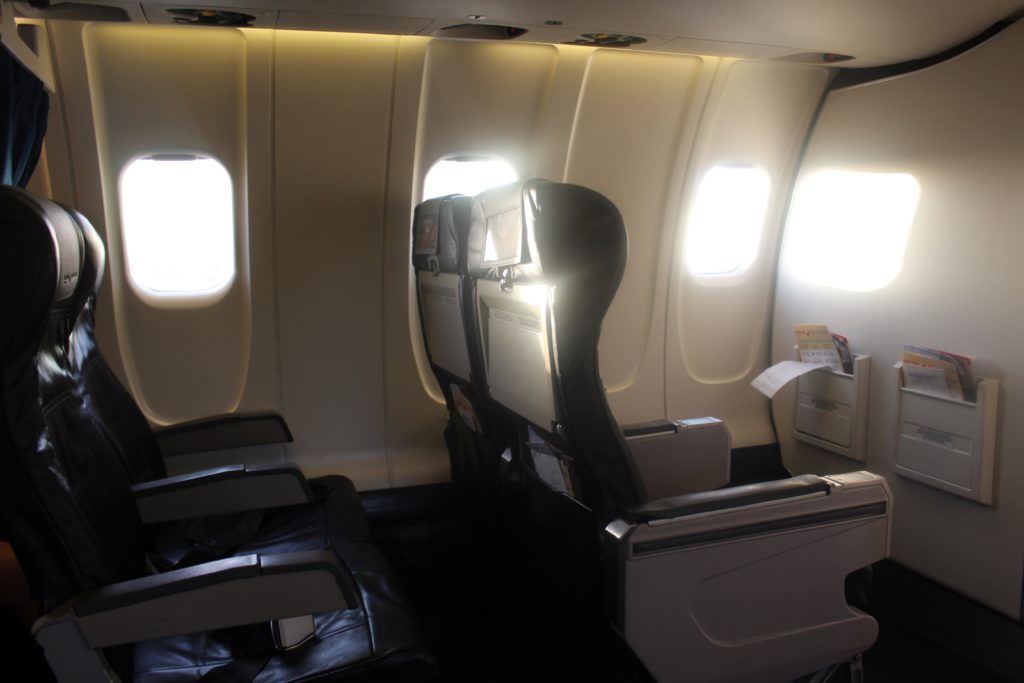 Food and drinks

As we reached cruising altitude I was offered something to drink and then my choice for breakfast, a hot or a cold one. I asked for the hot one which turned out to be a quicke lorraine. Fresh fruits were also offered as well as yoghurt, a selection of bread rolls and pastries from a basket and finally my drink order, orange juice and an excellent espresso, served in a rather cute espresso cup.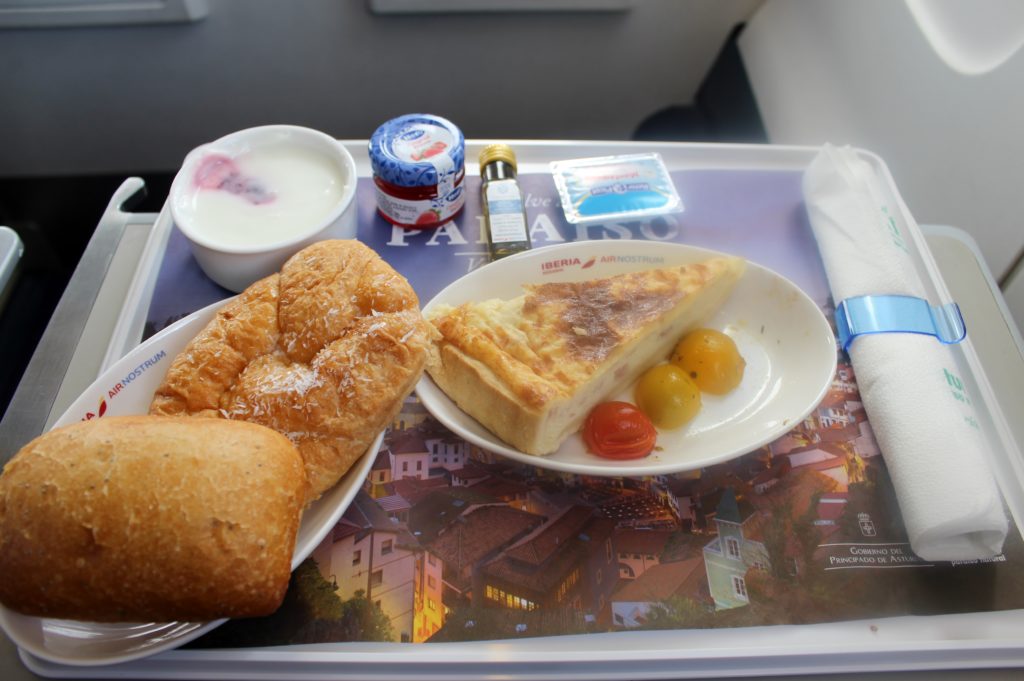 After I had been served the two flight attendants continued to offer drinks and snacks for sale in economy class. As they returned my tray was cleared and I was offered refills and happily accepted another glass of orange juice and another espresso.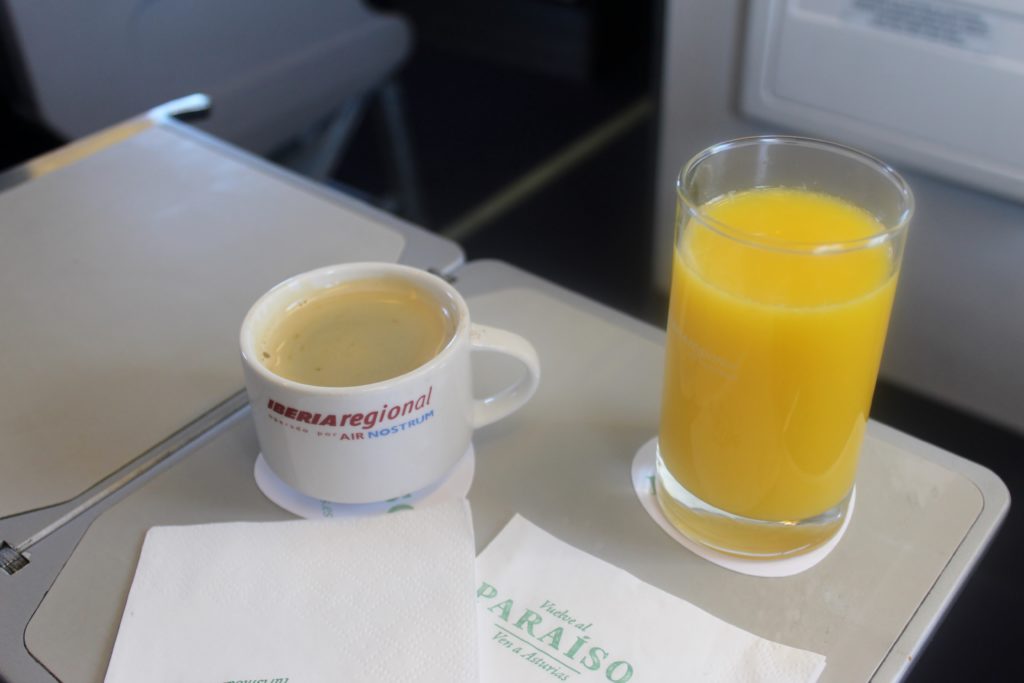 The service

The two female flight attendants serving were lovely and the service was very attentive. I was taken well care of and very much enjoyed the flight and the service. And even though they had to serve in economy class as well they still kept an eye on me.
The only drawback was their command of English which was surprisingly limited. Not that it ended up being a big problem, but on mainline Iberia flights the crew usually speak perfect English and language is not an issue whatsoever.
Arrival experience

We approached Porto from the east. Francisco Sá Carneiro airport is located just a few kilometres north of the city centre and as we made the final approach from the south we got a fantastic morning view of downtown Porto and river Duero. It is really a beautiful city.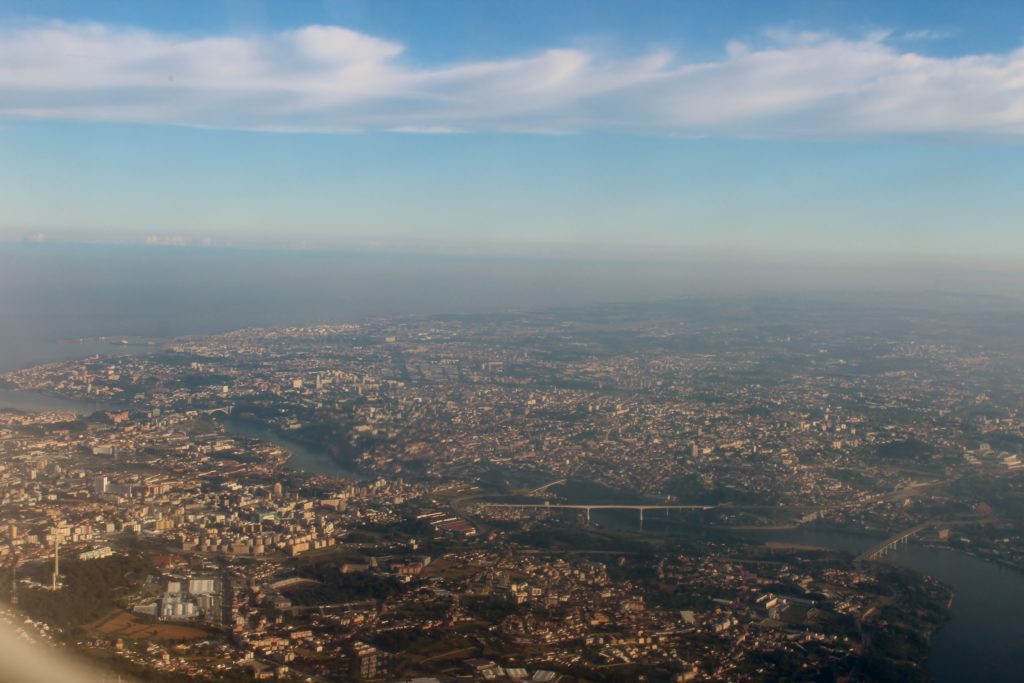 We landed ten minutes ahead of timetable. This time there was a bus waiting though to take us to the terminal building.
Final impression

A very nice flight, especially thanks to the great service from the lovely crew and being the only passenger in business class. Nice and very decent hot breakfast for a flight of just an hour.