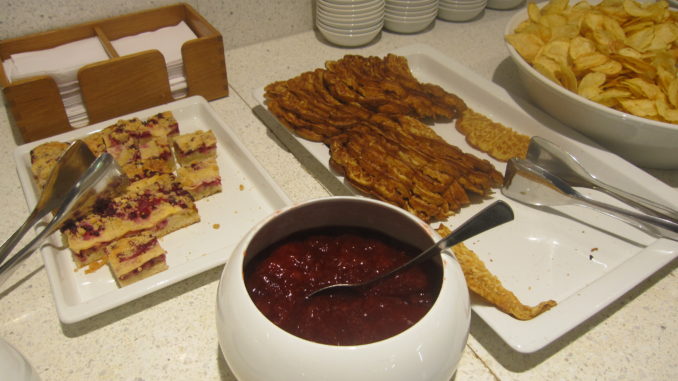 A nice thing about flying SAS or Star Alliance out of Oslo Gardermoen airport is that they serve waffles in the SAS Gold lounge, but for some reason only on Tuesdays and only in the late afternoons. I asked one of the lounge attendants and they really only do it on Tuesdays, not on any other days of the week. But if you happen to pass there on a Tuesday around 5 pm it is surely a very nice addition.
The waffles are typically brought out from the kitchen around 4.30-5.00 pm and there is usually only one serving, but a fairly large one on a large tray.
The waffles are served with strawberry jam and occasionally also with whipped cream.
Today I passed the lounge just at the right time. After a tasty dinner with chicken, pasta and vegetables I got to enjoy two waffles with jam together with a cup of coffee.
The SAS Gold Lounge is accessible to EuroBonus Gold and Diamond passengers and Star Alliance Gold passengers travelling with SAS or a Star Alliance carrier to an international destination. It is not possible to access this lounge if travelling to a domestic destination in Norway unless connecting from an international flight.