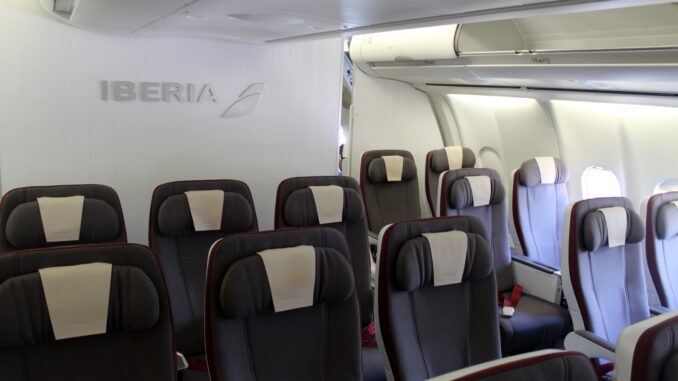 About a year ago Iberia introduced a third cabin on its longhaul flights – premium economy. The new premium economy product is offered on flights operated by Airbus A330-300 and Airbus A340-600 aircrafts.
On a flight from Madrid to London this week operated by an Airbus A340-600 I was able to have a look inside the new premium economy cabin. Apparently they do not sell premium economy tickets between Madrid and London so the cabin was completely empty and I could have a proper look, try the seat and take a few photos with no one around.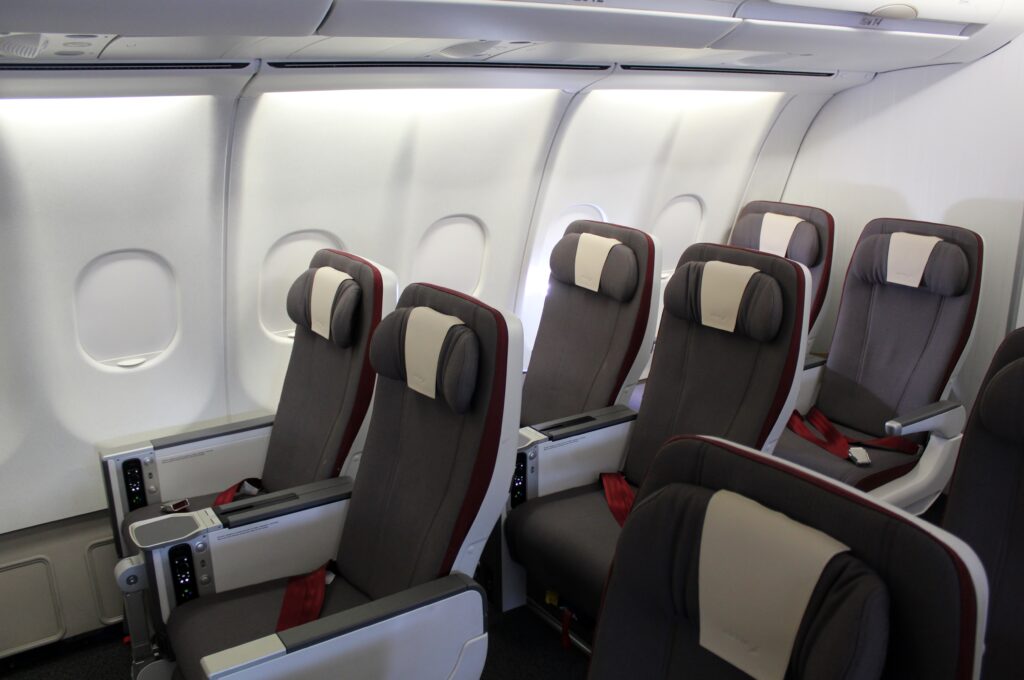 On the Airbus A330-300 there are 21 seats in premium economy, three rows in a 2-3-2 configuration. On the Airbus A340-600 there are 23 seats in premium economy in a 2-3-2 configuration with three rows plus a fourth row with only two seats on the left hand side of the cabin. There is no premium economy on the Airbus A330-200.
Premium economy will also be available on the Airbus A350 when it enters service with Iberia.
The introduction of premium economy has also meant a change in the number of seats in business class. On the Airbus A330-300 seven seats have been removed from the business class cabin and on the Airbus A340-600 ten seats have been removed.
A 2-3-2 configuration with seven seats abreast in premium economy means there is one seat less than in economy class, where there is a 2-4-2 configuration with eight seats.
The premium economy seats are in the signature Iberia grey colour with design details, such as the seat belts, in red.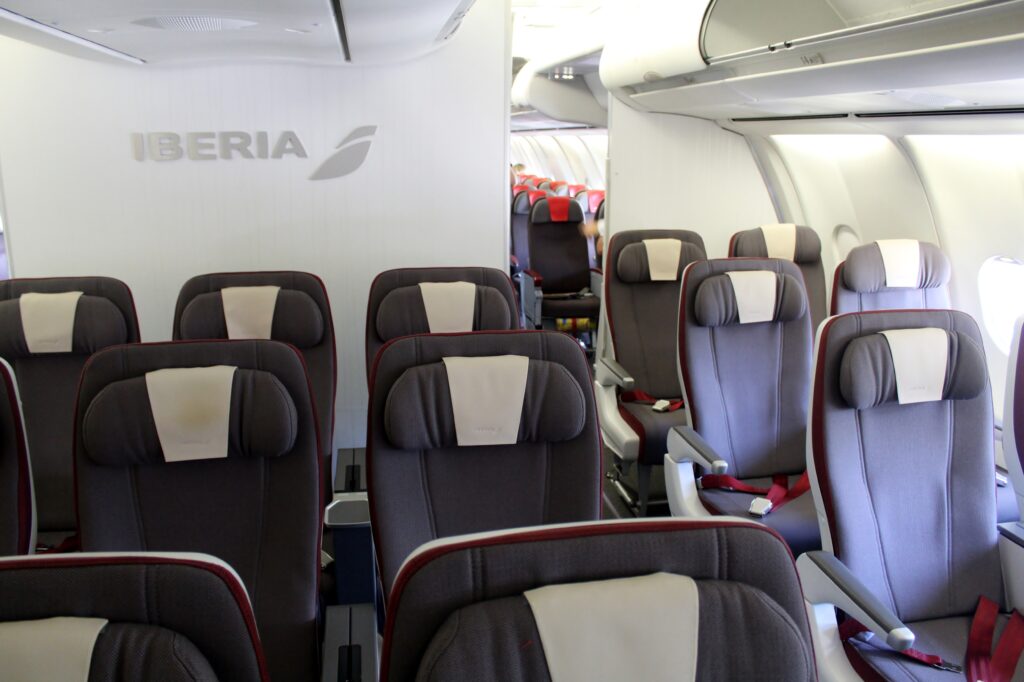 The seat pitch is 37 inches, compared to 31 inches in economy class, but of course far less than the 78 inches you get in Iberia business class, Business Plus, which on top of that also becomes fully flat. The premium economy seat has a recline of 7 inches.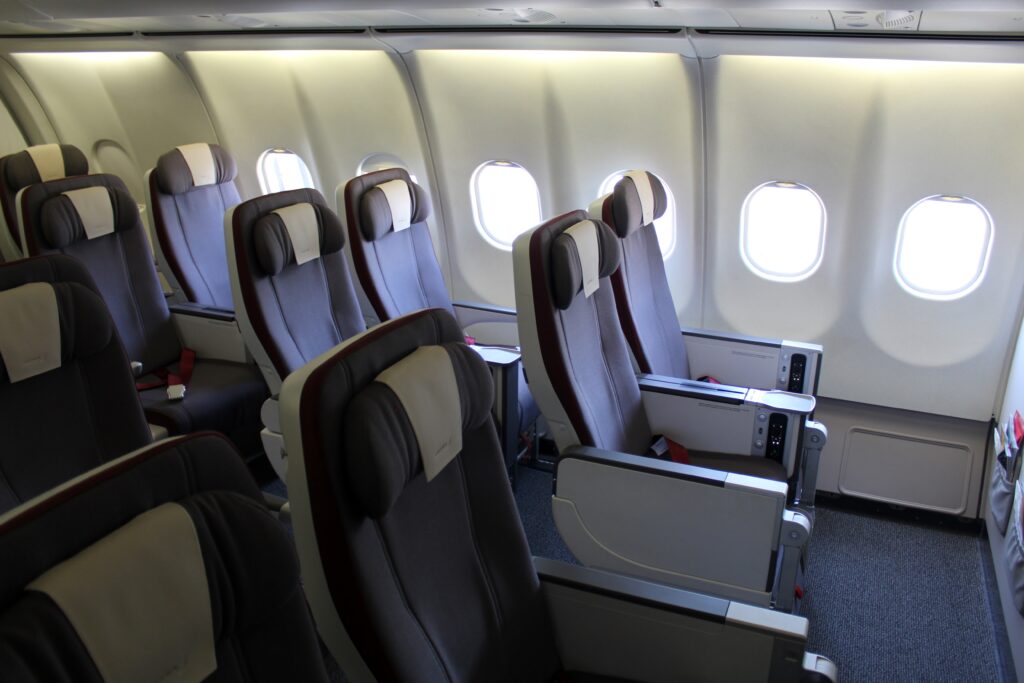 Each seat has a 12-inch personal screen with touch-screen functionality and with access to the AVOD (Audio Video On-Demand) inflight entertainment system.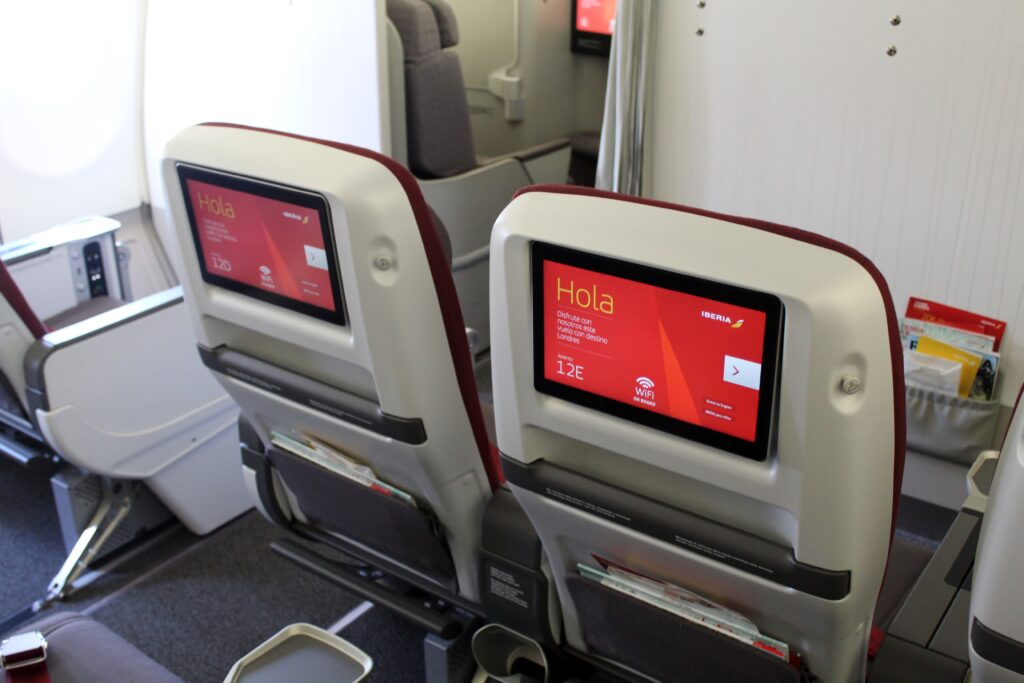 Each seat also has adjustable headrests and footrests. You also get an amenity kit, a welcome drink and an enhanced meal service.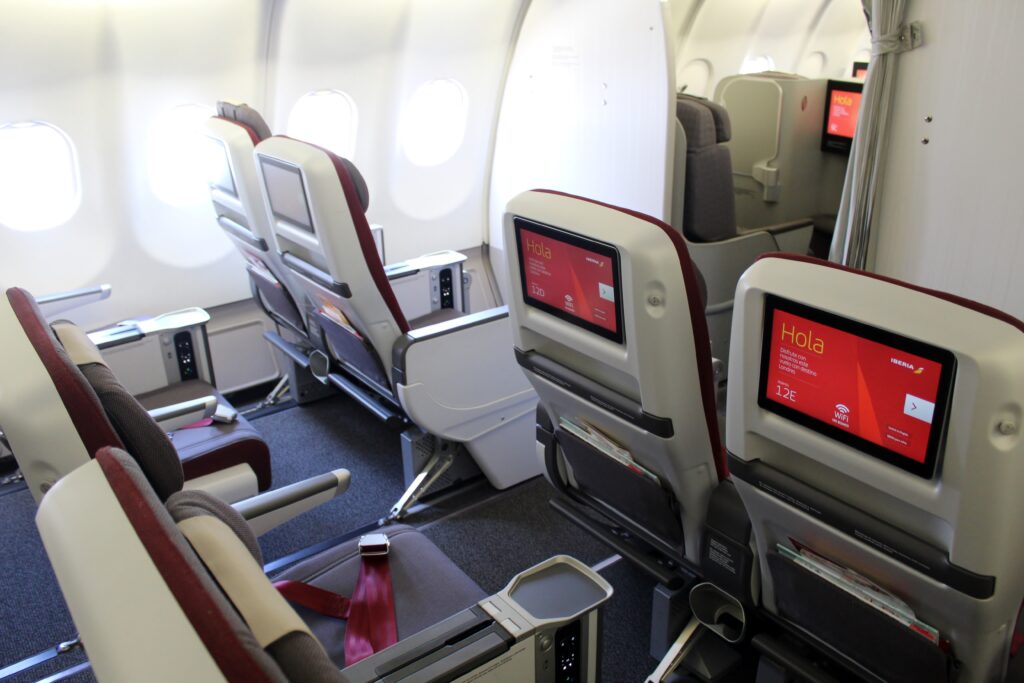 Final impression
The main benefits of premium economy is that the seat has a better recline and far more legroom than economy class. 31 inches in economy class is fairly tight for a long intercontinental flight. The premium economy cabin is also much smaller and more intimate.
Overall the cabin gives a good impression with the rather modest but elegant design, especially when cleaned and empty.