Fiji Link is a subsidiary of Fiji Airways flying mainly domestic routes in Fiji using ATR-42 and ATR-72 aircrafts but also some shorter international routes. This is a review of a short domestic flight from Suva, the capital of Fiji, to Nadi, the main international airport of Fiji.
Departure experience

I arrived in Suva on an international flight with Fiji Airways from Funafuti in Tuvalu. Getting from Tuvalu pretty much always means taking a Fiji Airways flight to Fiji (there is also a once weekly flight to Kiribati) but the strange thing is that the flight goes to Suva rather than to Nadi. So in order to go anywhere else in the world you need to enter Fiji and take a domestic flight to Nadi where you can fly onwards to other international destinations.
It was a bit strange to be asked at passport control in Suva about the reason for coming to Fiji when the officer already knew that this was the only way to get from Tuvalu. He even wanted to see my itinerary. I was taking the first possible domestic flight to Nadi, which was the one at 5.30 pm, to connect to an international flight to Auckland in the evening.
Although the connection time from Nadi to Funafuti/Tuvalu is decent with just about an hour in Suva the timetable for the return flight is not the best. The incoming flight lands at 2.50 pm and the first possible connecting flight to Nadi departs at 6 pm. Fortunately a week before departure I received an e-mail about a timetable change. The flight to Nadi had been rescheduled and was now to depart at 5.30 pm, but it still meant two hours and 40 minutes at Suva Nausori airport, which is not exactly the most exciting airport in the world.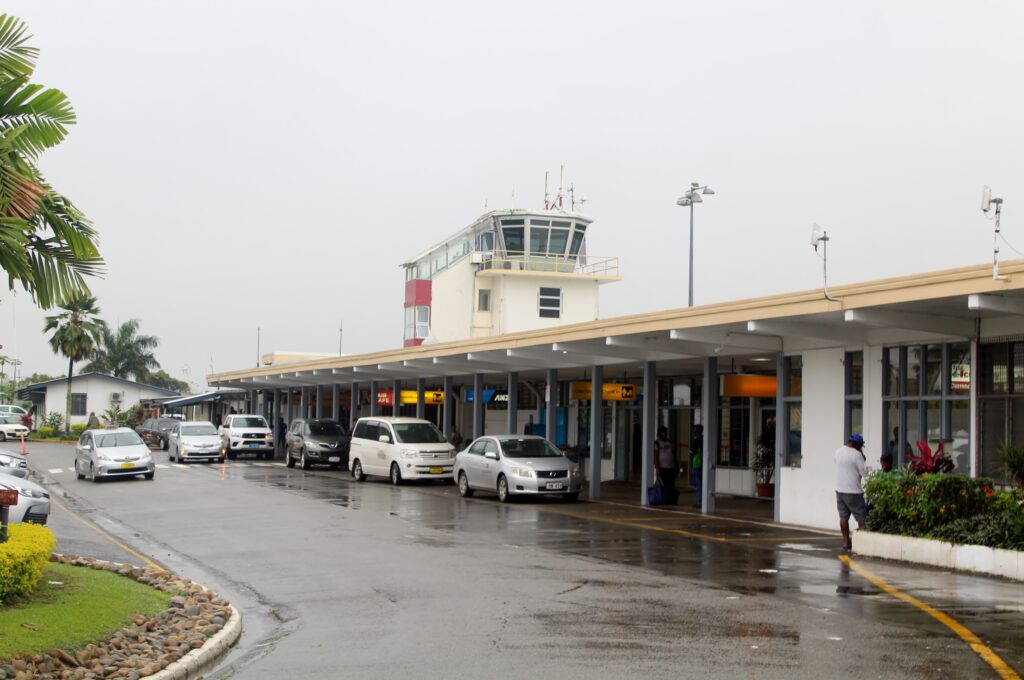 Connecting from an international flight to a domestic flight obviously meant having to reclaim the luggage, pass through customs and recheck the luggage. Fortunately the Fiji Airways check-in desks were open more than two hours before departure so I could get rid of my suitcase.
There was even a priority check-in desk available which I could use as OneWorld Emerald. I also received a priority tag for my suitcase. Obviously it would not make much of a difference in terms of getting the bag first on the belt in Nadi when you fly on an ATR-42, but earlier the same week I learnt that there is another benefit of it, you can be sure your bag will be loaded on the flight. On some of the regional flights in there can be an awful lot of luggage as the aircrafts also bring a lot of freight, but if you have a priority tag you can be pretty sure your bag will not be offloaded, in case they need to leave any luggage behind.
With still two hours until departure and no lounge to visit in Suva I made my way to the Air Cafe in the departure hall, where many Tuvalu travellers have spent some time on their way home.
The cafe only accepts cash though, no credit cards are accepted, so a visit to the currency exchange office was needed before I could buy anything. With very little to eat on the flight from Funafuti I was starving and happily ordered a sandwich, a cup of coffee, a Fiji Gold beer and one of their famous desserts.
The flight
Suva-Nadi
Fiji Link flight FJ 18
Departure: 17.30
Arrival: 18.00
Economy Class
ATR-42
Seat 12A

Announcements were being made already an hour before departure that passengers needed to check in and then make their way through security to gate 3. However there is very little reason to go airside too early as there is absolutely nothing in the gate area. If you buy something in the Air Cafe it is better to wait there as long as possible. The security control will be fairly quick anyway.
Boarding started 20 minutes before departure and was done by row number, or rather by section. Since I was sitting on row 12, at the very back of the aircraft (on the ATR-42 you board from the back) I was one of the last passengers to board.
It was raining heavily but I was very positively surprised that the airport staff provided umbrellas for the short walk from the terminal building to the aircraft door, with one man handing out umbrellas at the terminal and another man collecting them by the aircraft stairs.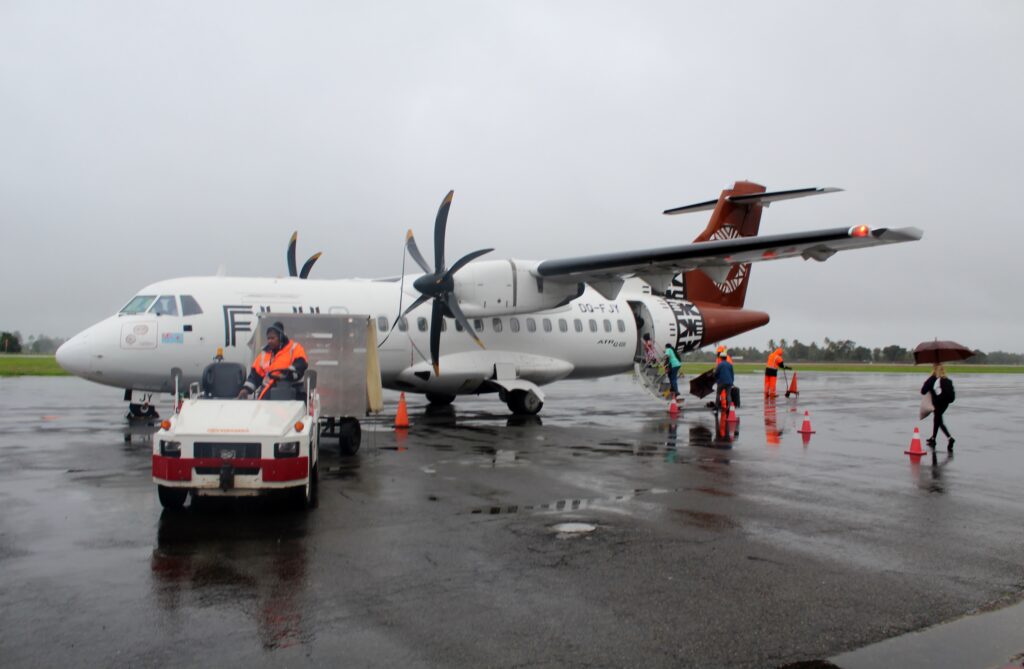 First impression

The ATR-42 was completely full to the very last seat. For a moment it looked like the seat next to mine would stay empty but eventually an elderly woman who needed some assistance boarded and took that seat.
Boarding was completed well before departure time but the number of passengers onboard did not match the number of passengers who had boarded in the system and obviously they had to sort that out before we could leave. At the end it turned out that this was because of a passenger who had connected from another domestic flight and somehow someone had made a mistake.
The flight time to Nadi was expected to be 25 minutes.
Seat and cabin

44 seats on the ATR-42 with 11/12 rows in a 2-2 configuration with only one class of travel, economy class. Standard regional seats in brown leather. Rather comfortable with adequate legroom for a short domestic hop.
Food and drinks

In the past individual bottles of water were handed out to all passengers, also on the short flights between Nadi and Suva. Now these have been removed. The purser mentioned they do this to reduce waste and improve sustainability, but most likely the airline also saves a considerable amount of money doing this. However if you wanted some water you could press the call button and one of the flight attendants would bring some water to your seat in a plastic glass.
No other drinks were offered and there were no food or snacks and nothing for purchase, but on the other hand the flight only lasted half an hour.
Newspapers were also offered before departure.
The service

The purser and the female flight attendant seated at the front were friendly but with no inflight service there was little interaction with the cabin crew other than the standard greeting upon boarding and disembarkation.
Arrival experience

After crossing Viti Levu, the main island of Fiji, we flew right over Nadi and the airport, made a 180 degrees turn outside the coast and landed at Nadi airport from the north, a few minutes behind timetable.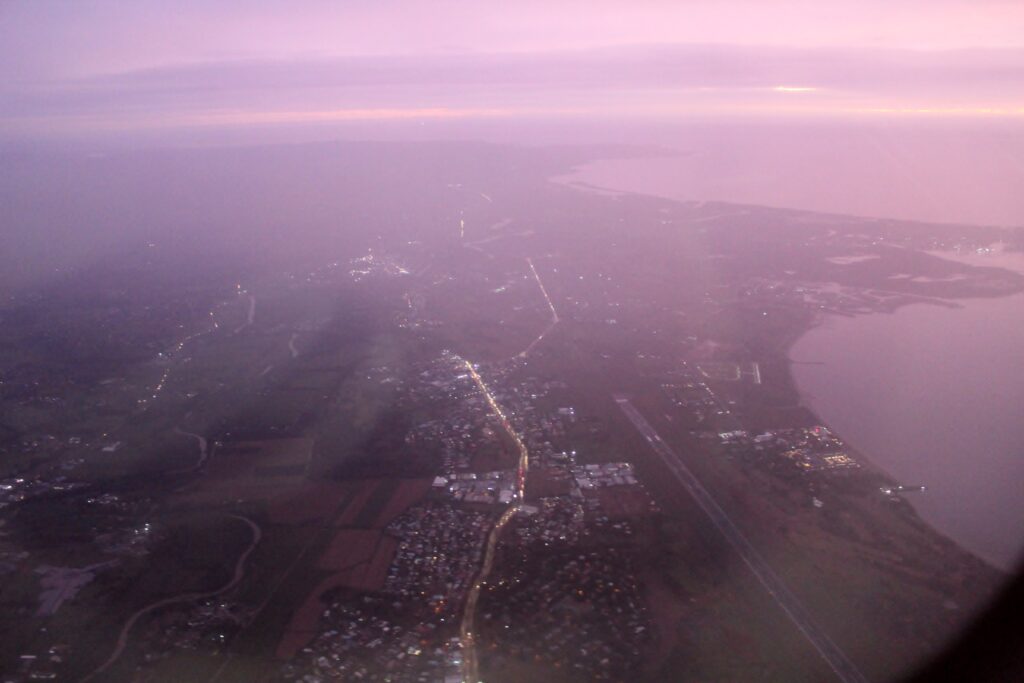 The aircraft parked at a remote stand but still close enough that we could walk to the small domestic terminal building.
It took quite some time before baggage delivery started and it was also delivered in batches, and my priority-tagged bag was unfortunately in the last one. Not that I was in a hurry with over three hours until my international connecting flight, but it is really not the way it should be.
Final impression

A short and rather uneventful flight. The aircraft was in a good condition but they have scrapped the inflight service now, only offering a glass of water if you ask for it.