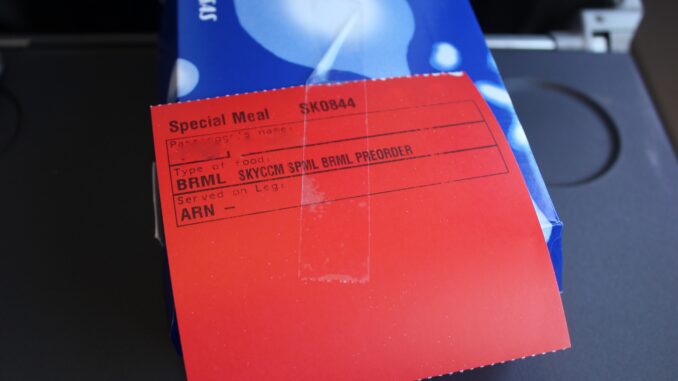 Although the strike in the Norwegian hotel and restaurant industry formally ended Saturday, two days ago, it continues to create backlog problems, especially in the airline industry and for flights to and from the capital city of Oslo.
No breakfast offered in SAS Plus (premium economy) on the morning flight from Stockholm to Oslo, where it should be offered free of charge to all passengers. Instead SAS Plus passengers were offered Polarbröd sourdough rolls, which are normally served later during the day and which are kept frozen and therefore could be arranged anyway, in spite of the strike. At least it was better than not offering anything at all to eat.
I was seated in SAS Go (economy class) and had pre-ordered a breakfast for the flight, which cost 70 NOK. It is exactly the same breakfast box as those seated in SAS Plus get, with exactly the same contents.
And for some reason my pre-ordered breakfast in SAS Go had been loaded, with two pieces of bread placed inside the box, whereas the passengers in SAS Plus did not get their boxes, meaning I was the only person on the entire flight to get breakfast. It was all a bit surrealistic, sitting in 12F, in economy class, being the only passenger to get a proper meal.
I have no idea how that happened, neither did the crew, but really nicely done SAS.