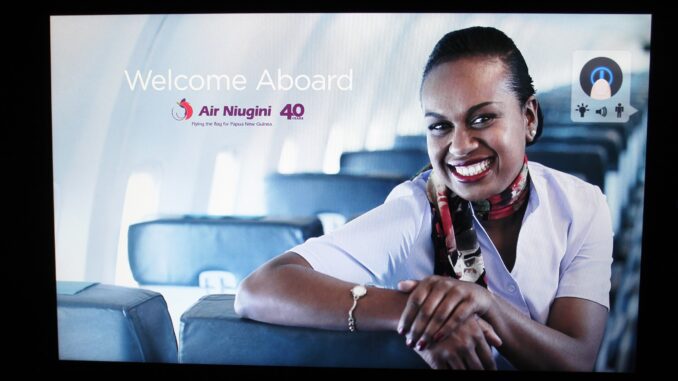 Air Niugini is the national airline of Papua New Guinea. From their hub at Jacksons International Airport in Port Moresby, the capital of Papua New Guinea, they operate scheduled flights to 12 domestic destinations as well as a number of international destinations in Asia, Australia och some islands in the South Pacific. Among the international cities served are Sydney and Brisbane in Australia, Hong Kong, Singapore and Manila in Asia, and Nadi, Port Vila and Honiara in Oceania.
This is the second flight of my trip from Honiara in the Solomon Islands to Sydney in Australia via Port Moresby. The first flight was in business class since I managed to score an upgrade thanks to their online auction. This second flight was in economy class, on a Boeing 767.
Departure experience

Transfering at Port Moresby Jacksons International Airport turned out to be very easy. The international terminal is small with only four gates, of which three have jet bridges. Sitting in business class on the incoming flight meant I was the first passenger off the aircraft and once inside the terminal building a friendly ground agent asked me if I had a connecting flight. After affirming he checked my connecting flight on a list, confirmed it was on time and then directed me to the transfer security 30 seconds away, which was pretty much empty. And that was it. And all of it took place on the same level in the terminal building with no need to use any stairs, lifts or escalators.
There was a transfer desk just around the corner which I stopped at for a quick question. There had been a few aircraft changes for the flight to Sydney, from a Boeing 767 initially to a Boeing 737 and then, as it seemed, back again to a Boeing 767. I had been assigned seat 10B which could either be an excellent seat, or a terrible seat, depending on the aircraft type.
The first agent did not quite understand my question and just confirmed everything was in order with my ticket and boarding pass, but then his supervisor came to assist. He had overheard our conversation and he fully understood my question and the reason why I asked it. He confirmed a Boeing 767 was to take me to Sydney, meaning I had an aisle seat at the very front of the economy class cabin, in the mini cabin between business class and the first economy class galley. An excellent seat. On a Boeing 737 I would obviously have been in a middle seat.
The international transit hall was surprisingly modern with some duty free shops, a souvenir shop, a cafe and a restaurant. I had expected something completely different.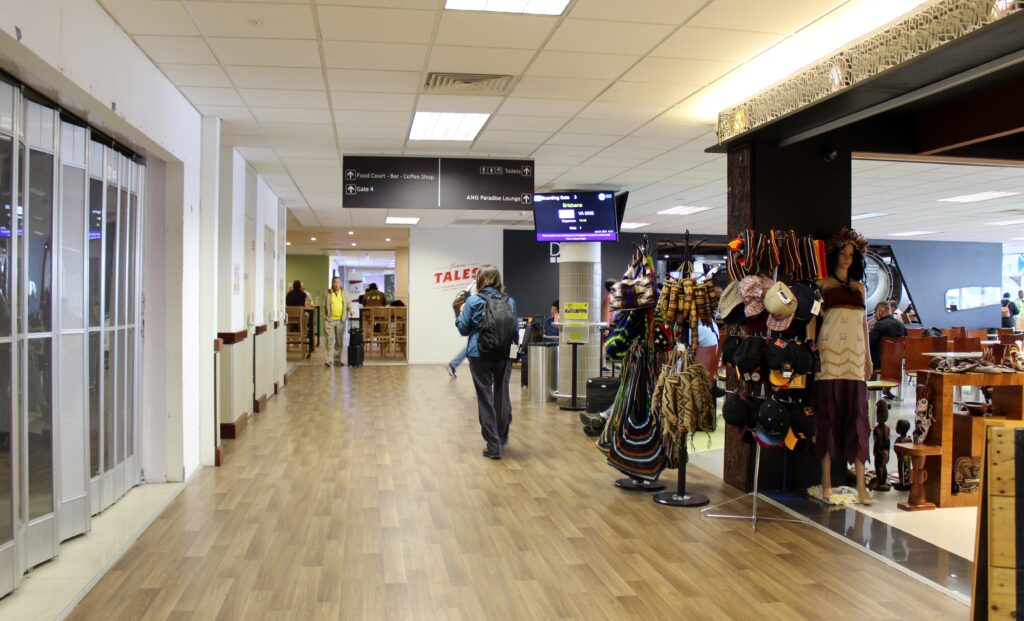 Air Niugini has its own lounge at the airport called 'Paradise Lounge'. I asked at the reception if an incoming boarding pass in business class, connecting to a flight in economy class would give me access. As expected the answer was no, although the lounge agent was somewhat hesitant at first. I already knew Priority Pass was of little use, but since Port Moresby is not an airport I would pass again anytime soon I was really curious to have a look inside so I asked if it was possible to pay for access, and she confirmed it was.
Since I did not have any local currency (the currency is called Kina in Papua New Guinea) I ended up paying in USD in cash, which turned out to be the easiest way to sort it out. I was allowed inside and a few minutes later the agent came to my seat with a receipt. It was probably not really worth the money as such with only an hour at the airport and meal services on both flights, but I was quite happy to be able to have a look and did not regret it.
The lounge was surprisingly pleasant. Not particularly large but with a very tidy, modern and colourful interior. There was also a limited view of the apron and the domestic terminal. The lounge was fairly crowded though with several departures to Australia in the afternoon. Apparently both Qantas and Virgin Australia have contracted the lounge, or so it seemed.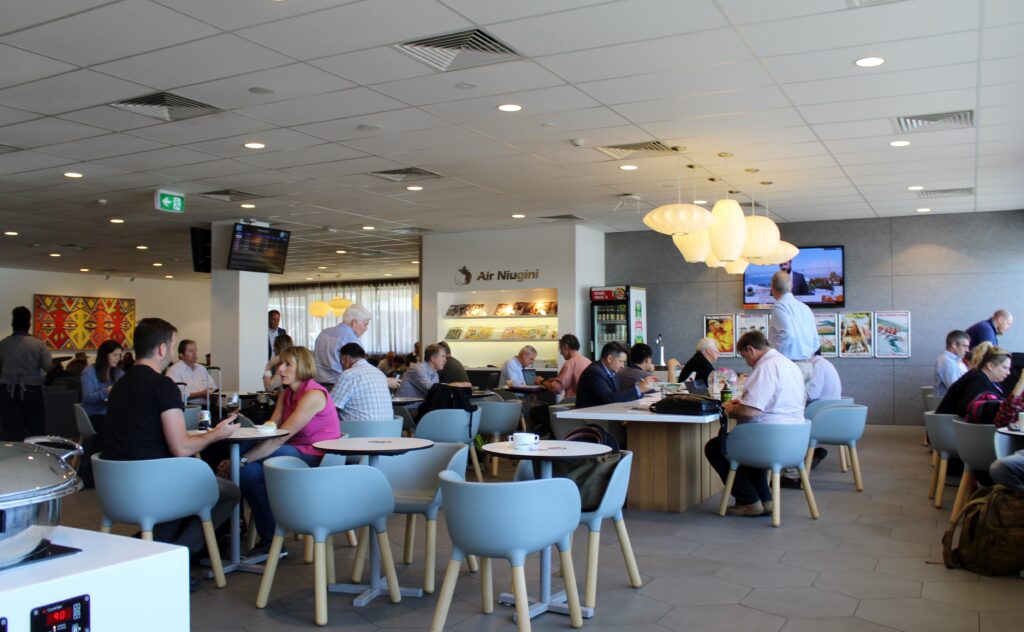 There was a very nice selection of food available with plenty of hot food, snacks, fresh fruits and desserts. In the past they apparently also had a barista service in the lounge, but a sign informed us the contract had been terminated. Now we had to stick to filter coffee.
Beer and wine were available for self service and I got to try the local beer from Papua New Guinea called South Pacific Export Brew, with a beautiful logo. They even had a special beer corner in the lounge.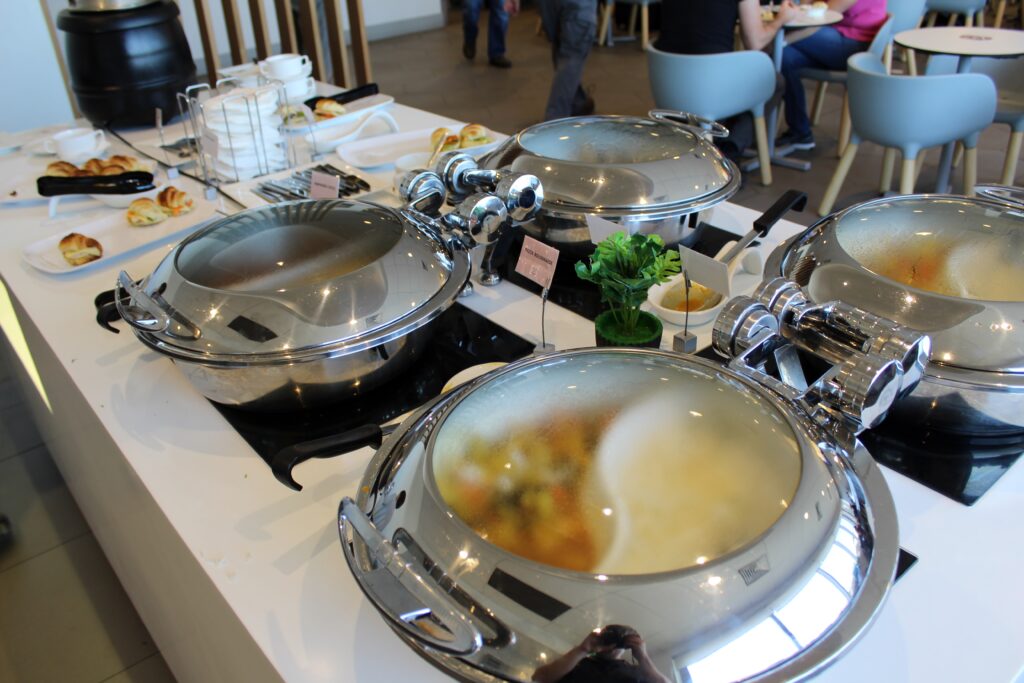 I got about an hour in the lounge and was very positively surprised. Very fun to have a look inside a rather unusual lounge.
The flight
Port Moresby-Sydney
Air Niugini flight PX 1
Departure: 14:00
Arrival: 17.55
Economy Class
Boeing 767
Seat 10B

Boarding started early at gate 4 right opposite the lounge. Priority boarding was offered although flying in economy class with no status I could not make use of it, and boarding was already well underway when I reached the gate anyway.
As is standard on all flights to Australia all hand luggage was manually searched for any liquids before we were allowed to board.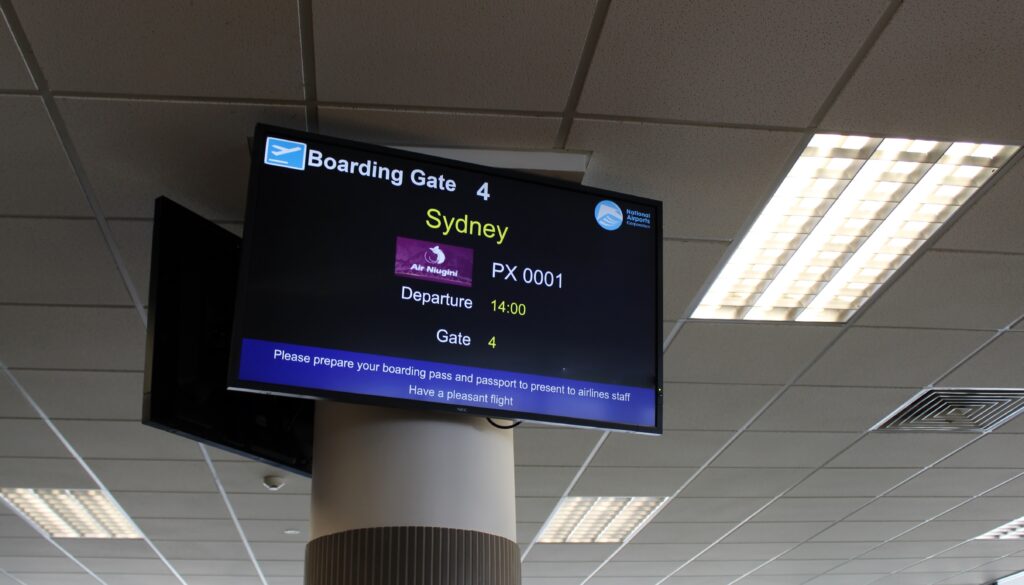 First impression

A Boeing 767 was used for the flight to Sydney and I was seated in 10B. On the Boeing 767 there is a small premium cabin right behind business class with only two seats abreast named A and B. So there are only ten seats in this section between business class and door 2L. The rest of the rows 7-11 on the other side of the cabin (which would normally be used for seats C/D/E/F/G) is used for the large galley.
This is definitely the best place to sit. Not only do you only have two seats abreast, you are also seated at the first front of economy class, meaning a quick embarkation. Also almost nobody will pass your seat during the flight other than the others sitting in this section and of course the crew will keep an extra eye on the passengers seated here.
I had 10B on the fourth and second last row in this section and was very happy to notice seat 10A stayed empty during the flight. Not sure if this was done on purpose by the airline, as I had travelled in business class on the first flight, or if I was lucky.
After the standard safety demonstration video we took off according to timetable. The flight time to Sydney was expected to be around three hours and 45 minutes.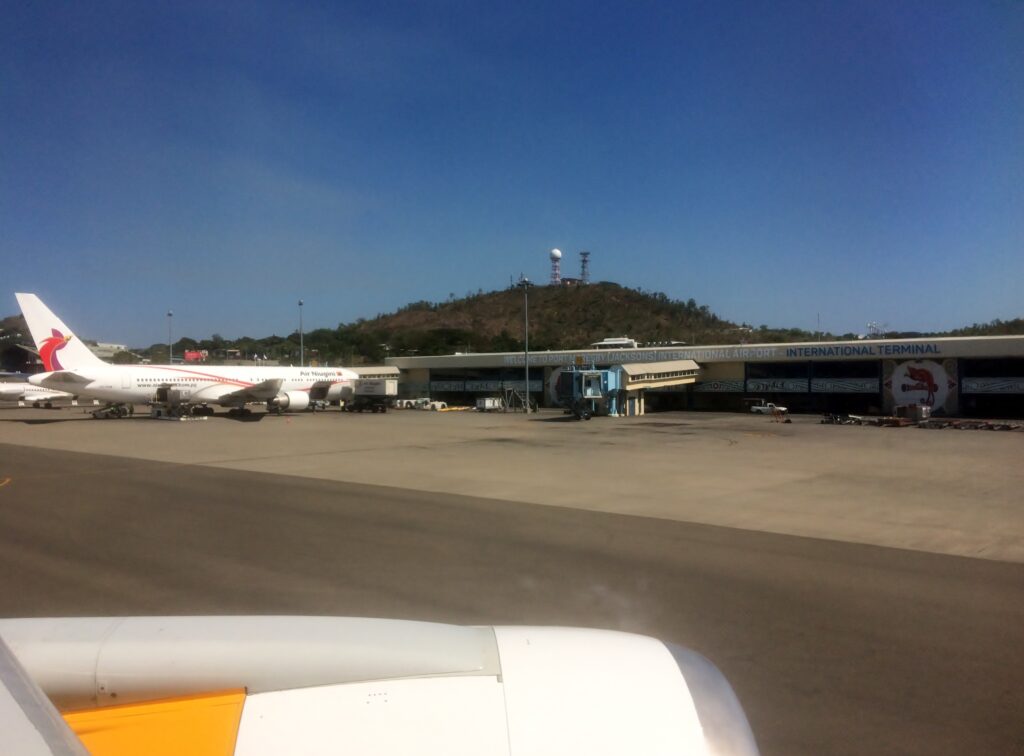 Seat and cabin

The seats on the Boeing 767 were the same as on the Boeing 737, both in economy class and business class.
In economy class the configuration was 2-3-2 except in the mini cabin where I was sitting where there were only two seats on each row.
The seat was quite comfortable with decent legroom and all seats had individual screens. I was very happy to also get a free adjacent seat.
In business class, which I could see quite clearly from my seat when the curtain was open, the configuration was 2-1-2.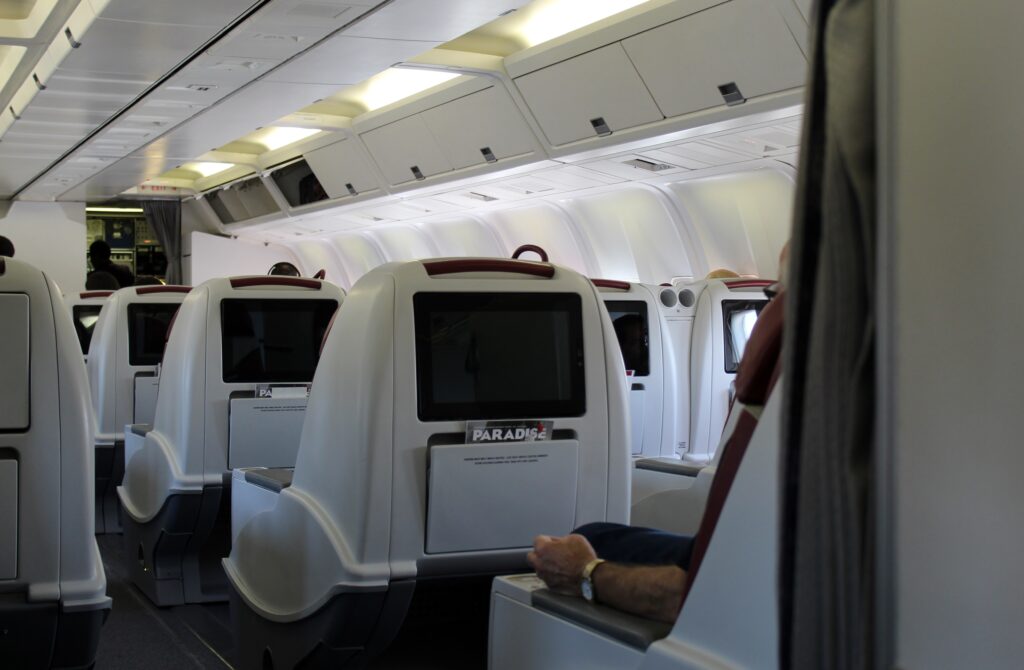 Food and drinks

During the flight to Sydney a hot dinner was served with two choices of main course, either fish or chicken. I had the chicken which was served with steamed rice and vegetables. There was also a bread roll on the tray
Free drinks were also served including beer and wine with the wines served from large bottles with several offers of refills.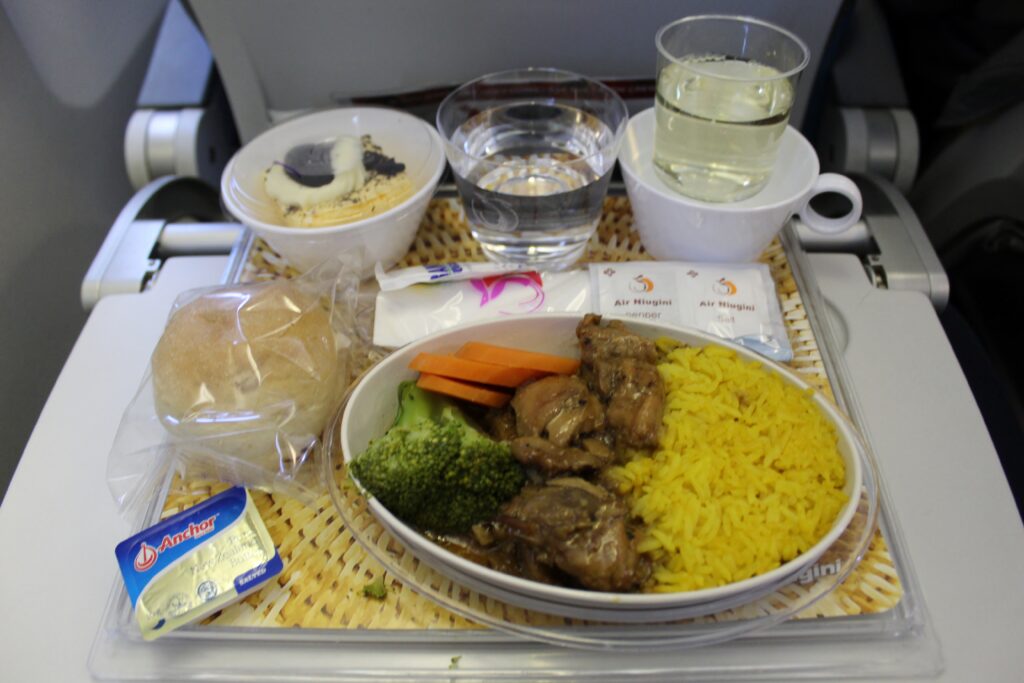 Finally there was a tasty custard dessert on the tray and the crew offered coffee or tea.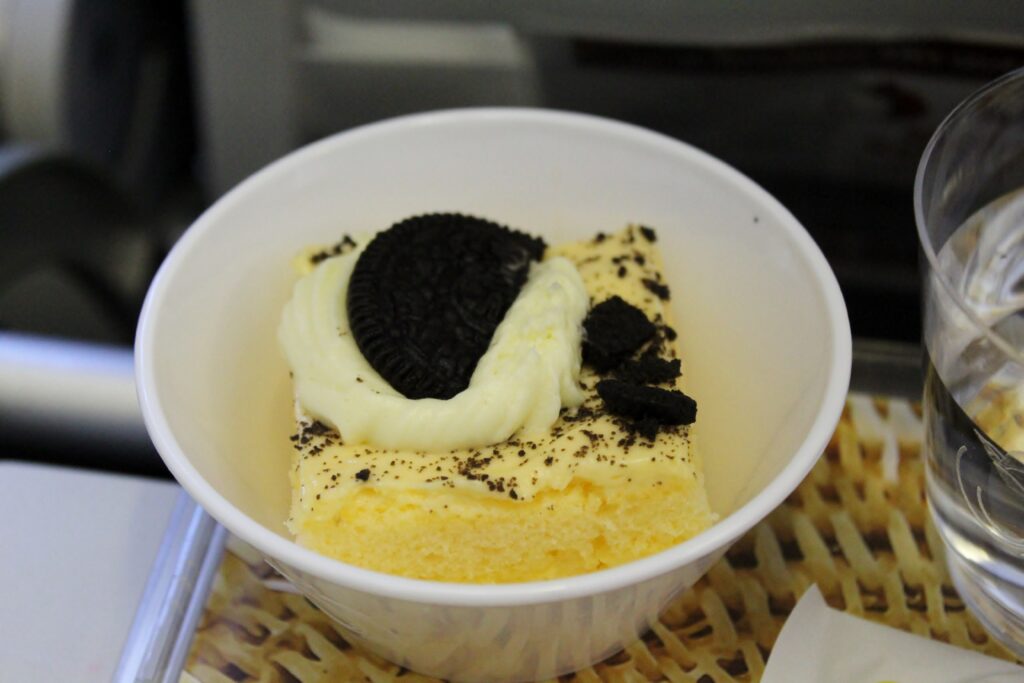 The meal was excellent, especially for economy class, and they should get full marks for the presentation. It looked more like a business class meal than something served in economy class.
Inflight entertainment
A full Audio Video On-Demand (AVOD) inflight entertainment was available with movies, TV-series, music albums and information about the flight with a decent flight map. The system was fairly advanced and one I recognise from for example Brussels Airlines and Austrian Airlines.
There was also an interesting inflight magazine to read, which had a good network map for Air Niugini, just to give an idea where they are based and what destinations they serve.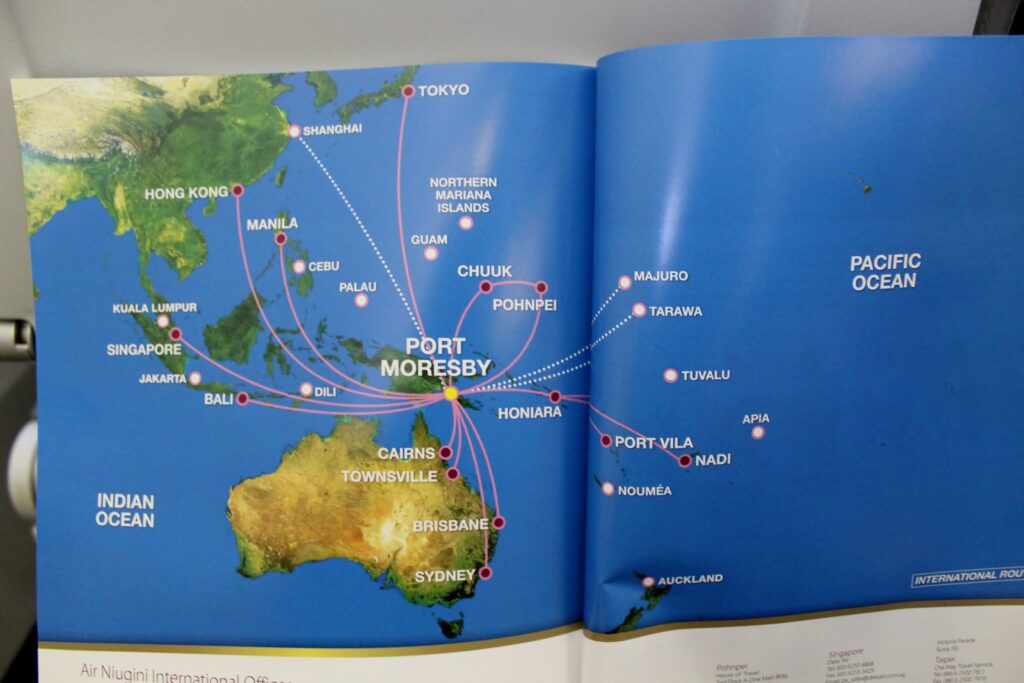 The service

The service from the cabin crew was delightful. I have rarely seen a cabin crew as friendly, happy and charming as those working on Air Niugini. They truly seemed to enjoy working onboard and did an excellent job, always with a large smile.
Arrival experience

We landed a few minutes early at Sydney airport.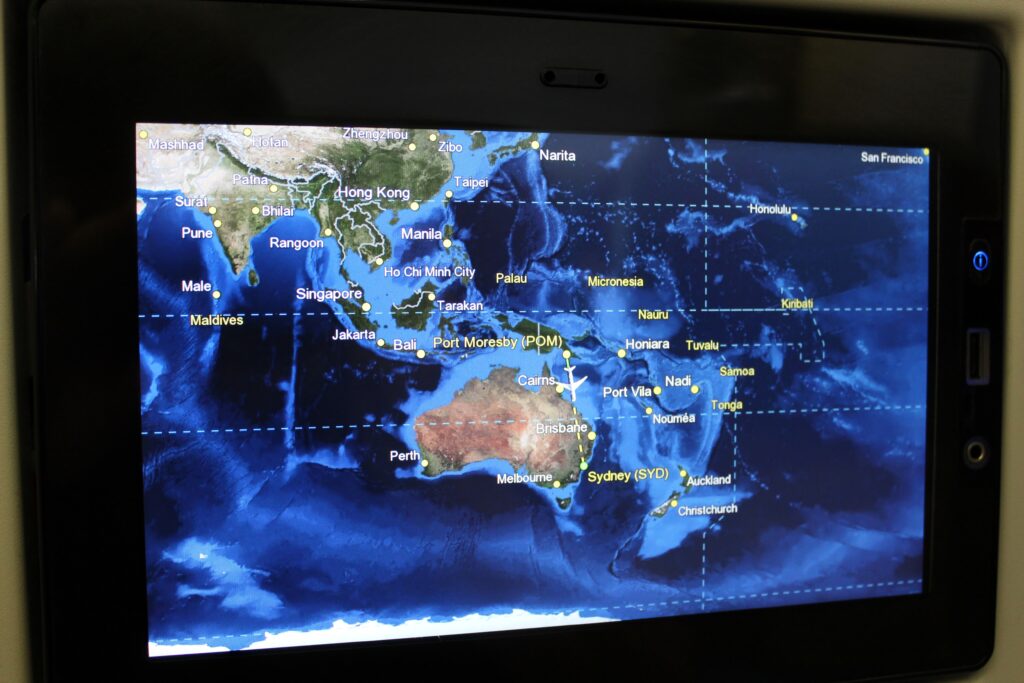 As we were disembarking through the front door 1L I also got a proper look inside the business class on the Boeing 767, with a 2-1-2 configuration.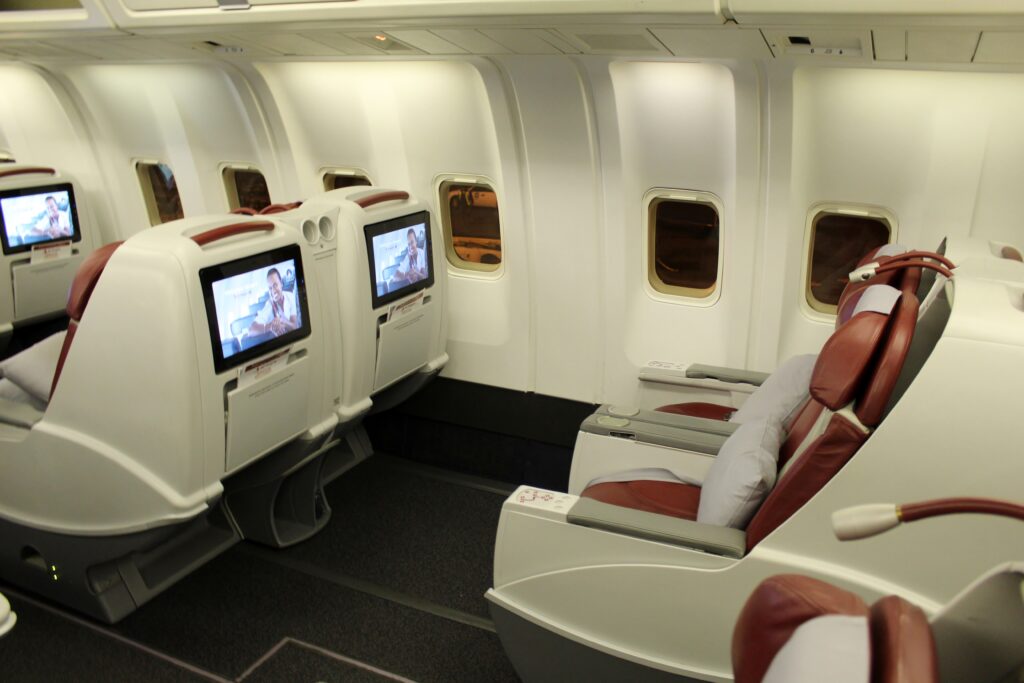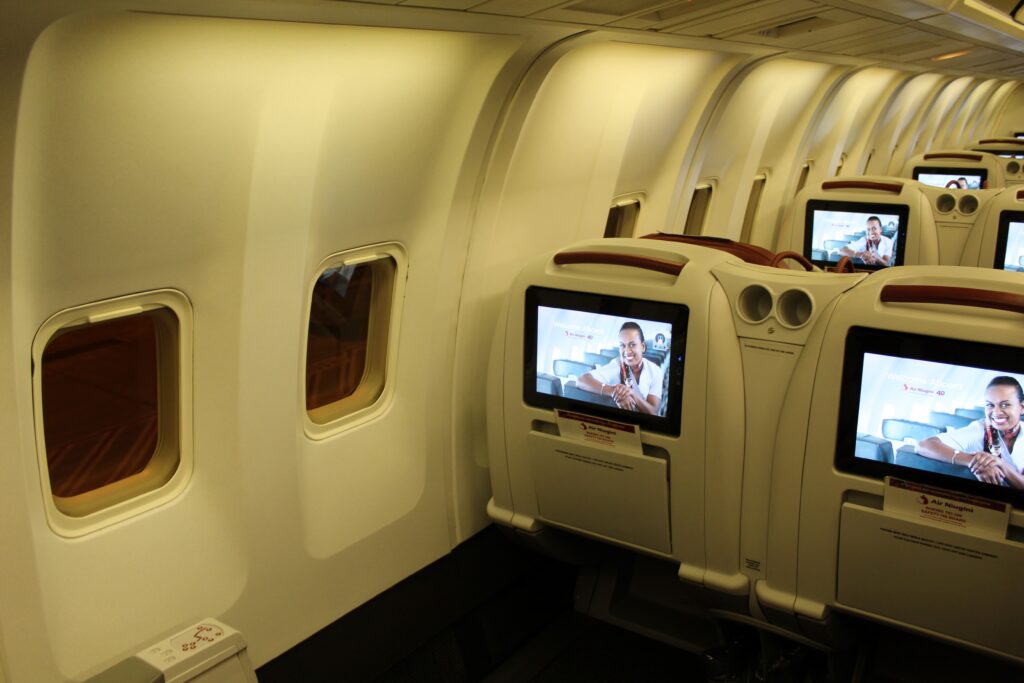 Nowadays passengers with a biometric passport from certain countries can use the automatic passport control gates, which saves quite a bit of time.
As my first flight from Honiara to Port Moresby was in business class my suitcase was tagged with 'Priority' and was one of the first to arrive on the belt in the baggage halt. My suitcase actually arrived there before I did.
Final impression

I had no idea what to expect from Air Niugini, but this was actually a great experience. Nice lounge in Port Moresby, decent comfort ombord also in economy class and a tasty meal with a nice presentation. And the crew were delightful. Just too bad Air Niugini is not part of one of the major alliances meaning I could not earn any points for the two flights.