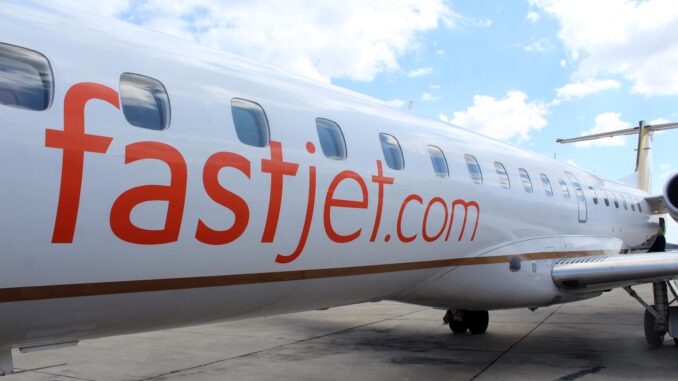 Fastjet Zimbabwe is a low-cost airline based at Harare airport in Zimbabwe. They are part of the Fastjet Group which also includes Fastjet Mocambique and the South African  airline Fedair. Fastjet Zimbabwe currently has a fleet of two Embraer ERJ-145 and operates flight to two domestic destinations in Zimbabwe and to one international destination, to Johannesburg in South Africa.
This is a review of a flight with Fastjet Zimbabwe from Harare to Johannesburg.
Departure experience

With the economic difficulties in Zimbabwe the national carrier Air Zimbabwe has pretty much ceased operations, with the exception of a very limited number of domestic services. But I found there is a new carrier operating a small network from Harare called Fastjet Zimbabwe. Although both South African Airways and British Airways/Comair fly between Harare and Johannesburg, the route I needed to fly, Fastjet Zimbabwe was the only airline which had a departure in the afternoon that suited my schedule, as I had a connecting flight from Johannesburg in the evening.
The booking was made on the Fastjet Zimbabwe webpage. Officially the airline is described as a low-cost carrier, but from a European perspective there is little low cost about it. The ticket was far from cheap to book and there is little 'low cost' about their services.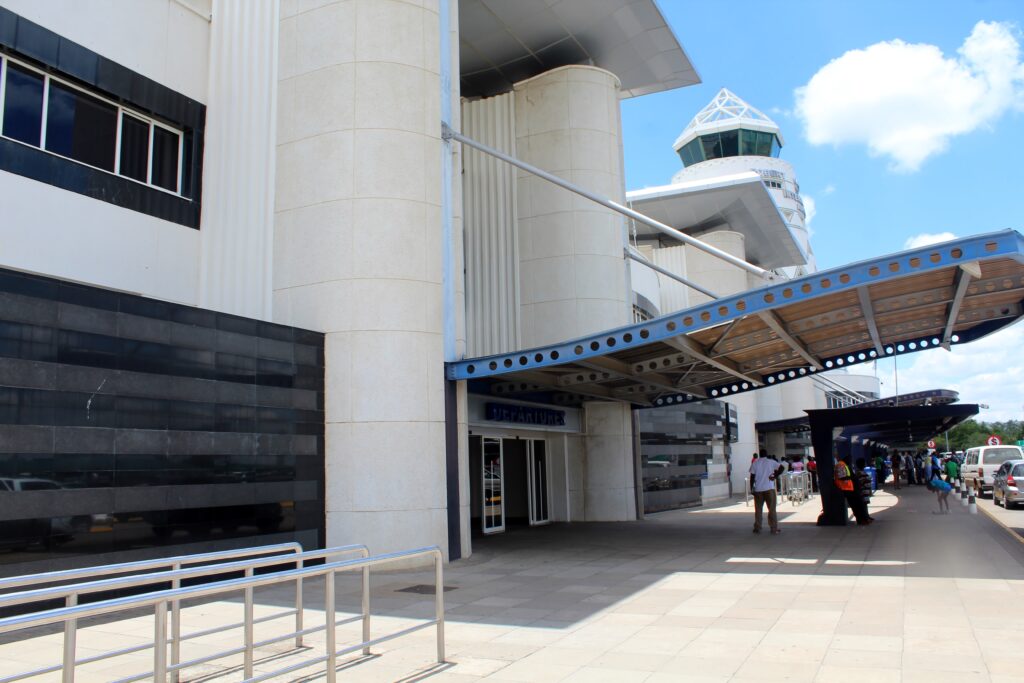 I arrived at Harare airport around 90 minutes before departure. Given the current situation in Zimbabwe Harare airport is not the busiest of airports nowadays and the surprisingly nice-looking and modern terminal building is nowhere near its capacity.
I had already checked in online on the Fastjet website but I needed to pass a manned check-in desk to have a boarding pass printed and I also wanted to enquire about my hand luggage.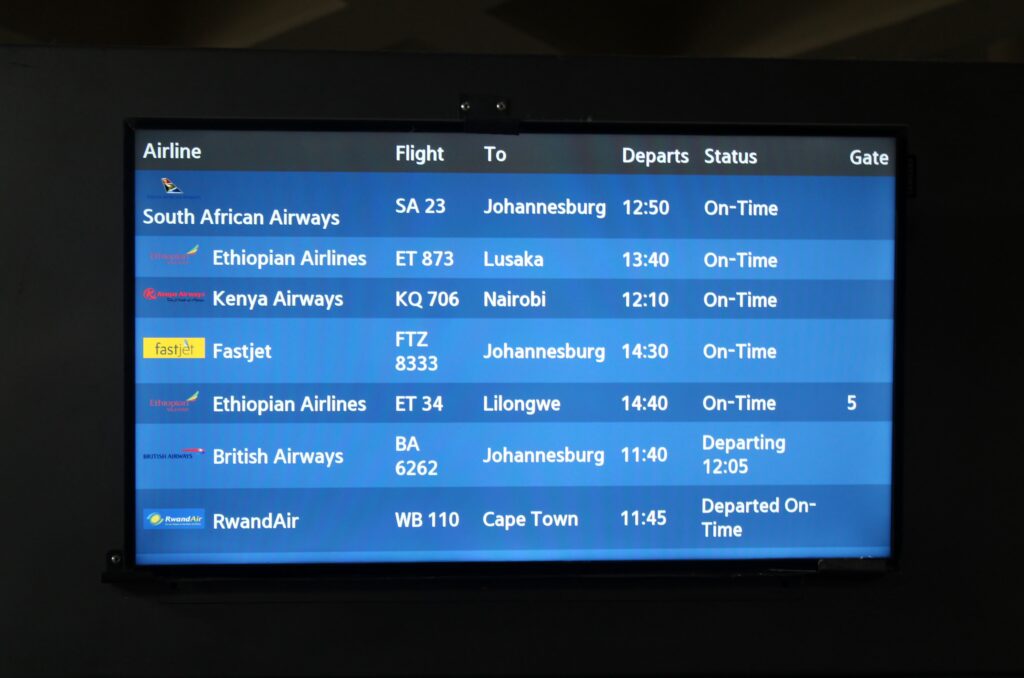 I was only travelling with hand luggage, managing quite well a few days on the road with just one larger bag, exactly within the standard limits, and a smaller carry-on. However the flight was to be operated using an Embraer 145, where there is limited space for hand luggage in the cabin. I also had an international connecting flight in Johannesburg, on a separate ticket, and although there would have been enough time to go landside in Johannesburg to reclaim it, in case I was forced to check it in, naturally everything would be so much easier if I could avoid that.
But everything turned out just the way I had hoped for. They offer to store large pieces of hand luggage in the hold during the flight. You leave them by the aircraft stairs in Harare and get them back on the apron in Johannesburg. I was given a tag for my larger bag and they had no comments regarding the rest of my hand luggage. I was very relieved as it saved me some hassle during the transfer in Johannesburg.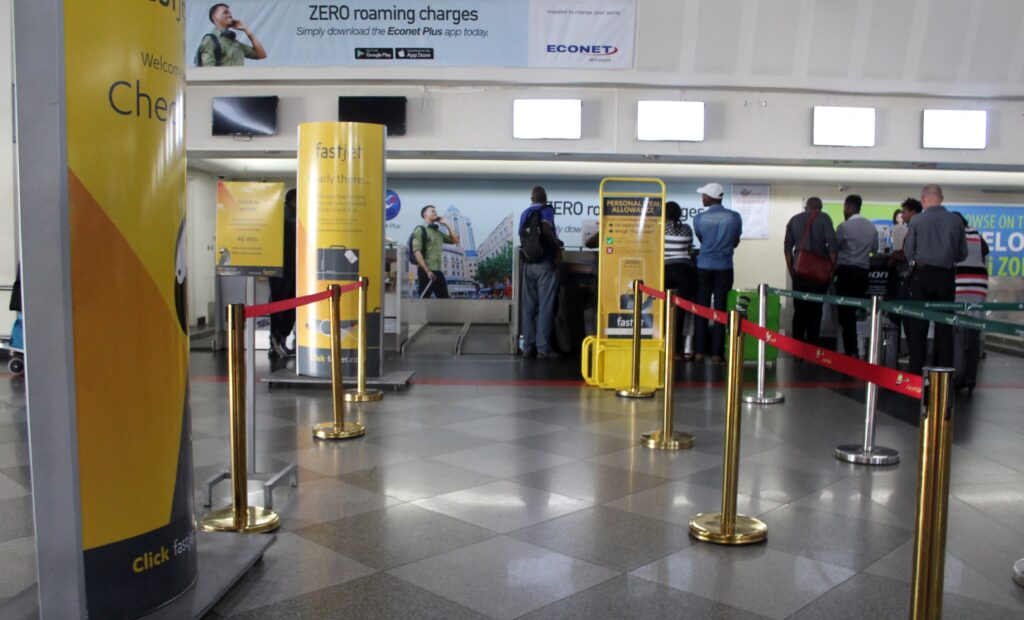 Both security control and passport control were quick and I entered the fairly spacious international transit hall, however the economic situation of Zimbabwe soon became apparent when looking around.
Many of the taxfree shops in the transit hall were empty and abandoned, and in those that were open many shelves were left empty. It was all rather sad to see.
There are two lounges available at the airport. One operated by South African Airways and a third-party lounge and pay-in lounge called Dzimbahwe Executive Lounge.
Travelling on Fastjet, in practice a low-cost airline, does not give lounge access and none of my gold cards were of any use flying Fastjet. However they did accept Priority Pass at the Dzimbahwe Lounge, which is how I got in.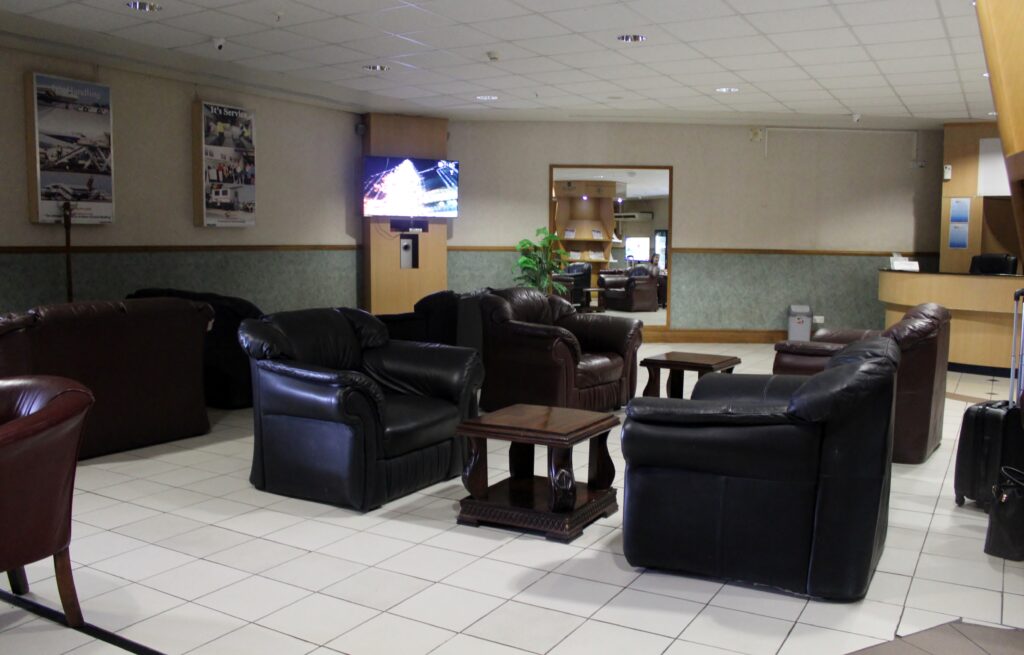 The lounge was very empty, just like most of the airport, and we were no more than a handful guests. The interior was rather old-fashioned and will not win any design awards anytime soon, but there were large and rather comfortable sofas and armchairs to sit in and overall the lounge did its job. And everything was clean and tidy.
There was some hot food available at the buffet, which could be heated in one of the microwaves. Again nothing fancy. And a full selection of alcoholic drinks was available with beer, wine and a standard selection of spirits. I was happy to get something to eat as I did not expect anything to be served during the flight. And of course given the summer heat in Zimbabwe it was nice to have a drink and to enjoy the air conditioning.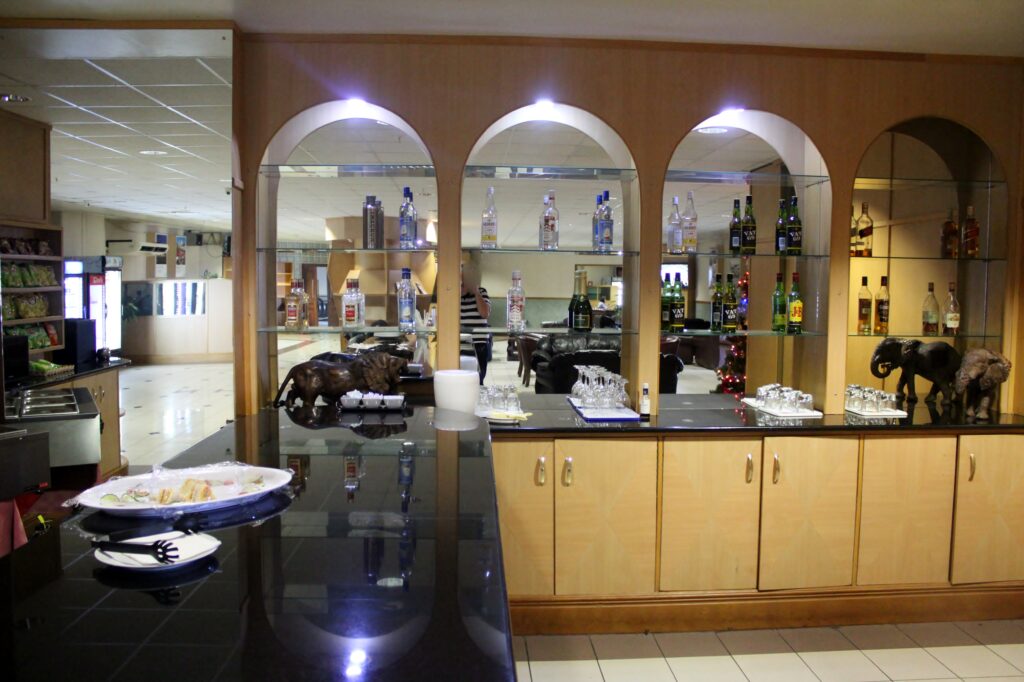 There was also a portrait of the President of Zimbabwe in the lounge, having above the self-service buffet. Not sure if this is standard practice in Zimbabwe.
The flight
Harare-Johannesburg
Fastjet Zimbabwe flight FN 8333
Departure: 14.30
Arrival: 16.10
Economy Class (One class only)
Embraer ERJ-145
Seat 04A

As expected, given that the flight was operated by an Embraer 145, we were taken to the aircraft by bus, from a bus gate in the basement just around the corner from the lounge. However there it would definitely have been possible to park the aircraft by the international terminal as most gates were empty.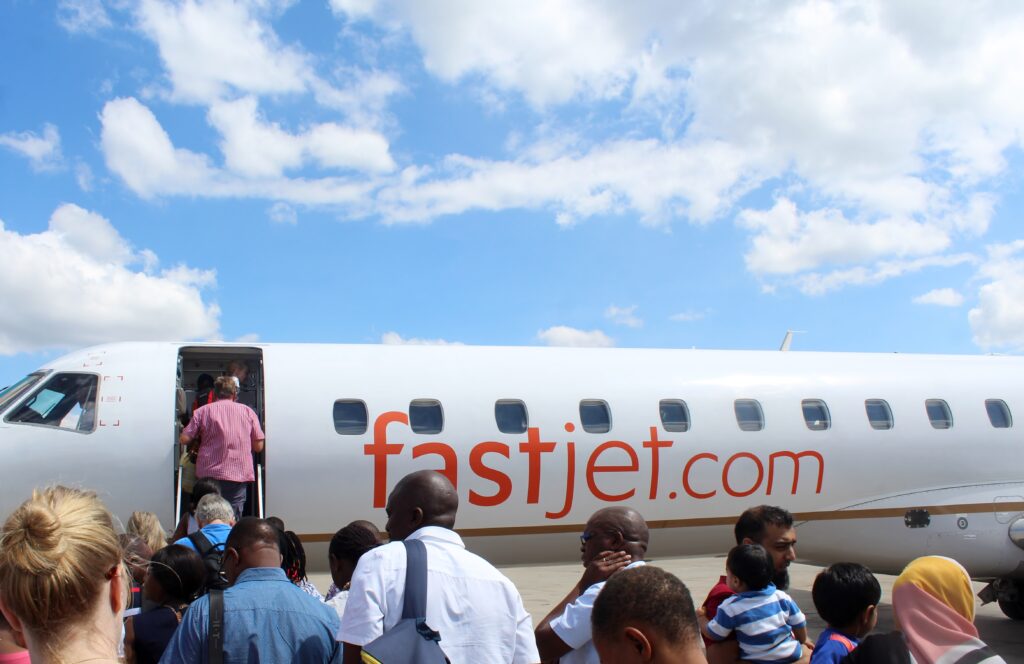 The aircraft was parked next to the domestic terminal so most likely it had been used for a domestic flight in the early afternoon. The current domestic terminal is the old international terminal, with a very 80's feel to it and with signs that look rather similar to the ones you used to find at many British airports.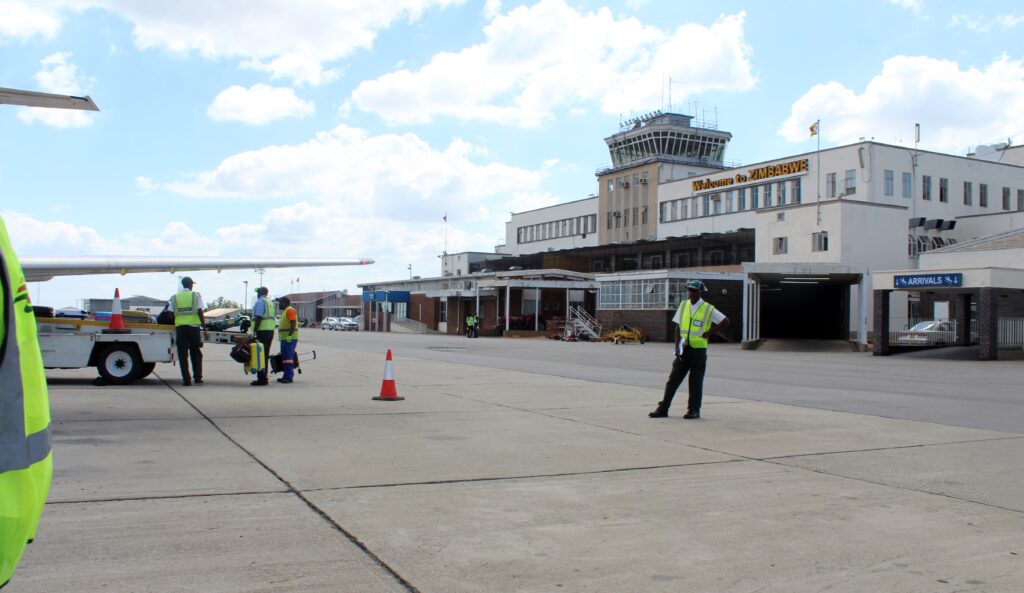 As I had been told at check-in I could leave my larger piece of hand luggage by the aircraft stairs and it was indeed stored in the hold during the flight.
First impression

The Embraer 145 looked pretty much like any Embraer 145 I had flown on in the past. There were plenty of signs in Portuguese inside the cabin so most likely the aircraft is also used by sister company Fastjet Mozambique, where Portuguese is the official language.
Boarding was completed well ahead of our scheduled departure time at 2.30 pm but we were asked to stay on the ground as there was a VIP flight approaching the airport which had priority. It took ten minutes before we were eventually allowed to finally start the engines.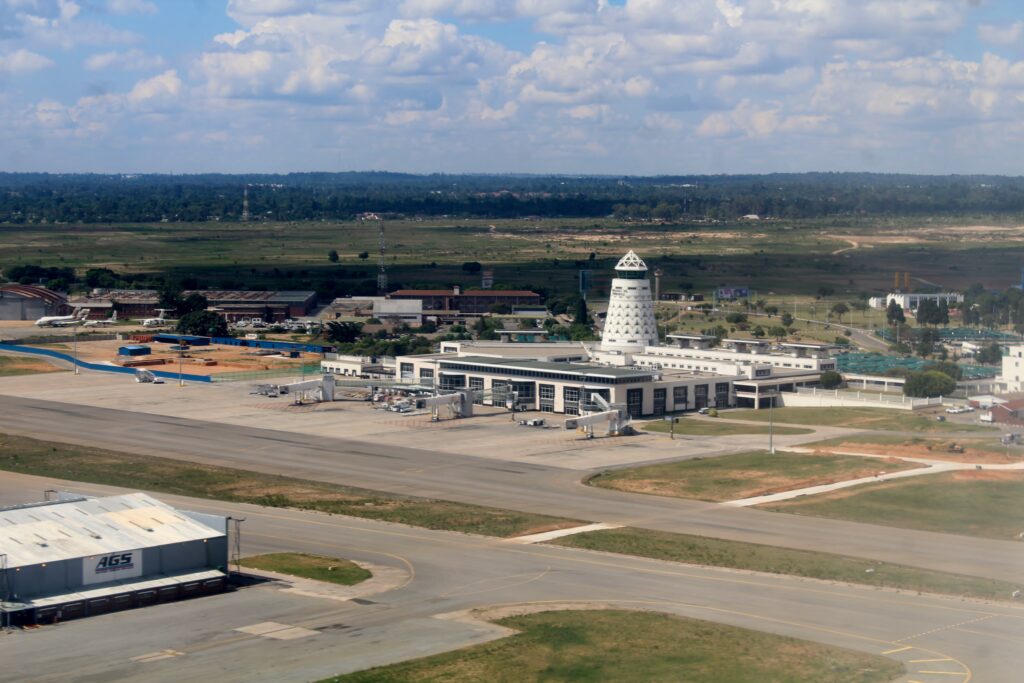 Just after we had taken off I could see the aircraft the captain had mentioned, parked right behind what had been our parking stand a few minutes earlier. Although the captain never mentioned who it was, after a bit of research on the internet later during the day, it seemed to have been the Vice-President of Zimbabwe.
Seat and cabin

The Embraer 145 had 50 seats in a 1-2 configuration. The seats were fairly comfortable in dark blue leather however as the flight was nearly full it does get and feel slightly cramped on a regional aircraft such as an Embraer. But it was a rather short flight anyway with a flight time of around one hour and 20 minutes.
I had a seat on the fourth row, seat 04A. A single seat on the left hand side of the aisle.
Food and drinks

Given this was supposed to be a low-cost carrier I expected a buy-onboard service on the flight, and indeed there was a menu available in the seat pocket.
The menu had some beverages and snacks including beer, wine, spirits and some cold snacks, and the prices were very reasonable. 2 USD for a glass of wine and 3 USD for a beer.
However to my surprise, once airborne, a snack box was given to each passenger.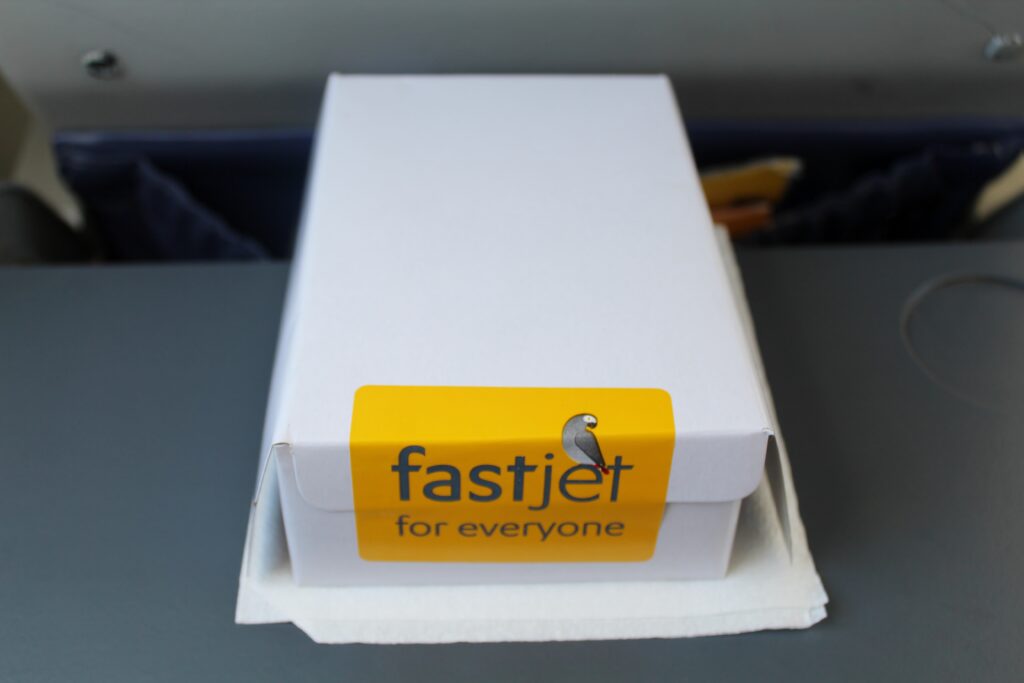 The snack box contained a croissant and a muffin and I could also order a cup of coffee. And needless to say the snack box and the coffee were complimentary. But again, it did feel strange to fly on what is marketed as a low-cost airline and then get a free snack box. Many full-service airlines in Europe, that actually call themselves 'full-service airlines', do not offer this level of inflight service.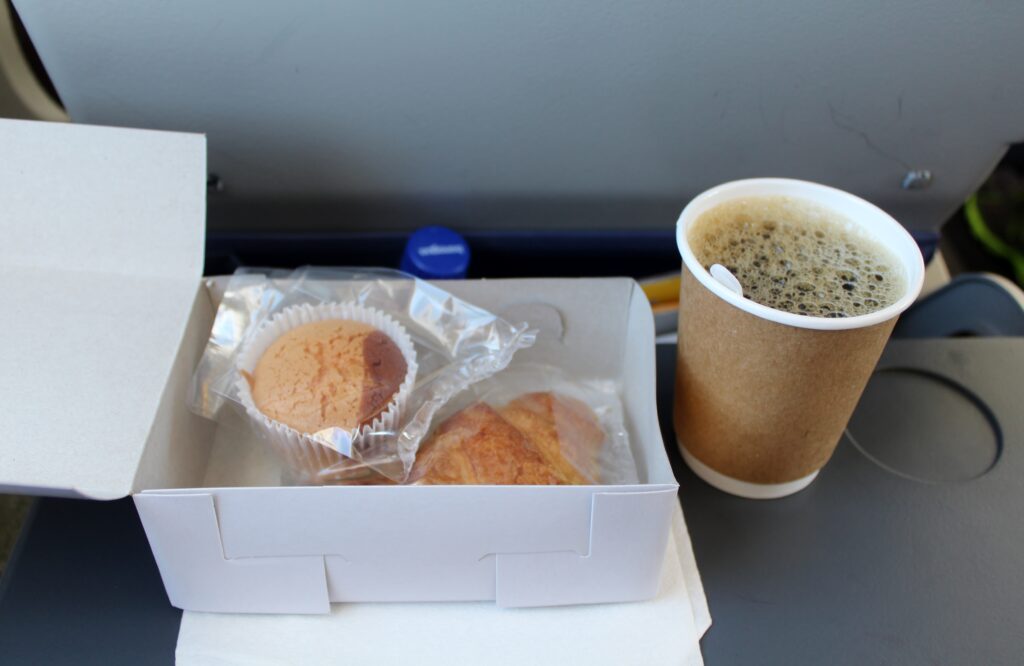 The service

There was one flight attendant working in the cabin, taking care of the passengers, serving the snack boxes after takeoff and then passing through the cabin offering drinks and snacks for sale. She was very friendly and accommodating but had quite a lot of work to do with a nearly full flight. Nothing to complain about regarding the service.
Arrival experience

As we were approaching Johannesburg the flight attendant came to my seat and asked me if I would mind switching seat with another passenger further back. Apparently the woman had a fear of flying and felt very uncomfortable to sit at the rear of the cabin, so close to the wing and the engine, especially during takeoff and landing.
I did not mind at all and as we started our approach I moved to row 14. After landing, when we had both left the aircraft, she thanked me as it apparently made quite a difference to her, and I was only happy to assist.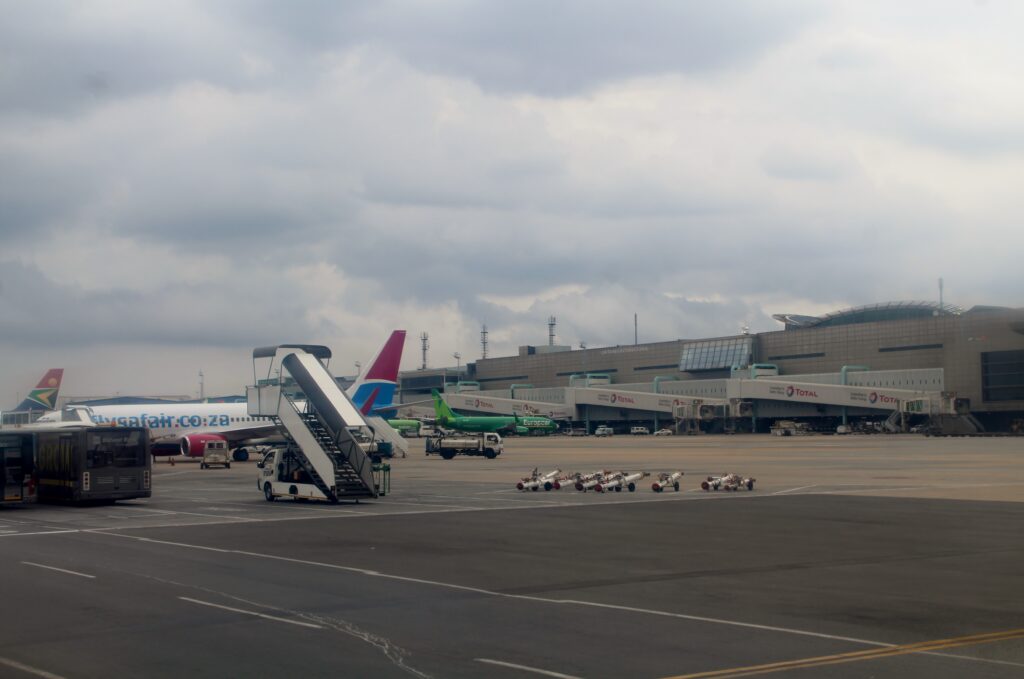 We landed right on time at Johannesburg O.R. Tambo airport just after 4 pm and just like in Harare we were assigned an apron position and were taken to the terminal by bus.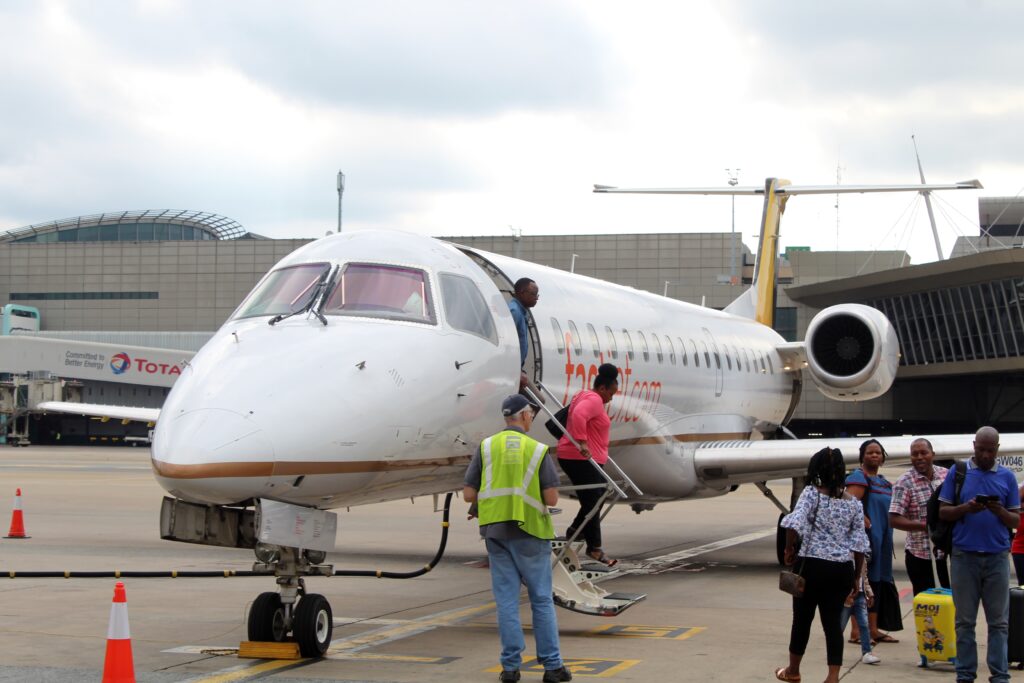 I was very happy they had stored my hand luggage in the hold during the flight so I could get it back on the apron in Johannesburg as it meant I could follow the signs for 'International transfer' inside the terminal building, rather than having to go through immigration and pick the bag up at baggage reclaim.
Final impression

Overall a pleasant experience, albeit on a smaller regional aircraft. A bit puzzled though why they describe themselves as a low-cost airline when the ticket was far from cheap and included a complimentary snack box. But other than that I was happy with the experience and the service was friendly both on the ground and in the air.