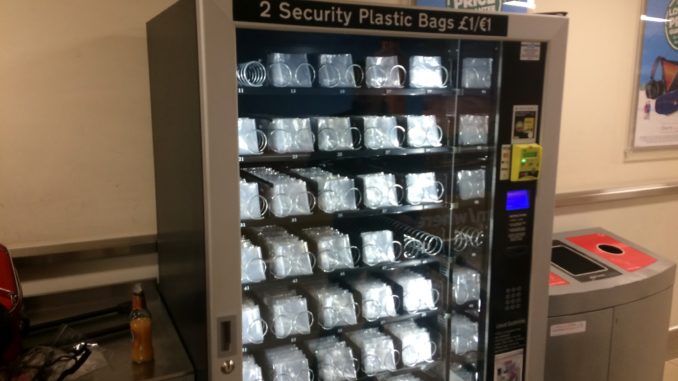 As most frequent flyers know there are very strict rules on what you can bring in your hand luggage through security. The rules are particularly stringent when it comes to liquids. All liquids such as perfumes, tooth paste, shaving gels, soaps and so on must be in containers not exceeding 100 ml and everything needs to be placed in a small plastic bag of 1 litre.
Most airports provide these plastic bags for free just before the security control where passengers can repack if necessary and avoid problems and time-consuming checks at the security check.
However other airports, such as the Liverpool John Lennon Airport in north-western England, have realised that this is an excellent business opportunity. Rather than providing these for free security plastic bags can be bought from a machine just before entering security control area. The price is 1 GBP or 1 euro for two plastic bags. So around 1.2 USD.
Considering how little these probably cost to produce this must be a good business for the airport in terms of margin.