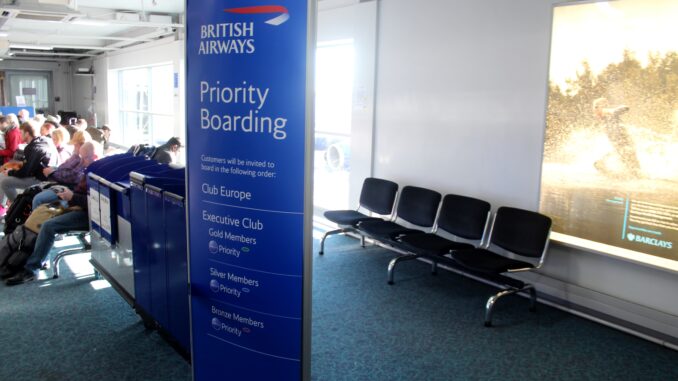 Really impressed with the setup of the British Airways boarding process, and the priority boarding process in particular, at Newcastle airport.
Standard boarding setup at gate 3 with a desk at the entrance to the gate area where they scan your boarding pass, followed by a large waiting room where you wait until the actual boarding starts. And there are two lines at the entrance to the gate area. Premium customers use the line to the right and all other customers use the line to the left, but the division continues also inside the waiting room with two different seating areas and with newspaper racks and seats used as dividers.
And when it is actually time to let people go onboard it is very easy to just remove the rope between the priority waiting area and the passenger bridge. No one pushing, no one boarding who should not be boarding and no beeping from the boarding pass scanner because of passengers trying to board too early.
On top of this economy class passengers without status were advised to use the rear door to enter the aircraft, which meant even less pushing to business class passengers and status passengers in economy, who in most cases sit on one of the front rows.
This was very well organised British Airways.