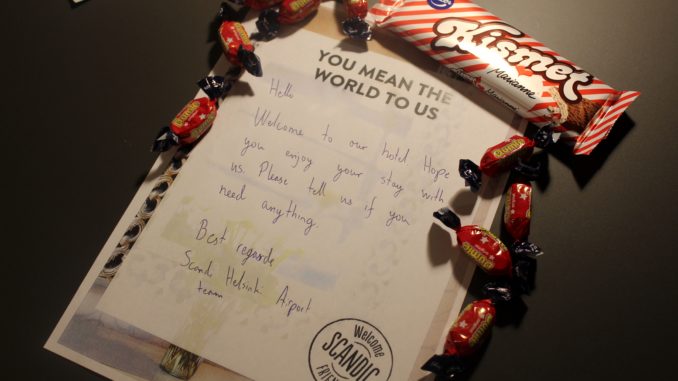 Scandic Hotels is a European hotel chain with nearly 300 hotels, mostly in the Scandinavian countries and in Finland but also with some properties in Germany, Belgium and Poland. They have their own loyalty program called Scandic Friends with several tiers and obviously with the opportunity to use points for a free stay or to use a combination of points and cash.
A nice benefit of using points for a stay, either fully or partly, is that there will most likely be a little something waiting in the room when you arrive, usually together with a hand-written personal note from the hotel management.
And best of all is that this seems to be offered to all (or at least nearly all) guests when staying a night using points. So you will get this even if you are not a top-tier member in the program, possibly even as a basic member.
This was waiting in the room at the Scandic Helsinki Airport Hotel. A personal note from the staff, a chocolate bar and some Fazer Dumle chocolate candies. I have received similar gifts in the past during award stays at Scandic hotels.
Although perhaps not comparable to what some other hotel chains may offer, such as alcoholic drinks, chocolate boxes and fruit plates, providing something extra during a free stay is really not a bad idea. You work hard to earn those points and it really makes a difference get something extra, and something different, when you have finally earned enough points for your award.